Podcast: Play in new window | Download
Subscribe: Apple Podcasts | Google Podcasts | RSS
Last Updated on June 29, 2022 by Rebecca Huff
Cooking with your kids can be fun and definitely educational!
Children deserve to be taught how to enjoy various foods and to know where they come from! So why not teach them to nourish themselves with an appreciation for the abundance of foods available to them. Let's teach them about balance and the occasional treat.
One of the first things to make a mental note of is not to take yourself or anything too seriously! As soon as the mood turns heavy the fun ends so keep it light, chill out, and smile with your entire face!
We want our children to be able to feed themselves eventually so we want to make more than cookies and treats when we are working together in the kitchen. Try to switch it up and do as many healthy recipes as you do treats! After all, we don't want them going to college with only the knowledge of how to make cookies, right?
Recently, my kids and I had lunch at a local Indian restaurant that had just opened. I directed my daughter's attention to the wall with all the spices because the jars were lined up beautifully. She said, oh you mean over there with the Turmeric and Star Anise? My mouth dropped open… this eight-year-old knew her spices! So when you are cooking make sure to talk about the ingredients you are using, the techniques, and all the ins and outs and how-tos of cooking!
In addition, if you occasionally take the time to look up the nutritional content of foods it will be an educational experience for both of you! For the most accurate nutrition facts, I use: cronometer.com
Where to start
Start with the end in mind, it's not a dish Instagram-worthy dish or a place on Iron Chef…. The goal is to encourage your child's love of food, to ignite the passion for healthy living, and to teach them to be able to nourish their own bodies with the building blocks of health! Not only that, but it's possible that you will be boosting your child's self-esteem and you might end up with a kid who's excited to spend time in the kitchen with you or without you!
Assign kitchen chores such as emptying the dishwasher, putting away groceries, setting or clearing the table. When you are cooking, start your child off by allowing them to wash the vegetables or stir ingredients in a bowl. The more they hang out in the kitchen, the more they will feel comfortable being there.
First Recipes
First recipes can be simple things that need to be assembled like sandwiches, salads, or stackers. Even something simple like crackers with cheese, meat, and a pickle! When making rice, I let my children measure and rinse the rice. When we start learning knife skills they can start off by cutting soft foods like bananas and then moving on to cucumbers, etc. I let them measure wet and dry ingredients, find the right measuring spoons. Kids can easily grease and flour a baking pan, crush garlic and use a mortar and pestle for spices!
Teach them to clean up behind themselves when they are cooking. It is best if they learn the techniques for cleaning as they go. I like to start with an empty dishwasher, a sink full of soapy water, clear counters, and fun music!
Messes
Prepare for messes. Children simply do not have the dexterity that you as an adult have. Try to just bite your tongue when flour gets everywhere or eggs get dropped and shells end up in the mix! As they get older, allow them to be responsible. I'll never forget the time my daughter used 1 cup of salt in a banana bread recipe instead of sugar. It smelled amazing but when we tasted it, I knew what happened immediately. We still laugh about that to this day even though she is married and an amazing cook!
Be sure to subscribe to my YouTube channel! My youngest daughter and I will be getting in the kitchen to make some fun kid foods! Upcoming videos include safe cookware, meal prep, and stand-up desks!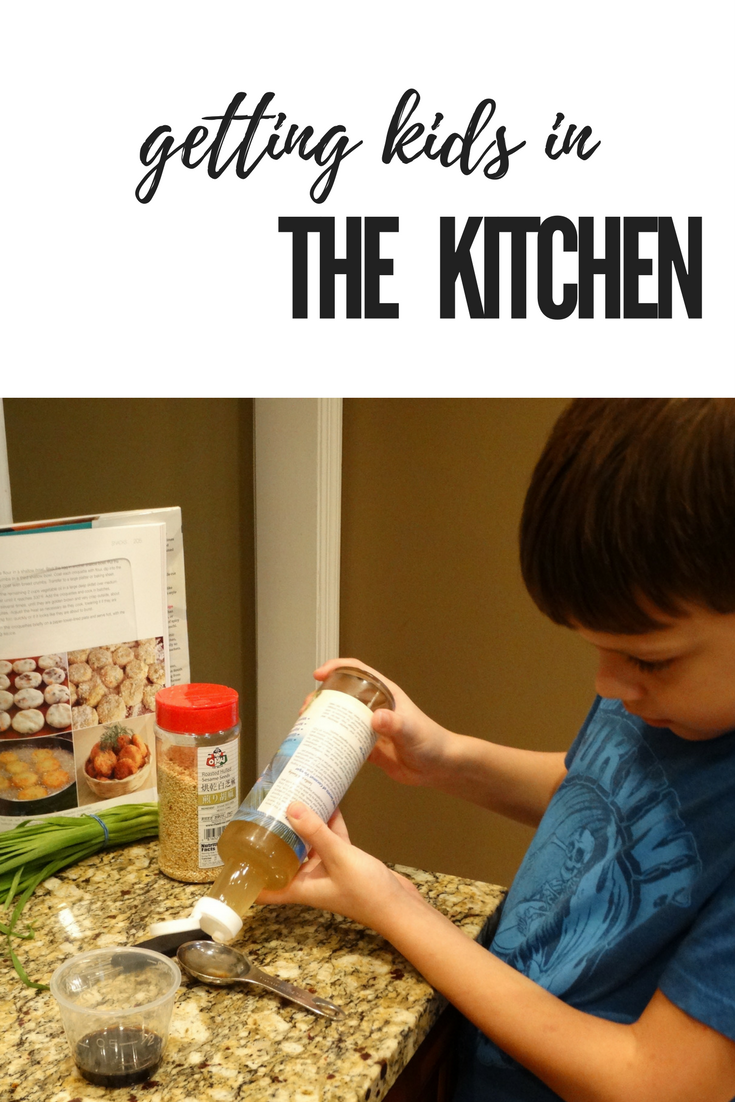 A great source for high-end kitchen products is Kitchen Universe where I have found great deals on juicers, safe cookware, mandolin slicers, etc. to make using my kitchen more enjoyable for all of us!