Week 13 Menu Plan for Weight Loss
Trim Healthy Mama is a diet plan where meals are fueled by either carbohydrates or fats, but not usually both at the same time. While following the THM plan, a meal with either be fueled by fats (they call this "satisfying" or S meals) or carbs (they call this "energizing" or E meals) and there are also "Fuel Pulls," where the fuels are very low, and "Crossovers," where the fuels are combined. However, the crossovers are not meant for weight loss; once you are at your goal weight you will add in more crossovers, and those are the type of meals you will likely feed your children.
To get a full scope of the diet plan, it is recommended that you read the Trim Healthy Mama Plan book. It is likely the most sustainable diet plan you will ever follow. For me, I get into fat-burning mode using a Ketogenic diet, then once I am "fat-adapted" I can easily incorporate some other fuels. The diet plan is mildly-similar to a cyclic ketogenic diet, with just a bit more emphasis on carbohydrates.
For me, using nutritional ketosis to stop hunger cravings works beautifully. Then I have learned to add in some sweet potatoes and grains on occasion. My main goal is to avoid metabolic syndrome, which can cause obesity and lead to diabetes. Everyone is different and no two people will have the same results from any given diet plan. Do what works for you.
The following is a menu plan I created for our local Trim Healthy Mama group to use together to boost our results. *See food photos below the menu:
Day One
S – Breakfast: Big Fried-Egg Trick p. 243 (leave off the cheese, use nutritional Yeast instead)
S – Lunch: Crispy Salmon with a side salad, olive oil-based dressing
S – Snack: Skinny Chocolate no nuts (snack)
FP – Dinner: Creamless Creamy Chicken p. 78 you can also put this inside a wonder wrap!
FP – Dessert or Snack: Cottage Berry Whip p. 379 New book, p. 374 Original book
Day Two
FP – Breakfast Berry Secretive Big Boy p. 416
E – Lunch Bean Boss Soup p. 109 with a side of Wasa w/ 1 LLC
FP – Snack Apple Dip p. 466
S – Dinner Jalapeño Onion Burgers p. 178 plus any side salads you like
FP – Evening Snack Tummy Spa Ice Cream p. 361 can add melted skinny chocolate if you like
Day Three
FP – Breakfast Salted Caramel Fat-Stripping Frappa p. 419
E – morning snack – Ezekiel toast with 1 LLC or cottage cheese
FP – Lunch Joseph's Fuel Pull Pizza; pizza can also be made with a wonder wrap!
E – Snack Grapefruit Slushy p. 372 if you don't like grapefruit, use lemon! I actually just ended up eating a piece of fruit + trimmaccino Light
S – Dinner Chicken Chicken Bang Bang p. 77 I used zucchini noodles I made with my spiralizer
Day Four
E – Breakfast Trim Healthy Pancakes p. 223 Original p. 259 Cookbook
S – Lunch Boiled Eggs over a big salad, nondairy dressing (choose oil and vinegar style dressings)
FP- Snack – Chia Tapioca Pudding p. 234 Original
E – Dinner Wonder Fish Tacos p. 171 (using wonder wraps!)
FP – Snack or Dessert: Chocolate Beauty Milk p. 440
Day Five
S – Breakfast Gwen's Lemon Poppy Seed Muffin p. 278
S – Morning Snack Skinny Chocolate + collagen tea
E – Lunch Waldorf Cottage Cheese Salad (because its one of my favorites)
FP – Snack Fat-Stripping Frappa
S – Dinner Beef & Broccoli Medley Stir-Fry
FP – Dessert Polar Bear Soft Serve p. 366
Day Six
E – Breakfast Sprouted French Toast p. 239 original book (basically french toast with egg whites and Ezekiel bread)
S – Lunch Winter Sunshine Salad or Light S Salad w/ tuna packed in water (link to recipe moved on the THM website)
S – Snack Boiled Eggs and berries
S – Dinner Buttah Chicken p. 49 with Roasted Nonstarchies p. 227
FP – evening snack Light Baked Custard original book 218-219 * or Tummy Tucking Ice Cream or Butterfly wings cake
Day Seven
S – Breakfast Veggies and eggs, fried in butter + coffee w/ no more than 1 tbsp heavy cream
S – Morning Snack Skinny chocolate + collagen tea
FP – Lunch Loaded Fotato Soup p. 294-295
FP – Snack Lemon frap p. 419 new book
FP – Dinner Egg Roll in a Bowl p. 62 (use lean turkey or chicken & serve over cauliflower rice p. 225)
FP – Lemon mousse p. 367-368 original book (make sure to use the FP directions) *
*** If not indicated, page number refers to new Cookbook. If you do not have the original book, you can substitute a recipe from the New Cookbook as long as it is in the same fuel category. Make sure to omit nuts and dairy when necessary.
Fuel Cycles for Accelerating Weight Loss
This menu plan for weight loss is my creation based on suggestions in the Plan book, in Chapter 24 because I wanted to focus on juggling fuels more and see if incorporating more FP meals and even Ultra FP would boost weight loss, it did. The consensus among our local THM group is that we often get in a real rut with what we eat and we need to remind ourselves to juggle fuels more!
If this isn't enough food for you, I would suggest adding in things like side salads, celery stalks, cucumbers, and other veggie fillers. Also, drinking lots of hot tea helps you get from meal to meal, but with THM you should not be going hungry. This is not a starvation diet. If you need to eat more than what I have listed, you should follow your instinct. This is simply the meal plan that I and other members of my group followed to boost our results.
There is a Fuel Cycle Idea Menu on pages 225- 230 which has the days laid out for you. My menu is based on the same idea only switching up fuels during the days instead of having each day consist of only one fuel. Many members of our group were able to lose several pounds using this menu plan. Just make sure you are leaving a good 3 hours between fuel types and go light on dairy and nuts!! I have also found it helpful to incorporate a few cups of hot oolong tea and my friends all say that the THM brand tastes better than the others they have tried.
I've included a few pictures of my meals below! I lost about 4 pounds using this plan.
Rebecca ~
PS – While you are here, you will want to read about how to keep kids in superior health or how to do pest control without toxic chemicals. If you are curious why I started this site or just how to start out with overall health then please spend some time exploring! Questions? Email me at [email protected]
The plate below was actually one from our group meeting night. The THM Ninjas meet each week and we have so much fun!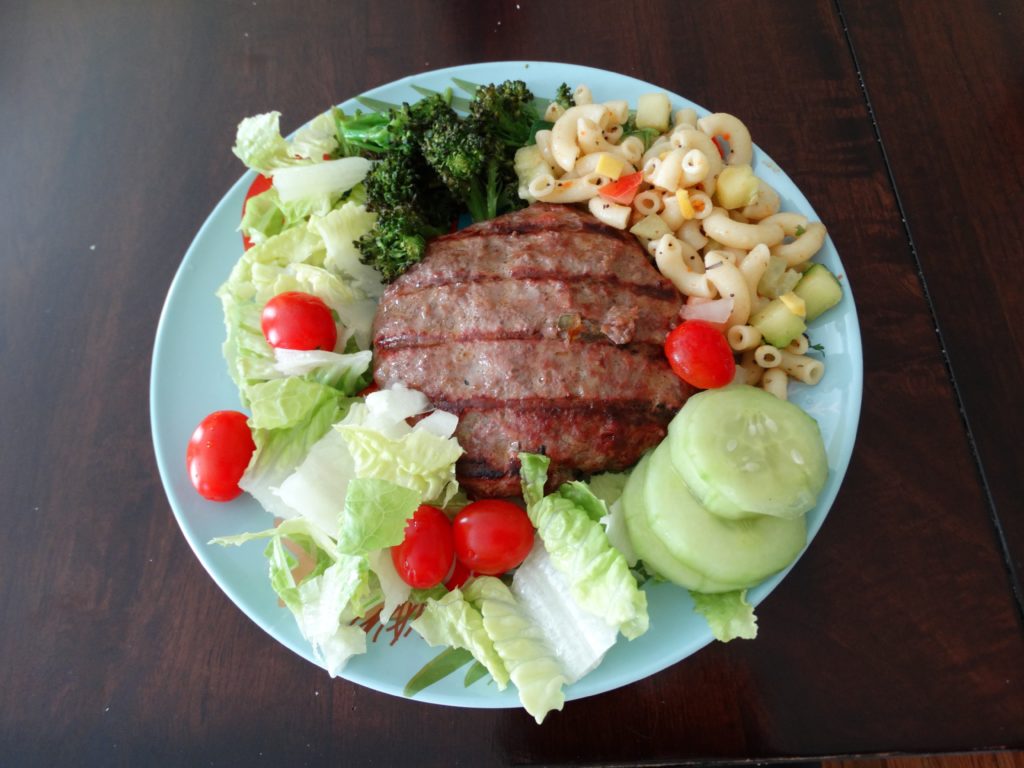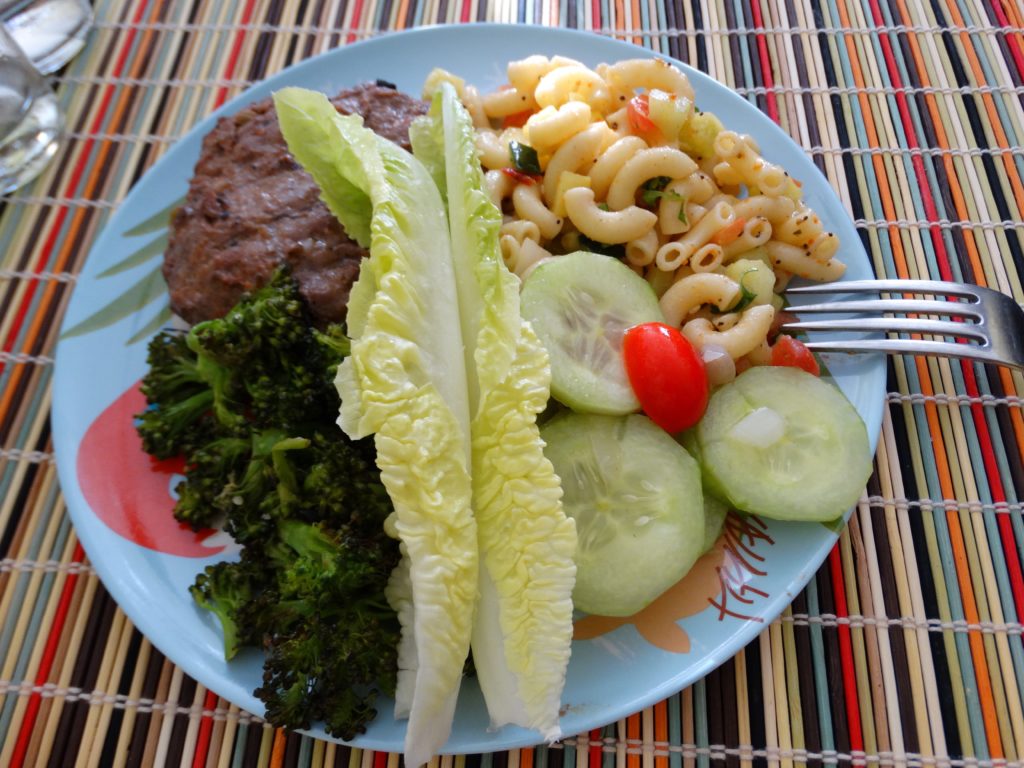 **the advice in this post is not intended to take place of reading the Trim Healthy Mama book. To be an expert in Food Freedom, the authors suggest you refer to their book: Trim Healthy Mama Plan Book and Trim Healthy Mama Cookbook**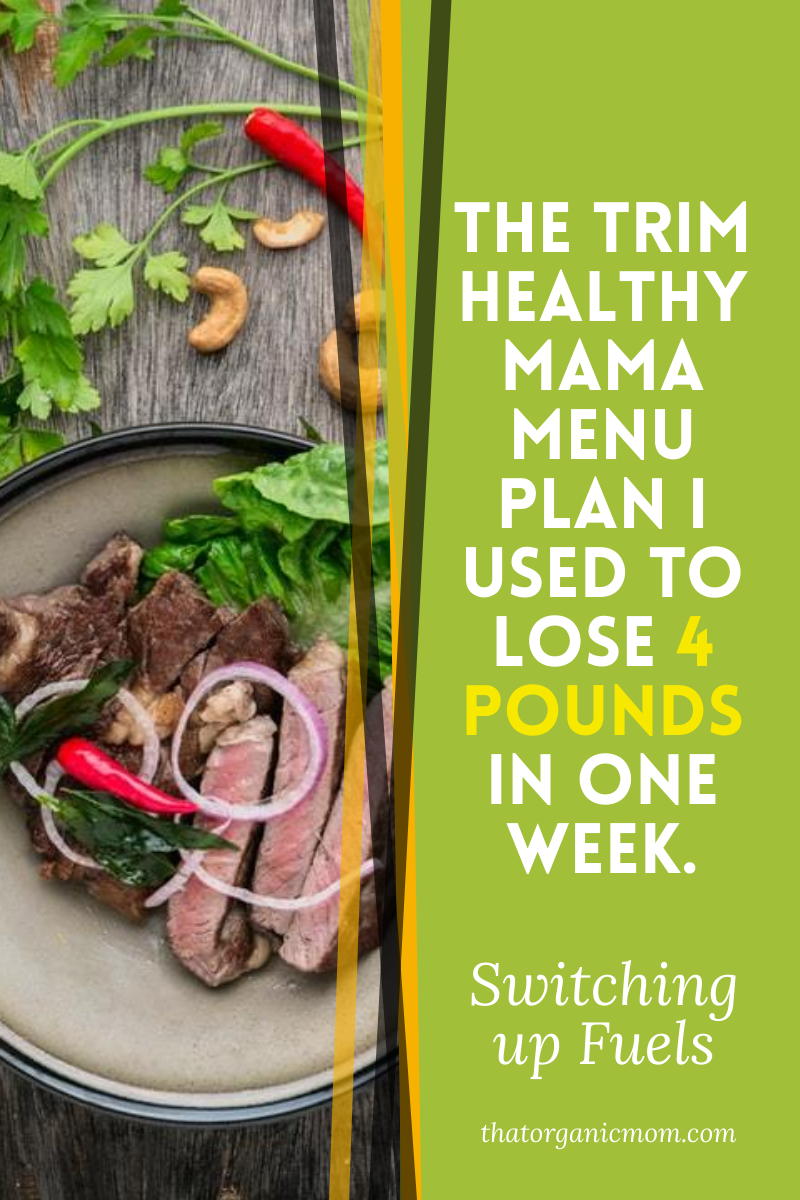 I hope you will be blessed by reading my story about my sister's battle with cancer here: