Natural pest control is not as hard to find these days as it was several years ago.
We purchased our current home less than 3 years ago and until this weekend we have never had a reason to hire a Pest Control Company. My children have backyard chickens so they definitely eat any insects that are available within their reach. Since what we feed them can attract pests. (see our baby chicks here)
Inside my garage and around my outside windows I normally spray a solution of vinegar, rosemary and peppermint oil which is very pleasant to smell and seems to deter bugs when reapplied regularly. I usually spray about once a month which takes me about 10 minutes to go all the way around my home.
I'd been unable to do everything on my regular routine for a few months and I completely forgot about my habit of spraying things. (By the way, don't spray vinegar on plants as they will die!)  We noticed during that time a few Palmetto bugs hiding out in our garage.
Choosing a pest control company
My husband asked me to check into a pest control company that I would approve of but I had too much going on that day to get to it and completely forgot. He ended up making the appointment on his own. Finding the email confirmation in my inbox I was leery of what I had allowed him to get us into but it was too late to do anything about it as he paid in advance.
Pesticides are toxic to pets and children, leave a disgusting residue, have an unbearably unpleasant scent and lose effectiveness over time.
When the technician arrived I asked him if I could take a look at the solution he would be using before he started. Without hesitation, he handed me the bottle for my approval. Here's what I found (almost exactly what I'd already been mixing and spraying on my own):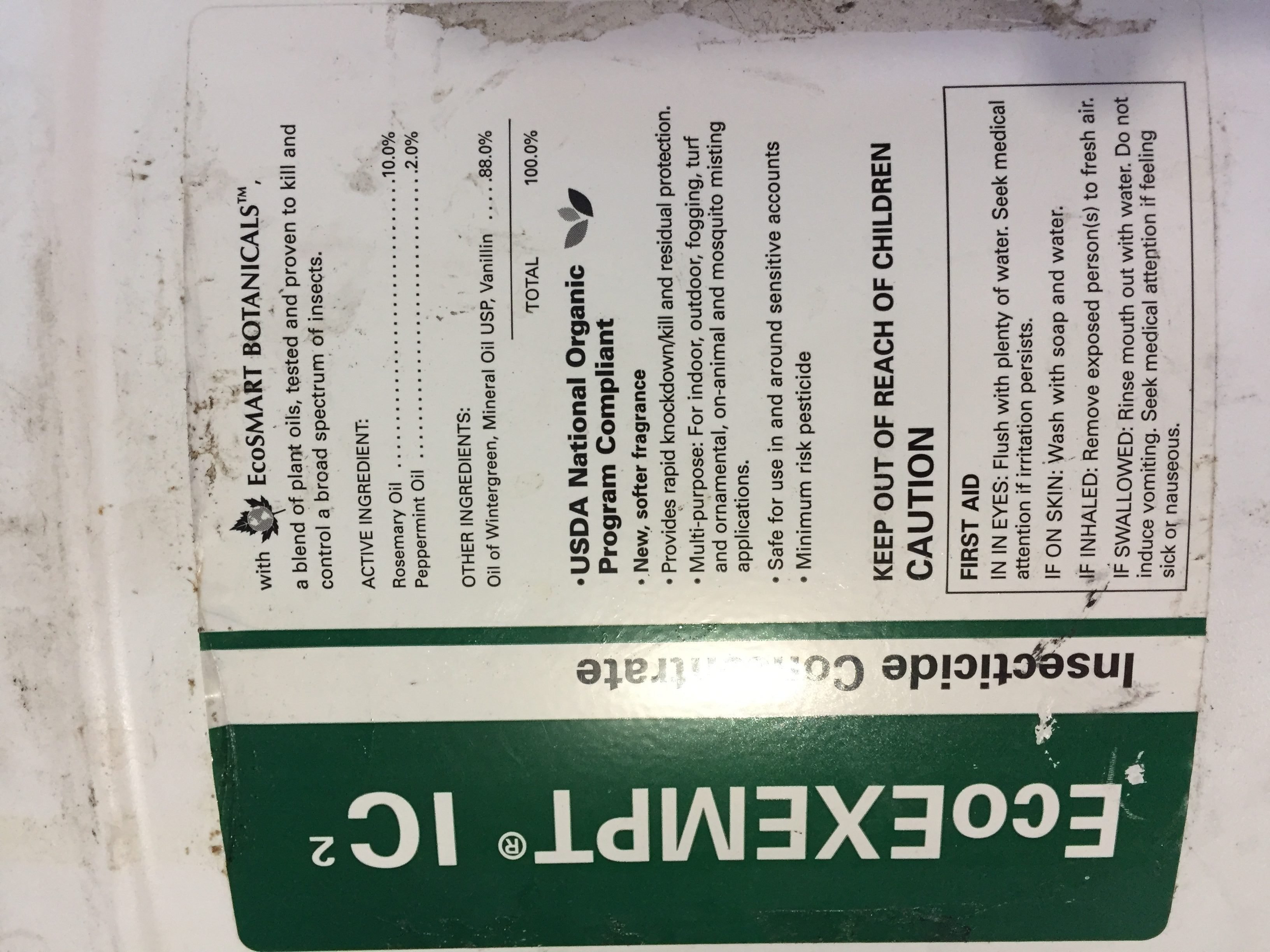 Natural Pest Control formula
Since it was the perfect temperature outside that day I'd had my windows open before the technician arrived. When he got started knocking down the cobwebs outside around the 2nd-floor windows I went about my business in the house. I got caught up in what I was working on and forgot he was working.
Less than a half hour later I headed downstairs and was met by the most pleasant scent! I then realized that as he was spraying my windows were open. Around that time, he came in to spray around the inside as a precaution even though the problem seemed to be mostly isolated to the garage.
We discussed the cats and children and I was happy to allow him to spray without concern for their safety.
What I was pleased to find out about this particular formula is that it is made with plant-based ingredients that are safe to use around my cats and my kiddos. It's a broad spectrum and has such a great scent and the company that came out even guarantees their work.  I actually got curious about the product and started reading more about it.
We really haven't had a problem with pests in years but it can still happen and when it does it's definitely unpleasant. It is important to consider which creatures are actually pests. For example, some spiders can be beneficial around a home because they reduce the population of flies, mosquitoes, and other insects.
Speaking of spiders, have you heard the myth that pesticides won't kill spiders because they supposedly can hold their breath for a very long time?  If you've ever wondered how spiders can "hold their breath" underwater check it out here.
Back to the subject; before I call a pest control company or reach for a commercial pesticide I try the safer alternatives. Calling a pest control company should be the last resort.  Sadly, in the US over a billion pounds of commercial pesticides are used each year.
Discouraging pests through prevention is best.  Here are a few tips to follow:
Make sure to seal all cracks and holes in your home where pests could get in.
Keep screens on doors, windows and vents.
Keep garbage cans covered and empty often
Recycling means rinsing jars and cans first which is important to prevent encouraging pests from coming for food
Wipe up messes in your home and keep floors and other surfaces clean
Vacuum debris from kitchen drawers and cabinets regularly
If you have problems with roaches try dusting boric acid into the cracks where they may live. Another option is diatomaceous earth which basically dehydrates insects until they die.
House flies, wasps and bees can be kept out of your home through the use of screens. Cover food with muslin cloth if left out to prevent flies from landing on the food.  Sweet basil planted near doors and windows will also deter flies. Avoid leaving sweet foods and drinks sitting out as they attract wasps and bees.
Ants can be deterred with boric acid as well as several herbs such as mint, thyme, sage, bay leaves, cinnamon or paprika. Just sprinkle it around their paths. If ants seem to be attracted to your pet food bowls, try placing the pet food bowl in a dish of water with a drop of soap. The soap will create a moat of sorts that the ants will not be able to cross, yet will not disturb your pet.
If you've tried all the natural deterrents with no success you might need to look for a company that uses a safe alternative to toxic pesticides.  Look for a non toxic alternative like the one I found here in Knoxville. However, if I have a problem in the future I will buy the solution and do the spraying myself.
Costs of Natural Pest Control
The cost for the technician was $125 then subsequent months are $50. I found the solution that our new Pest Control company used on Amazon but it was no longer available and had been replaced with Essentria IC3. After comparing the two solutions I am still unaware what the difference is. You can compare the two solutions; they looked identical to me. Doing it myself with this solution would save a significant amount of money.

I plan to get back to spraying around the house with my own essential oil blends so hopefully, it won't be an issue in the future. I already keep essential oils on hand for just about everything under the sun.
Always try to look for the safest solution because it's better for your family and better for our environment! Pesticides are now being found in our air, food, water, soil and even in breast milk. What does this mean for our children and our children's children? Please spread the word about safer alternatives by pinning this post.
What natural pest control solutions have you tried? Leave your suggestions in the comments for me! Thank you!
SaveSaveSaveSave