Are you defined by a label?
Maybe you even have a label on the bumper of your car or maybe you wear a t-shirt with your label. Are you a soccer mom a SAHM a WAHM or maybe a crunchy mom? Did you label yourself or did someone else slap a label on your motherhood? You don't have to be a mom to receive a label. As women, we tend to get labeled a LOT… If you've ever been labeled as a mom, welcome to the club! Moms have a tendency to label each other. I'm guilty of labeling, too.
We often use labels like these: skinny mom, heavy mom, stay at home mom, working mom, work at home mom, soccer mom, karate mom, ballet mom, homeschool mom, overbearing mom, snobby mom, neighborhood mom, fake mom, absentee mom, mean mom, the anti-vac mom, the popular mom, the crunchy mom, laid back mom, trashy mom, baby making machine, super-mom, terrible mom…
and the worst: "Just a mom"
I'd like to stop labeling women now… I asked my friend Jami, who's definitely been labeled, if she'd ever labeled anyone. Her answer, "well, yes, but in all fairness I'm surrounded by crazy people!"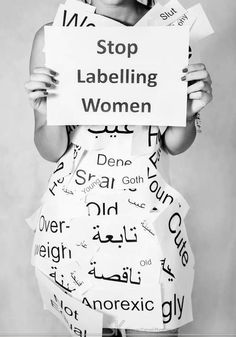 I've had my share of labels, some I embraced yet others I tried to shake! Have you ever felt that way? I get questions from people who make the assumption that my website name ThatOrganicMom is a something I'm bragging about, or that I labeled myself this way because I always eat organic. Can I make a confession?
Sometimes I'm embarrassed to be called an "organic" mom.  *gasp*  It's true. Many times I feel like people who truly cannot afford to buy organic food will think I am judging them, or that people might think I ONLY eat organic. Those things are simply not true. I'd like to share a little bit about how the ThatOrganicMom name came about, but for me to do that, I have to get a little bit personal. Is that ok? It might seem like I'm getting off on a rabbit trail, but I'll bring ya' back around at the end. So stick with me through this little mini-series.
How I got my label
Growing up it was just my sister and me.  Between the two of us, she was the more confident one. I was always the more insecure one. Even though my peers voted me "most popular" in eighth grade, she was truly more popular than I was in school and afterwards. Even though some people considered me to be a popular girl, I don't really think that was true. My sister somehow was able to stay under the radar of the mean girls for the most part, I was not. She was happy to just be herself, I was not. She KNEW who she was, I did not. I looked for approval from my peers and often, I didn't get it or I got more than I bargained for.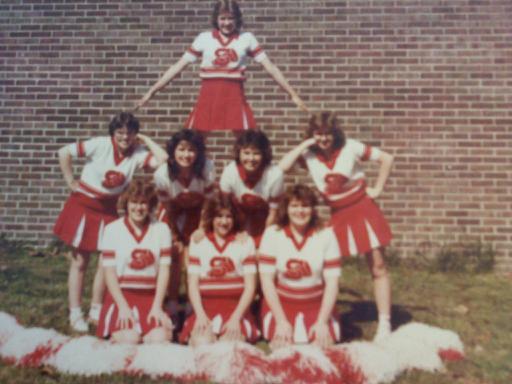 My sister didn't take no for an answer, if someone were to shy away from her a little bit, she didn't withdraw feeling insecure (like I would have). She approached the most popular kids in school like they were on an equal playing field, and why not? My actions in school were probably viewed with curiosity and suspicion. I never knew what I was doing with myself. I'm so glad I didn't have a cell phone back then! Someone not responding to one of my texts probably would have done in my teenage self!
If someone didn't approve of what I was wearing, doing or saying, I felt so insecure. I was self conscious about everything.  Not my sister. She did what she liked and did so unapologetically. She would approach the President of the United States just like she'd approach her best friends. No shame, no fear. She wore bright purple, fell in love with Dale Earnhardt and sang Gloria Gaynor's "I will survive" in the face of her own battle with cancer.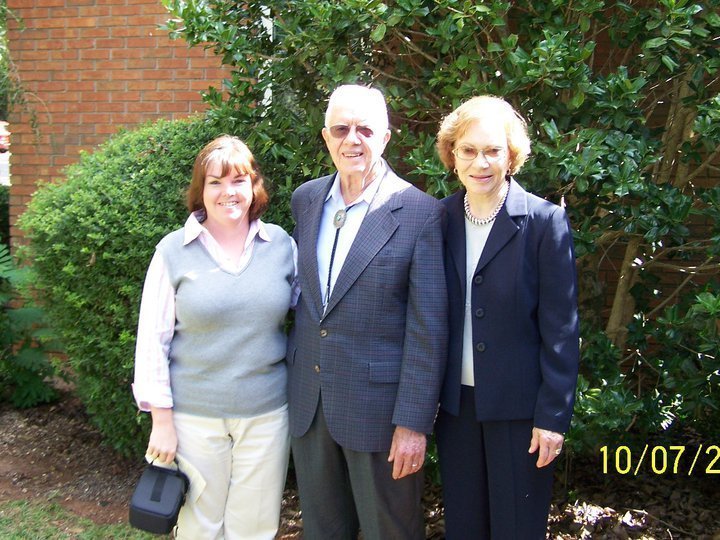 Devastatingly, on the day of my daddy's funeral in 2010 my sister was not able to attend. She'd been experiencing some problems and ended up having an emergency gall bladder surgery when they discovered the ovarian cancer. The doctor advised us not to tell her until she had recovered from the gall bladder surgery.
He wanted to remove as much of the cancer as possible, so a complete hysterectomy was scheduled, followed by chemo. She bravely fought for 23 months, and I honestly think she thought she would beat it.  None of us really talked about the inevitable, and I certainly didn't want to know the statistics.
I didn't even try to find out how long they "give" people to live who had been diagnosed with ovarian cancer. I didn't want to face reality, and I don't think she did either. No one did.  There were a lot of ups and downs, and honestly, my mom and Mimi did most of the care-taking for my sister.  
The last few weeks she was in and out of the hospital. Her lungs would fill up with fluid and she would have a hard time breathing. She had lost so much weight, down to around 80 pounds. During the last hospital stay I had I fought my anxiety about going into hospitals to sit with my sister each day while she played on her phone or watched a rerun of Friends. During one of these visits I begged my sister to try harder to live. I begged her to stop drinking soda and eating sugar (like it would have helped her health at that point, I was really in denial) and to fight harder for my mom. She patted the bed next to her and I went over to sit down there and SHE comforted ME. I was nearly hysterical; I was almost angry. I wanted to will  her to live.
It was during one of the last few visits, the oncologist came in. I asked the oncologist if my sister should be eating the sweets someone had give her and the oncologist just shrugged her shoulders and basically indicated that whatever made my sister happy was ok. I must have looked seriously disturbed, because she asked to speak to me in the hallway. She informed me that the hospital couldn't keep her, that they had done everything they could do.  She said we had two options. Either we could put my sister in a nursing home so we could try another round of chemo (how on earth would she survive that, she already couldn't eat!?) or we could call hospice.
I knew that chemo wasn't a real option, but I had to ask my sister what she wanted.  She was willing to do the chemo, but she honestly just wasn't strong enough. She couldn't even eat and could barely speak. After talking with my mom and my Mimi, we asked her Pastor to meet with her and they spoke about "the end"… The end she hadn't believed would come because she was SO OPTIMISTIC.  The end she was surprised to hear about when I uttered those ugly words to her, "Pam, you're dying." The end that her surprised face tried to understand when I said, "the hospital wants to call hospice." The end that came only two days later. The end that Broke. Our. Hearts.
I'll share part two tomorrow…
Meanwhile, here's hope if you are interested in finding out  The Truth About Cancer...
Also, if are you suffering with cancer or some other chronic illness or if you have a loved one who is, or maybe you just need encouragement, or someone to pray with you and for you. If that describes you come on over to Hopelively. Hopelively is a private social media group on Facebook.  You can find a more detailed description on my friend Jami's blog Sacred Ground Sticky Floors. Our goal is to create a community of believers seeking wellness and cheering each other on whether you are facing a chronic illness or love someone who is. We share prayer requests, do healthy challenges, offer encouragement and much more! I'll see you there.