Last Updated on June 29, 2022 by Rebecca Huff
What causes sleep problems?
Those of us who are "doing it right" spend about a third of our life asleep. All sleep is not equal; however, as the quality of our sleep does impact our health, mood, and activity levels.
"There seems to be an intimate relationship between how people sleep at night and how they perform the next day: how resilient they are to stress," says sleep psychologist Guy Meadows, Founder of Sleep School, in an article for Forbes. "There's now research showing that sleep is essential for focuses attention, creative problem-solving, communication, memory recall and assessment of risk." Read his book "Why We Sleep" (which includes a 5-week plan for better sleep) if you frequently spend nights tossing and turning.
In the past, if a person had a sleep problem, the only option was to do a sleep study in a lab. Sleep clinics are considered to be beneficial for figuring out what sleep problems people may be experiencing.
Although every detail won't be exact due to the person being monitored not sleeping in their typical environment, the analysis is usually beneficial in diagnosing sleep apnea. When I talk to people who have had a sleep study done, there is one thing they all agree on; it is difficult to sleep during a sleep study!
Sleep clinics typically monitor sleep with various equipment that measures sleep stages as well as observation. Yes, watching you while you sleep. At the sleep clinic information will be compiled and studied such as:
Breathing and air flow, obstruction
Heart Rate
Muscle activity
Sleep position
Eye movement
Oxygen levels in your blood
Keeping in mind that sleep trackers are not a replacement for a sleep clinic, using one can give us the necessary information to help detect if one has a problem that needs to be explored more in-depth. In which case, the data from a sleep tracker can be presented to one's physician for a referral to a sleep specialist.
How to choose a sleep tracker
There are many sleep trackers out there to assist in our quest to analyze and perfect our sleep cycles!
Some sleep trackers are more accurate than others. One concern is that some sleep trackers confuse lack of movement with being asleep.
Though, even if the devices are not entirely accurate, they may notify sleepers about underlying health problems.
The one I use (and recommend) will start recording if it detects snoring. My husband and a close friend have both shared with me their "snore recordings."
More advanced sleep trackers may detect breathing disturbance. If so, you may want to check into whether you suffer from sleep apnea. Many people who snore may have sleep apnea, a condition that may increase the risk of a heart attack.
The key for most of us is that the daily logs of time spent sleeping informs us of our nighttime habits, such as consistency in the quality of sleep we get. Sleep trackers can also give us a better idea if we are going to bed and waking at the same general time consistently. (Bedtimes and wake times that are regular improve sleep hygiene!)
Sleep Cycle App (for smartphones)
The Sleep Cycle App works by using the accelerometer inside an iPhone to detect movements during sleep. This data is then used to wake you at the optimal time in your' wake up phase' which you can set to be between ten and ninety minutes in duration. The Sleep Cycle app will then wake you gently before your latest wake time.
Sleep Cycle Freemium includes:
Intelligent wake-up
Sleep analysis
Nightly sleep graph
Alarm melodies
Snooze
Apple Health integration (iPhone only)
Database export (iPhone only)
Sleep Cycle Premium includes:
Online back-up with SleepSecure
Sleep Aid
Snore detection
Sleep notes
Wake-up mood
Wake-up weather report (iPhone only)
Heart rate tracking (iPhone only)
Philips Hue integration (iPhone only)
Runkeeper integration (iPhone only)
More alarm sounds
Choose your alarm sound from your music library
I used the Premium Sleep Cycle app for years, and still have it on my phone. My bedtime and wake time are so set in stone, and my sleep so fantastic that I rarely ever use it anymore.
Alarm clocks scare the life out of me, so I never use them, so there is no real need for the phone in my room. Use the sleep cycle with or without an alarm. When I use it, I use it for sleep analysis only. Tap the "bell" icon in the upper left corner to turn off the alarm.
After reading the book "How to break up with your phone" I typically do not even take my phone into my bedroom at night. If I started to have some issues with not sleeping well, I'd start monitoring again. For now, thankfully, I have great sleep hygiene!
If you are a sleep nerd like me, you'll love this option. Sleep cycle lets you get all geeky with graphs and also shows how you compare to other sleepers in the world using the app. Fascinating!
One caveat to those using a totally movement based sleep tracker, if you have pets who come and go in your room at night, then your results may not be completely accurate as the tracker may pick up movement when your cat walks across your face to drink the water in the glass you left on your nightstand.
FitBit
If having a device on your wrist while you sleep doesn't bother you, a Fitbit is another option for sleep trackers. One benefit of using a Fitbit is that if you also like to track steps, etc., then you can kill two birds with one stone. This can also be useful if you notice you get better sleep after a very active day, or not so great sleep after a day of being a couch potato.
Some Fitbit trackers will also track sleep and provide a record of the sleep stages you cycle through each night.
Autodetection is based on movement and times of stillness. Thought some Fitbit devices use heart-rate tracking to detect sleep stages in combination with movement.
"Time asleep is calculated by subtracting your time awake or restless from the overall tracked time. For example, if you slept 8 hours, but woke up two times for 15 minutes each, the time asleep will show 7 hr 30 min." Fitbit has an extensive help section where you can find answers to all the questions about your particular sleep tracker.
Each morning sync the Fitbit device to see the sleep stats from the night directly on the device or on the Fitbit app on your phone. With Fitbit, users can set and change sleep goals.
My recommendation for wearable sleep trackers would be the Fitbit Versa.
Beddit
For those who prefer not to wear the sleep tracker and choose not to have a phone in the bedroom, a Beddit sleep tracker is a good option.
Beddit has sensors that monitor respiration, heart rate, body movement, and wakefulness. Snoring and bedroom temperature and humidity are also detected continuously throughout the night. (Read up on ideal temperatures and humidity recommendations in this sleep post!)
Everything that is monitored is analyzed and provided for your information such as the time it takes to fall asleep, what time you wake, your sleep efficiency and more. Beddit captures these readings and translates them into data, and even monitors REM cycles. This data allows you to set goals within the tracker and also look at graphs over 7, 30 and 90 days.
Another benefit of this model is that it can analyze the data and detect the optimal waketime personalized just for you. It is continuously learning your sleep patterns and rhythms to deliver current, accurate information that will help you improve sleep hygiene.
The REAL bonus with this model is that it can monitor two sleepers at the same time with pinpoint accuracy. BONUS for couples who sleep together and both want to track sleep.
Simply place the monitor underneath the sheet for automatic and accurate tracking as soon as you go to bed. Nothing to remember, no buttons to push, or app to open, just hit the hay and it starts tracking. Results are viewed in the app on your smartphone.
How do you sleep? Have you used a sleep tracker or had a sleep study done? How have the results changed the quality of your sleep? I'd love to hear about it!
Download the 30 Days of Tips for Better Sleep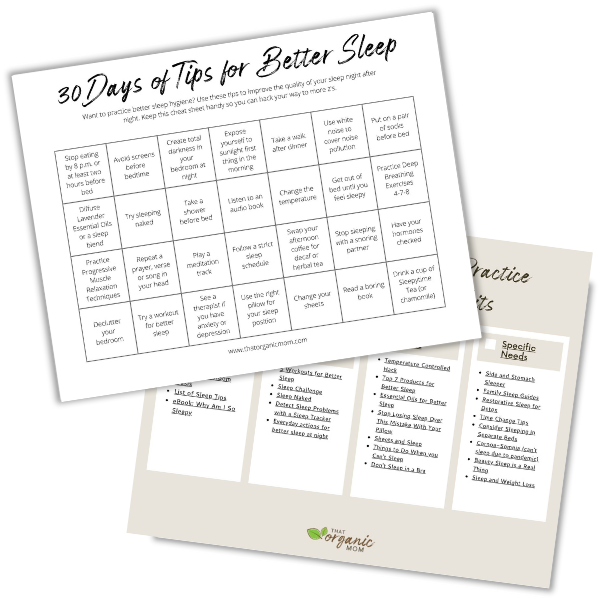 The mattress you sleep on has a direct impact on how well you sleep at night. We recommend and sleep on Bed Boss mattresses. For Better Sleep use the coupon code TOM20 for a 20% discount at The Bed Boss.