Podcast: Play in new window | Download
Subscribe: Apple Podcasts | Google Podcasts | RSS
Deborah DiMare is back this week on A Healthy Bite to give us more useful tips on how to create an ethical & toxin-free bedroom for healthy sleep. Putting together a bedroom that looks picture-worthy is what most designers would make their top priority; and while Deborah is talented at doing that, her top priority is choosing ethical, non-toxic pieces. But don't worry, you can have both a beautiful, toxin-free and ethical bedroom space.
If you've never thought about what goes into the rug, sheets, bedding, and decor in your bedroom, you're not alone. Over the past few weeks, this topic has been rolling through my mind after discussing it on the podcast. There are several areas I'll be tackling to improve my own bedroom soon.
What could be more important than having a toxin-free space where you sleep? After all, you likely spend at least a third of your life in your bedroom. So what are the possible toxins that can be found in many bedrooms? Phthalates, PFAs, PBTE Flame Retardants, and more.
Azo dyes are banned in Europe. So if you buy a printed fabric, for example, or printed set of sheets, and it does not say that there's azo dyes in it, you can assume there are. So don't buy them.

9 Toxic Chemicals to Avoid in Furniture
Resources
In the podcast, I asked Deborah about a solution for anyone who may not be quite ready to replace their current mattress with a new GOTS-certified one. In this case, the recommended solution would be to cover your mattress with a GOTS-certified organic mattress cover or GOTS-certified organic mattress topper.
You can find Deborah's nursery course here and use coupon code THATORGANICMOM25 to get 25% off. Deborah's team is going to give away a virtual room make-over. They do online consultations, and they're really amazing. You get a layout and a zoom call with her team. It's really great; valued at $580!
Meet Deborah DiMare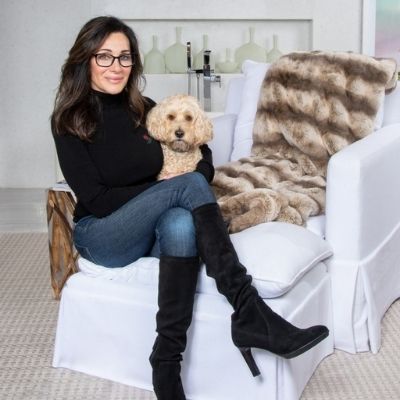 Deborah DiMare is a renowned interior design consultant, author, educator, and pioneer of the ethical/wellness design movement. She has been executing beautiful, sensory, living environments that contribute to the health and well-being of people, animals, and the planet for nearly 20 years. Her design company, DiMare Design, is the only 100% cruelty-free interior design consulting firm specializing in the creation of organic, optimal spaces, and sourcing vegan textiles and sustainable furniture that bear zero-to-low toxins.
Transcripts

How to Create a Toxin-Free Bedroom for Healthy Sleep


[00:00:00] Rebecca: I'm back today with Deborah DiMare and we are talking about one of my favorite subjects: sleep. I absolutely love to talk to people about sleep. It's one of my favorite things to do and believe it or not, it's one of the healthiest things you can do for your body. So today, I'm going to chat with Deborah and she's going to share her expertise with us about creating an environment in your bedroom that helps you get better sleep so that you can be a healthier person.


[00:00:25] Welcome to a healthy bite Deborah.


[00:00:29] Deborah: Thank you so much, Rebecca. Thank you.


[00:00:32] Rebecca: I'm excited to get into this subject. Now. I know personally that there are some things I need to change in my bedroom. So why don't you just maybe start out with telling us some of the top things, maybe some mistakes that people make when they're setting up a bedroom.


[00:00:52] Deborah: People make a lot of mistakes when they're setting up their bedroom. We'll start off with that. I think so many people are, so which I understand are hooked on just the aesthetics of a space that it looks great. And they don't think about the health and the design of the space for mental and physical health. And it's very, very important because our bedrooms are really a sacred space. It's where our body repairs itself. I mean, the average person spends about 30% of their life in their bedroom. Right. That's a long time. So your bedroom is really one of the most, or if not the most important space in your entire home, and you need to treat it gingerly and carefully and with a lot of love, because there is a direct correlation between your health and your sleeping environment.


[00:01:45] When we sleep our body repairs itself, we're breathing slowly. Our body's in a relaxed mode. Our blood is cleaning, we're getting all the toxins out of our body. Our body is a machine it's cleansing itself during the night. So if you are surrounding yourself with things that contain lots of chemicals and toxins, your body's absorbing that through your breath through your mouth through your skin; our skin is porous, just like a sponge.


[00:02:16] So it's not only, what's in direct contact with our skin, the sheets, the pillows, the blanket, but also what's in the air and what's called off gassing where gases are released into the air. And they really don't go away like paints and dyes and all these toxins they're in furniture and decor. So most people think about just the aesthetics and that's dangerous, it's dangerous for you. It's dangerous for your children. It's dangerous. If you have babies, it's dangerous. If you have parents living at home for the elderly, there's just nothing good about it. Right? And that's like the first place to start to understand that it's not just about the aesthetics.


[00:03:00] You can always make a room pretty, always, always.


[00:03:04] Right. Well, I know last week we talked a little bit about paint. You know, we were talking about nurseries and making a healthy sleep environment for our children. And you, we had talked a little bit about paint and you did find out something about the paint on the walls, because we know that paint off gases, like you just said, the VOCs and I had asked you last week about, you know, what, if someone has a room that's already painted, you know, with potentially some toxic paint.


[00:03:35] Right. It was, it's a good question. I didn't know the answer. So we looked into it and I think I sent you an answer that we found from actually Thomas Gardner, is his name.


[00:03:43] He's a building biologist. He's in our nursery course. And he's like any question you have on chemicals and, and structures. I mean, he's just, he's an encyclopedia. So what's interesting most paint contains VOC, which stands for volatile organic compounds.


[00:04:00] And it's a blend of chemicals and toxins that when they're painted on the wall, as it's drying the gases come out and that's called offgassing. You hear that term a lot now, off gassing, and it permeates,, these gases permeated throughout the rooms and the spaces where they've been painted. And people think that once the fumes go away, the gases are gone.


[00:04:24] That's not true. They basically never go away. So they're always in the air and we're breathing those in. So there are certain paints, types of pains. First of all, that have very, very few chemicals and that's, those are like lying paints in play paints. Lime paints are used in Europe. They're still used in Europe.


[00:04:44] And they are very beautiful. They have that translucent look, it's not as simple as just painting on a wall. As you know, you're getting the painter for a couple of hundred bucks to paint the room. It's a process, but it's a very clean non-toxic way of painting a space. And I think it's actually very beautiful, but it's more labor-intensive.


[00:05:02] So what you want to do is buy a paint that has low VOC, and if you're in an existing space, like a rental or a home that you just purchased, And there's paint on the wall and you don't know if it's safe or not. And you're like, you know what? I think I want to remove this paint. There's a couple of things that you can do.


[00:05:19] One is, you can first scrub the walls. And you can scrub it with just a cleaner, because there's lots of dust and toxins already stuck to the wall. So I love, I sound like an infomercial, but I love Dr. Bronner's soap and I use them in my own home because they're completely completely non-toxic, they're clean.


[00:05:39] They work amazing. I mean, I, I just really, I should be a spokesperson production for Dr. Bronner, so it's actually. There is great. Right. They're amazing. And they're also such a kind company, you know, they do so much for the environment for workers. They're terrific. Lisa Bronner is actually in our course. She's amazing.


[00:06:00] Talk about a wealth of information. Yeah. Talk about a wealth of information regarding cleaning products. It's, it's incredible. What you've learned from her about how to clean furniture, how to clean it. But anyway, you take something like a Dr. Bronner. That's what I would use or something that's completely non-toxic and good.


[00:06:17] And you scrub the walls with it. Good. Old fashioned elbow grease. So that's one thing you can do to start. And if you can't repaint the walls, you should do that. And then you can use a sealer. There's a special primer that I forgot the name of it, but I'll send it to you. I'll send you the link to it. You can get on Amazon and that's a really good primer to put over the walls.


[00:06:42] It's a latex primer, I believe, now the thing with latex. Latex is okay, but it's a plastic. So when you put latex on a wall, it's, it's going to in whatever moisture and humidity is already there. So that's the negative, but unless you're going to completely scrub those walls down and scrape them down, that's probably your best bet.


[00:07:06] Scrub them, use a certain kind of primer. I'll send you the name of it. That's non-toxic and then you can repaint the walls with something that has very low volatile organic compounds, like a Farrow and Ball paints are great, I use them, they're more expensive, but they're good. And then of course you can go always with something like aligned paint or clay, which is more labor-intensive.


[00:07:27] But


[00:07:28] Rebecca: what about chalk paints are chalk paint?


[00:07:30] Deborah: Chalk pants are good too. Chalk paints are good. And you also want to, if you have a choice between a satin and a mat always use a flat because satin contains latex.


[00:07:40] Rebecca: Oh, that's good. I always choose mat paints. So I like the way better.


[00:07:46] Deborah: Yeah, me too. The thing with mat is people say, oh, it's a little bit more difficult to clean, but you know what I always say, you have to suffer to look good and you have to suffer to be healthy.


[00:07:58] Rebecca: I know, I know not to get too far off topic, but yeah, my son, my son will say that, you know, if we go grocery shopping, you know, we, we talked a little bit about greenwashing last week and for awhile, gluten-free was the greenwashing word that everyone, oh, if it doesn't have gluten in it it's healthy.


[00:08:15] Deborah: I always say slick marketing. We're like very. We don't think and that's marketers do so the same thing with furniture or, you know, there's a lot of slick marketing out there. So we got our pink was taken care of.


[00:08:37] Okay. So lighting, I want you to think about lighting also in your lighting is also, everything is psychological in design for me. I approach design in a very psychological way. Because our environments shape and create us and our environments can make us sleepy. They can make us happy. They can make us sad.


[00:08:55] They can make us anxious. They can make us agitated. They can make us feel awesome. So we all want to be in a happy, healthy, strong environments. That way we're happy, healthy, and strong. So lighting is also very important because think about it. The place that you've been like an office is an old offices, like I'm from New York.


[00:09:14] And when I first graduated from college a bazillion years ago, I used to work in these offices with the old fluorescent lighting. And I, and now of course I know why I was always so tired and grumpy. And I remember I used to go into the ladies room and take a nap. I would sit literally on the toilet for 10 minutes and just like fall asleep because I got so sleepy.


[00:09:32] I remember that I wasn't a good employee then , by the way. But fluorescent lights are terrible for you because they, they, they give off. And that noise. We might not hear it, but it's very disturbing to our system. That's why children and adults, for example, in the spectrum of autism, they're very, very, very susceptible to the noises of certain lighting, the whirring of a fan fluorescent lighting.


[00:10:02] So do not have any type of fluorescent lighting in your space, in your bedroom, for sure. Anywhere in your, in your life if possible, but especially in your bed. Yeah. You want soft lighting. You do not want lighting that is directly over the bed. That is, that is very harsh. You know, in a lot of our spaces in Miami, for example, we do a modern look and typically in the Northeast or California, it looks so much, a little bit more, more traditional and softer.


[00:10:28] So in Miami, so many of our clients want that really stark bedroom with the lights coming right down off the headboard. Cause they like to read, which I understand. But it's that harsh look and it's disturbing to the system. So instead I would say let's put pretty wall sconces, you know, with the lights that come out and that we can put it on, on the book or whatever you're reading.


[00:10:51] So it's not directly on your head. It's like bad energy, you know, bad Feng Shui is real. It's just about the placement of furniture and sped energy. So keep your lighting appropriate to the environment. There's something called circadian, our circadian system, right? It's our body's natural way of producing melatonin.


[00:11:13] Melatonin is what makes us sleepy. Right? So if you have strong light in your bedroom, strong white light, not natural light. It's tricking your body into not allowing it to get ready for sleep. That's why computers near your bed, your phone near your bed. That technology, that, that, that unnatural light is very, very bad for us.


[00:11:35] And it disturbs our body's natural way of producing melatonin. So think about that in your lighting. You want lighting that, that goes throughout the day. So think about how the sun sets that, how you kind of want your lighting in your bedroom for children as well. Now also the next thing we could talk about kind of related to lighting is window treatments, curtains.


[00:11:58] I have two schools of thought on this. I never had my children's room completely dark because I like to wake up with the natural light. I feel that that's the healthiest way to wake up. So we always just had, you know for a little bit of sun blocking room darkening, my children, however, are young adults.


[00:12:20] And they like to sleep completely in a, in a blacked out room, which a lot of people do and there's some sleep experts. We also, I keep talking about the course, but we have a sleep expert for babies in the course as well. And she talks about room how, how dark or light they should be when a baby goes to sleep or even an adult.


[00:12:38] So I think as far as that, it's a very personal thing for me. I've never used it as a rule. We have clients that literally are so sensitive to light coming through the room. And when they sleep that we install room darkening shades, and then on top of it, we have to install curtains because even that little sliver of light that comes through that eighth of an inch bothers them.


[00:13:01] So I think you have to know your own body for that. And that's very important that if you're someone who likes to wake up with natural light don't, don't get heavy drapes. It's going to affect your. And it's going to affect how you wake up, which is just as important. So that's window treatments. Okay. And of course, if you do things like that for a child's room, make sure that there's no cords, there's no, it's not dangerous. They can't yank on it and pull it off. But for women working women with kids and we're tired and we're running around, we need sleep. Then I would talk about the mattress. And I say that is probably the most important item you can purchase in your bedroom because that's it.


[00:13:43] If you're mattress ain't good, you are not going to sleep no matter what we do in your space,


[00:13:49] Rebecca: that's the truth,


[00:13:50] Deborah: right? So your mattress must be completely organic and it must be non-toxic because most mattresses that you bought. I have lots of chemicals, even the ones that are certi pure certified, which I used to promote.


[00:14:09] And now that I know better, I don't. A Certipure certified bed means that the foam is certified. It's bogus because foam mattresses off gas. They release a lot of toxins. So you don't want to get a foam mattress. You want to get a mattress that has cotton. And it's completely organic and there's no wool.


[00:14:32] You don't want anything. Animal-based, you know, I, I don't do anything animal based in my, in any of my projects at all. For ethical reasons, because I feel that it's also, you're bringing very bad energy into a space when you bring an animal based material or a piece of furniture in your space, because that, that object is the result of tragedy and despair.


[00:14:54] And I'm a firm believer in energy. And I think you're bringing that energy into your spaces. You want to bring positive energy into your spaces. So if you don't believe in any of that, then let's look at the health reasons. Animal based materials are extremely toxic because they were once on the, on an animal.


[00:15:12] So if they are not laden with chemicals and toxins, they would just rot. It's kind of like you taking off a scab and just, you know, not treating it's a scab, but when you have a cut, it turns into a scab. That's what your furniture and decor would look like if it wasn't treated with chemicals. So animal-based materials are extremely toxic.


[00:15:32] The most toxic are leather, silk cotton, that's not organic, yarn, bast- bast is a fabric that looks like potato sack material. But you would look at it and you think, wow, it's so natural. It must be so organic. It's completely toxic. So leather will you want to stay away from that in your bedroom? A leather has over 250 chemicals, including led chromium, arsenic wool contain endless pesticides. Do not believe in responsible wool, it doesn't exist. It's a very, it's a horrific industry again, slick marketing.


[00:16:06] So you want a mattress that is organic. You want it to have certifications. Like a GOTS certified global organic textile standard, meaning that it's not toxic, meaning that it was created and manufactured in a place where workers are treated fairly, because a lot of these materials and products are the workers are in horrific conditions just as the animals are.


[00:16:30] So you want to get something like a Naturepedic mattress. I'm a huge fan of Naturepedic. I love everything they stand for and everything is clean and non-toxic and super comfortable. So you want to get a mattress,


[00:16:42] Rebecca: Let me ask you a question, I hate to interrupt you. With these types of mattresses, so, you know, a lot of people have big families, myself included, you know, at one time there were eight of us.


[00:16:52] How expensive are these gOTS certified because I I've bought GOTS certified stuff before. I'm going to admit freely right now, but I do not have GOTS certified mattresses. It seems to me that anytime I find the mattress that meets all of these standards, they're super expensive. So how, how affordable are they?


[00:17:14] Deborah: They are more expensive than your average Casper or crappy mattress like that they are. That's because they're very healthy and they're more labor intensive to make, but here's how I look at it. Rebecca, I say, look, when I, when I moved into my home, this was before I really understood all this stuff.


[00:17:32] You know, I've learned so much in the past years and I'm still learning every day and I make a lot of mistakes still and I'll be the first to admit it and our, our community, really, will, call me out on things, which is wonderful because that's how I look. I appreciate it. I always say, I want to know the good, the bad, the ugly, right.


[00:17:48] So I originally purchased what I thought were fine mattresses for the house. And then when I started to learn, I'm like, oh my God, what am I doing to myself and my family? So here's how I look at it. That you're going to spend more money on these things. However, you're going to keep yourself healthy and you're going to be going to the doctor a lot less.


[00:18:10] And you won't get sick as much, where you kind of make money and. So it's a, it's a toss up. Are you going to spend your money in, in, in medicine and doctor's appointments or are you going to spend the money one time in a good mattress or good set of sheets?


[00:18:24] Rebecca: I mean, I definitely see your point and I agree with you. I just feel like for some people, it may not be a choice. I mean, I know a lot of people want to be healthy, but that might be out of their price range. Right. Is there a thing that you can do if you have a mattress that's maybe not the best, but you can't just simply can't afford one of these GOTS certified mattress.


[00:18:48] Deborah: Well, the only other thing I would suggest, and I don't know if this is something that I would ask a mattress company, I would ask. I'm going to there's another good question. I'll put that out to Barry from Naturepedic. I'm going to ask him perhaps, and I'm thinking out of the box, and I don't know if this is valid or not, perhaps getting a GOTS certified topper. for the bed, right. That is that maybe that maybe that prevents some of the chemicals from off gassing.


[00:19:17] Rebecca: I'm curious..


[00:19:18] I'm just, I'm just trying to think, you know, it's I know people are going to ask, right.


[00:19:25] Deborah: That's a good question. And I'm going to get back to you on that too. I love it. You always ask me good questions.


[00:19:29] That's wonderful.


[00:19:29] I know it's time for me to upgrade our mattresses to something less toxic, but just not sure where to go with that. So I, I'm going to look into, I'm going to find out if getting a topper could work.


[00:19:40] That might be the answer, you know?


[00:19:44] Rebecca: Okay. So if you're listening to this podcast, make sure that you go back to the website and check the show notes because between now and the time that this is published, I'm sure Deborah is going to come up with an answer for us and we will make sure to include that in the show notes.


[00:19:59] So that's, that's your homework. Go check the show notes to find out the answer to this question. All right. So we've got walls, we've got lighting, we've got mattress, what comes next?, What comes next? Our sheets pillows blankets. And then the bed itself, right? I know you mentioned last week that there are some really toxic things on wrinkle-free sheets.


[00:20:29] Deborah: Yes. Wrinkle-free sheets contain formaldehyde, which is insane. There are over 80,000 chemicals that are approved for, from the textile industries. And I think I told you less than 1% are actually testing. So it's, it's crazy. And a fabrics weight is about 30% of a fabrics weight are chemicals, and legal to use.


[00:20:55] And they're toxic and poisonous. It's insane. What is allowed to be used and what is as I'm learning more and more and more. I just, every day I'm like, oh my God, I can't believe that. So sheets; think about sheets at night, your body's warm again, breathing slowly, repairing itself. You're wrapping yourself and wrinkle-free sheets that are basically formaldehyde.


[00:21:21] And that's what you're wrapping yourself in. And it's going into your skin. And making you sick or making existing illnesses worse. Right? So over half of Americans have an illness; we are a sick country. So you want to get sheets that again are as clean, as possible as non-toxic as possible. And I keep throwing out GOTS certified sheets.


[00:21:45] That's what you want. Yes, they are more money. Now. One step down from a GOTS certified sheet would be an OKEOTEX certified sheet. O K e O T E X. Okeotex certifications are not as stringent as GOTS, they have some chemicals. They're not as their standards are not the same as the GOTS certified product.


[00:22:11] However, if you have the choice between an OKEOTEX and one that has no certifications, get the OKEOTEX. Okay now. OKEOTEX sells, they just as GOTS, do they sell animal-based products? You can't buy anything animal-based so don't buy sheets that are silk because not only is it a very unethical industry now again, when I talk about ethics, it's not only animals because I love animals.


[00:22:34] It's workers, the laborers in these countries that work on in these factories and farms.


[00:22:42] Rebecca: Oh, my goodness. And I can't believe what they post on on social media. Sometimes I see these on Instagram of these factory workers. I guess so satisfying to see people doing the same repetitive movement, you know, they're like in an assembly line doing something a robot should be doing.


[00:23:01] And I'm like, how is this something that people want to see on social media? This shouldn't be happening. No, you don't need to get off on that tangent. But yes. So I hadn't thought about silk before, but yeah, I can see your point.


[00:23:16] Deborah: And it's also treated, it's laid in with chemicals. Cause it's silt comes through silkworms that are, you know, even though they're worms, they're still living, being, and again, the workers that are attached to the production of that silk..


[00:23:30] You know, so and they're dyed and the dyes are very toxic. So unless you're getting a GOTS certified dyed sheet, meaning that it's using a vegetable dye, don't get it. I always use white sheets. Anyway, for me, that's also the psychology of design. I think white sheets are very therapeutic and in all my years, I, I don't know if I've ever gotten a set of sheets for client that are not white,


[00:23:54] Rebecca: but aren't they bleached?


[00:23:56] Deborah: No white sheets are the easiest to clean to get them white. No, there's, there's a lot of non-toxic white sheets.


[00:24:08] Rebecca: Yeah, good to know.


[00:24:10] Deborah: And remember the goal is to do the best you can. You're never going to be, unless you're wearing like hemp all day. Yeah. You're just,


[00:24:21] Rebecca: I actually have flax and linen sheets, which are very wrinkly and they're very natural color.


[00:24:29] So I feel like she's must be really good. Right?


[00:24:36] Deborah: Perfect sheets. Those are the perfect speeds. And they're gorgeous. They're absolutely gorgeous. I still like, for example, when I say, yeah, it's a lot of people, some people don't, I love to be a bed. It needs to look, you know, years ago we used to do, you know, people have changed.


[00:24:51] Lifestyles have changed, you know, years ago people were very showy and blinging. And we used to do these beds with 20 pillows and, and, you know, perfect bedspreads and, and clients would spend like a fortune. And now it's just like, okay, we do the white sheets , we do a couple of shams and we do a throw and we make it look cute.


[00:25:08] But those sheets that you have when I say white, white is like a beigey, white. Cause they're not dyed right. Yeah. Yeah. But white, white , which I love and I get, and those have some chemicals, but you know what it's, that's what I do. That's my, that's my craziness, you know?


[00:25:26] Rebecca: But like you can't be perfect. No.


[00:25:29] Deborah: And I making sure that the white sheet that we do you know, propose is a GOTS certified sheet.


[00:25:35] So it's the healthiest of the. So you want to make sure your sheets are cotton organic cotton, of course, and got certified because as I mentioned to you, you can get an organic cotton sheet, but it can be printed with toxic dyes and it's legal to sell and market. So that's why if you're not sure get the plain sheet.. You can always dress it up with pillows.


[00:25:56] Rebecca: I do remember you saying that last week, cause I have a couple of sheet sets for my daughter that have rainbows on them and I was like, oh, I hadn't thought about the dye. So yeah, that was, they got me on that one. But I was going to ask you about pillows because if you don't use animal, I know you're not doing like down or feather pillows, but the polyester fiber fill stuff I feel like is so like I'm allergic to that stuff.


[00:26:20] If I put my hands in acrylic, if I use acrylic yarn or acrylic filling my hands burn, I can't touch that.


[00:26:30] Deborah: So. Pillows, which just shows you how toxic they are, that your body reacts to it because acrylic is, but you know, they're petrol based products, you know, so they're cheap to make and they're really, really toxic.


[00:26:45] So what I suggest for women especially are buckwheat pillows. And you can also do Laytex, organic latex. You can never use Laytex with babies because it's very dangerous. Don't ever buy a latex crib mattress. Don't buy anything Laytex for a baby, even if it's organic latex, you know, that organic slept on everything you want to use for adults though, you have the option of adults.


[00:27:06] We don't have to worry about latex because if we're allergic, we already know, right. Because we're adults. So you can do organic latex pillows and or buckwheat pillow.


[00:27:17] Rebecca: I've seen buckwheat pillows before. Are they comfortable? I've never tried.


[00:27:22] Deborah: Okay. I was in Japan a couple of years ago, and they at the hotels that that's a very common pill at the buckwheat pillow in Japan and the hotels give you regular pillows and buckwheat pillows.


[00:27:32] And I was like, this is so cool. And I slept on it for two nights. The first time it was a little weird because they're like little hulls inside the cooler. And I heard it and it was like weird, but I said, I'm going to give it another night because also with menopause and everything, you want something cool.


[00:27:47] And the buckwheat is cool. It doesn't get hot. The second night I loved it. And also your neck feels great because you can make them as, as firm, as you want. You can add more hulls. You can take out hulls. I have, I'll send you the link. I did a buckwheat pillow review.


[00:28:03] Rebecca: Oh, good. I was going to say, I need to try a buckwheat pillow.


[00:28:06] I need to know which one to buy. So you're going to share that work with us. I'll make sure to put that in the show notes so everyone else can check it out as well. I have actually. To try this. And my son even mentioned it to me, my 15 year old son. He's a very healthy person, very, very interested in longevity.


[00:28:25] And he told me I need a buckwheat pillow and I have felt them before. And I, I felt and heard the sound they make when you lay on them. And I thought, could I get used to that?


[00:28:37] Deborah: It takes getting used to, but I have to tell you, I think like for my age category, it's great because you're cool and it's, and there's no chemicals.


[00:28:45] It's completely organic.


[00:28:47] Rebecca: I love it.


[00:28:47] Deborah: And it's weird. They kind of look like coffee grinds. It's a weird thing. You'll see. The video is good. I did a whole unboxing.


[00:28:53] Rebecca: Don't they look like grapenuts?.


[00:28:56] Deborah: It's like, yeah, you can eat it. Now you get hungry. You can starting your pillow.


[00:29:00] Rebecca: You can be a prepper. It's like being a prepper. You just get a bunch of buckwheat pillows and you're good to go.


[00:29:07] Deborah: They go, you can put it in the whats it called the bunker.


[00:29:12] Rebecca: There you go. You'll be sad if the world comes to an end or if we go on lockdown again, you can just eat your pillow.


[00:29:22] Deborah: Multipurpose.


[00:29:24] Rebecca: Right?


[00:29:27] Deborah: So those are the pillows I recommend the latex or the buckwheat that's. Those are ideal. Then you have your blankets. Very similar organic cotton, just go. Organic, organic cotton got certified organic cuts. And you're good to go. Don't use down because down is also filled with pesticides. You can get super sick from it.


[00:29:50] It's also a horrible, horrible industry for these poor geese that get live plucked and die from the torture and the workers; it's just horrific. It's as bad as the wool industry, please don't ever. There's so many takeaways I'd like you to get from this talk but one of them is don't believe anything that says responsible wool , responsible geese , responsible.


[00:30:13] It doesn't exist at all. So that said the last thing I would want to mention, I mean, there's a million things, but we'll do one more. The last thing I would want to mention would be the bed itself. You know, the, the decorative, the headboard, the bed frame you want to think about that a lot, because you want to make sure that you don't use anything toxic for the headboard, because again, your, your head is right up against that headboard. So you're breathing that in. So you want to make sure that it doesn't have an odor, a smell, which be clean again, organic cotton, organic hemp, organic linens.


[00:30:48] You can do a very shabby looking linen, a slipcover. Beautiful look . So treat your bed as everything else in your room, everything in your space should be as clean as possible. And non-animal based. And of course, if you also like scents a lot of people like a scent. So if you do aroma therapy in your bedroom, which is lovely to have maybe a lavender, which is very calming, make sure that that is also completely organic and not doesn't have chemicals because a lot of them do.


[00:31:21] And that's what I recommend. I have, I have a couple names of aroma therapy that I'll send to you. I


[00:31:30] Rebecca: okay. I'm not, I have never really looked into it very deeply, but I love pillow potion. It's a blend that Aura Cacia and I make like a sheet spray out of it And I mean, it just smells amazing.


[00:31:45] Deborah: And you make your own work with like a session?


[00:31:48] Rebecca: No, I make a spray.


[00:31:50] Deborah: Oh, that's so nice. I'm going to look it up.


[00:31:53] Rebecca: I mix it with vodka and water and then I just, spray it., it smells so good. And put it in my dryer, cause I don't use fabric softeners or, you know, I don't use the sheets or any of that stuff. So I will put it in my dryer and it infuses into the sheets whenever I dry them.. And it just has the best smell I love it..


[00:32:18] Deborah: That's good. So you get it, you know, it's like, it's, it's really about everything, your space being very clean, as clean as possible.


[00:32:25] Rebecca: Crazy like you. No, it's crazy. It is. I mean, there's so many things that you don't know about and clearly it's not good to stress and be totally obsessed with it, but you know, you will live and you learn and you make these. adaptations little by little,


[00:32:40] Well, Deborah, I really would like to see a tour of your bedroom. Are you, do you happen to have a YouTube video where you like tour Deborah's bedroom?


[00:32:51] Deborah: I'm going to give you something even better. I did this thing with called open house where they did a whole video tour of my house. And I talk about non-toxic clean living


[00:33:01] Rebecca: oh, I see. Deborah's home. This is what I wanted to see. Oh, this is awesome.


[00:33:09] Deborah: Okay. It's very modern . I pers personally, I don't like modern, but my husband loves modern.


[00:33:15] Rebecca: Oh my goodness. I love it. It's beautiful. Thank you. Okay. Well, I was just curious, is there a tour of Deborah's house? And so does this, does this show your bedroom?


[00:33:29] Deborah: Yep.


[00:33:30] Rebecca: All right. Well, I'm going to check that out. Make sure to check the show notes.


[00:33:33] Deborah: If you go to rooms, let me see all that you put in the show notes. If you're in rooms, click on rooms. It'll show you master bedroom. There you go. Okay,


[00:33:44] Rebecca: well, this has been such a fun and interesting podcast. I absolutely could talk to you all day, Deborah, and I've learned so much now. I'm like ready to go redo my bedroom.


[00:33:56] Deborah: Well, I wanted to let you guys know that we are going to give away a virtual room, a make-over and we do online consultations, and they're really amazing. You get like a layout and you get a zoom call with us for furniture. It's really great. And it's valued at $580 one away to your listeners and also. If with the coupon code that organic mom, I think it's that organic mom.


[00:34:24] Twenty-five, I'll send it to you. You can get 25% off our nursery and kids' room course, which is great. And it has, that course has over $500 worth of coupons. So it's really not. Great. And it's done. You can do the course in two hours. Nice. So those are our two offers


[00:34:40] Rebecca: awesome. Thank you so much, Debra. I'm excited.


[00:34:43] Okay. So to find the links and the information for that, just make sure you go back and check out the show notes thatorganicmom.com and you'll find links to Deborah's site, to her offers to the giveaway, to all of this information. So make sure to check that out. Thank you, Deborah. I just love talking.


[00:35:01] Deborah: Thank you. It was great. It was great, Rebecca. Thank you so much.