Last Updated on June 29, 2022 by Rebecca Huff
Himalayan Salt Lamps are beautiful and a healthy alternative to night lights or harsh lamps at night. We'll get into the benefits of using a salt lamp as a night light as well as adding a decorative touch throughout your home.
Where does the salt come from?
Himalayan salt comes from the natural salt deposits found in the Himalayan Mountains that sprawl through Asia from Afghanistan through Pakistan to India on into Nepal and Tibet to Burma (Myanmar). The mountains have been mined for salt since 320 B.C. we see it in supermarkets and specialty stores in various ways such as fine, coarse, in grinders, mixed with other spices, like blocks and slabs, and more. Beginner Guide to Himalayan Salt Blocks
Use a Salt Lamp as Night Light
Sadly, light at night is one of the biggest reasons many people don't get enough quality sleep. Exposure to regular night lights with LED, fluorescent, or even incandescent bulbs can disrupt sleep patterns making it hard to fall asleep or cause you to wake too early. For children who are already experiencing sleep issues, avoiding these lights can be helpful.
That's not to say night lights are all bad! On the contrary, children are comforted by being able to see at night, and even adults who might need to get up to use the bathroom may appreciate having a small amount of light to see where they're going.
Light filtered through Himalayan salt rocks has a warm glow and an amber hue entirely different from the harsh blue light that disrupts sleep.
This is one reason why we use Himalayan Salt Lamps in the hallways and bathrooms of our home. The orange hues and warm glow of the salt lamp night light will not disrupt sleep patterns or interfere with your well-being the way bare bulbs would. The kids can see enough to get around, but the light doesn't disrupt sleep patterns.
I still prefer to sleep in complete and total darkness, but I keep a salt bowl filled with salt rocks in my saunaspace infrared sauna. This salt lamp has a dimmer switch to turn it down or off when I'm not in there, but I usually keep it turned up during the day and evenings. I think it looks nice through the canvas cloth covering my sauna.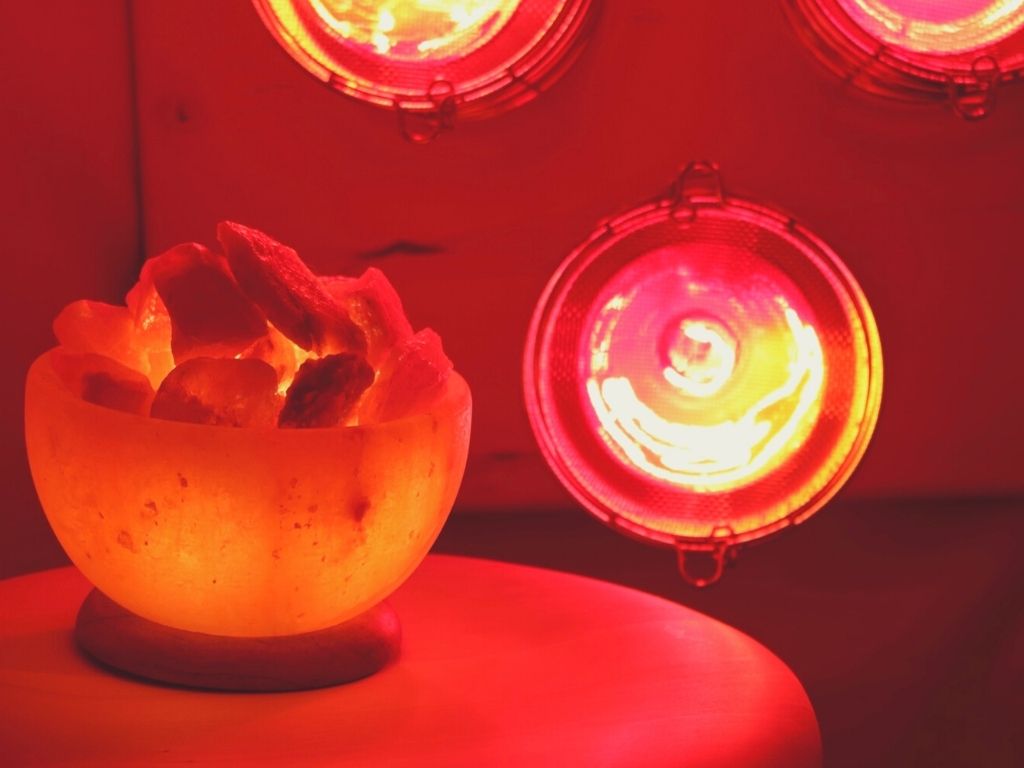 Why use a Salt Lamp
Many people believe that salt lamps are suitable for improving indoor air quality. However, the purifying effect of Himalayan Salt Crystals is due to the natural ionizing effect.
Many people claim some benefits come from these natural air ionizers being placed in a polluted environment. (Yes, your indoor air is polluted unless you run an air purifier 24/7!) However, using an air ionizer, such as these salt rocks, the air is cleaner and purer.
When a candle or electricity heats crystal salt, it attracts humidity which causes the surface of the salt to get moist, which in turn creates a build-up of ions while removing moisture from the air. This helps to neutralize the air in your home, reducing allergens and other irritants.
Aside from the purifying benefits, they lend a warm and cozy feeling to any room. Salt crystals in a salt bowl lend a beautiful touch when placed in your home. Even if there were no health benefits whatsoever, I'd still use them in my home for the ambiance they create.
Even if you don't believe in the health benefits, your lamp will likely boost moods in your family!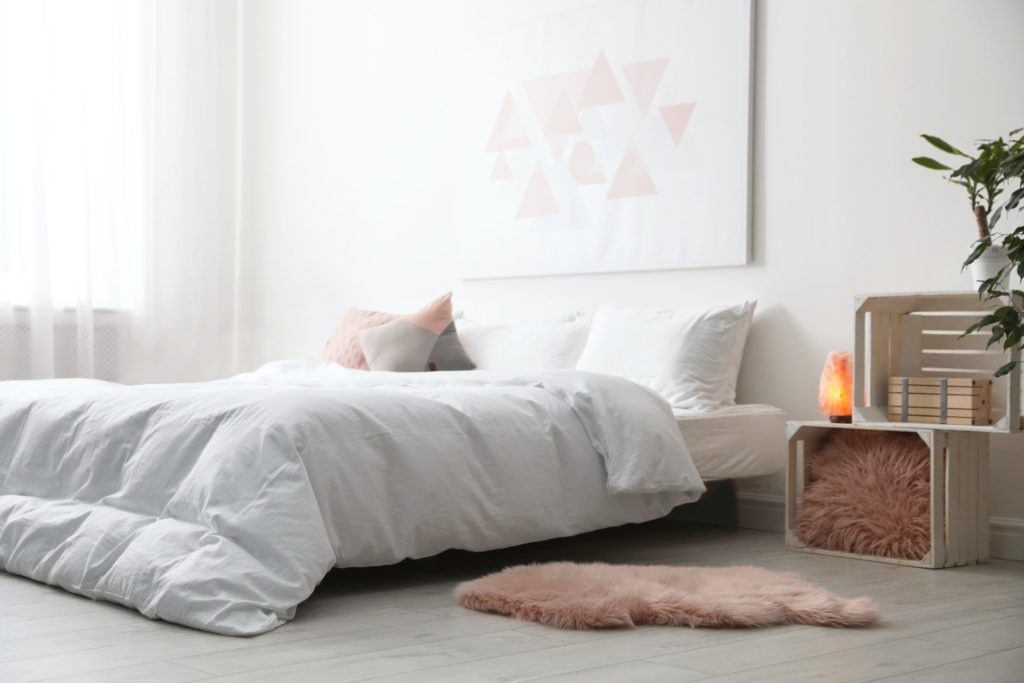 Are salt lamps good for sleeping?
The warm light from Natural Himalayan Salt Lamps will allow you to get a good night of sleep. The health benefits of using a salt lamp for sleeping are
The heat from the bulb releases negative ions into the air (an ion is an atom that has gained or lost an electron), unlike charges attract; for example, ocean waves, thunderstorms, and waterfalls create negative ions that can be transferred to the air around it.
These ion levels are denser the closer you are to the action. Ions cling to pollution, so they don't live as long in the air. That's why you feel better when you're at the ocean or standing outside after a thunderstorm feels so good and clean.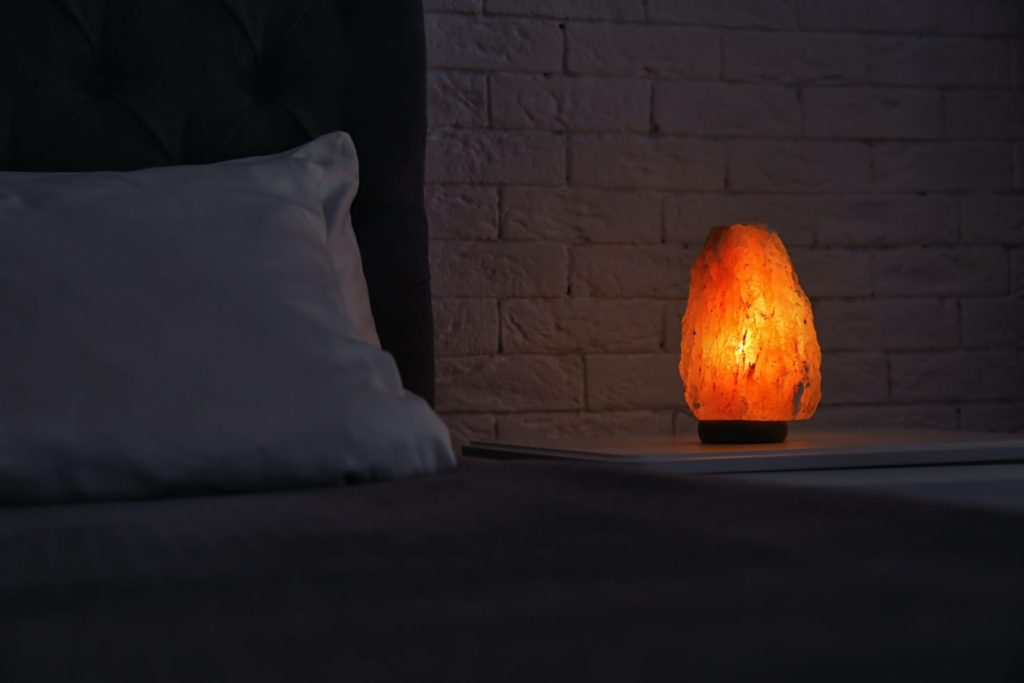 Do salt lamps affect sleep?
Using a high-quality salt lamp will make a difference in your experience. One of the benefits of Himalayan Salt Lamps is said to be better sleep. Studies have shown that exposure to high levels of negative ions in the air may improve levels of serotonin, a chemical involved in regulating your mood.
Due to the ionization of the air, the salt crystal lamp is said to remove pollutants from the air. Pollutants such as mildew, mold spores, and more. Recently, I read that they even help remove pet dander. Sign me up for all the salt rocks! How about you?
Cleaner air means better sleep and that means you're going to wake up feeling refreshed.
For anyone with seasonal affective disorder, allergies, asthma, getting a rock salt lamp is worth exploring. Many people claim that salt inhalers and halotherapy work wonders on these conditions. In addition, salt therapy is frequently used for skin, respiratory, and lifestyle conditions such as eczema, psoriasis, hay fever, asthma, and other conditions.
Salt spas have rooms that are filled with pink salt crystals that help asthmatics find relief. My mom and her friend recently started going to a salt spa and she loves it.
How to Use a Himalayan Salt Lamp
Some folks say you need to have a certain number of salt lamps per room, but I think it's a matter of what you prefer. Again, there is no scientific evidence that would indicate how many and to what extent they alter the atmosphere in a room.
As for how to use one, plug it in and turn it on! If your home is humid, place a coaster underneath; otherwise, it should be pretty low maintenance. Ocasonialy, you may want to wipe it with a damp cloth to remove dust.
Do salt lamps work without the light on?
We leave our salt lamps switched on day and night. Salt lamps are beautiful with or without the light; however, you'll want to have your salt lamp plugged into an electrical outlet and a bulb inside the lamp for ionization.
Can salt lamps catch on fire?
Any light fixture has the potential to catch on fire. The salt crystal itself is not a fire risk. However, the cord can pose an electrical hazard. Like any other lamp you use for home decor, it's essential to practice proper safety precautions.
First, make sure your lamp bulb is the appropriate wattage. Dimmer switches should not be turned on low for long periods. The higher wattage bulb being reduced can cause the electricity to build up in the switch and overheat. This is the only real risk with salt lamps, although the same is true with any light and electrical outlet.
Do salt lamps relax you?
Salt lamps have a positive effect on your mood. According to one study, "brain tryptophan and 5-HT metabolism were increased after salt lamp exposure. The results are discussed in relevance to its antidepressant effects."
We know that tryptophan is what makes us relax and feel good after a nice turkey dinner on Thanksgiving Day!
Ironically, some people also claim to experience increased energy levels and overall wellness just being around the Himalayan Pink Salt Lamps. This makes sense because when you feel relaxed and well-rested, you'll soon begin to have more energy.
Salt Lamp Near Your Computer
I also use a small salt lamp on the desk near my computer in our living room. The electromagnetic radiation caused by the positive static charge sweeps the surrounding air free of negative charges. This improves negative-ion concentration around your computer and cell phone while you're spending time working or browsing.
USB-type salt lamps do not get warm enough to change air ions. Although, the pink glow may make you feel happier while working on your computer!
Can I leave my salt lamp on at night?
Yes! We choose the lowest wattage bulb for our bedroom salt lamps. These offer a nice glow without the harsh bright light from a wall plug-in type night light with a bare light bulb.
Most of my salt lamps are dimmable, so I could turn them down at night.
The large grey salt lamp I keep in our dining room is perfect for adding just enough warm light to allow us to see if we walk through to get a glass of water after dark. People often comment on how beautiful it is.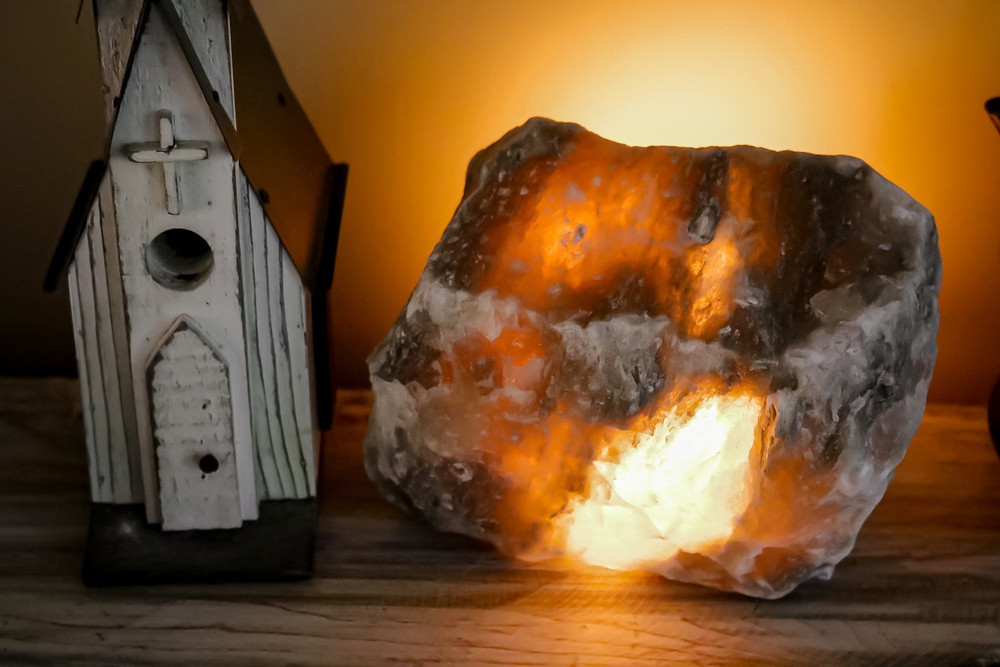 How to Care for Your Salt Lamp
Salt lamp care is pretty simple. Besides dusting it and keeping a stock of replacement bulbs handy, you shouldn't need to do much in the way of maintenance. Use a soft cloth to wipe away dust, and your lamp will last a very long time! How long? I've had my oldest one for 13 years, and it still looks as good as the day I bought it!
Most salt lamps come with a dimmer switch, allowing you to turn the light up or down. However, the salt lamp works better when the dimmer switch is turned on fully. This allows the bulb to use its total wattage to heat the salt crystal.
Why is my Salt Lamp Leaking
When your home has high humidity, the moisture may cause your salt lamp to cry or leak. Salt is hygroscopic. Water molecules from the air around them can cause it to appear as if the salt lamp is crying. In actuality, this is hygroscopy; the pink Himalayan salt crystal is drawing moisture from the indoor air.
When your lamp appears to be crying, it has attracted water vapor from the air. This is a good thing as it also draws in airborne pollution attached to the microscopic water droplets and removes them from the air you breathe.
Many lamps are on a wooden base which might start to have white crystal dust on it from the salt lamp leaking water. If dampness is a problem in your home, you might want to place your lamp on a coaster or plate.
If you plan to be away from home for long periods in a humid environment, consider using a dehumidifier that drains into a tub while you're gone. Otherwise, you can unplug your salt lamp and stick it inside of a plastic bag with a moisture absorber such as those with silica gel.
How to replace the bulb in a Salt Lamp
Unplug Lamp
Pinch together the metal tongs holding the bulb in place
Make sure bulb is cool, twist and discard
Replace with a new light bulb making sure to use the proper wattage
Insert fixture back into the salt lamp
Other Notes about Himalayan Salt
Table salt is processed and stripped of minerals; consider swapping it out for sea salt or Himalayan salt for the added nutrients. Himalayan salt contains a high concentration of trace minerals when compared to table salt.
In some cases, functional medicine doctors will have salt cave rooms designed to enhance relaxation while getting the benefits of a wellness environment. These salt caves or salt mines will be covered along the floor and walls with Himalayan salt tiles. Some may contain a halo generator that breaks down salt into fine particles pumped into the air. Clinical studies have shown that halotherapy or salt therapy can help asthma symptoms and vascular health.
Choosing the best: True Himalayan Salt Lamps
Do salt lamps live up to the health claims people make about them? I believe you should decide for yourself! Himalayan salt lamps work for my purpose, which is to beautify, cast a warm glow and soft light as well as make me feel happy! As I write this article, pre-dawn, two salt lamps are casting a sunrise-esque glow in the room.
Scientific evidence has proven that salt lamps have a positive effect on depression. As for the other health claims, they are all user-reported at this time.
While there is little evidence that these negative air ions are beneficial to your health, the bottom line is they are a healthier light source to use for night lights. The pinkish glow that emits from the beautiful salt crystals may help you cut back on how much white and blue light you're exposed to at night.
Whether you are shopping for a salt lamp to help with allergy symptoms, air purification, air ionization or just to decorate your home, you'll want to make sure you buy true Himalayan Salt lamps from a trusted source. You can see photos of our personal favorites and where they are in our home below.
Raw Cut Himalayan Salt Lamp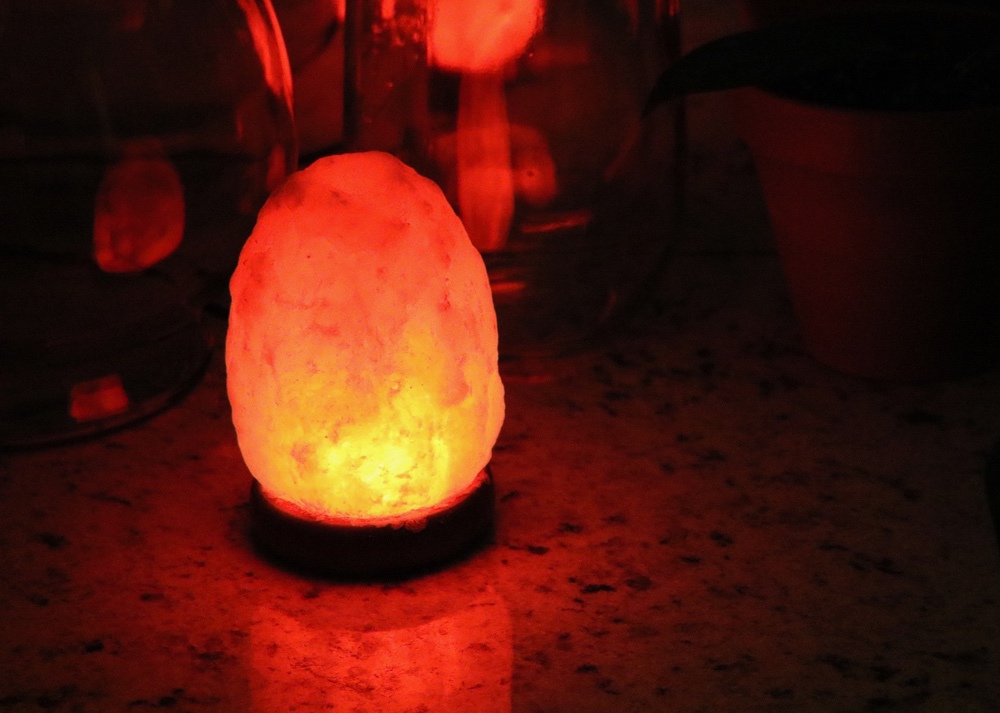 The raw cut lamp is always in style and is probably one of the most popular. In its raw natural organic form, with no wooden base, this style will showcase the beauty of the Himalayan crystal salt in its essential form. Created from ancient salt crystal hand excavated by artisans from Pakistan. The SoWell salt lamp is original and unique with striations of colors, natural fissures, and its own inherent one-of-a-kind beauty.
The medium size raw cut amber Himalayan Salt Lamp with wooden base is the most popular and creates the perfect ambiance for any space casting a beautiful glow across any surface. Ideas for placement include a bathroom counter, atop your piano, in a long dark hallway, nightstand, and kitchen counters!
Grey Himalayan Salt Lamp
My grey Himalayan Salt Lamp is one of my favorites. The rare grey Himalayan crystal salt lamps are a great complement to muted décor or areas where less light output is desired. Unique and perfect for anyone who would prefer grey over pink!
Cube Shaped Salt Lamp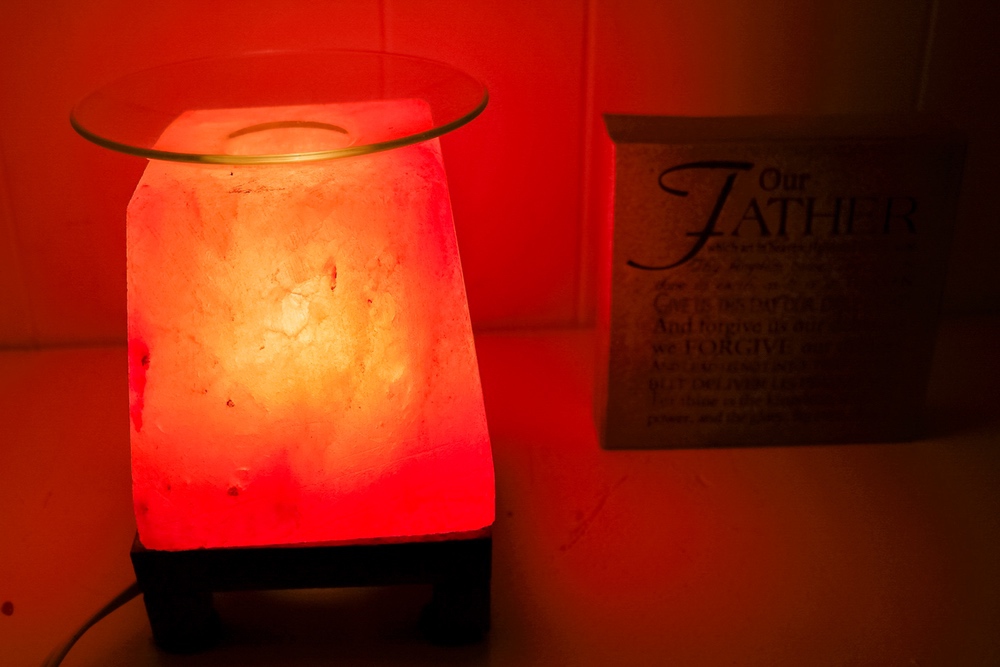 Carved from a large crystal, the cube-shaped salt lamp features distinct balance and symmetry and supports a calm and inspiring environment. For those looking for a larger piece to add massive function and a focal point to their décor, the amber rectangle Himalayan salt lamp is a good choice. I use an essential oil blend on my cube-shaped aromatherapy lamp. This version offers a classic, understated look, and has a glass plate with a small well. Adding essential oils will allow you to diffuse them through any space in your home, offering soothing, calming energy throughout your day.
Serenity Bowl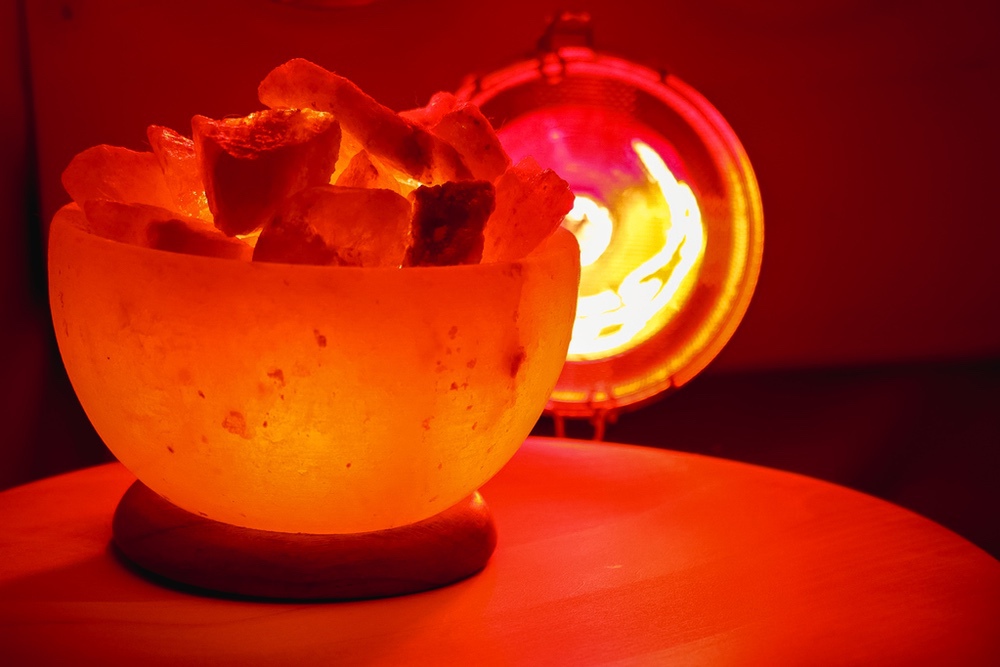 The Serenity Bowl is what I use in my sauna because it lends an incredible calming glow. These are also perfect for diffusing your favorite essential oils and breathing easier. The oil can be applied directly on the rocks- no oil cup needed. Check current promotions for a deal on serenity bowls! (June 2021)
Ready to Get on your Himalayan Glow?
The beautiful salt lamps from SoWell make the perfect gift for every occasion. You don't have to travel to the Himalayas to get on your positive ions! You can grab one online, or sign up for their giveaways and promotions here.
We only purchase Himalayan Salt products through SoWell because they are insured and their warranty says they will replace any item that is damaged or wrong. I've purchased over a dozen (they make the best gift!) and still believe they carry the best Himalayan salt lamp you can find online.
I've read some negative reviews from people who purchased salt lamps on Amazon, some even complained that the lamp they received was not real Himalayan salt. Other complaints were with a metal base as opposed to a wood base, and the plastic socket melting or the switch burning out. I've had no issues like this with mine.
If you're interested in using salt lamps, I recommend starting with a small SoWell amber Himalayan salt lamp like this one that features a beautiful hue on small peg feet. This one is perfect to use as a night light.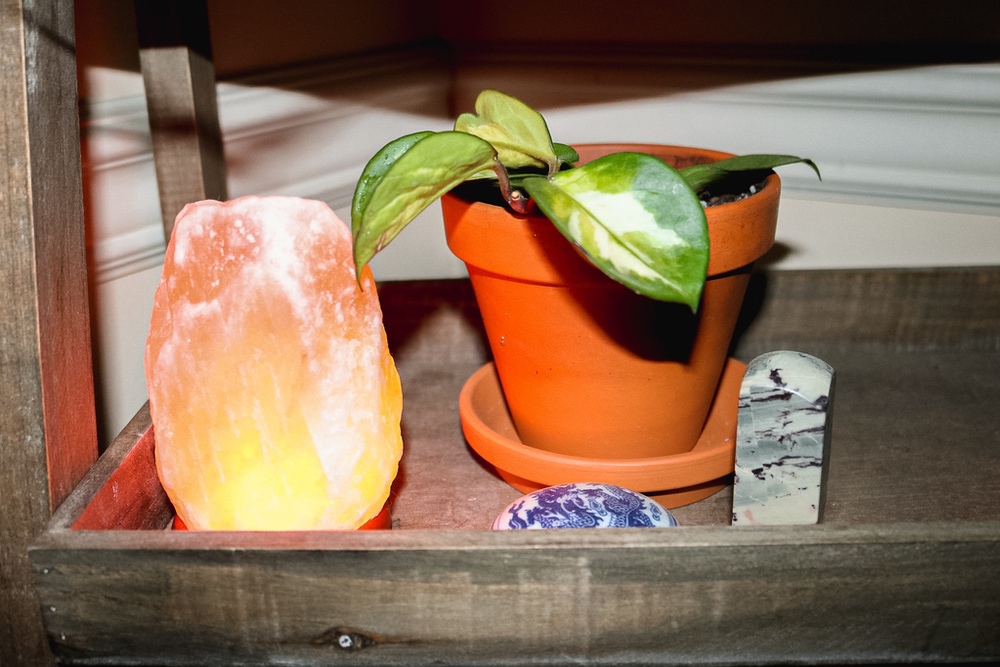 Warning for Pet Owners about Salt Poisoning
Cats and dogs may try to lick your salt lamp. You may want to consider this before bringing salty things into your home. I have had several cats in my home with all my salt lamps and they've never tried to lick them. In addition, I also have salt blocks for cooking, etc. that the cats never touch. Though every animal is different.
According to veterinarians, a taste probably won't do much damage, but if your furry friend makes it a habit, they may get sodium poisoning.
Cat owners have a bit more of a challenge as cats can climb and jump up even if you place the lamp on a high shelf. If you notice your feline friend is exhibiting signs of salt toxicity, such as frequent urination, excessive thirst or neurological problems, call the pet poison helpline or take them to the nearest vet.
The same could happen to your pet from eating too many potato chips, playdough, or a salt water aquarium, all of which are high in sodium. Our corgi would eat anything, including playdough or potato chips, so we make it a point not to leave those things lying around, and her legs are too short to jump up to where we keep our salt lamps, so it hasn't been an issue for us.
I hadn't heard of this problem until my first article on salt blocks was trending and a reader reached out to let me know about the risk.
So, for the sake of your pet's health, make it a point to keep salt lamps and other salty things away from your furry friends!
Sources:
Naz, Hajra. (2010). Exposure to illuminated salt lamp increases 5-HT metabolism: A serotonergic perspective to its beneficial effects. 43. 105-108.
Perez, Vanessa et al. "Air ions and mood outcomes: a review and meta-analysis." BMC psychiatry vol. 13 29. 15 Jan. 2013, doi:10.1186/1471-244X-13-29