Last Updated on June 29, 2022 by Rebecca Huff
Get on a better sleep schedule during the Covid-19 Pandemic
Covid-19 has disrupted nearly every aspect of daily life all across the globe. We are collectively stressed out, overwhelmed, uncertain and many of us are sleep deprived. Our sleep habits are worse than ever. We're experiencing an ongoing bout of jet lag without having traveled.
We lie awake in the middle of the night yet by mid-afternoon we experience drowsiness on a level we've rarely experienced before. Napping can alleviate some of the sleepiness but it doesn't fix our sleep problems.
Recently, I conducted my own survey, if you're part of the community here at ThatOrganicMom, you may likely have taken part. The results from those who participated were that only 5% say they have maintained a good sleep schedule during the pandemic.
A Healthy Sleep Schedule
Make your healthy sleep schedule part of your daily routine. Setting your sleep-wake cycle will improve your mood as well as your overall health. So if your body clock is out of whack because of Covid-19, here are a few sleep tips to get you back on a regular schedule without the need to see a sleep specialist.
Prepare your sleep environment
Establish a bedtime routine
Plan your sleep schedule
What we need to do is improve our sleep routine. Here's how.
Prepare Your Sleep Environment
You need a bedroom that feels like an oasis rather than a cluttered room with bright lights if you want to get a peaceful sleep.
Eliminate noise
Sometimes sounds can disrupt a good night's sleep. If this is the case, consider wearing earplugs and using white noise to cover any ambient noises such as a nearby street or noisy neighbors.
Control the temperature
Sleeping in a bed that is too hot is counterproductive to good sleep. To improve sleep, aim for cooler room temperatures – around 65 to 67 degrees Fahrenheit. A hot or warm bedroom can negatively affect sleep efficiency because it inhibits REM sleep, the final sleep cycle that's associated with dreaming.
An added advantage of keeping cool at night is that brown fat becomes more active, and helps burn calories while you sleep. Many people, including myself, use a hydroponic mattress pad to keep cool at night, especially when you experience night sweats or hot flashes.
Temperature regulation is a "trigger" that tells your body it is time to sleep. Our bodies expect the sun to go down and the environment to cool in order for sleep to begin. By reducing the temperature, you can hack this sleep response to convince your body that it really is bedtime and drift off to sleep quicker and easier than ever. Never wake up tired again.
Use coupon code "chili22" to save 22% on your purchase of a chiliPAD or OOLER sleep system.
Replace your mattress every 7-8 years
Many people are unaware that the reason they are waking in pain is due to an old mattress. Experts recommend replacing a mattress every 7-8 years for the best sleep.
Wear and tear on your mattress—which diminishes the support its materials once supplied—can cause neck and back pain. When your bed is lumpy or breaking down, say goodbye to the way it used to comfortably cradle your body and neatly align your spine. And say hello to… painful mornings. ~ The Bed Boss
Download the 30 Days of Tips for Better Sleep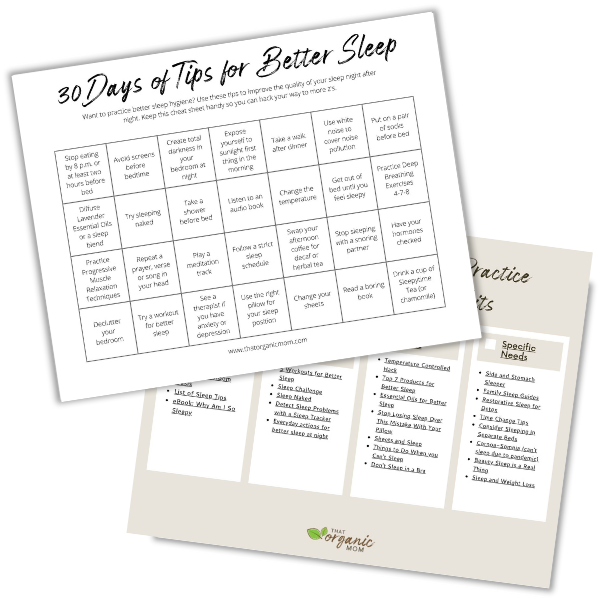 Whether you sleep alone or share the bed… Choose a high-quality mattress that will help you get a good night's sleep. We only sleep on mattresses from The Bed Boss, here's why. You can save 20% with coupon code TOM20.
Sleep with your partner
If your partner snores, you might consider sleeping in separate bedrooms so that you can get the sleep you need. However, studies show that sleeping with your partner improves your sleep quality.
Twelve couples were researched by scientists, who found sharing a bed with your partner can lead to better sleep, a boost in memory, and improved mental health. Under the co-sleep condition, couples showed significantly higher percentages of REM (rapid-eye movement) sleep as compared to sleeping alone. (1)
This is important, as REM sleep increased and was less disrupted in couples sleeping together compared to when they slept on their own. REM sleep is associated with vivid dreams. REM sleep has been linked to emotion regulation, memory consolidation, social interactions, and creative problem-solving.
If you don't share the same sleeping habits as your partner, consider temperature-controlled bedding that is clinically-researched. This advanced sleep solution will allow you to set your own temperature-regulated schedule and your partner can have an entirely different setting.
Establish a Bedtime Routine
Having a bedtime routine will help you on your way to dreamland so you won't have to count as many sheep! Children thrive on routine, if they know what to expect next, they will not fight against it so adamantly. ~ Count Your Sheep
A warm bath, lavender in the diffuser, soft music, reading, sipping chamomile tea, all are excellent activities that you can include in your bedtime routine.
Even if you aren't one to relish the idea of a routine and you love spontaneity, bedtime is one area where a routine is ideal for your health and mental well-being. So, establish a good bedtime routine, know when to start your routine and stick to it, night after night.
Although, some aspects of your bedtime routine might occur right when you wake up!
Getting Better Sleep Starts Hours Before Bedtime
In fact, getting better sleep tonight depends, in part, on what you do when you wake up. So, open those curtains and let the sunshine in! Getting light exposure first thing in the morning will help you sleep better at night. Bright light in the morning; total darkness at night, just how nature intended.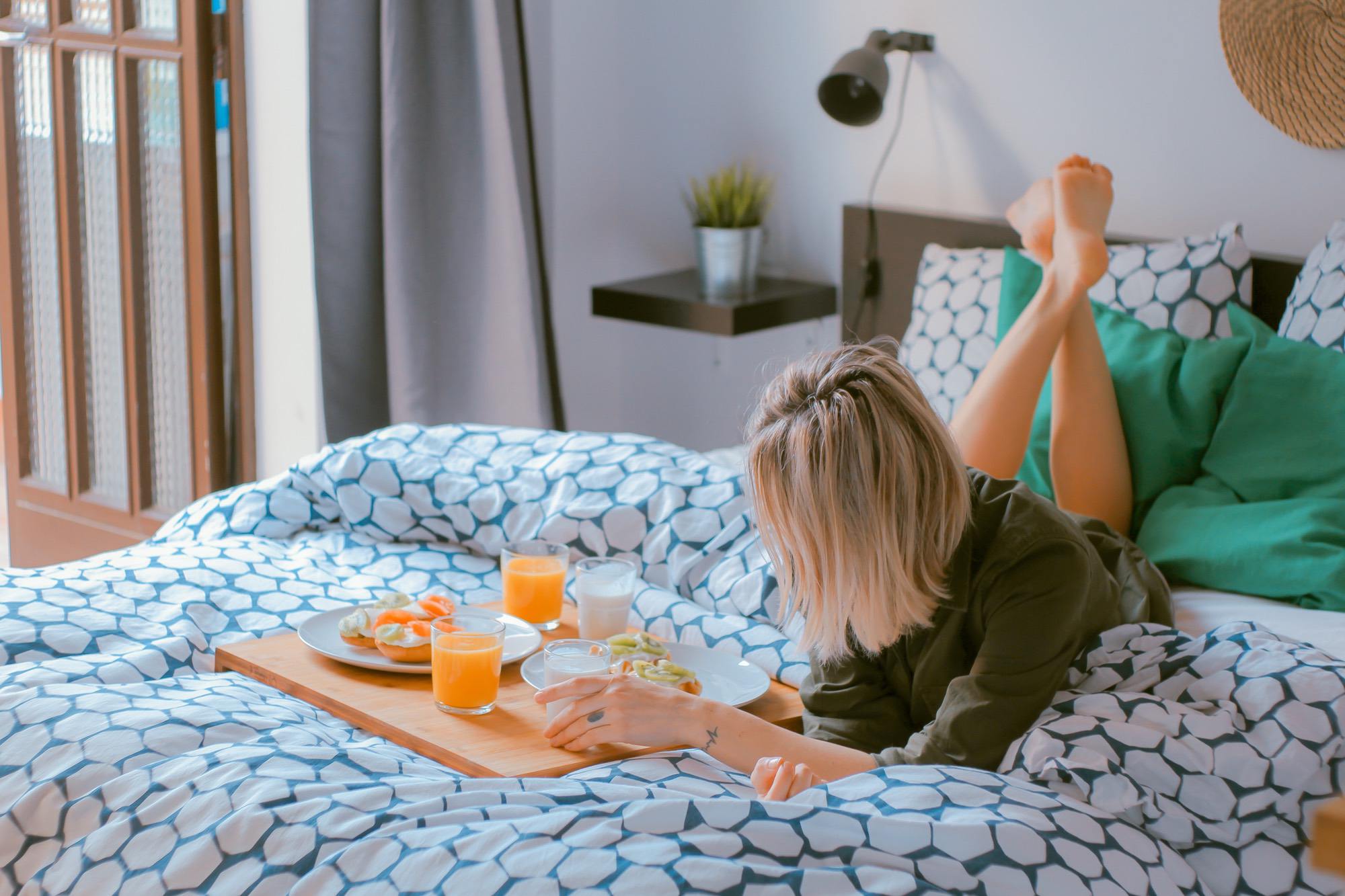 Natural light helps set your body's internal clock. The connection between your eyes and the brain's biological clock keeps your sleep cycle in sync. Exposing your body to ultraviolet rays first thing in the morning will improve your sleep quality.
For waking, instead of an audible alarm clock, opt for a natural sleep alarm clock that uses light to wake you. You'll help your body learn to respond to light which will improve your biological clock. Hitting the snooze button repeatedly disrupts your REM sleep and causes a fight or flight response. The few minutes of extra sleep are not restorative and do not contribute to the total amount of sleep your body needs.
Eating lunch outside is another good idea, but if you can't do that, remember to give your body doses of sun throughout the day when possible. Several short walks in the sunlight can accomplish this.
What you do in the hours before bedtime is of utmost importance. The blue light that comes from your computer, smartphone, and TV can disrupt your circadian rhythm. It is crucial to use blue light blocking glasses or to simply avoid screens in the hour before bedtime.
You might consider turning off your cell phone when you go to bed. At a minimum, use airplane mode while you are asleep.
In addition, avoiding alcohol in the evening can also help improve sleep hygiene. Unfortunately, although alcohol may initially make you feel drowsy, it can prevent deep, restful sleep. If you want the best sleep quality, avoid alcohol.
Get on a better sleep schedule
A consistent sleep schedule will go a long way towards helping you regulate your sleep cycles. If you want good sleep, it's important to go to bed and wake up at the same time every day. Even on the weekend.
Consider using a sleep tracker to establish better sleep patterns. Once you track your sleep for a week you can see indicators as to what is causing poor sleep. For example, you may think that you are consistent with your sleep schedule but once you see one week of tracked sleep you might find out otherwise.
Use the information to adjust your bedtime and wake time so that you are getting an adequate amount of sleep and at a good sleep quality. If you need to wake up at 6 a.m., count back 8 hours and add however many minutes it takes for you to fall asleep. For example, if it takes you 15 minutes to fall asleep, you'd want to go to bed at 9:45 p.m. to get eight hours and wake at six in the morning.
For those of us having bizarre dreams during the pandemic, the best way to eliminate these is by getting better sleep. Get more strategies and hacks by joining the thousands of community members getting better sleep.
Shift work and sleep deprivation
If you are one of many people who are awake all night due to shift work, consider sticking to your sleep-wake schedule during the weekend. Studies show the body may never fully adapt to shift work, this is particularly true for those who switch to a regular (night wake/day sleep) weekend sleep schedule.
Many people use melatonin, however, keep in mind that melatonin is a hormone produced by your body. Any time you introduce more, you are sending a signal to your body to reduce production, therefore, in the long run, depriving your body of melatonin.
Sleep deprivation is a serious risk and can make you prone to accidents and injuries. For those who have a sleep disorder ask your health care provider before implementing any of these strategies. Especially if you are receiving treatment for a sleep disorder.
1 frontiersin.org/articles/10.3389/fpsyt.2020.00583/full
National Sleep Foundation