Old Fashioned Stack Cake
Throughout Tennessee and Kentucky, this old fashioned stack cake goes back generations where fresh apples were abundant. The most traditional stack cake is an apple stack cake, made with dried apples. Prepare this recipe with apples or any other fruit you fancy. Try both the strawberry and apple stack cake!
The number of layers you make for your stack cake is entirely up to you; however, this recipe will make six layers. If you want to get all crazy, grab a large bowl, double the recipe, and make a dozen layers! How fun is that?!
What you put between the stacks will depend on which type of stack cake you prefer. Here are some ideas:
apple butter, apple filling, apple sauce
peaches and peach jam
strawberries and strawberry jam
Appalachian apple butter filling
apricot preserves
Old Fashioned Strawberry Stack Cake Recipe
Fresh, sweet, organic strawberries are heaven's candy! Make sure to include plenty of them along the edge of your serving plate.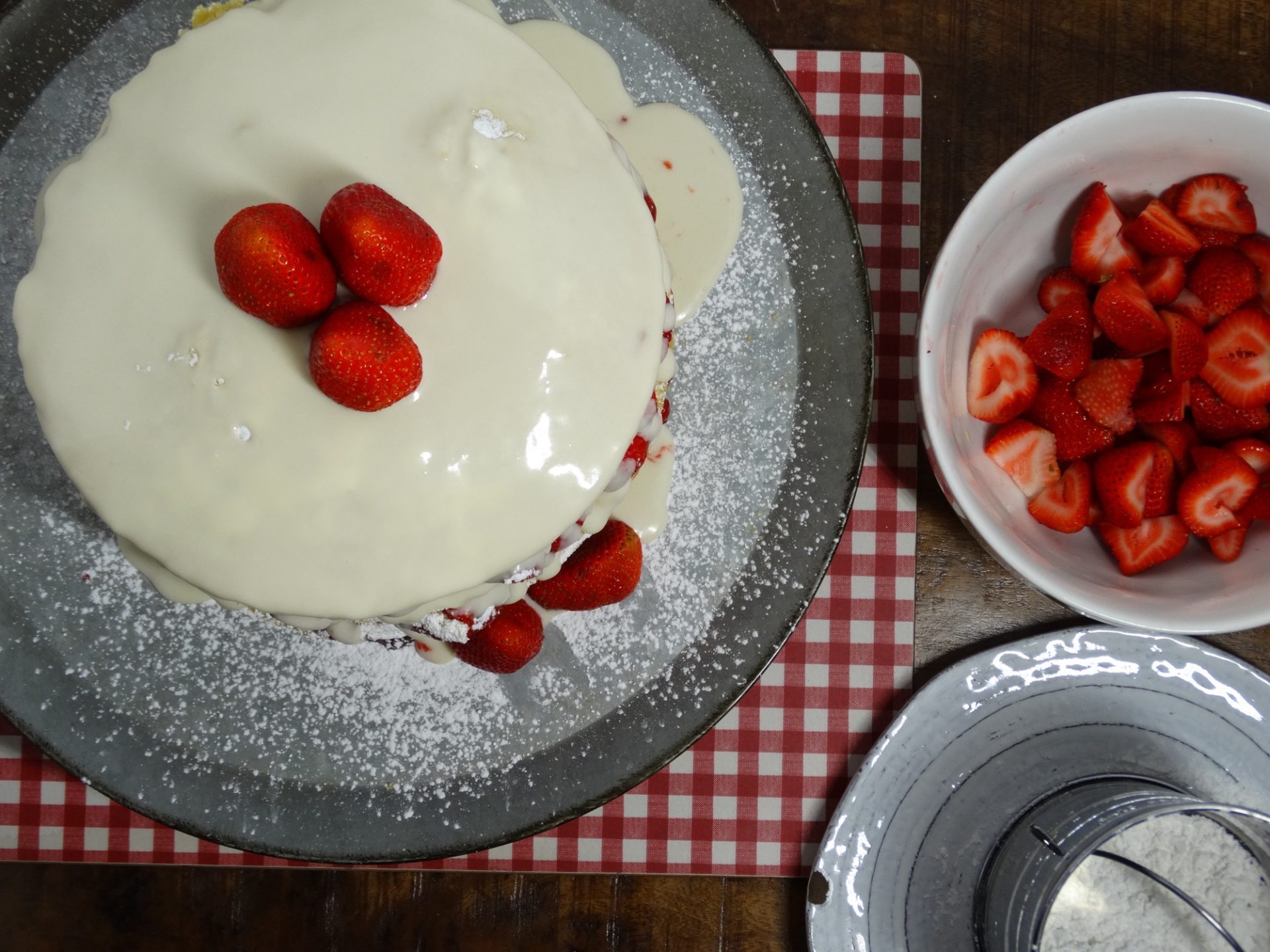 My fourteenth birthday highlight was a strawberry stack cake that my mom prepared using her strawberry freezer jam. She also tinted the glaze a pretty pink color. It filled her glass cake stand to the top of the lid. The cake was many layers tall, and I was thoroughly impressed.
I ended up making the same cake, minus the pink tint, for my son's 14th birthday this year. He was so happy with the cake that I couldn't resist sharing the recipe with you!
For our family, sweets are not an everyday occurrence, and I prefer to save especially sugary desserts like this one, for birthdays or other special occasions. Besides, this cake requires a bit more time because of all those layers. If someone makes you this cake, consider it a labor of love!
To make the stack cake, you will follow the cake recipe. The filling will change depending on what fruit you want to use. Frosting is not used between the layers; instead, we use fruit or jam. Choose store-bought or use your own.
The glaze is a simple one that can be stirred up at the last minute if you wish, but the cake is also good without the glaze. Alternatively, use a dusting of confectioners sugar on top and call it done.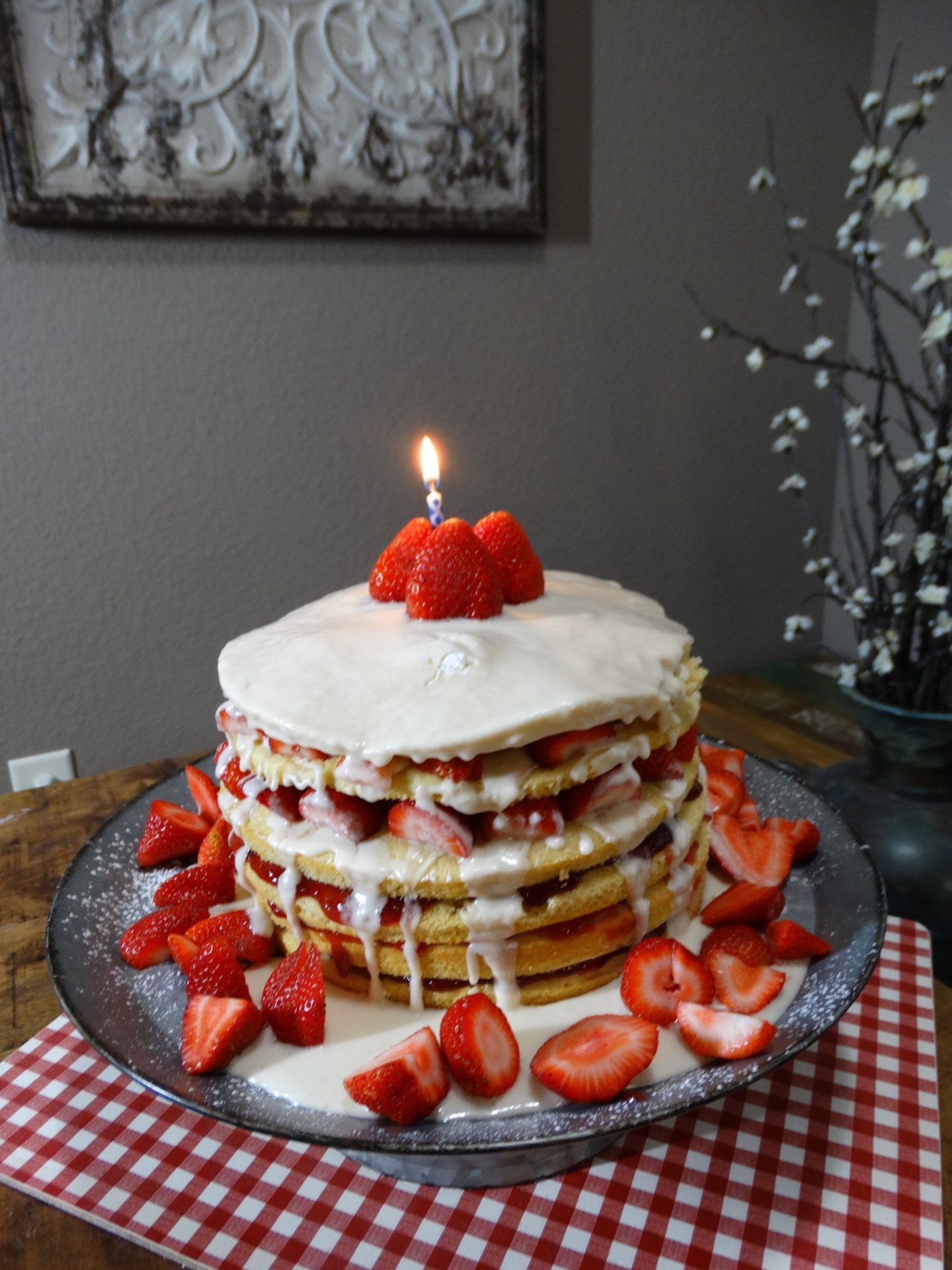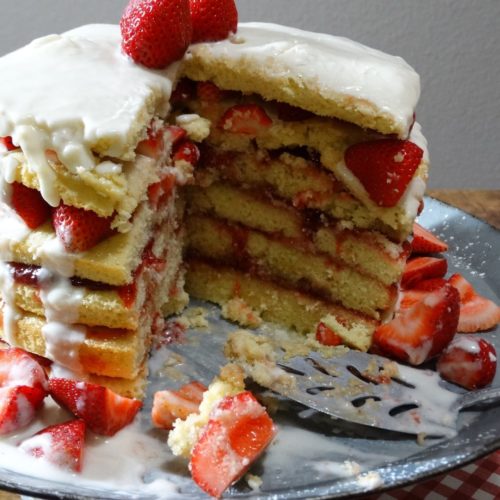 Old Fashioned Stack Cake
This Old Fashioned Stack Cake will impress everyone whether you use the traditional dried apple filling or fresh summer strawberries!
Ingredients
3 ⅔

cups

cake flour

½

teaspoon

salt

1

teaspoon

baking powder

¾

teaspoon

baking soda

3

sticks

butter

(1 ½ cups)

2

cups

cane sugar

organic

4

large

eggs

2

teaspoons

vanilla extract

1 ½

cups

buttermilk
Filling for Strawberry Stack Cake
strawberry jam

2

cups

fresh sliced strawberries
Filling for Dried Apple Stack Cake
1

pound

dried apples

unsulphured

1

cup

brown sugar

firmly packed

1

teaspoon

cinnamon

ground

1

teaspoon

ginger

ground

½

teaspoon

nutmeg

ground

4

cups

water

maybe a bit more, divided uses
Glaze
1

tbsp

butter

¼

cup

half-n-half

1½-2

cups

powdered sugar

(confectioners)
Instructions
Cake
Preheat oven to 350°F. Spray two 9-inch cake pans with cooking spray (I use coconut oil spray), then line with unbleached parchment paper, then spray the parchment paper before pouring the cake batter in the pans. This method will prevent sticking.

In a medium bowl, combine flour, salt, baking powder, and baking soda, whisk slightly. Set flour mixture aside.

With a mixer fitted and the whisk attachment, beat the room temperature butter and sugar together on high speed until smooth and creamy (2-3 minutes) scraping down the sides as needed.

Beat in the four eggs and vanilla extract on medium speed till incorporated, then turn up to high speed until combined, about 2 minutes (don't worry if the batter looks curdled) scraping down the sides as necessary.

Next, slowly combine the dry ingredients with the wet mixture until combined but no longer. Then, with the mixer continuing to run on the lowest speed, pour in the milk and mix just until combined. Check that there are no lumps at the bottom of the bowl and scrape well to make sure the batter is smooth - just don't overmix it. 

Dived the batter evenly into six portions, then pour batter into prepared cake pans. I use a scale. If you only have two cake pans, you might need to do three sets of cakes. (this is what I do!)

Bake for around 12-14 minutes or until the cakes are baked through. To test for doneness, insert a toothpick into the center of the cake. If it comes out clean, it's done. Allow cakes to cool completely in the pans on top of wire racks, then flip out carefully before assembling.

Using the filling, spread equal portions between cake layers, stacking as you go until you've used all the cakes. Time to make the glaze!
Glaze
For the glaze, mix 1 tbsp butter, 1/4 cup half-n-half, and 1 1/2 cups organic powdered sugar. Drizzle over the top of the cake, allowing it to run down the sides. Top with extra fruit if desired.
Dried Apple Filling
Simmer the following ingredients until it becomes thick. Use this to spread between layers.
Notes
Choose only one fruit filling; apple or strawberry.
I like to use glaze on the strawberry cake and caramel sauce on the side for the dried apple stack cake. 
If you like alcohol, pour 2 tablespoons of moonshine over the finished cake and let it soak into the cake layers. Letting the cake sit in the fridge for a couple of days makes it superb!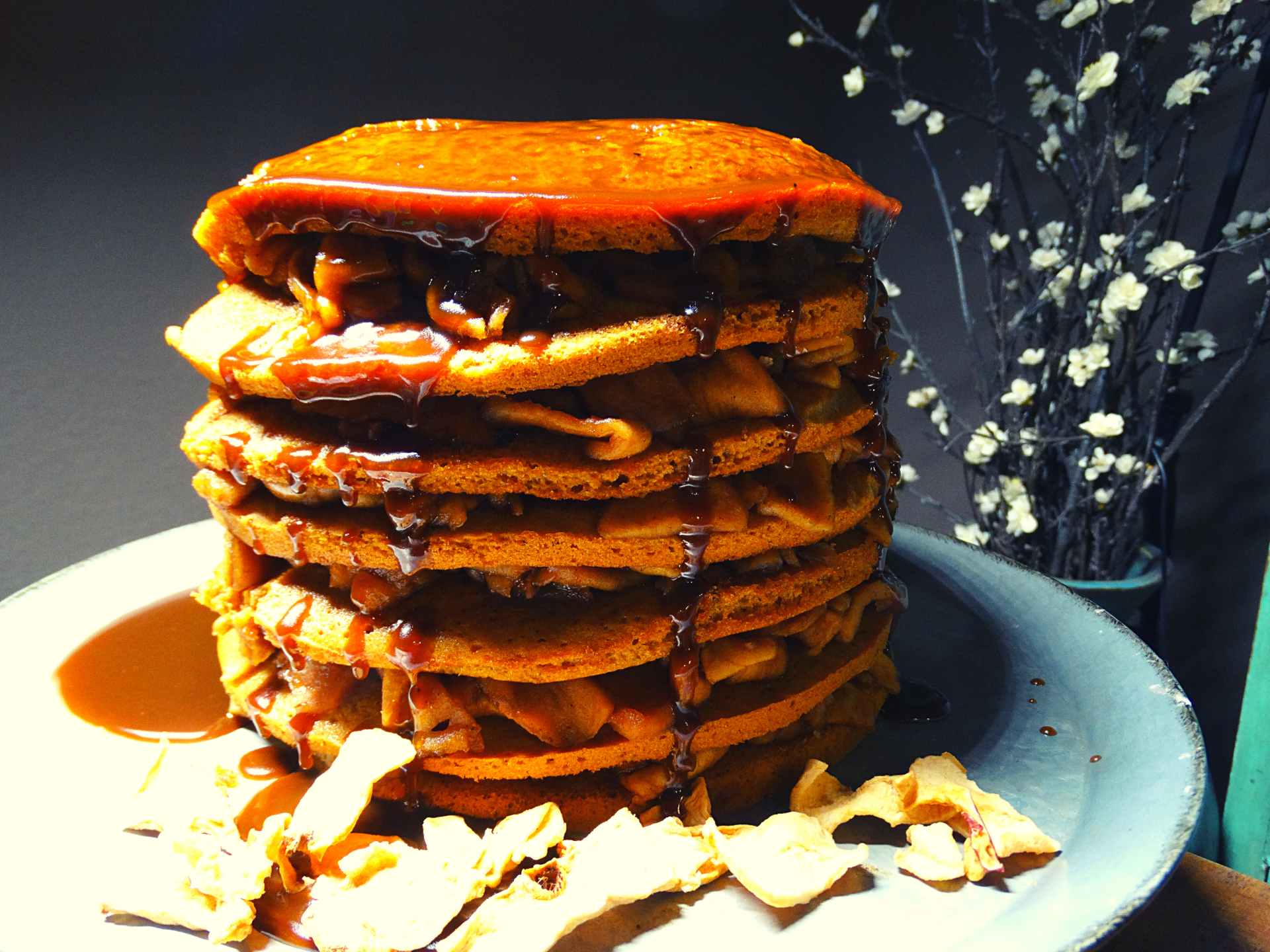 Appalachian Dried Apple Stack Cake
Traditionally, a cast iron skillet was used for baking the cake layers in the oven. To make an Appalachian dried apple stack cake we need to start with the apple filling. Dried apples are popular in southern Appalachia since drying apples was the best way to preserve them.
Simmer the dried apple filling ingredients until it becomes thick. Use this to spread between layers.
When making this variation of stack cake, the original recipe called for sorghum molasses. To keep it simple, when making the apple cake, I use one cup molasses and one cup of brown sugar in the cake batter in place of the sugar. Caramel can also be used in place of the powdered sugar glaze. You can see the caramel on the top and sides of the cake above.
Appalachian Dried Apple Stack Cake actually tastes better after it has had time to sit for a day or two. Use a cake stand with a cover and if you can…wait. See note below.
Notes:
Use prepared pans. When making any layered cake, I can't stress enough how important it is to line bottoms of pans with parchment paper. Doing this will almost guarantee that your cake will come out whole.
If your oven is not balanced, you will have lopsided cake layers. Don't let that stop you from making cakes. You can trim them with a knife or, stack them alternating so it all evens out. The taste is what counts to the people who are eating cake!
To prevent lopsided cake layers, use a level to see if your oven is balanced, and add shims accordingly to get a perfectly balanced oven.
Traditional apple stack cake was covered and left to sit for 2-3, up to even 5 days before slicing and serving. According to tradition, this allowed the cake to absorb moisture from the apples. Good luck hiding your cake for that long if you have kids in the house. For best results, use a serving plate with a lid or you may need to cover it with plastic wrap.
Cake will be good for a week in the fridge or a few months in the freezer.
My mom and I plan to make the dried apple stack cake with apple pie moonshine at Thanksgiving!
Pin this post to your dessert or party board on Pinterest