Okonomiyaki is a Japanese savory pancake that makes use of batter and cabbage. In Japan, okonomiyaki is a popular street food often prepared on a griddle, but it is also found in restaurants.
Okonomiyaki Japanese Vegetable Pancake
Osaka-style okonomiyaki is made by mixing the cabbage and vegetables with a flour batter. Hiroshima-style okonomiyaki is made by layering the ingredients. For this recipe, we'll be making the Osaka version.
If you have other veggies like carrots, zucchini, or bell peppers, you can always add a few along with your cabbage to punch up the nutritional profile.
Okonomiyaki flour is a combination of all-purpose flour and soy flour along with baking powder, kelp, and some seasonings. It's not hard to recreate this flour by adding a few extra ingredients to your okonomiyaki batter. In addition, tempura flakes or "Tenkasu" are often added to the batter mixture. These are crunchy bits of deep-fried flour-batter used in Japanese cuisine like okonomiyaki.
Traditional Kansai or Osaka style okonomiyaki may have seafood such as octopus or shrimp, and you can certainly use that in your Japanese pancake recipe, as have I, but I'm using ham this for this recipe. Pork belly really brings out the flavor in the cabbage! We often get pork belly at Trader Joe's, but you can get it at the butcher or other grocery stores. If you have trouble finding it, you can substitute with bacon.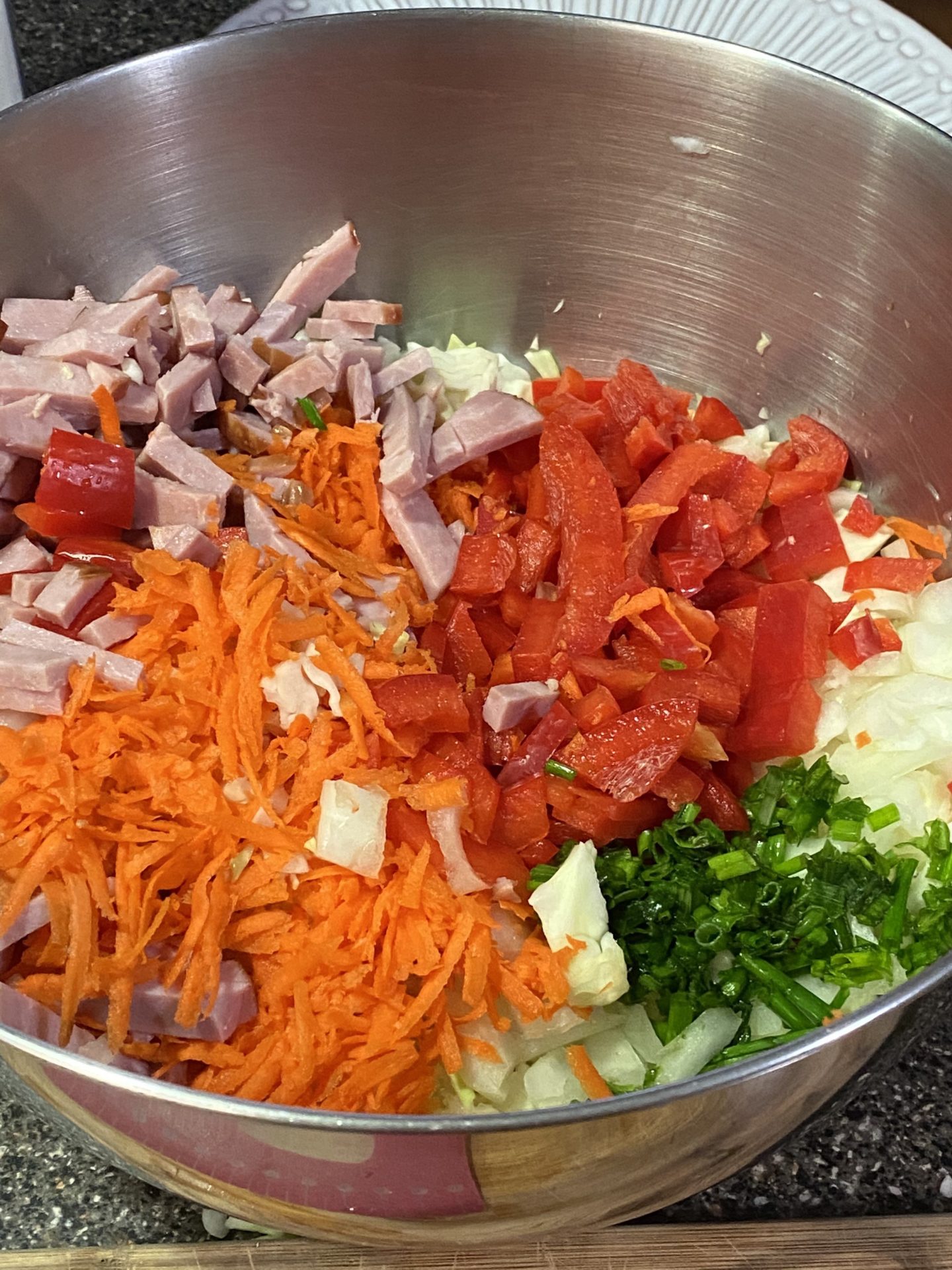 Sauces and Toppings for Okonomiyaki
This vegetable pancake has a couple of unbelievably yummy special sauces that make it really tasty. These, you can drizzle or swirl on top of the pancake.
For this recipe, you could find some Japanese mayonnaise. Kewpie mayonnaise is amazing and is made from egg yolks instead of whole eggs. Because of this and also the fact that it uses rice vinegar instead of distilled white vinegar, it has a much better flavor. Here's how to make a cheaters version of this special mayo sauce. Avocado oil mayo has a nice rich texture, I add a bit of mirin and some rice vinegar to get a similar flavor.
The second condiment that makes this dish special is the "okonomi sauce." Okonomiyaki sauce is typically made with ketchup, Worcestershire sauce, oyster sauce, and sweeteners such as sugar or honey. I keep Red Boat fish sauce on hand, so I use it instead of oyster sauce.
Dashi is traditionally vegan, made with kombu. If you have dashi, please use it in place of the bone broth. This will give your dish a more traditional flavor, although it works perfectly well with the broth.
I have a five-inch skillet that I like to use for making okonomiyaki, but you can use any frying pan you have. When cooking, especially if this is your first time, make your okonomiyaki small and thin to start out, about as wide as your spatula. This will make the total time to cook much shorter and also make it easier to flip.
Cook on the first side until it's golden brown, you want to add your meat to the top, cover with a lid and cook for a couple of minutes. Flip your pancake to brown the meat on top, until it is fully cooked on both sides. You want the pancake to be nice and crispy on the outside.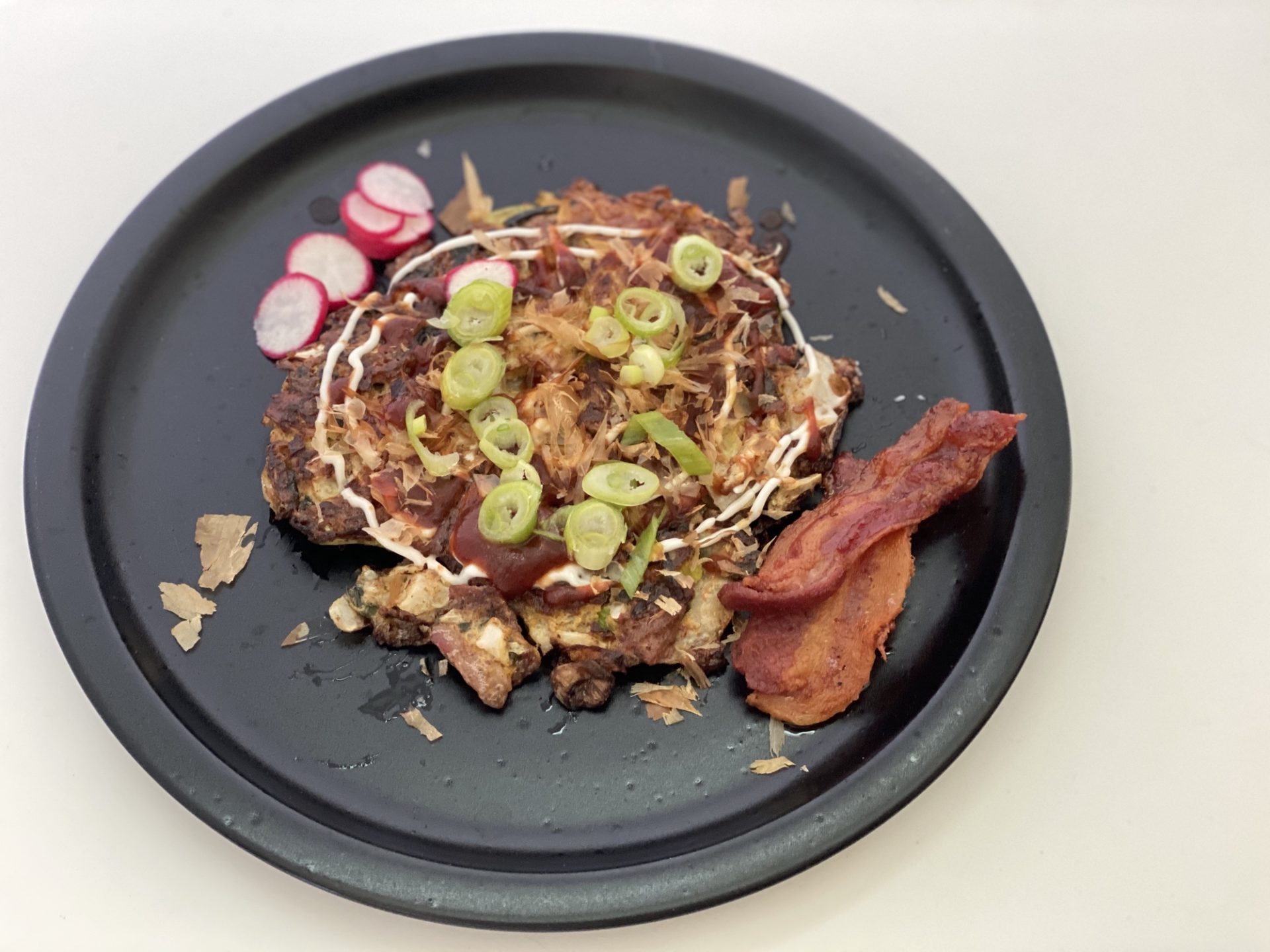 Umami Culture
The toppings will help to pack some flavor into your vegetable pancake. Some toppings you'll find anywhere, you may already have them in your fridge. Green onions or scallions, chives, or kimchi.
These toppings might sound crazy but they are delicious. First Aonori, which is just dried green seaweed that is dried and powdered.
Another topping that is absolutely worth finding is Bonito Flakes. You can find these at Whole Foods or your local asian market. Dried bonito flakes, known as katsuobushi in Japanese cuisine, are flakes of dried, smoked fish, shaved ultra-thin. When these are added to the top of your warm vegetable pancake, they dance around. My kids love it. Trust me, try it.
Add a few drops of sesame oil and soy sauce to a bowl and stir for drizzling a small amount on your veggie pancake to give it a bit of extra flavor!
This recipe might look like a Japanese pizza. One head of cabbage makes more than enough to feed your large family and have some leftovers for packing in your lunch the following day.
Okonomiyaki Recipe
Just remember, you can play with this recipe and make it your own. You just need to get the basic batter and cabbage mixture ready and then add flavor to your heart's desire.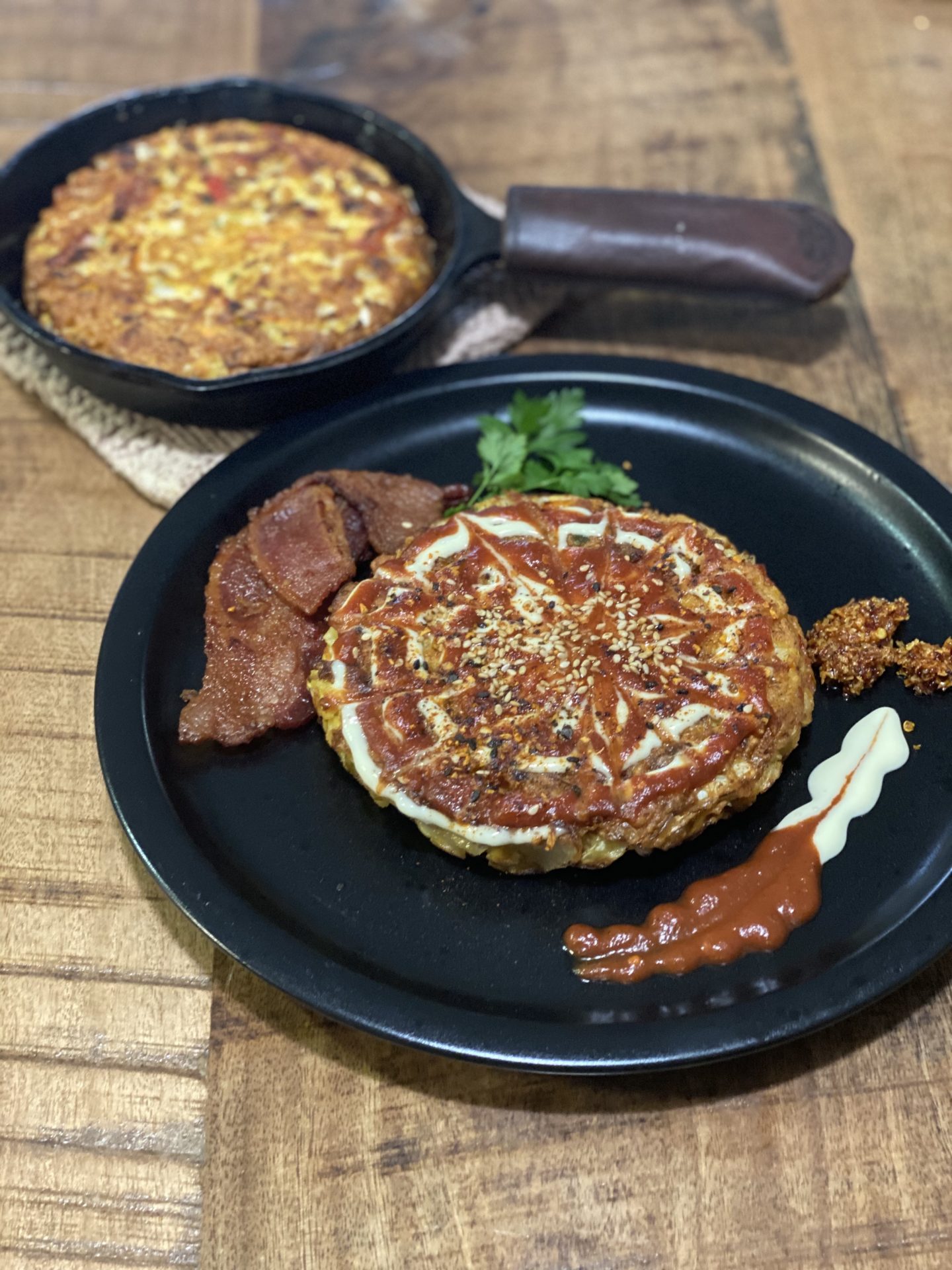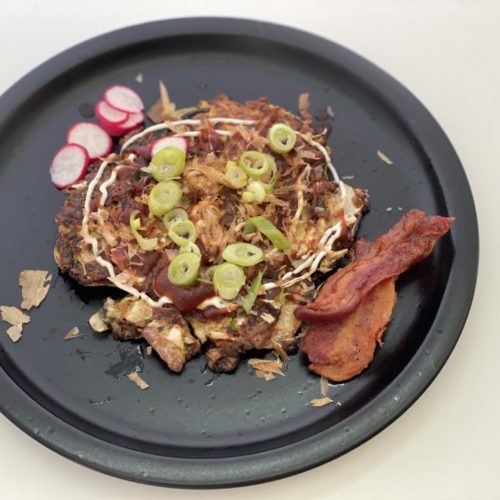 Okonomiyaki - Japanese Vegetable Pancakes

Gluten Free

Keto

Low Carb

Paleo

Sugar Free

Trim Healthy Mama
Full of veggies and oh so delicious! Swirls of tangy sauces and delicate Bonito flakes make this dish absolute superb.
Ingredients
1

cabbage

shredded or chopped thinly

1

cup

organic all purpose flour

or low-carb alternative

4

large

eggs

organic, cage-free, or amber yolks

¾

cup

beef bone broth

(traditionally, they use dashi)

1

medium

onion

sliced thinly

oil

for cooking

½

lb

ham, pork belly, or bacon

(alternatively, you can use shrimp or mushrooms for vegetarians)

salt and pepper

to taste
Okonomiyaki Sauce
4

Tbsp

sugar free ketchup

3

Tbsp

Worcestershire sauce

2

Tbsp

erythritol

1

tsp

fish sauce

Red Boat
Mayo Sauce
½

cup

mayo

organic, avocado (or whatever you prefer)

1

tsp

mirin

1

tsp

rice vinegar

unseasoned
Okonomiyaki Toppings
1

pinch

Dried Bonito Flakes

optional

garnish

green onions

sliced

garnish

chives

sliced

side

pickled ginger

optional

side

kimchi

pinch

sesame seeds

optional
Instructions
Combine flour, salt, eggs, bone broth mix well.

Add onion and cabbage, stir well, set aside

Heat pan with oil over medium heat, add a scoop of the batter to hot pan. It's easier to make smaller, thinner okonomiyaki, make sure yours aren't too much bigger than the width of your spatula!

To the uncooked top of the okonomiyaki - If using, add pork belly, bacon, or ham, cover with lid for 2 minutes before flipping.

Flip and cook until both sides are golden brown.

Swirl on mayo sauce and okonomiyaki sauce, top with optional toppings.
Notes
For a low-carb version of this recipe, replace flour with a mixture of almond and coconut flour. I have also used almond, coconut, flax, and pecan in a combination. If necessary, add an extra egg to make it stick together.
Other recipes you will love: