Establishing Bedtime Routines
It's so important to get a good sleep each night! Having a bedtime routine will help you on your way to dream land so you won't have to count as many sheep! Children thrive on routine, if they know what to expect next, they will not fight against it so adamantly. Try experimenting with your own bedtime routine to help your children fall asleep faster, sleep better and feel amazing which will help improve grades at school as well as keep them healthier overall.
According to some experts, it is more restful and therefore better for your health to sleep alone. If your pets, kids, or spouse keep you up at night, you might consider kissing them goodnight then sleeping alone.(1)
My bedtime routine begins after dinner time. If you have young children, you might need to start winding down after dinner as well.
We usually linger at dinner as this is one of our favorite times to just catch up and chat about life. After dinner clean up is done, I instruct or assist the children with their bedtime routines. Our routines consists of shower, brushing teeth, braiding hair, and pjs. Then a short devotion, prayer, hugs and kisses. Our bedtime routines intertwine, but here's the "just mom" part below:
Dry body brushing to stimulate immune system and increase circulation (2)
Warm shower or bath to relax and detox, using epsom salts, magnesium flakes or I usually do this while the children are watching a short cartoon, 20-30 minutes usually.
Essential Oils mini routine: I use Lemongrass in a body butter I made for spider veins, I use grapefruit oil on my problem areas, and I diffuse "pillow potion" which is a blend of oils in our diffuser during the night.
Sleepy Time tea, with 1 tsp honey (here's why)
Foam Blocks (a tool my chiropractor suggested to help align my neck, usually only lasts about 5-7 minutes)
Reading, no how to books or self improvement books at night, it gets my brain going with too many ideas. I usually read some fiction at night. I use a yellow light for reading so that I do not disrupt my circadian rhythm. Like this one:

No smartphone before bed; no looking at phone in the hour before I want to fall asleep. I do use my phone to track my sleep cycles, but it is ALWAYS on Airplane Mode! I do not browse on my phone after 8 p.m.
Another habit is to keep a glass bottle of water beside my bed in case I do wake up thirsty. Before bed I take Magnesium which I keep in my nightstand. I don't have toddlers anymore, so take precautions if you have little ones!
At exactly 9:30 p.m. well ok, sometimes nine, I set my Sleep Cycle app and go to sleep! Normally, I get about 7 1/2 hours of sleep. I do not use an alarm clock, I wake up naturally between 5 and 5:30 a.m. Even on the weekends, even on vacation… yeah, even on vacations. But hey, I get to see the sunrise!
It truly does matter what type of mattress you sleep on, it's important to Create a Bedroom Oasis so you will have an optimal environment for sleep. We all sleep on natural and renewable toxin free memory foam mattresses. I truly believe if you improve your sleep everything in life will seem better!
The Bed Boss has also offered an exclusive discount for the TOM Tribe (that's you), 20% off all mattresses plus free shipping throught October 31, 2017. Use the coupon code GREATSLEEP20 at The Bed Boss to get a great discount and put your sleepless nights in the past!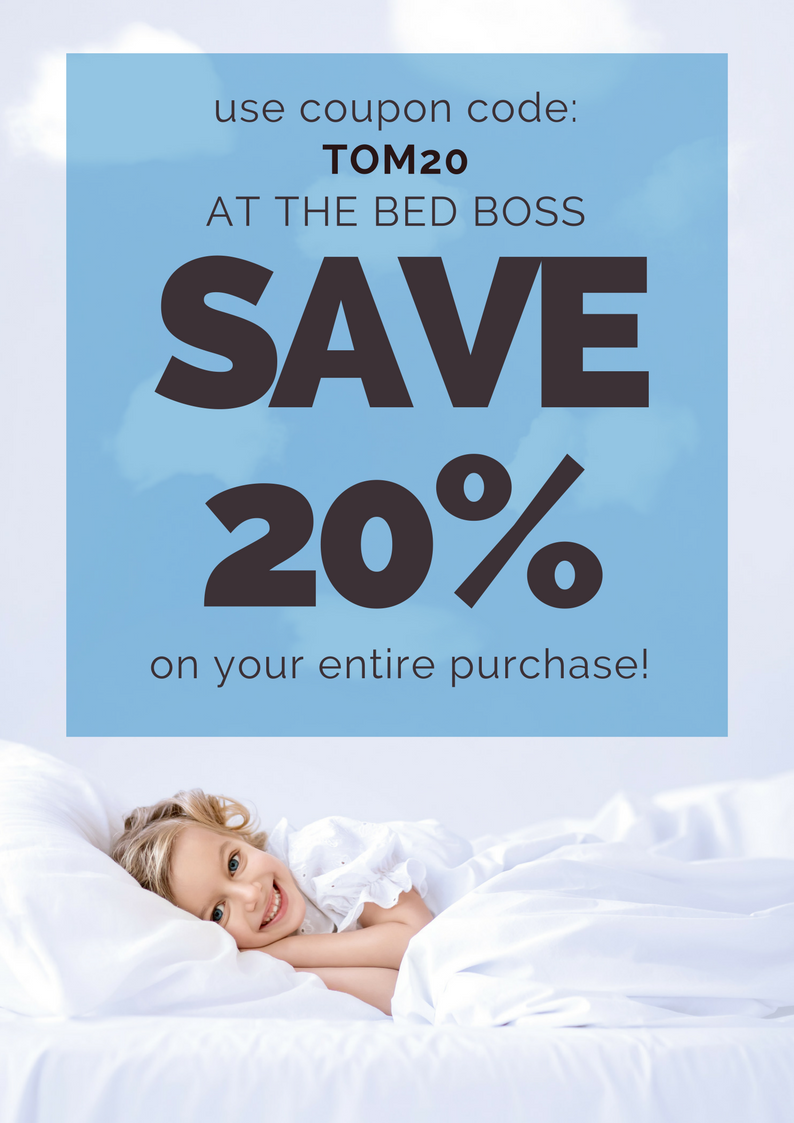 For children, bedtime routines are of utmost importance. I explain the rest of our bedtime routine in this post, if you want to get an idea how to implement one for your children.
What's your bedtime routine like? Share in the comments and follow my blog, don't miss my article on how I started getting a better night of sleep consistently!
SaveSave