Last Updated on June 29, 2022 by Rebecca Huff
Crispy shredded sweet potato stacked and seasoned with sumac and paprika, then topped with a dollop of harissa spiced mayo and a dash of hot sauce? Yes, please.
Salt Block Sweet Potato Fritters are a tasty and nutritious side dish. This recipe is easy to make in a skillet if you don't have a salt block. So pull out your iron skillets and give it a go. Perhaps, the recipe is even easier to make in the oven on a baking sheet, but I love using my salt block!
Get a Salt Block for your kitchen!
Serve these tasty fritters with a poached egg for breakfast or with my salt block salmon for dinner. They are perfect as an appetizer along with a few slices of avocado or a chipotle mayo dipping sauce.
No matter how you eat them, you're going to be glad you did.
Using a Salt Block to cook
If you don't have a salt block, no problem, these can also be fried in a frying pan, iron skillet, or baked in the oven.
Add the ingredients to a large bowl and set aside while you heat your salt block. Hopefully, you've already seasoned the salt block. If not, check out my salt block salmon post to read about how to do that. Heating the salt block will add to your prep time. So if you'd rather fry them in a pan then serve them on the salt block, that's a time saver.
Before heating or using at high temperatures, it is important to make sure the block is fully dry. Allow the block to rest 24 hours between uses (another good reason to have more than one!) The first few times it is used the salt block will obtain a few small cracks and the color will become lighter. After time and washing (more on washing later) it may darken again. Himalayan Salt Block for Beginners
If you don't properly season your salt block, well, ahem, you could end up with a slight technical error. There's a disclaimer at the bottom of this post, please make note!
Spices for Sweet Potato Fritters
While sweet potatoes do tend to sweeten up nicely, they are also quite delicious when made savory. I love the flavor combination of smoky paprika with sweet potatoes! It's outstanding.
Sumac is not a widely used spice in America but it's gaining popularity. I wrote about sumac here back in 2016.
In addition to adding flavor to dishes Sumac boasts an ORAC rating over 1500 (Oxygen Radical Absorbance Capacity is basically a unit of measure for antioxidants… the higher the better). This powerful spice is actually used in many cultures for it's incredible healing properties. It is said to be anti-aging, antioxidant, anti-inflammatory, anti-fungal and anti-microbial.
While we're talking about sumac, if you'd like to try it in another dish, it's one of the spices in my popular recipe for Hungarian Breakfast bowls.
Harissa is a powdered spice blend made with a base of smoked chili peppers with a bit of caraway and garlic. If you don't have it, just use some red pepper powder or chili powder with maybe half a teaspoon, plus a pinch of caraway and garlic. I have found harissa spice at Kroger and other supermarkets.
You can also use harissa paste. Mix it in with the mayo and you are done, my friend!
Making sweet potato fritters
You technically could shred the potatoes on a box grater but I prefer to pull out my Kitchen Aid mixer/food processor attachment as it grates them in no time! Plus, no bloody knuckles! Peel or don't peel, it's up to you. I like to leave the skin on for the added nutrition and hey, it is one less thing to do.
This is the exact Kitchen Aid Mixer I have, it is hard to find, I got mine at Williams Sonoma, but I haven't seen this color in a while.
Before you add the sweet potato mixture to the salt block, make sure you have very lightly coated it with olive oil using paper towels or a pastry brush.
These can be made Paleo or Whole 30 by using cassava flour, or just Gluten-free (if you use a gluten-free flour mix.)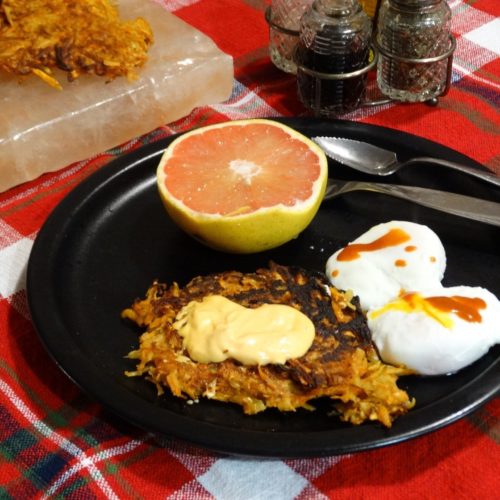 Salt Block Sweet Potato Fritters with Harissa Spiced Mayo

Gluten Free

Vegetarian
Crispy shredded sweet potato stacked and seasoned with sumac and paprika, then topped with a dollop of harissa spiced mayo and a dash of hot sauce? Yes, please.
Ingredients
2

large

sweet potatoes

shredded

2

large

eggs

beaten

1

tbsp

smoked paprika

1

tbsp

sumac

powdered

1

garlic clove

minced

1

tbsp

all-purpose flour, gluten-free flour, or cassava flour

Himalayan sea salt

to taste

cracked black pepper

to taste

1

tsp

chipotle powder

optional

butter or oil for frying
Harissa Spiced Mayo
2

tbsp

mayonnaise

1

tsp

haarissa spice

or paste
Instructions
Prep your salt block, remember do NOT start out on high heat. Start slow and low, build up as per the instructions in the article linked above. You want to cook over medium heat. (I use mine in the oven but it can also be done on the grill)

Mix egg and seasonings with shredded sweet potatoes

Using a kitchen brush, coat salt block with oil (if using an iron skillet melt butter till bubbly but not browning)

Drop small mounds of sweet potatoes by spoonfuls on the prepared salt block, flatten lightly, and cook till crisp, flip, cooking the second side till crisp. 

Using a spatula, remove to a paper towel-lined plate while you mix the sauce.

In a small bowl, mix mayo and harissa spice till well blended. 

Serve your crispy fritters with sour cream or greek yogurt instead of the harissa spiced mayo if desired.
Notes
I used gluten-free flour and it worked great. (Vegetable oil can be used in place of olive oil or butter but it is not my preferred type of oil!)
If you like a little kick, use the optional chipotle powder.
Use any variety of sweet potato, or blend of sweet potatoes.
Nutrition
Calories:
160
kcal
Carbohydrates:
25
g
Protein:
4
g
Fat:
5
g
Saturated Fat:
1
g
Cholesterol:
62
mg
Sodium:
119
mg
Potassium:
438
mg
Fiber:
4
g
Sugar:
5
g
Vitamin A:
16842
IU
Vitamin C:
3
mg
Calcium:
46
mg
Iron:
1
mg
Salt block sweet potato fritters pair well with Mom's Kraut Burgers too!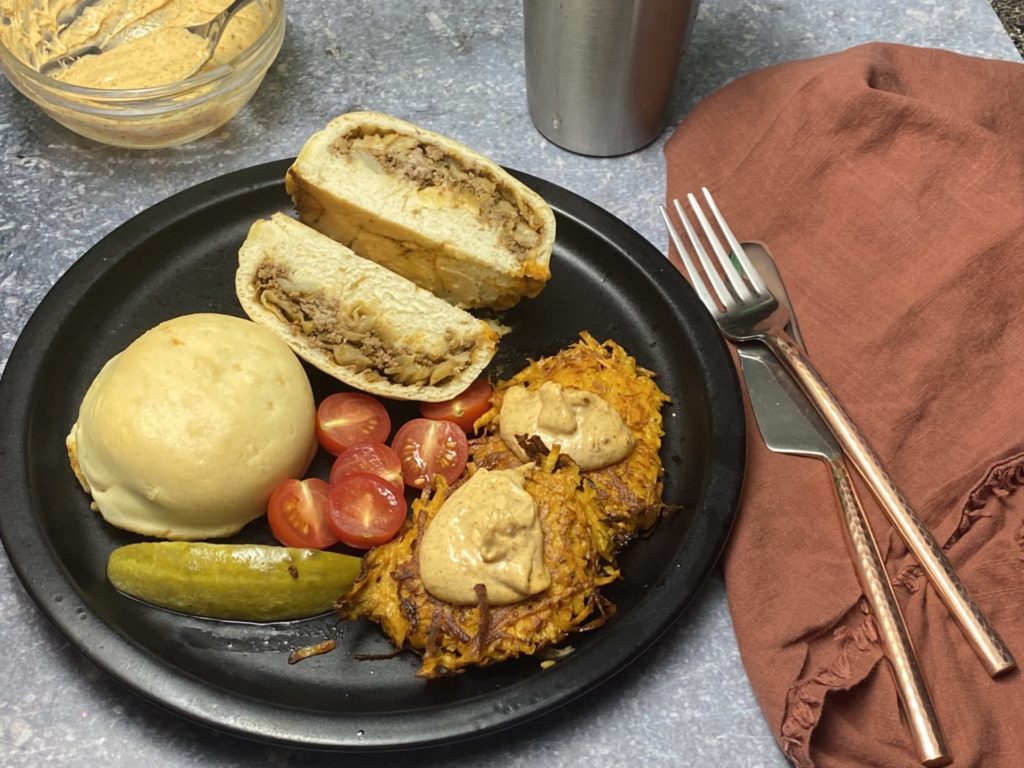 Try my other sweet potato recipes:
Disclaimer: Cooking on salt blocks can pose a risk of breaking or damage to your oven, salt block, or bodily injury. If you wish to cook on one, please understand that you accept all responsibility. ThatOrganicMom nor our salt block supplier do not accept liability; user accepts all responsibility. Remember: Heat your block low and slow.