You're going to love the creamy texture naturally sweet taste of roasted purple sweet potatoes.
Purple sweet potatoes are a stunning side dish with their vibrant purple color. Not only do they look like food for royalty, but they are also considered a longevity food. You may have heard about Okinawans who have a life expectancy of 83.7 years. (Compare that to the expectancy of an American and you'll see a five-year difference!)
According to a decade-long study of the Okinawan people, it appears that a key factor in the Okinawans' vigorous health and longevity can be attributed to the consumption of purple sweet potatoes. Okinawans reportedly eat an average of half a kilo (1 pound) of purple sweet potatoes per day. ~ Purple Sweet Potatoes May Help You Live Longer
Purple sweet potatoes are exceptionally high in antioxidants, particularly anthocyanin, which is the same antioxidant that you'll find in blueberries, purple cabbage, and others. However, the level of this special antioxidant, anthocyanin in purple sweet potatoes is around 150 times higher than in blueberries.
One study found that anthocyanin was helpful in protecting against colorectal cancer. This antioxidant also contributes to eye health.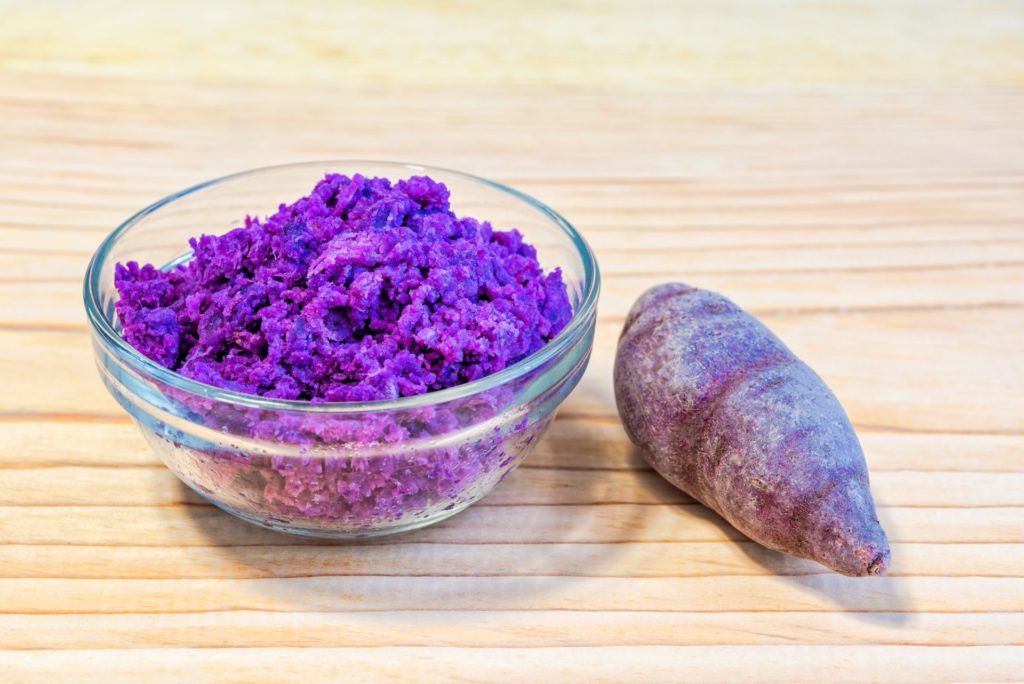 How to prepare purple sweet potatoes
To reap even more of the health benefits of these purple sweet potatoes, we're going to roast them with the skin on. So before you cook them, give them a nice scrub in a tub of water using a stiff bristle brush. Sweet potatoes are tubers and grow underground, therefore you will often see a bit of dirt on them.
My grandpa used to say "a little dirt won't hurt" but grit will ruin your eating experience, so scrub them well! Potato skin has concentrated nutrients, so leave it on when you can.
Purple sweet potatoes have a lot of potassium and most of that is found in the skin. Since potassium is good for your heart, may as well use this source rather than toss it in the compost. In addition, both the purple and regular sweet potatoes contain a significant amount of vitamin C which is often lost in cooking. Higher concentrations of vitamin C can be maintained when you leave the skin on.
Roasting sweet potatoes year-round for your dinner table (or breakfast and lunch!) will help keep your immune system strong. So don't eat them just on Thanksgiving Day. You want to enjoy them as often as you can!
Besides, I love the taste of crispy sweet potato skin! When my kids wouldn't eat their sweet potato skin I would always be the one who ended up with it on my plate. For years my older children would offer me their sweet potato skins!
Finding Purple Sweet Potatoes
Offering a well-balanced sweetness and texture, Stokes Purple® sweet potato is a unique variety with purple skin and rich purple flesh that intensifies when cooked. Aside from its unique bold color it also contains anthocyaninantioxidants (just like blueberries) and is a good source of vitamin C and fiber, making it healthy and nutritious. The Stokes Purple® sweet potato is grown in California and is non-GMO.
You can look for Freidas purple sweet potatoes using their finder.
When I find them at the grocery store, I try to buy extra so I can enjoy them in several different ways. I've found them at Trader Joe's, Whole Foods, Publix, and Kroger. Recently I saw them on Amazon along with many other purple sweet potato food items.
Whole 30, Paleo, Clean Eating, and Mediterranean Diet friendly.
Roasted Purple Sweet Potato with Balsamic Vinaigrette

Dairy Free

Gluten Free

Paleo

Sugar Free

Vegan

Vegetarian

Whole 30
A side dish fit for the royals
Ingredients
8

medium

purple sweet potatoes

chopped into cubes

⅔

cups

olive oil

extra virgin

⅓

cup

balsamic vinegar

sprig

fresh rosemary

½

tsp

Himalayan sea salt

or more to taste
Instructions
Preheat the oven to 475°F with a rack in the middle position. 

Combine the chopped sweet potatoes, salt, and oil in a large bowl tossing well to coat evenly.

Pour out onto a baking sheet with a rim lined with parchment paper. 

Roast for 30-35 minutes or until fork-tender, checking once around 25 minutes to test doneness.

In a small jar with a tight-fitting lid, combine the oil, vinegar and spices. Put the top on the jar tightly, then shake vigorously. 

Add more salt and pepper to suit your taste.
Notes
Potatoes are a naturally gluten-free food. 
While you're saving recipes with purple sweet potatoes, try my minestrone with purple sweet potatoes. Here are some other posts you will enjoy: