Last Updated on June 29, 2022 by Rebecca Huff
If you're like me you love salmon and may find yourself looking for various ways to incorporate it into your meal plans. In addition, I also really enjoy eating tzatziki for it's tart and cooling flavors. That's why this delicious and nutritious salmon and tzatziki bowl recipe with a Greek flare is going to be one of your new weeknight favorites.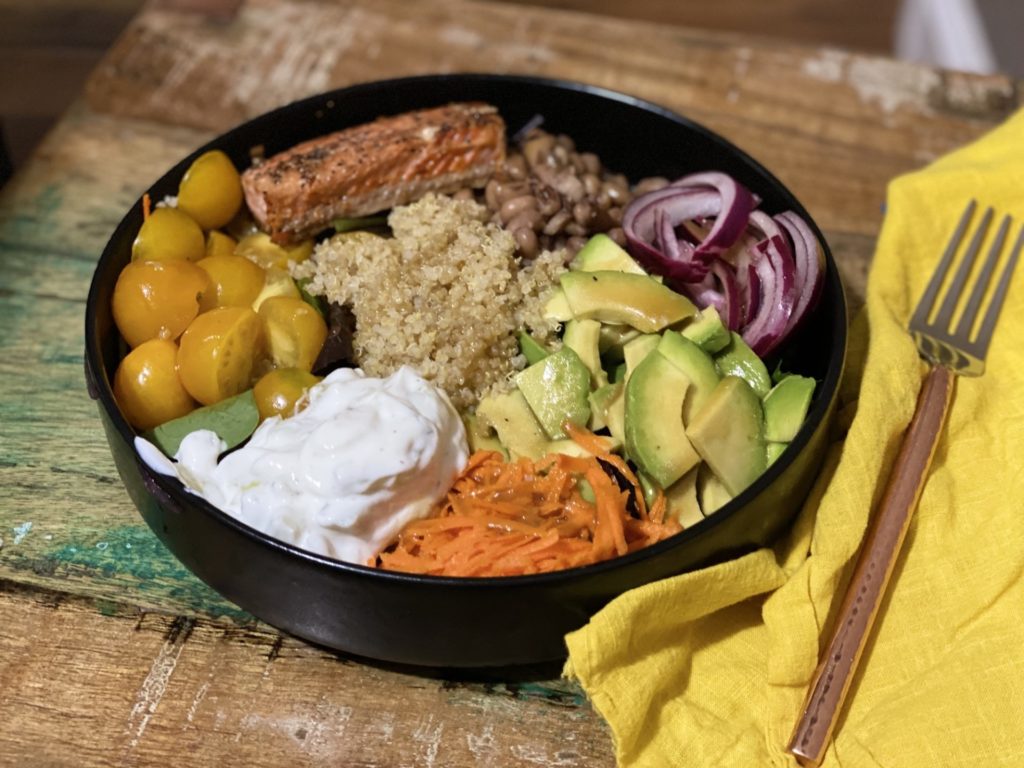 Greek cuisine hits the spot for me because of the use of earthy flavors such as oregano, mint, garlic, onion, dill, basil, thyme, and parsley. Middle eastern cuisine dishes are among some of my favorites. Some of the most familiar Greek dishes include hummus, falafel, tahini, tabouleh, baklava, pita bread, and baba ghanoush.
Tzatziki is a tasty condiment that is simple to make that pairs well with meat dishes. Traditionally, the sauce is served in a bowl and paired with a pita and Gyros meat, onions, tomatoes, and potato fries. The sauce is delish as a dip for the fries (instead of ketchup.) When I visit my favorite Syrian restaurant, I always ask for extra tzatziki for my fries.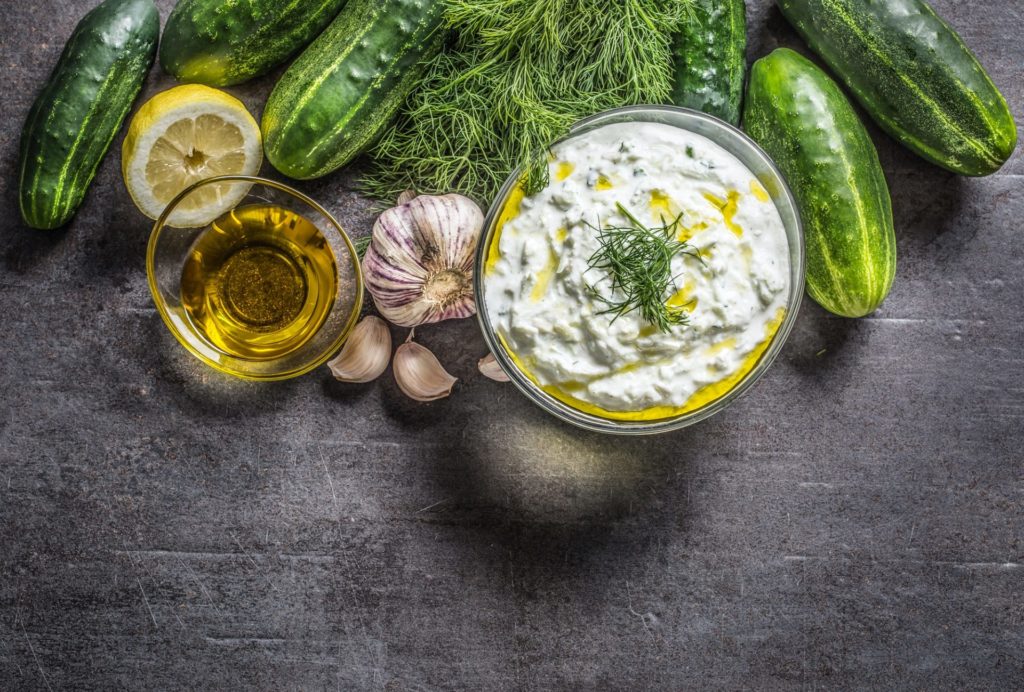 Use high-quality yogurt for this dish; my favorite is Siggi's. As long as you get a whole Greek yogurt, the results will be divine. Use fresh dill if you can, the flavor is far superior to dried dill.
You'll also want to get a barely ripe avocado for this dish as you will want it to hold its shape as you are preparing and serving the salmon bowl.
Finally, drizzle balsamic vinaigrette made with extra virgin olive oil over the greens and veggies in your salmon bowl to give it a tangy zesty flavor. For those who prefer carbs over greens, or in addition to them, feel free to replace the greens with your favorite grain, such as brown rice or quinoa. Noodles would even work in this dish.
Salmon and Tzatziki Bowl Low Carb Options
For families with low carb parents, it's easy to suit everyone's needs. You can make a carb for the kids and keep the salad greens for your own bowl. Just make separately, then divide rice or noodles among the bowls before adding all the other topping ingredients.
Another option would be to use cauliflower rice in place of the quinoa or in addition to the leafy greens. Recipes are really so versatile (unless you are baking), it's easy and fun to tweak them as you go to make them suit your needs.
If you want to reduce prep time, you could always purchase precut or pre-shredded veggies and steam in the bag quinoa or rice (for those adding carbs.)
For the most nutrition, choose wild-caught salmon fillets for this recipe. Wild-caught salmon has a healthier ratio of anti-inflammatory omega-3 fats to inflammatory omega-6 fats and a better nutritional profile overall. In addition, farmed salmon is not sustainable and may harm the environment. Look for fresh salmon without browning skin or dryness. Another alternative is to order frozen wild-caught salmon.
Cooking the salmon
No problem, if you don't have a salt block, just put your salmon fillets skin side down on a baking sheet in the oven to cook. Your dish will still be delish salmon fish! Just bake your salmon fillets at 425 degrees F for 9-10 minutes, longer for thicker salmon, shorter for thinner. Use a meat thermometer and don't overcook your salmon. Overcooking fish leaves it dry, also remember that a salt block retains heat so it will continue cooking if you leave it on there.
Using a salt block to cook the salmon will add to your total time as you will need to slowly heat the salt block before using it to grill. If you've never cooked with a salt block, you'll want to start by reading how to do that in the salt block salmon recipe post here. Trust me, cooking your food on a salt block is absolutely worth the time. (Some folks call them salt tiles.)
Anytime you prepare to use your salt block for cooking, increase the temperature gradually. Although, as you use it you can increase the temperature in smaller increments. I usually raise the oven temp about every 5-7 minutes until it reaches the desired temperature.
My Favorite Salt Blocks for Cooking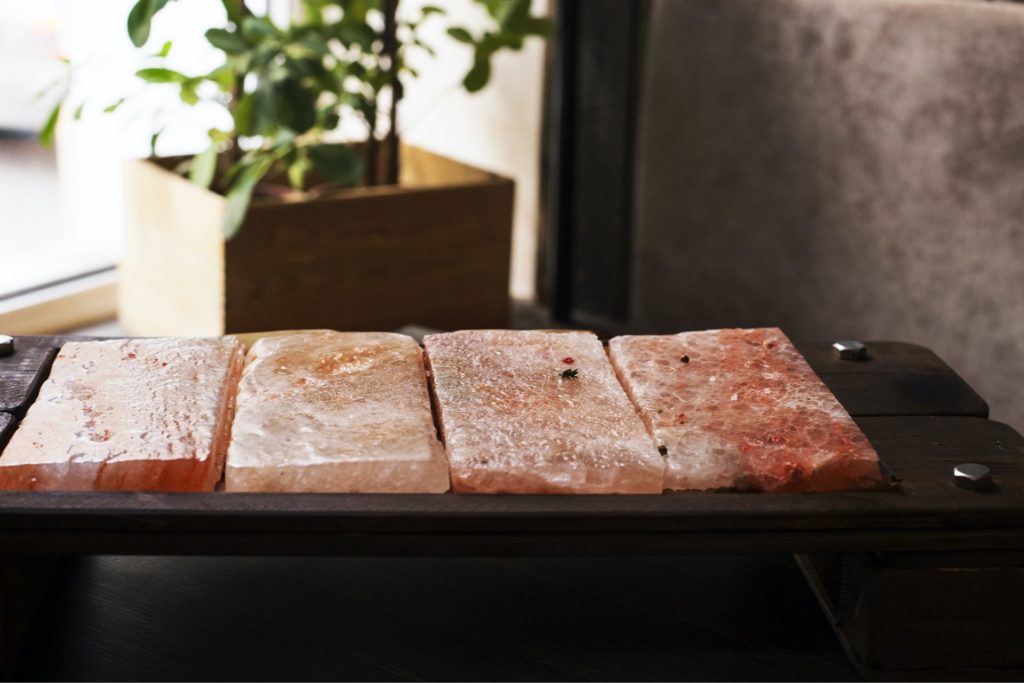 No matter which of these three sizes you get, you'll have enough room for 1-2 fillets, so make sure you try cooking salmon on your salt tile. When I pulled this salt block out of the oven, the salmon was still sizzling.
Once your salmon is cooked, grab a small bowl (or a large one!) and start assembling your dish. Start with the greens and then add the other ingredients as if you are deconstructing a salad. If you have children who don't like certain foods, it's easy to leave one or two items off.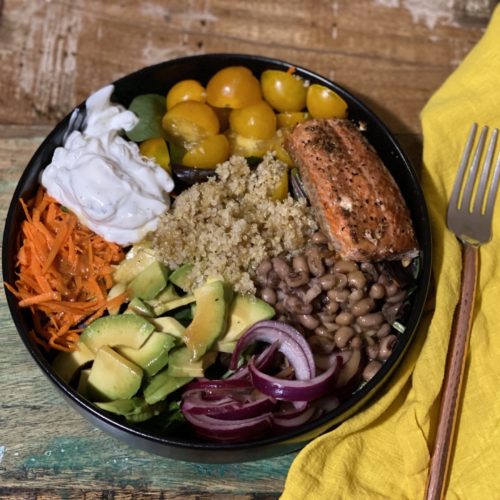 Salt Block Salmon and Tzatziki Bowl

Dairy Free

Gluten Free
Salty Greek Fusion Bowl recipe that will leave you very satisfied!
Ingredients
4

small

Salmon filet

wild-caught

oil

for adding to the salt block to cook salmon

1

large

carrot

shredded

1

14.5 ounce can

black-eyed peas

1

cup

cooked quiona

1

small

purple onion

sliced

2

tbsp

apple cider vinegar

1

avocado

diced

salt and pepper to taste

16

ounce

baby leafy greens

1

cup

cherry tomatoes

red or yellow

¼

cup

black olives

sliced
Tzatziki Sauce
1

cup

Greeek yogurt

1

medium

cucumber

peeled, cubed

½

tsp

garlic

minced

2

tsp

lemon juice

1

tbsp

fresh dill

salt and pepper

to taste
Balsamic Vinaigrette
½

cup

olive oil

extra-virgin

1/4

cup

Balsamic vinegar

1

teaspoon

Dijon mustard

2

teaspoons

honey

salt and pepper

to taste
Instructions
Mix sliced red onion with 2 tablespoons of vinegar and set aside to marinade.

Salt diced cucumber and add to a strainer over a bowl to allow the liquid to drain from them until you're ready to add them to the Tzatziki sauce.

Mix ingredients for Tzatziki and set aside.

If using the salt block to cook salmon, heat the salt block first.

When hot, oil salt block so that the salmon won't stick, while heating, season the salmon.

Mix ingredients for Balsamic Vinaigrette and set aside.

Add lettuce to the bottom of a bowl, top with 1/4 of each of the ingredients, including carrots, red onions, avocado, quinoa, and black eyed peas.

Top with a scoop of Tzatziki and drizzle everything with a bit of balsamic vinaigrette.
If you You might also like my sushi bowl recipe, instead of a salmon filet, it uses smoked salmon. You'll love the Asian flare that is topped with sesame seeds, green onions, drizzled with a bit of rice vinegar and soy sauce. The base is a rice bowl although you can use cauliflower rice if you choose. Serve nori on the side!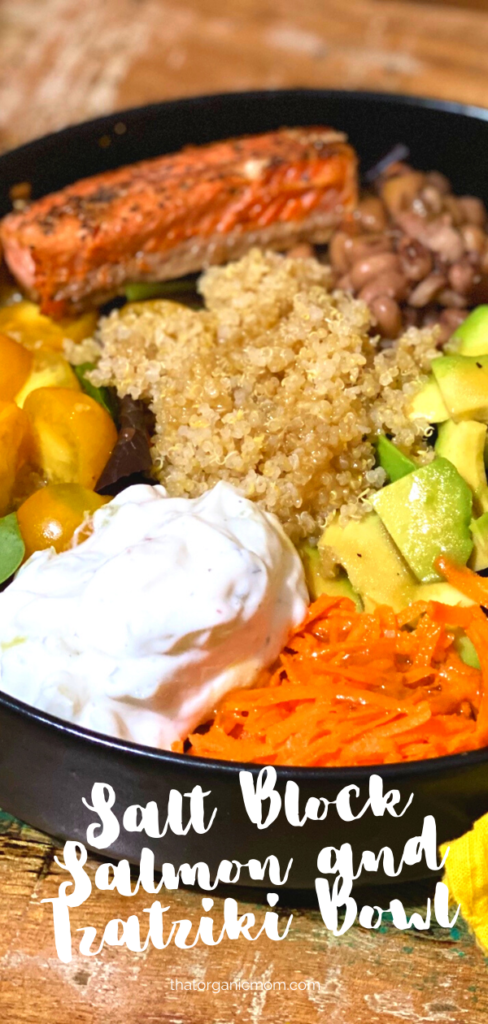 Other salmon recipes you might enjoy.
Be watching for my upcoming teriyaki salmon bowl. It will soon become your favorite weeknight dinner!