Table of Contents

[Hide]

[Show]
Last Updated on June 29, 2022 by Rebecca Huff
The star of my Hungarian Spice Breakfast Bowl is truly the spice combination. The flavor that most people tend to associate Hungary with is paprika. Not only does the spice give Hungarian dishes that trademark color, but it also lends plenty of bright, peppy flavor.
Hungarian paprika is harvested from pepper pods from southern Hungary and has a range of heat and sweet that lends a distinct taste and flavor. You will know high-quality paprika by the intense coloring, from deep reddish-brown to bright orange. The darker red, coarser paprika often tends to be quite hot.
Hungarian sweet paprika is the variety we are using in this our Hungarian Breakfast Bowl, not hot paprika or cayenne.
Read the recipe thoroughly before preparing. While it might seem pretty straightforward, it is important to the flavor of this dish to cook the paprika along with the bacon and beef to add the depth and complexity that is classic to Hungarian cuisine. Adding paprika to onion and lard is the first step to many Hungarian dishes like the ever-popular Chicken Paprikash.
Paprika is good for your health as well and is said to help prevent inflammation and improve your cholesterol.
Sumac
Sumac is a delightful citrusy spice that adds an intense flavor in a way similar to salt. Though it doesn't cover or mask the flavor of the foods you put it on, rather it enhances the flavor. It is a dried flower that adds an earthy yet lemony tart pop of flavor to your dishes.
In addition to adding flavor, Sumac boasts an ORAC rating over 1500! (Oxygen Radical Absorbance Capacity is basically a unit of measure for antioxidants… the higher the better). This powerful spice is actually used in many cultures for its incredible healing properties. It is said to be anti-aging, antioxidant, anti-inflammatory, anti-fungal, and anti-microbial.
You may be wondering if the spice sumac is the same as poison sumac. My husband mentioned this while I was serving him this dish. Funny, because the kids and I have been putting Sumac on our popcorn since 2016. That's when I first discovered this flavorful spice on a trip.
If you don't have Sumac, add it to your wish list so you can explore the taste of Hungary. Sumac comes from the fruit of a bush indigenous to the Middle East. The spice is widely used, and one of the main ingredients in the Middle Eastern spice blend Za'atar.
One last tip about the seasonings, if you have a bay leaf, add it to the ground beef mixture while cooking. Then remove it before serving. Also, a nice sprinkling of freshly cracked black pepper really enhances the flavor as well.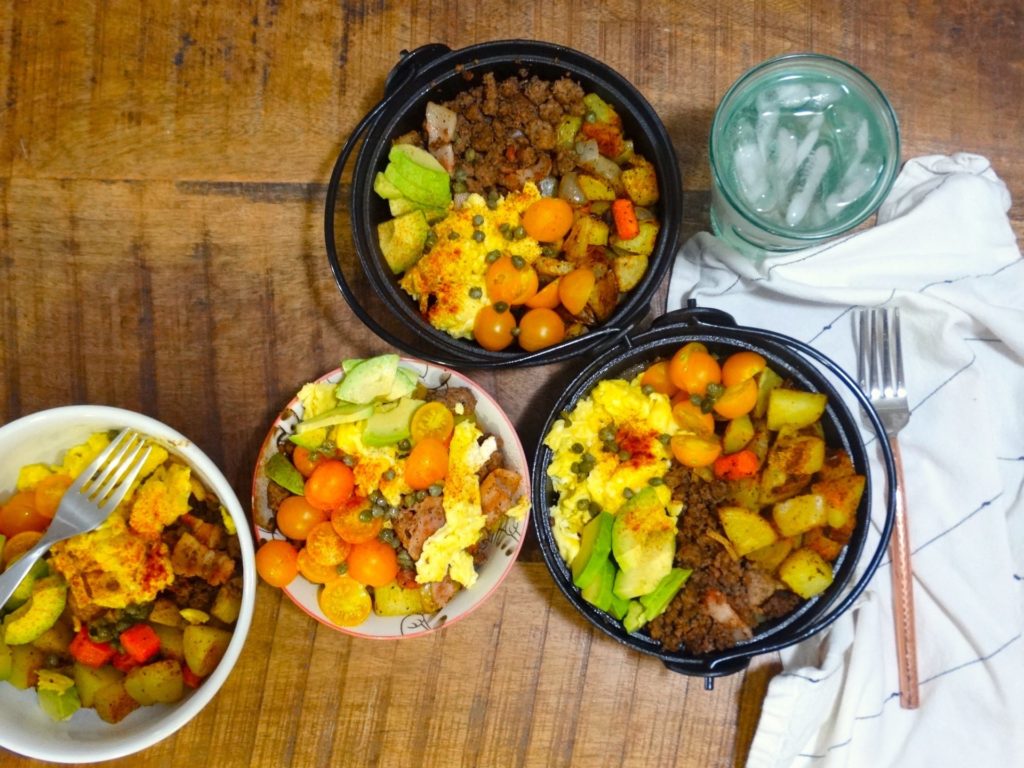 Optional Ingredients
Not written in the recipe because it is completely optional; leave it out if you are dairy-free. But if you like cheese, toss in a couple of cheese curds before serving to allow them to get warm and squeaky (yes, squeaky) before serving. You may have tried cheese curds if you've ever been to Canada or eaten poutine.
If you have any Aleppo chili flakes in your spice cabinet, they are perfect sprinkled on top of this prepared dish. In fact, Hungarian Paprika, Sumac, and Aleppo pepper flakes (a different type of red pepper) is a popular spice blend. Consider it the Charlies Angels of Hungarian spices. Try them in your next cajun bbq blend.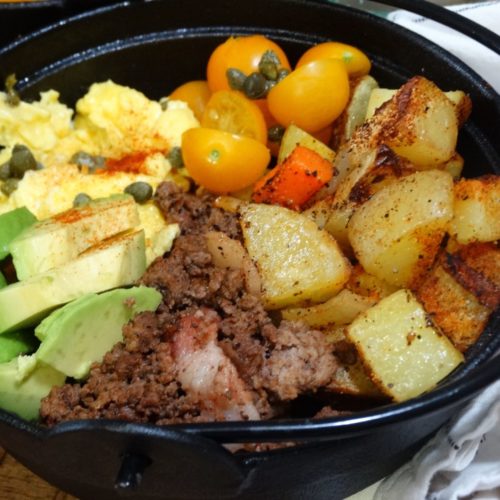 Hungarian Spice Breakfast Bowl
Sweet and tangy Hungarian Paprika and Sumac make this breakfast memorable.
Ingredients
8

medium

gold potatoes

cubed

3

medium

carrots

peeled, cubed

1

medium

onion

cubed

2

tbsp

avocado oil

salt and pepper

to taste

3

tbsp

Hungarian paprika

3

tbsp

sumac

6

eggs

1

avocado

peeled and sliced

1

cup

cherry tomatoes (red or yellow)

sliced in half

2

capers

3

slices of bacon

diced into small squares

1

pound

ground beef
Instructions
Mix Hungarian paprika and sumac, set aside.

Preheat oven to 425 degrees.

Combine cubed potatoes, carrots, and onions with avocado oil, salt, and pepper making sure to coat well. Spread out on a large baking sheet, use parchment paper or a silicone mat to prevent sticking and make clean up easier.

Sprinkle half the sumac and paprika mixture on the potatoes.

Put baking sheet with root veggie mixture into the oven. Set timer for 30 minutes, stir halfway through cooking.

Add the rest of the sumac and paprika mixture along with salt and pepper to a skillet, then add the bacon to the same skillet, cooking over medium heat for 2-3 minutes. Next add ground beef, stirring and cooking until completely cooked through, stir and keep warm.

Whisk eggs, add salt and pepper in a medium bowl till well combined.

In a separate oiled pan, cook eggs until done but not dry.

Construct bowl in this order, potato mixture on the bottom as a base, beef and bacon mixture, eggs, avocado, tomatoes, capers on top.

If desired, sprinkle with additional Hungarian paprika, salt, and pepper.
Exploring Countries and Cultures: Hungary
Hungarian food, including its national dish, a meat stew called goulash, is a distinctive part of Hungarian history.
Hungary's 10 million people are vibrant, friendly, and value the family above all else, with generations living in the same household under one roof and grandparents having a strong say in the upbringing of their grandchildren. Hungarians are a nation of horsemen due to their ancient nomadic past, and visitors often receive an invitation to go riding from their new local friends. Hospitality is a major part of the culture, and personal questions about your life are all part of the getting-to-know-you process. The rich culture of Hungary is strong in folk traditions and has its own distinctive style, influenced by the various ethnic groups including the Roma people.

~ Hungary History and Culture