I remember growing up finding myself the lucky recipient of a piece of meat bone and marrow.
Little did I know that for centuries beef marrow bones were valued for their nutritional content. That little scoop of salt block roasted bone marrow is full of healthy fats. After consuming the marrow, make collagen-rich bone broth using the roasted bones.
For optimal nutrition, choose grass-fed and finished beef bones. I prefer to buy the best bones when I am consuming bone marrow. While I'd like to shop locally, I haven't been able to track down a farm with affordable choices and trustworthy information. You probably won't find these at your local grocery store.
I've been getting my marrow bones from Farm Foods Market because all their beef is grass-fed and finished on pasture with no antibiotics or hormones. Liver, Osso Bucco, and ground beef usually find their way into my cart as well.
If you don't mind the carbs try the marrow from roasted bones on a slice of bread. You'll find it is amazing on a slice of a baguette, sourdough bread, or any type of crusty bread. Although, most of the time I simply eat mine straight from the bone!
Health Benefits of Bone Marrow
Not only is it tasty, but this bone marrow recipe will improve your health. When you eat bone marrow, you are ingesting a rich source of fatty acids. This delicious and nutritious food has many health benefits, including weight loss and reducing the risk of heart disease.
In the Chinese paradigm, bone marrow is considered the deepest tissue of the body and contains the essence of the being. It's an interesting correlation to consider that modern science has shown that within the bone marrow are high concentrations of stem cells, the very organizing influences, and genetic material, for the being. It is these essential nutrients that help our bodies continue to build healthy, vital constitutions and repair cellular damage.

Based on the concept of "like supports like," consuming bone, marrow and cartilage may strengthen and support our own bone, marrow and cartilage health.* Whole bone extract and marrow naturally provides all the nutrients (collagen, growth factors, stem cells, fat-soluble activators, trace minerals, etc) that support bone, dental and connective tissue health.

Ancestral Supplements
High Quality Beef Bone Marrow
Bone marrow contains collagen which releases antioxidants that boosts skin health and has anti-aging effects on the skin. Collagen also promotes joint health.
Studies show bone marrow has more vitamins and minerals than meat such as Iron, B-12, Riboflavin, Vitamin E, K2 and more.
Bone marrow also contains alkylglycerols which have been investigated for the treatment of radiation-induced side effects and for their ability to boost the immune system. In addition, several experimental studies have shown the ability of alkylglycerols to open the blood-brain barrier to facilitate the access of therapeutic drugs to the central nervous system. (source)
Amino Acids glycine and proline are found in beef bone marrow which are required to produce collagen.
Eating bone marrow is a good source of glucosamine which can help calm inflammation and reduce joint pain and may even improve osteoarthritis.
Marrow also contains conjugated linoleic acid which helps reduce inflammation.
Consuming bone marrow soup can help to improve leaky gut.
This is why I improve my iron using grass-fed beef and Ancestral Supplements, whose mission is
putting back in, what the modern world has left out (to return people back to strength, health and happiness). Because fortunately, our potential for strength and health remains encoded in our DNA, and under certain conditions, we can genetically express the strongest, healthiest version of ourselves. Those "certain conditions" almost always have to do with nutrition.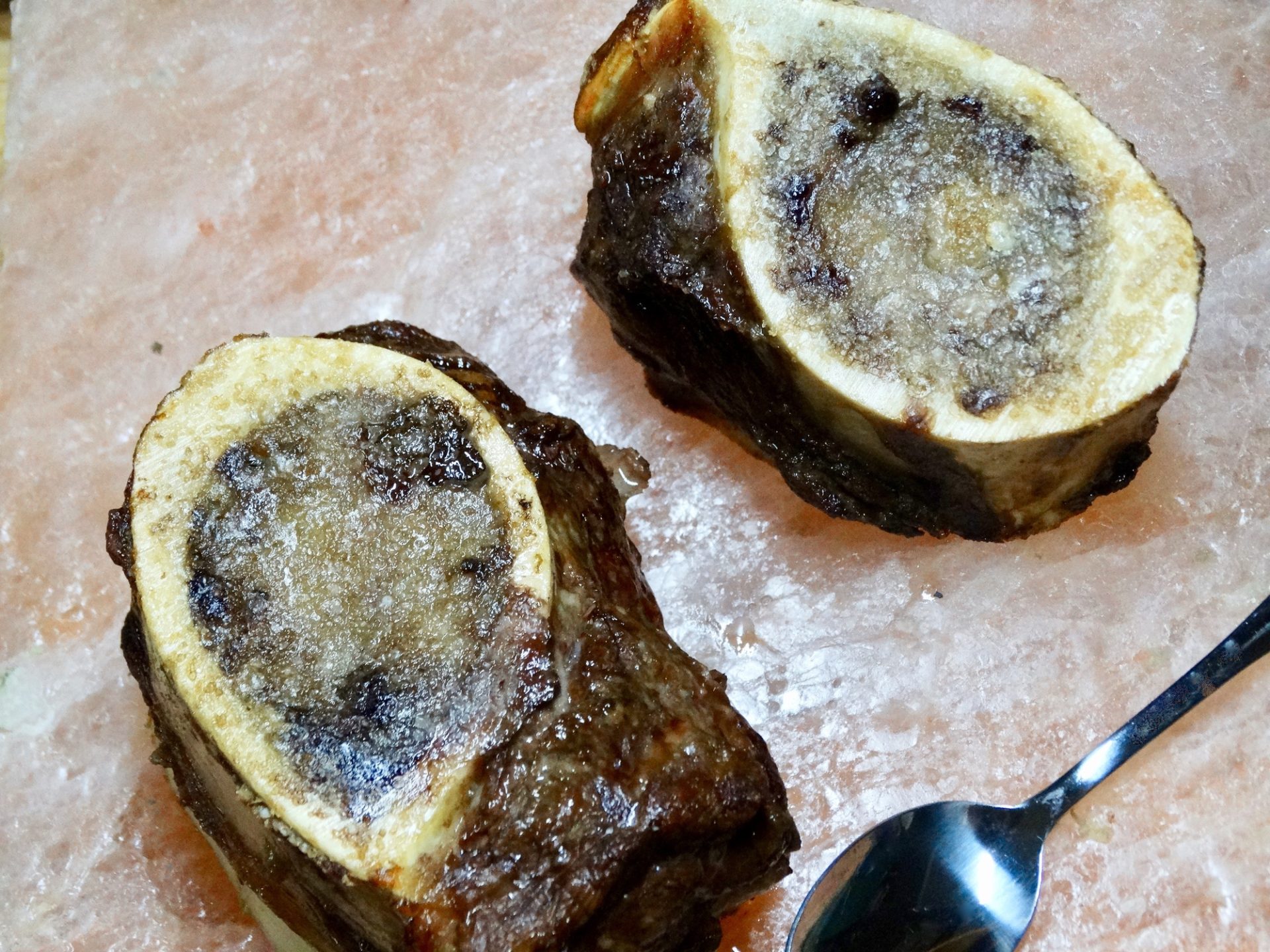 Ancestral Supplements Whole Bone Extract Contains
In addition to eating it, I also supplement with concentrated bone marrow capsules to get the maximum benefit.
Preferably, supplements should come from pasture-raised, grass-fed cows that are hormone, pesticide, and GMO-free.
Not all organs and glands are the same. Look for the highest quality whole bone extract and marrow… It should come from pasture-raised, grass-fed cows that are hormone, pesticide, and GMO-free. If considering a supplement, look for one that is ultra-pure, without binders, fillers, flow agents, and look for the freeze-dried variety as these have been shown to optimally preserve nutritional factors, co-factors, and biological activity.
Bone Matrix, Bone Marrow And Cartilage *
Nutrients Exclusively Found And Expressed In Whole Bone Extract *
High Concentrations Of Stem Cells And Base Cells *
Collagen, Growth Factors And Fat Soluble Activators *
Glycosaminoglycans Naturally Present in Bone Matrix *
Bone Marrow and Spleen also contain high levels of a class of lipids (alkylglycerols)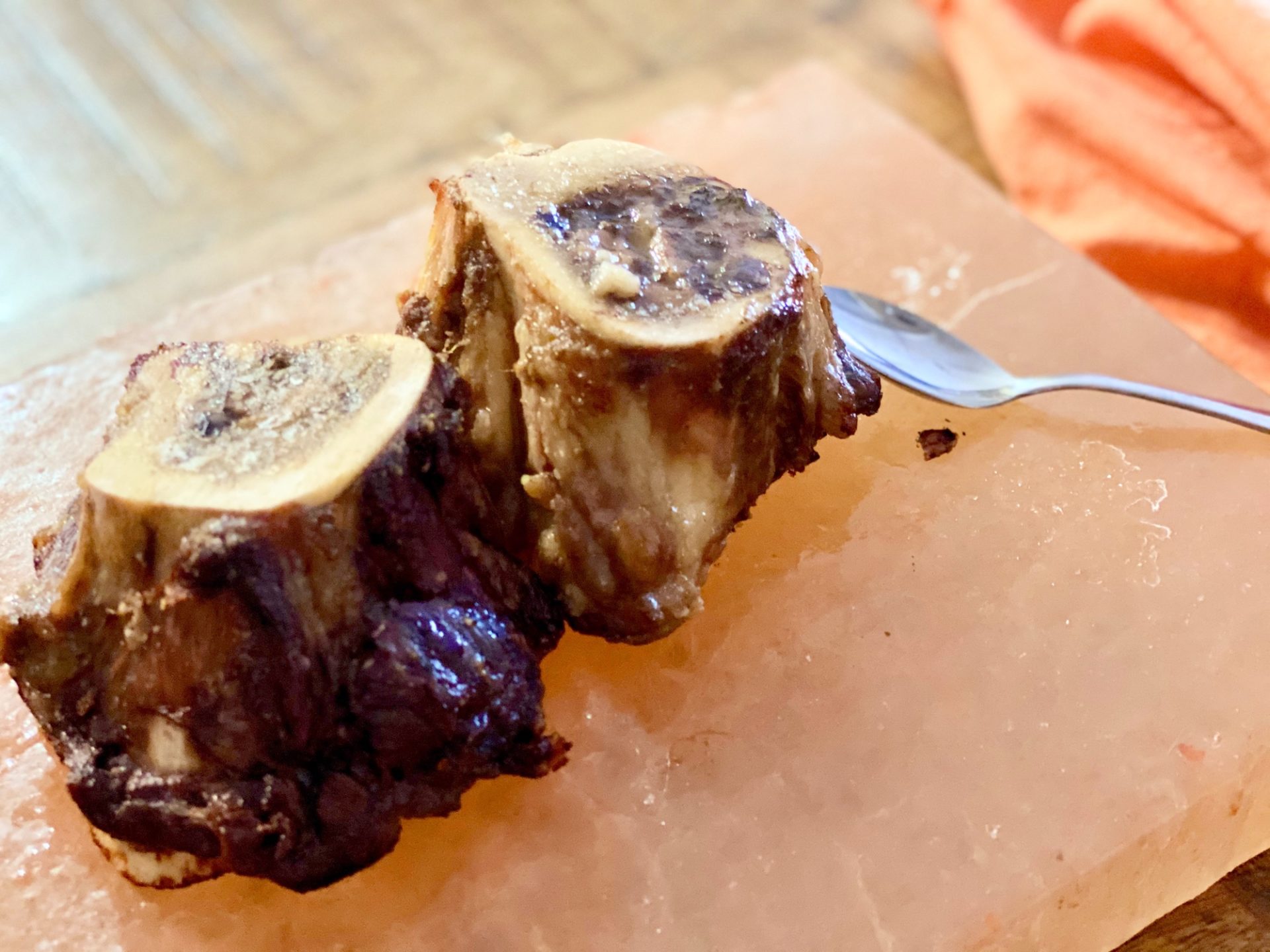 Preparing Beef Bone Marrow
The recipe couldn't be easier.
In the morning, I place the bones in a bowl of salted water and let them soak all day. When I am ready to prepare the bone marrow, I take them out of the salt water and dry them off well.
You can roast the bones on a baking sheet or any ovenproof skillet, but my two favorites are the iron skillet or one of my Himalayan salt blocks. When I'm in a hurry, the iron skillet is the best choice and works great. For presentation, especially if I am serving this appetizer to guests, I use my salt block.
If you choose to use a salt block, you will need to heat it in the oven, gradually increasing the temperature by 50 degrees at a time. You can find instructions on how to prepare the salt block in my salt block salmon recipe.
Rub a small amount of olive oil on your salt block to prepare it before you put it in the oven to warm.
Salt Block Roasted Bone Marrow Recipe
Sprinkle the cut side of the bone marrow with sea salt and place them on the skillet or salt block. If the bones you have are short and not cut horizontally, put the short cut side up. The center of bones is where the marrow is contained, and it's easier to get to when they're cut horizontally, but harder to find.
I like mine straight, just scoop and eat with a spoon. You could serve it with some black pepper in addition to the salt if you like.
Make it a nice light meal if you serve it with a green salad with a drizzle of extra-virgin olive oil and lemon juice, and a fresh loaf of crispy crusted sourdough bread. If you drink it, a glass of dry red wine. Talk about comfort food! A meal like this is perfect for a cozy Sunday night at home.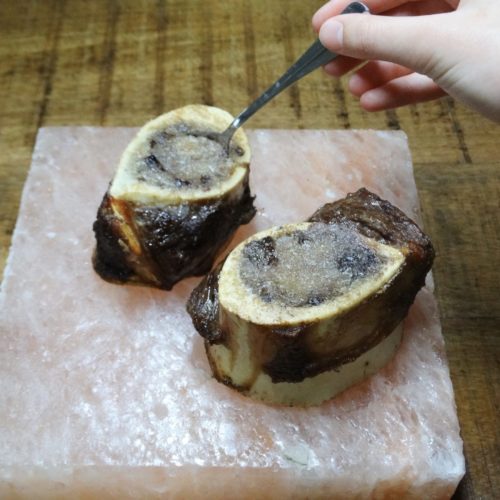 Salt Block Roasted Bone Marrow

Dairy Free

Gluten Free

Keto

Low Carb

Paleo

Sugar Free

Trim Healthy Mama

Whole 30
If you're only using these delicious bones for bone broth, then you are missing out! Try roasting marrow bones on a salt block for added flavor and enjoy one of the worlds healthiest and tastiest foods.
Ingredients
4

pieces

Marrow Bones

grass-fed, preferably

salt

to taste (for soaking and cooking)
Instructions
Soak bones in salt water for 4-8 hours, after soaking, remove from water and dry bones completely.

Preheat oven to 450 degrees Fahrenheit.

Place bones cut side up in an iron skillet or on a lightly oiled salt block.

Cook for 20-30 minutes depending on the size of bones, no pink should remain in the bone marrow.
Don't forget, you can enjoy 10% off your first order with code WELCOME on FarmFoodsMarket.com! If you follow a Keto or Paleo diet, you'll be happy to discover Farm Foods Market where you can get marrow bones and shanks as well as grassfed beef oxtail.
Oxtail is a delicious superfood used to make a variety of delicious soups. The bone marrow gives the veggies in the soups an amazing flavor.
Also, you can use the roasted bones (after you eat the marrow) to make bone broth.