Last Updated on June 29, 2022 by Rebecca Huff
Bone Broth + Miso = Easy Health Booster
You can incorporate this easy nutrition hack into your dinner plans with very little effort. Let me show you how.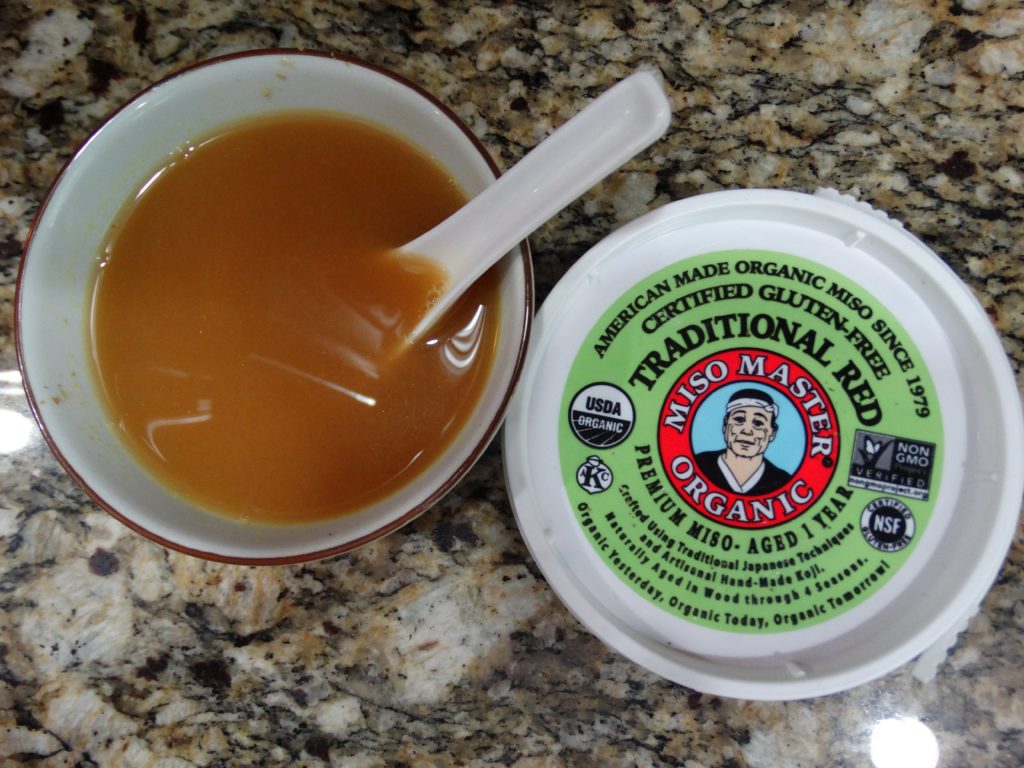 I am going to share a simple trick that will help you get more nutrition into your dinner meals.
First , if you haven't been making your own beef broth and chicken broth you might want to start doing it now. It's really so easy, especially if you have an Instant Pot which reduces the cooking time. I'll be sharing a post on making broth in the instant pot in the near future.
I try to keep homemade bone broth on hand. Varieties of miso can be found at your local health food shop or even at the local Asian market. There are many different kinds but typically the lighter miso is milder in flavor. My favorite is red miso!
For a family of four:
Pour one quart of broth in a soup pot, heat.
Remove broth from heat.
Add 1 tablespoon of any kind of miso and stir well.
Serve as is or add in 1/4 cup of one or all of the following:

thinly sliced ginger
sprig of parsley
cubed tofu
sliced green onions
any kind of seaweed, but we love cut up Nori
sesame seeds
salt and pepper
Note: because of the fermentation process, miso has live bacteria (just like yogurt) so it is important for maintaining the health benefits that you add the miso after you remove then broth from the heat. Don't worry, it melts into the broth quickly and this way you'll still get the benefit of the active cultures!
Making this Broth + Miso Healing Soup is so easy, it takes only the time to heat the broth! Serve it in small bowls (just like you've seen at your favorite Hibachi grill) and if you add a side salad made with baby greens and a healing salad dressing you will be doing yourself and your family a healthy favor.
Going to the Asian supermarket is a fun treat for my kids. Over the years we have picked up quite a few these small bowls that are perfect for a pre dinner soup serving. All I have to do is put a ladle full of my broth+miso combo in each bowl and serve.
We do have some Japanese soup spoons that we use at times. Yes, my children will drink it and they usually drink it Asian style, right out of the bowl without a spoon, even though Americans consider this bad table manners.
Well, I didn't say we went to charm school…this is nothing considering my youngest son often comes to the table without his shirt.
It's a small serving but gives a powerful boost of collagen, gelatin and minerals from the broth along with the miso's digestive benefits and the abundant essential amino acids! Starting meals with this combo can really promote a healthy pH in our digestive system.
Eating a bowl of miso + broth goes with any meal! It doesn't have to be only for meals with Asian Flare.
Simple as that! Try it and let me know what you think!
Bone Broth and Miso Soup

Dairy Free

Gluten Free

Keto

Low Carb

Paleo

Sugar Free

Trim Healthy Mama

Whole 30
Ingredients
quart

bone broth

1

tbsp

miso

any variety
Instructions
Pour one quart of broth in a soup pot, heat.

Remove broth from heat.

Add 1 tablespoon of any kind of miso and stir well.
Serve as is or add in 1/4 cup of one or all of the following:
thinly sliced ginger

sprig of parsley

cubed tofu

sliced green onions

any kind of seaweed, but we love cut up Nori

sesame seeds

salt and pepper