Last Updated on June 29, 2022 by Rebecca Huff
Go shopping just about anywhere these days and you will likely notice the words: Green, bio, eco, natural and organic on a multitude of labels.
Green-wash (green'wash', -wôsh') – verb: the act of misleading consumers regarding the environmental practices of a company or the environmental benefits of a product or service.
If your children are anything like mine, they are constantly asking questions and reading labels. If they aren't, now is the time to teach them to be mini-health-investigators. As moms, of course we want what is best for our families, and people in marketing are well aware of this. Parents are willing to spend money on products we feel are safe for our children and sometimes, a lot of times, companies take advantage of that fact.
That is why it is important to educate yourself and your family to the tricks of the marketing trade.
[Tweet "Learn all you can so that you can avoid the dangers of greenwashing."]
Define Greenwashing
Simply stated, greenwashing is when a company behaves in a way that will give them an advantage by portraying themselves as more environmentally friendly than they actually are. So many Hollywood stars have their own lines now and we hear more and more about those who have our best interest in mind. These companies often claim to sell products that are made with "non-toxic" and "natural" ingredients. Unfortunately many of the terms are unregulated. Unless you are on your guard, you might not get what you are paying for.
[Tweet "when a company spends time and money advertising to be "green" than they do implementing green practices it is called greenwashing-beware"]
Some words that catch a caring parent's attention are terms that have a definition that is not at all in line with what we are thinking. Words such as "non-toxic" can often be used by companies to greenwash their products. The word "non-toxic" is unregulated, therefore this label doesn't necessarily mean the product is good for you to use. You are the best advocate for your own family, so don't be conditioned to think that "natural" is regulated and verified, because that is not the case.
The FDA actually has not defined the term "natural" nor have they created a regulatory definition for this term in cosmetic labeling. They also do not have regulations for using the term "organic" for cosmetic products. Therefore, companies can claim their products are natural and organic whether it is true or not. Verify the products you use contain ingredients that are USDA certified organic, which is a regulated term.
Organic shampoo, at your local drugstore, for about the same price as Pantene Pro-V and Garnier Fructis? If it sounds too good to be true, it is.
What to look for to avoid greenwashing
Here are some certifications and seals that will help you when you are on the lookout for products to use for your family:
The Ecocert label guarantees a product is certified organic, has a neutral origin and is a plant-based product that comes from an organic origin and that it contains no parabens, no synthetic dyes or synthetic alcohol.
The Coalition for Consumer Information on Cosmetics' Leaping Bunny Program with the Leaping Bunny Logo as an identifier has administered a cruelty-free standard for companies producing cosmetic, personal care and household products. This is a parent's best assurance that no animal testing is used in any phase of product development by the company, its laboratories, or suppliers.
All products with the ToxicFree® seal are verified by the ToxicFree® Foundation and are ensured to be free from any toxic, carcinogenic and mutagenic components for any ingredient used.  All ingredients are researched down to the composition for each component that make up that one ingredient.  When you see the this seal, rest assured that what you are using for you, your family, friends and pets is truly ToxicFree.
Biobased certification is based on a product's biobased content only, as measured by a standard test method that in fact encourages manufacturers to share, with the program and with customers, other product attributes such as life cycle analysis, environmental and human health effects, life-cycle costs, sustainability benefits and performance.
USDA Certified Organic; simply stated, organic produce and other ingredients are grown without the use of pesticides, synthetic fertilizers, sewage sludge, genetically modified organisms, or ionizing radiation. Animals that produce meat, poultry, eggs, and dairy products do not take antibiotics or growth hormones.(1)
Bottom Line on Greenwashing
As parents, it's our responsibility to do our own research about companies to find out if they are truly all they claim to be or just creating a "green" label that their products and practices do deserve.
A great example of greenwashing can be found in this article about the Organix products. You would think with a name like that, the product would be organic, would you not? If your first instinct was to buy it, you've just been greenwashed.
To find out more read The Seven Sins of Greenwashing. Here is a great greenwashing Index. Want to test your greenwashing IQ take the Sins of Greenwashing Quiz to see how savvy you are.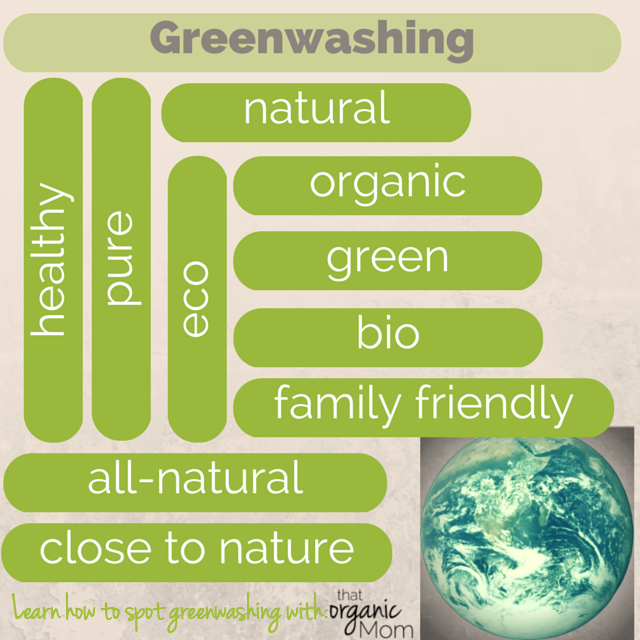 Be sure to share this post with your friends who prefer to buy organic, don't let them be greenwashed! Also, take a minute to pin this so that together, we can spread the word about greenwashing and educate shoppers to marketing lies.
Don't forget to follow
ThatOrganicMom
on
Pinterest
, especially the "Greenwashed Much?" board. Download EWG's app to help you look up products (more are added to the database every day) or
go to their website
to check your favorite products.