Last Updated on June 29, 2022 by Rebecca Huff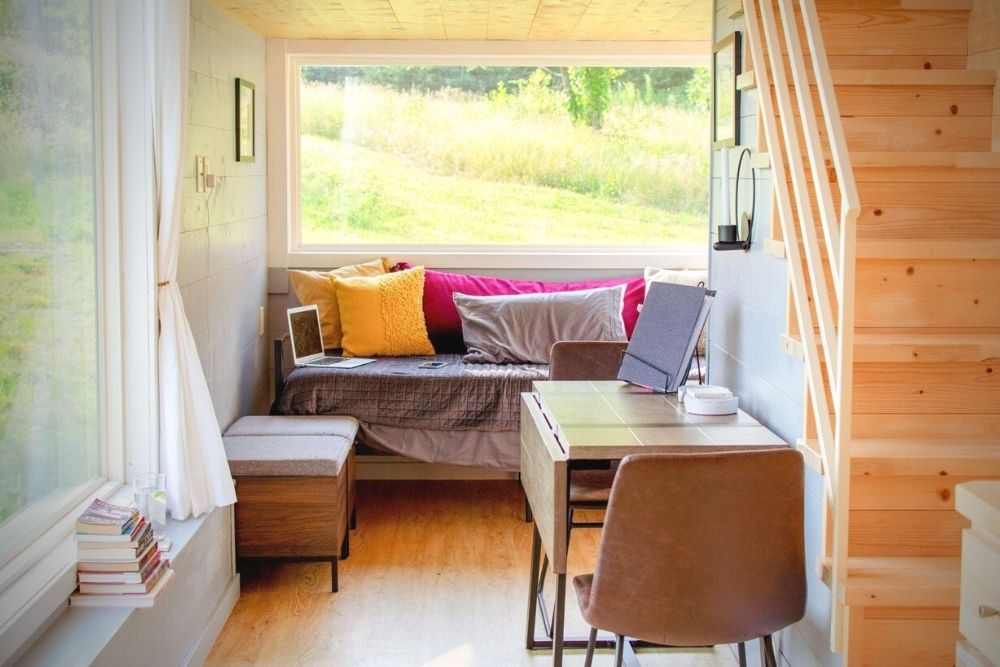 Tiny homeownership is on the rise with no signs of slowing down. As more and more people purchase small homes and move to America's best tiny home communities, they likely have budget and design at the front of their minds. While these are both important elements, prospective homeowners often forget about the importance of building a non-toxic home. Living in a toxic environment can set your body up for years of sickness and unhappiness. Minimizing the toxins in your home by designing a non-toxic home will ultimately increase your happiness, health, and quality of life. This blog post will give you a few simple ideas on how to make your tiny home toxin-free!
Use Wool Insulation
Wool is an excellent insulator for tiny homes. It is entirely toxin-free and does a superior job of regulating temperatures. Plus, its materials are suitable for canceling outside noise. We suggest pairing wool with a permeable radiant barrier to reflect additional heat. Plus, it blocks some external radiation from entering your own. If you are on a budget, denim does a respectable job as home insulation. However, many tiny homeowners still prefer the effectiveness of wool over denim to be worth the extra cost.
Hardwood Wherever Possible
Yes, hardwood is heavier and more expensive than engineered woods. However, you know exactly what it consists of and know there are no additives. Just pure, good-quality wood. When selecting hardwood, look for cedar, poplar, or pine. Pine is a softer wood that is particularly good for ceilings. Secondly, purchase wood from a local lumber supplier. These suppliers tend to offer better prices than name-brand home improvement stores.
Paint with No-VOC
It is likely that paint is one of the first toxic elements that come to mind when you think of construction. When purchasing paints, look for brands that are labeled "No-VOC." No-VOC means that the paint does not contain volatile organic compounds. Inhaling VOC can cause irritation to your eyes, provoke difficulty breathing and nausea, and in extreme cases cause cancer. Latex paints should also be avoided as they are bad for your immune system. You do not want to be sleeping in that every day!
Additionally, if you are planning on staining wood, consider a natural and homemade steel wool vinegar.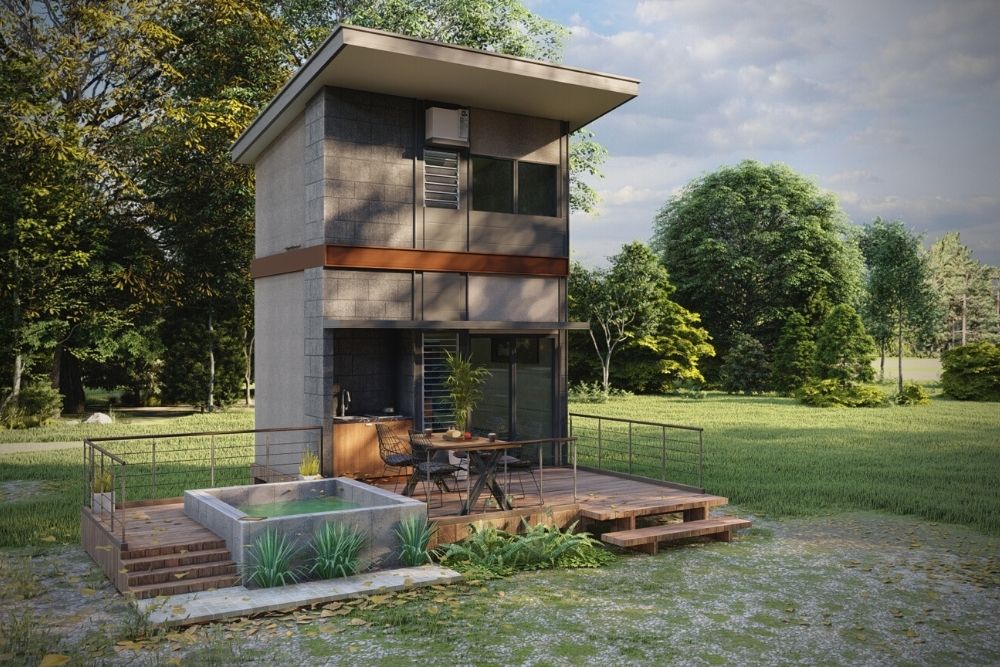 BPA Free Water Tanks
Water tanks are particularly useful for stationary homes, but it is possible to travel with them. Be sure you purchase a "BPA Free" water tank. BPA is a chemical commonly added to materials made to store water. Unfortunately, these chemicals can leak into the water you drink and cook your food with. You should still use a filter on your water, but having a BPA Free tank is the base step for securing toxin-free water in your tiny home.
Improve Air Quality
Continually look for ways to keep air circulating in your home. On beautiful days, open your windows and let the breeze filter through.
Himalayan Salt Lamps are believed to capture air pollutants, increase negative ions in our body, and neutralize the effects of all of the electronics we use in our everyday life. It may sound like a bit of hocus pocus, but some tiny homeowners swear by it!
Thirdly, invest in a quality air purifier. Particularly in the days of COVID-19, it is especially important to keep your air clean.
Install Off-Gassed Items
It is hard to imagine that products such as carpets, kitchen cabinets, and furniture need time to get less gassy. What we mean is, when the item is completed, they are consistently releasing toxic chemicals into the air, just like paint. Generally, by the time these products leave a factory and reach a home, they have done the majority of their off-gassing. But, they still will need about a month more to fully off-gas. When purchasing these items, try to leave them in a place with excellent air circulation. Ideally, you will do this for a few weeks, but even a few days will make a difference. Or, consider purchasing used furniture that has already been off-gassed.
Say Goodbye to Synthetic Fragrances
Unfortunately, air fresheners and candles are no good for the environment nor your tiny home. Recent research has found that burning a candle releases a similar amount of toxins as smoking a cigarette. Additionally, air fresheners release over 100 different chemicals – including some of the same as VOC paint. Instead, opt for keeping air circulation strong in your home or using natural fresheners such as essential oils or beeswax and soy candles.
Cork Floors
Cork flooring is a fantastic and lightweight option for building your tiny home floor. They do not need to off-gas as standard carpets do. There are many companies that gather hundreds of thousands of wine corks throughout the year and turn them into flooring. Cork floors are hypo-allergenic, water-resistant, and good for insulation. Plus, they are easy on your joints when walking around! Additionally, some homeowners like to place cork under the tops of seating benches to keep them from rattling around when transporting a THOW home. Choosing a cork floor saves you from off-gasses, and releases far fewer toxins into the atmosphere upon creation than carpentry.
At the end of the day, good health is one of the most important things you can hope for. While we can not control everything, we can take steps to put ourselves in as healthy an environment as possible. Avoiding chemical-filled paints and water tanks will keep our bodies from ingesting unnatural and damaging things. Replacing our candles with essential oils or beeswax and off-gassing our furniture will make our home's interior air fresh. When designing a tiny home, consider investing in non-toxic materials and appliances to both improve your health and help the environment.