Last Updated on September 23, 2022 by Rebecca Huff
Review is in partnership with Tru Earth.
Tru Earth Laundry Strips put an end to wasted time standing in an aisle trying to figure out which giant jug of detergent to bring home. These laundry strips put an end to one source of plastic pollution. No more heavy jugs taking up tons of space in your cart, cabinet, or recycling bin. (Hopefully, you recycle those plastic jugs after you rinse and dry them thoroughly!)
The truth is, most liquid detergent is mostly water. Transporting all that water from manufacturer to consumer is a waste of fossil fuels. Switching from the jugs to these tiny strips will reduce transportation fuel consumption and global-warming carbon emissions by 94% compared to today's leading-brand liquid and powder detergent.
Not to mention that keeping a huge plastic jug on your laundry shelf takes up so much unnecessary space. Tru Earth Laundry strips take up virtually no space and are so much more efficient in shipping and storing.
As a mom of many, I've done countless loads of laundry over the years.
So, I was excited to try this lightweight, plastic-free laundry detergent from the get-go. Admittedly, I had some doubts about how well they would work; these eco-strips are so tiny. How could something so small get our sweaty gym clothes clean? How would the clothes smell if I used the "fragrance-free" version? I have sensitive skin. Also, I am very sensitive to fragrances and try to avoid them when possible.
Some of my adult children come over to wash laundry, so I set aside the "linen" scented strips for them, as they like to have a "clean" smell to their laundry. For me clean smells like the absence of odor, not perfume, but I digress.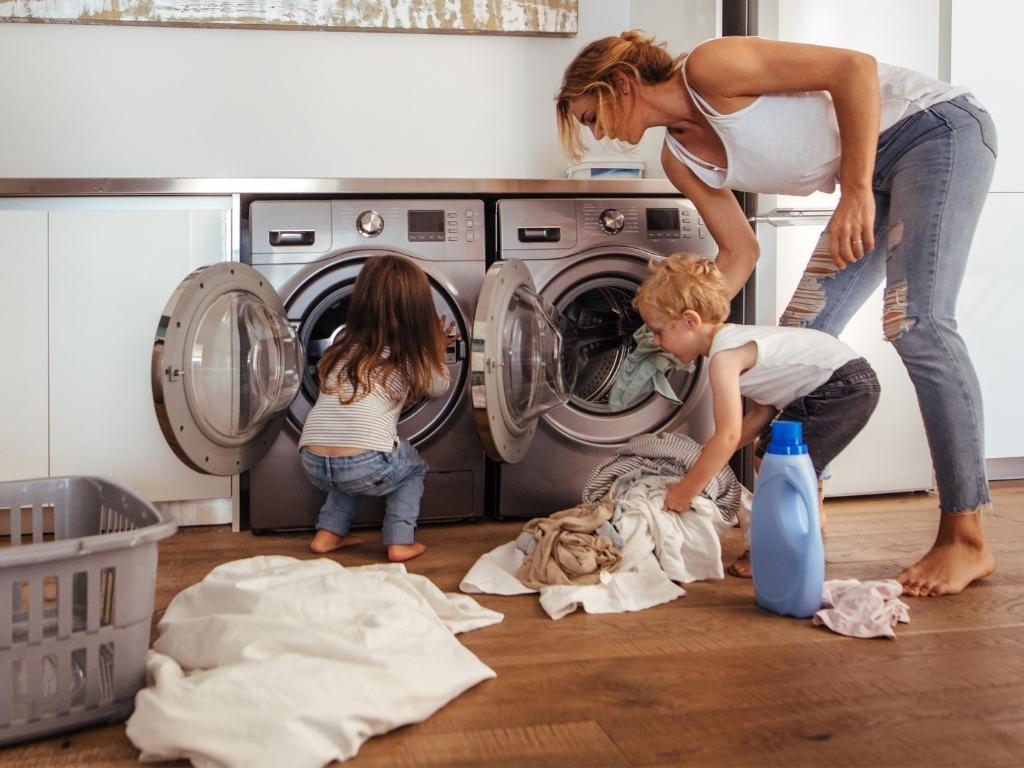 Fragrance-Free vs. Unscented
For as long as I can remember I've been sensitive to fragrance. My poor husband has had to put up with my ultra-sensitive sense of smell over the years. He's learned that "unscented" isn't good enough. The words he is looking for on laundry detergent, soap, and even trash bags, are "fragrance-free" and yes, there is a difference!
Fragrance-free means that fragrance materials or masking scents are not used in the product. Unscented generally means that the product may contain chemicals that neutralize or mask the odors of other ingredients.

EPA.gov
If you're like me, choose the fragrance free version; but if you like scented you can go with Linen or Baby scent. The (Material Safety Data Sheets) MSDS are available on the Tru Earth website.
Non Toxic Ingredients in Tru Earth Laundry Strips
Around 95% of the chemicals used in fragrances are petroleum-based.
My biggest priority when it comes to cleaning products is to avoid toxins. Browsing the supermarket aisle for an eco-friendly laundry detergent that is hypoallergenic, doesn't contain dyes, and is phosphate-free can take some time.
All of Tru Earth's products are paraben-free, vegan, and cruelty-free as well as sulfate-free. No harsh chlorine bleach. Yet I was pleased to find that these tiny little strips have the same cleaning power, or even better than any of the liquid laundry detergents I've tried.
The strips are also safe for high-efficiency machines. Mine is a front loader, the instructions say to rip it up and put it into the reservoir for detergent. Although, when I first received the laundry strips, I just tossed them in with my clothes. Then I read you're supposed to put them in the soap dispenser. But since they dissolved just fine the way I was doing it, I continued putting them in the drum with the clothing, even with cold water. (In fact, we have the hot water hose disconnected entirely.)
One other thing I'll mention here is that this is a low suds formula, so don't expect to see frothy white foam bubbling up in your washer. But your clothes will be clean, no worries!
Zero Waste Laundry Detergent
Tru Earth Laundry Strips come in plastic-free packaging. None whatsoever. Zero plastic! Can I get a heck-yeah!?
Even if you're not trying to go zero-waste, you can't help but appreciate the fact that the packaging is compostable and biodegradable. (I ripped mine up and put it in my compost tumbler!)
I also applaud the company for creating a non-liquid laundry soap that can be used in cold water! Just rip up the laundry detergent strips and pop them in your washing machine, add your clothes and you're good to go. Nothing gets sent to landfills.
Most people use too much laundry powder when washing their clothing. You may be surprised to find out that more is not better when it comes to soap. Too much can leave a residue on your clothing and the inside of your washing machine. You don't have to be on a mission to become waste free to appreciate that using laundry strips gives you a more accurate measurement.
According to the package, the strips can also be used for hand washing clothing, but always check the label first.
Space is also an issue in my laundry room. Well, I don't really have a "room" per se, just a closet. My husband installed a board on top of our washer and dryer so I can fold there. One cabinet above is where I store supplies for the whole house, not just laundry. None of the plastic jugs would fit in that cabinet.
Safe for your septic system.
Bottom Line: Laundry Detergent Sheets by Tru Earth are the best zero waste option when it comes to your laundry routine.
Dryer Balls vs. Fabric Softener
When we lived in apartments, sitting out on my balcony meant inhaling toxic artificial fragrances all day. Why? Because everyone was home from work doing their laundry. Believe it or not, when a hundred people all do their laundry and add highly fragranced fabric sheets, it pollutes the air.
You might be surprised to know that fabric sheets are the number one cause of indoor air pollution. These products are "still under investigation" for carcinogens.
I've been using my DIY dryer balls for years, but I also have a set of wood dryer balls that I use with a drop of essential oils instead of fabric softener. Dryer balls soften your clothing and remove static better than toxic dryer sheets. Plus, with dryer balls, buy them one time and you're good to go. No need to keep buying them again and again as with other fabric softeners.
Sustainability Commitment by Tru Earth Reads:
Eco-friendliness and sustainability have several dimensions, including: ingredient safety, skin irritation, carbon footprint, plastic waste impact, biodegradability, and more. On balance, we believe Tru Earth is one of the most sustainable laundry detergents available today. We are working to constantly improve sustainability and welcome your comments and questions.
Set up your subscription with Tru Earth using my affiliate links in this post. If you prefer, they can also be purchased from Amazon.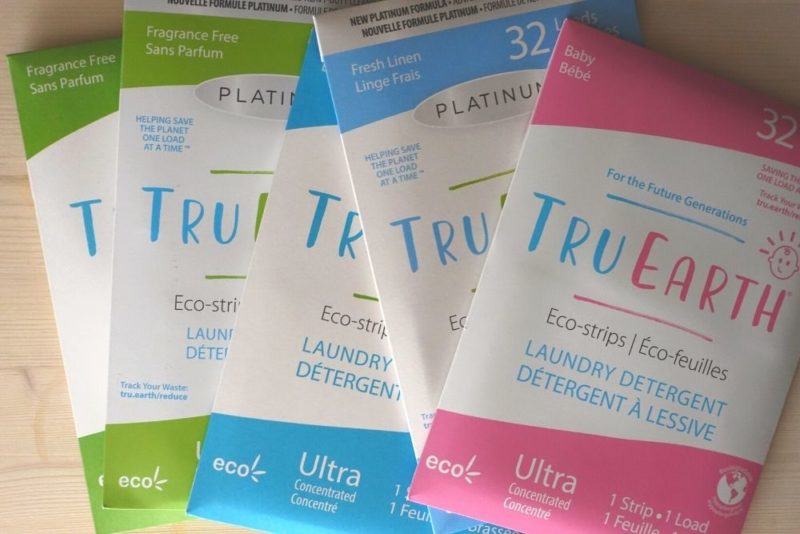 For the cloth diaper mama's out there, you'll be happy to know that Tru Earth strips do not affect the absorbency of cloth diapers! In addition, the strips are hypoallergenic. I did find this information on their website:
Many modern cloth diapers also contain some combination of synthetic materials and glues in their support structure. Depending on the materials used, Tru Earth (and other detergents) may affect the strength and durability of that support structure.

Tru Earth
The "baby" scent smells like you'd expect it to, a familiar baby product smell, but very light. I gifted some of the baby scented ones to my mom.
Instructions for Use from Tru Earth Website:
For best results, here are the recommended instructions for adding Tru Earth to your washer:
Detach a strip
Top-load washer: place strip inside washer.
Front-load washer: place strip in detergent dispenser (tear strip into smaller pieces if necessary).
Add clothes and start washer.
We also recommend that you place the Tru Earth Laundry Strip in the detergent dispensing compartment of front-load machines. If the compartment is small or shallow, tear the strip into smaller pieces so they fit neatly in the dispensing compartment. If your washer has separate detergent compartments for pre-wash and main wash cycles, we recommend that you place part of the Tru Earth strip in each compartment. Simply follow the instructions from your washing machine manufacturer and use Tru Earth as you would any liquid or powder detergent.
For all washers, Tru Earth Laundry Strips can also be placed directly in the washer, on the bottom of the drum before adding clothes.
Some newer HE machines use very little water and it is possible, in rare instances, that the Tru Earth strip can get wrapped up in clothes before it gets wet enough to dissolve completely. Consumers report the same occasional issue with uni-dose liquid pack detergents. Tru Earth has the advantage that it can be placed in the dispensing compartment where the flow of water at the start of the filling cycle dissolves the strip.
You can see what the strips look like up close and how I use them in this video in which my daughter and I went on a picnic.
See my full review of Tru Earth Eco-Strips for laundry below.
Tru Earth Laundry Strips - Say Goodbye to Plastic!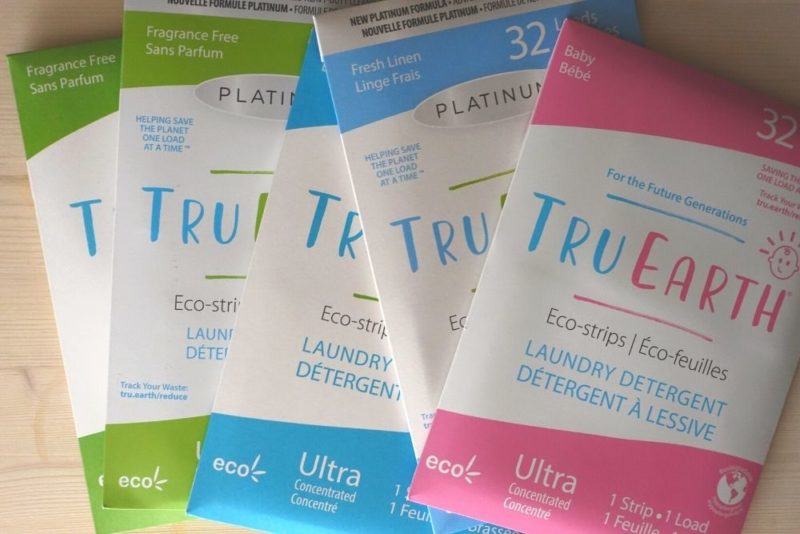 Product Name: Tru Earth Laundry Strips
Product Description: ultra-concentrated, hypoallergenic, eco-friendly cleaning power packed into a tiny, pre-measured strip of detergent that you just toss in the wash
Brand: Tru Earth
Eco-Friendly

Economical

Efficiency

Sustainablilty
Summary
Easy to use, easier to store! Perfect for tiny home dwellers and minimalists. Each strip packs ultra-concentrated, hypoallergenic, eco-friendly cleaning power into a tiny, pre-measured strip of detergent that you just toss in the wash. Its low-sudsing formula works in all types of washing machines, including high-efficiency (HE). The smart formulation effectively seeks out and dislodges dirt molecules and stains, keeping them in suspension until they are rinsed away. It makes your laundry washing chore easier, healthier, more economical, and much kinder to our planet.
Pros
Zero Waste Compostable Packaging
Works in hot or cold water
Eliminates plastic jugs (no recycling required, nothing to the landfill!)
Hypoallergenic and paraben-free, free of dyes & bleach