Last Updated on October 4, 2022 by Rebecca Huff
Is yard work good exercise or just another chore? You might be surprised!
Want to raise your heart rate and use all of your muscle groups? Try yardwork!
I'm a big proponent of exercise that is incorporated into daily life. There's nothing wrong with maintaining a gym membership. A gym is perfect if you like to swim, play tennis, or participate in group fitness classes. It can save space and expense if you do strength training with weights.
But you don't have to go to the gym to get a good workout.
Remember, physical activity need not be a "formal exercise" to be beneficial. My grandparents burned enough calories in the garden to stay fit year-round without ever stepping foot in a gym.
This is a good reminder if you don't have time to go to a fitness center.
Yard Work for Exercise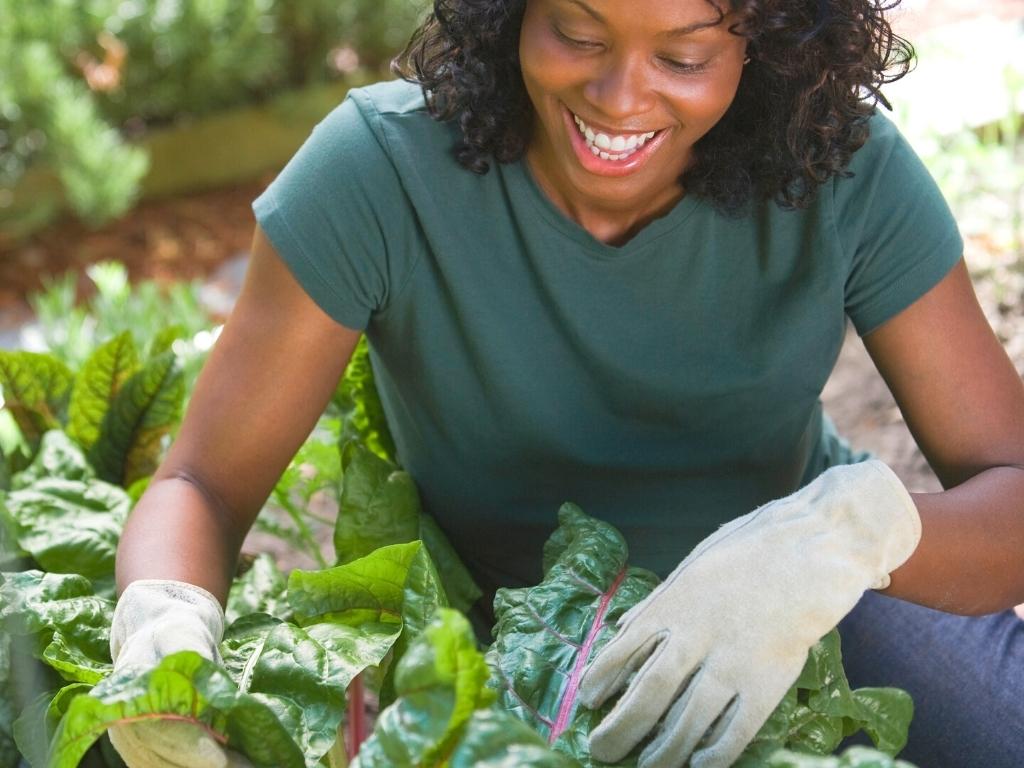 Want a full-body workout? Head out to your yard! Not only will you receive the health benefits of aerobic activity, you'll also get exposure to fresh air and vitamin d from sunshine. However, you should still practice safe sun exposure and use sunscreen when necessary.
You'll be super-efficient because a good yard working sesh burns calories and improves your home's curb appeal!
So grab your hedge trimmers and prepare for an upper body workout!
Yes, all types of yardwork are considered good exercise except for use of a riding mower.The Centers for Disease Control and Prevention qualifies gardening and other yard work as exercise.
Aerobic Exercise
Mowing your lawn can burn many calories and stimulate your heart.
Use a manual push mower or a self-propelled lawn mower, depending on your current fitness level. A yard on a steep hill might require a riding mower, as ours used to be what I called a triple black diamond (skiing reference to a 64% grade slope.)
Don't worry; you can still get a good workout in your yard. Applying mulch to your landscaping, pulling weeds, planting flowers (digging), and even using a blower will give you a good upper body workout.
According to the CDC, raking and push mowing qualify as aerobic exercise. So grab your rake and do some cardio!
Strength Training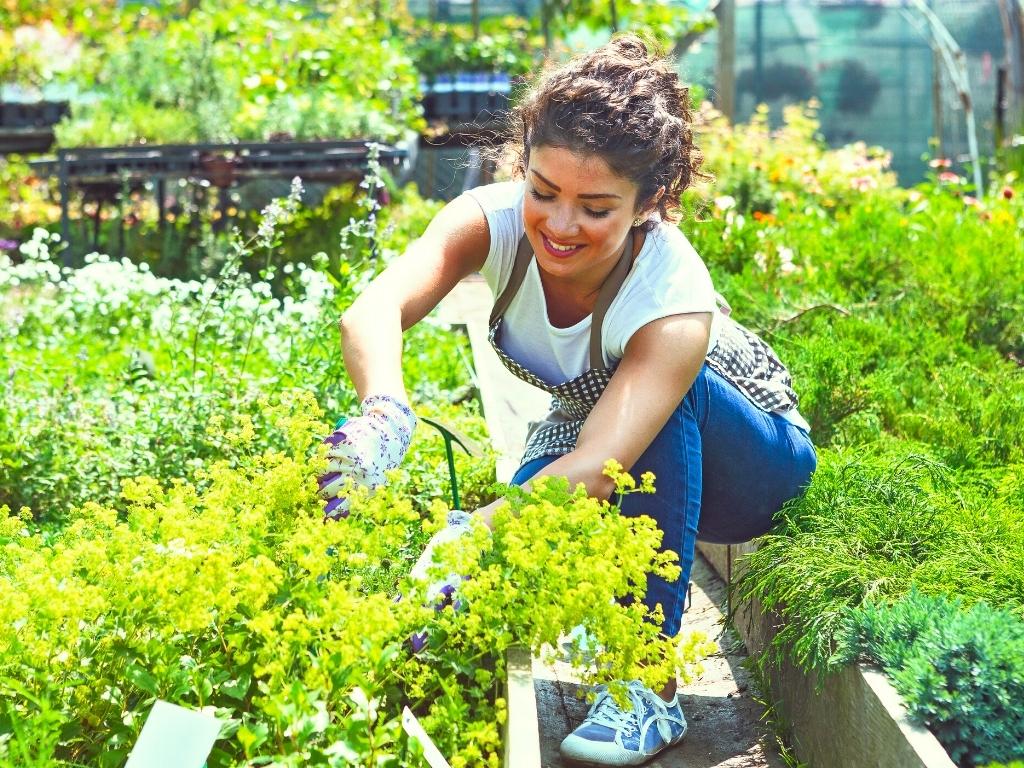 According to the CDC, digging, lifting, and carrying as part of gardening is labeled strength training.
Raking is also considered a great strength training workout. You already know if you've raked a yard full of leaves. Carrying leaves will burn additional energy in your yard.
Think about your form when pulling weeds or working at ground level. Could you do the movement with a squat or lunge? Try it!
Hoeing a garden is hard work and a fantastic weight loss activity. Not only will you be burning calories, but you'll also harvest low-calorie food. Win-win.
Always warm your muscles before hoeing, trimming, or doing other activities. My mom tore her rotator cuff tendon using the hedge trimmers above her head without warming up her muscles. The repair required surgery. So do a warm-up first, then get into the groove.
How Many Calories Do You Burn in Yard Work?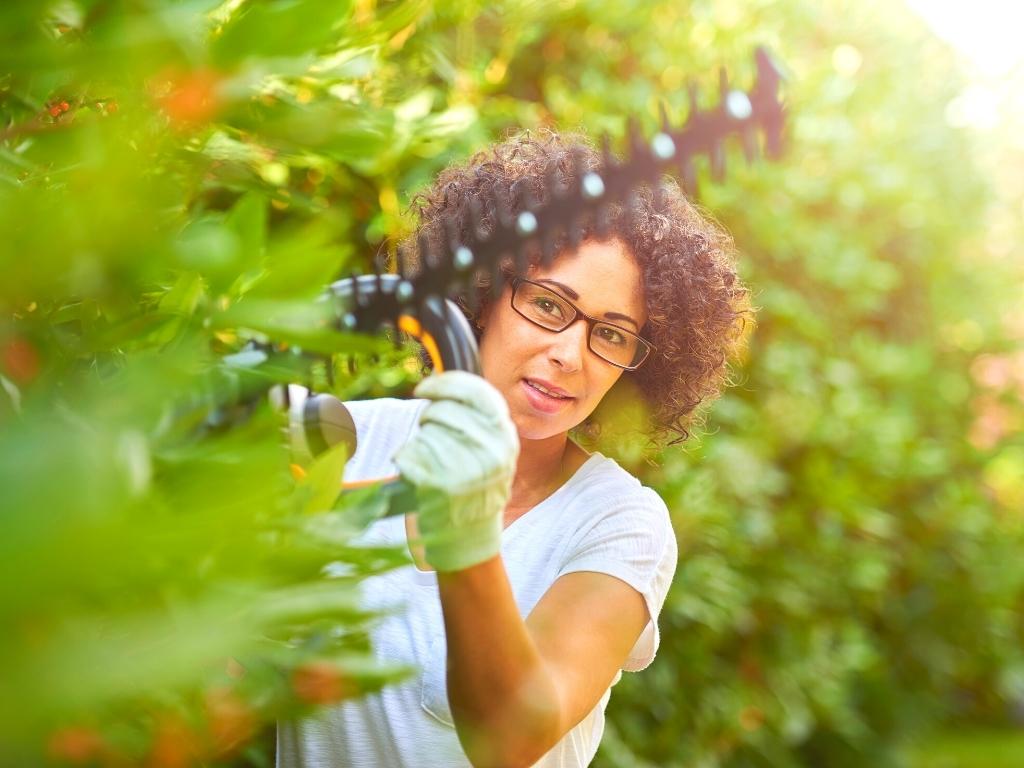 Push Mowing burns about 500 calories per hour
Raking leaves burns between 340-450 calories per hour
Digging and hoeing in the garden burns around 350 calories per hour
Benefits of Yardwork as Exercise
Gardening with gusto can lower your heart rate and blood pressure, resulting in better Heart Rate Variability.
Yardwork is a great way to increase oxygen flow to the heart, aid arterial flow, reduce blood pressure and stress, and improve your heart rate. Gardening is also therapeutic and can improve your mood. Spending time outdoors can lower the risk of depression and anxiety.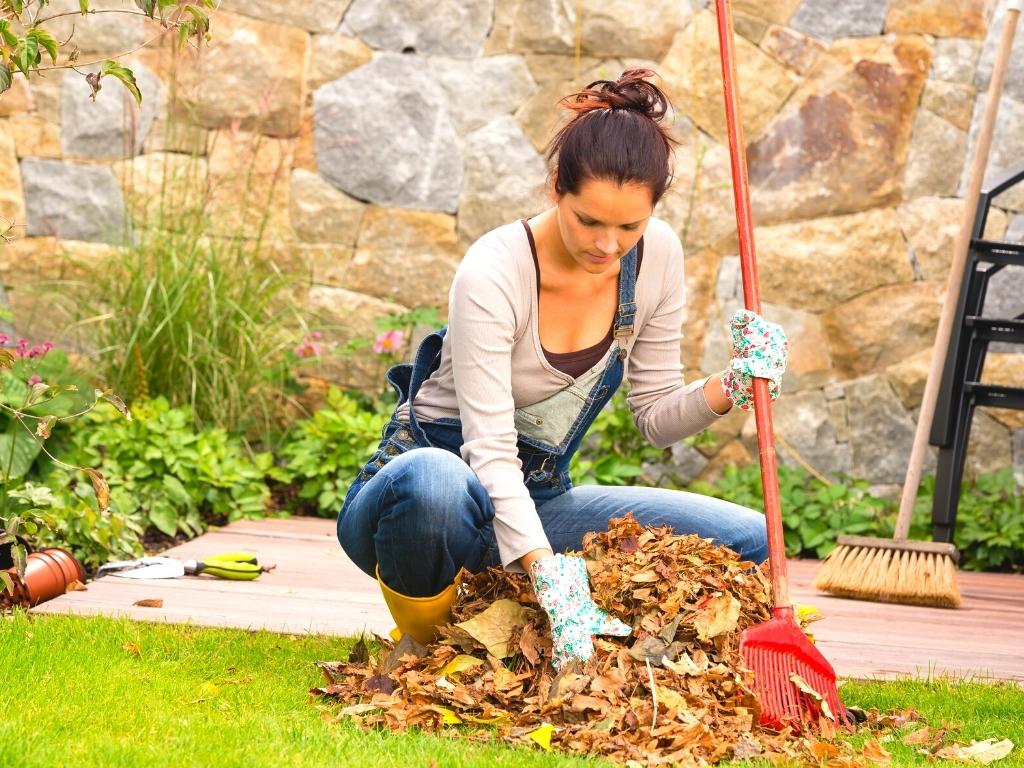 If your neighborhood is like ours, you'll likely end up chatting with your neighbor. Being part of a bigger community is one of the habits practiced by the longest-living people on earth. So, in this way, you're also contributing to longevity.
You'll also benefit from the fresh air and sunlight, which improves your mood. If you've been paying others to take care of your lawn and go to the gym, you might want to reconsider! Doing yard work is like putting money in the bank, saving time you would otherwise spend driving to and from the gym, and you get physical activity to boot.