Download this menu as a beautiful printable by clicking the image below. Detailed instructions and links to recipes can be found by scrolling down past this menu.
Menu Details and Links
Day One
Breakfast – Spinach Eggs with Turkey Sausage
Lunch – Tuna Stuffed Tomatoes (mix tuna with condiment of choice)
Snack – Snack Pack *optional – see instructions below menu
Dinner – Oz Family Chicken Soup | The Dr. Oz Show (start with a Whole Chicken, save dark meat for tomorrow's lunch)
Day Two
Breakfast – leftover soup is a delicious, warming option for breakfast, but substitute eggs or oatmeal if you prefer
Lunch –  Chicken Chowder p. 336 The Whole 30 if you don't have this book you can substitute this recipe
Snack – Coconut Milk Chia Pudding (recipe removed or site closed by owner)
Dinner – California Chicken Veggie Avocado Rice Bowl – Instead of grilling the chicken and veggies, I used some of a whole chicken I had prepared in my instant pot and sauteed the veggies on the stove top. (it's winter) I think it would have been so much better grilled, but it was still very good. If you're not a fan of blue cheese, leave it out or substitute a different cheese.
Day Three
Breakfast: Oatmeal w/ collagen powder and berries
Lunch: Chicken Chowder p. 336 The Whole 30 + side salad
Snack: Coconut Milk Chia Pudding
Dinner: Traditional tacos for kids but I used a romaine lettuce leaf for my "shell"
Day Four
Breakfast: Eggs & Asparagus
Lunch: Riceless Sushi – ok three things… 1) it's not technically "sushi" unless it has rice because sushi means vinegared rice and 2) I don't adhere to a "Paleo" diet but I have found that many of the recipes meet my dietary requirements which are to avoid as much gluten and dairy as possible. 3) at first glance the picture looks like imitation crab but it doesn't call for it in the recipe; it's a piece of shrimp. Stay away from imitation crab; it has too many junky ingredients. I still like this recipe because Nori is one of my favorites and I do eat sushi with actual rice sometimes!
Snack: Snack Pack *see bottom of post for description
Dinner: Sweet Potato Chickpea Buddha Bowl – this was a big hit with my kids and it felt so good watching them eat a bowl full of veggies!
Day Five
Breakfast: Scallion Pancake
Lunch: Tuna in lettuce wraps or salad topped with tuna (Costco carries Wild Planet which is the brand I prefer), and I love this homemade dressing
Snack: Snack Pack
Dinner: Flattened Teriyaki chicken – because pounded chicken is so tender! I use this recipe because I like the taste of Coconut Aminos which is gluten and soy free.  Plus a Side Salad
Day Six
Breakfast: Miso Veggie Breakfast Bowl or if you're in a hurry a smoothie or boiled eggs, nuts, chopped veggies
Lunch: Thai Coconut Soup p. 352 Whole 30 (makes two servings, save one for tomorrow) if you don't have the book, this recipe is very similar
Snack: Snack Pack
Dinner: Fish Taco Cabbage Bowl with white fish but I suggest avoiding Tilapia
Day Seven
Breakfast: Mushroom Onion Quiche Bites
Lunch:  leftover Thai Coconut Soup
Snack: Snack Pack
Dinner: Korean Pork Lettuce Wraps from emeals or use this recipe which is very similar except I would leave out the tablespoon of sugar (you can also substitute beef or chicken)
I also made this recipe with some green beans and beef I had on hand. I substituted coconut amino's for the soy sauce.
---
Tweaks to my diet and lifestyle in 2017.
In 2003 I turned my back on the Standard American Diet, sodas, and toxic beauty products as well as cleaning chemicals. Not one time in those 14 years did I experience regret from that decision. I never missed eating the junk or using those products. Knowing that what I put in my body will create health makes me feel the best!
This year, I have continued eating whole foods as usual though I have started making sure to eat every 3-4 hours. It's not always a big meal, but sometimes something small, like coffee with some collagen powder at 5 a.m.  I have a habit of getting too busy to eat during the day, then by nightfall, I'm catching up by eating too much dinner. Since I prefer to eat strategically for good health, I decided to correct this habit by doing a snack meal prep.
I call these  Snack Packs and I make enough for my kiddos to grab one per day if they are hungry in the afternoon. Shawna loves being able to grab a snack pack. By the end of the week I had stuck to my goal of eating a snack around 2:30 so I wouldn't be tempted to overeat at dinnertime. Here are the ones I made for the kids, mine have a boiled egg in place of the cheese.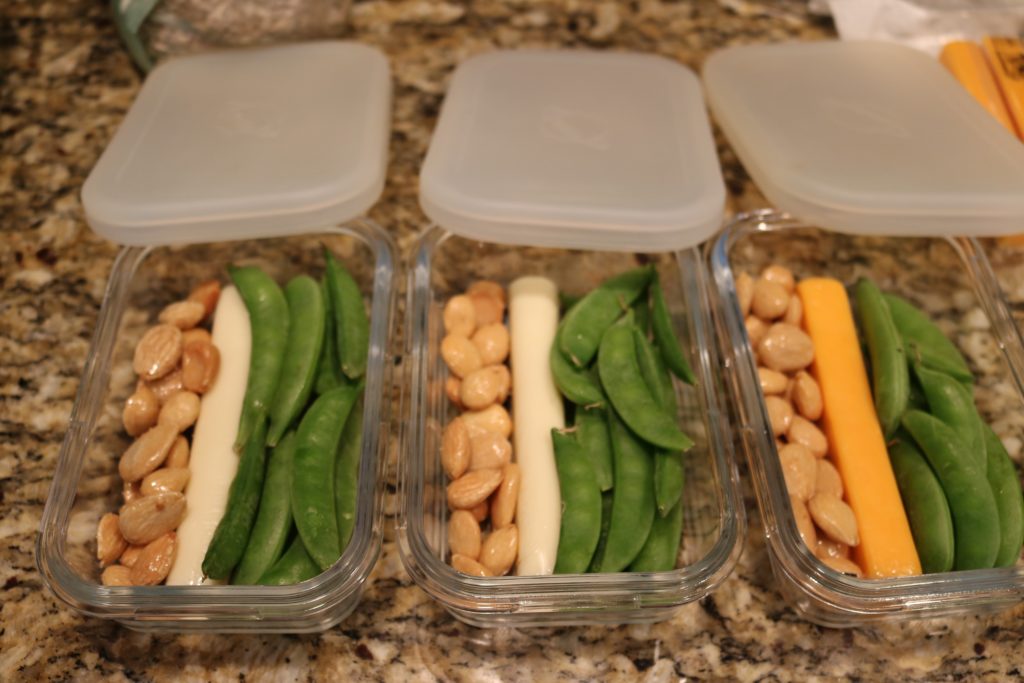 I've been more careful about avoiding dairy and gluten for improving my gut health.  Last year, my doctor tested my digestion to find that I do have a very mild leaky gut which has been vastly improved by drinking bone broth and avoiding gluten and most dairy.  I do put about a tablespoon of heavy cream in my one cup of coffee per day which doesn't seem to bother me. Heavy cream is lower in lactose than table cream or milk; remember the higher the fat content the lower the lactose.
I stopped obsessing about diet-rules. Now, if a HEALTHY recipe I want to try from one of my new cookbooks has an equal amount of fat and carbs, I make it and enjoy it. After all, this is my year of CALM.
Something new that has helped me is that I stop eating when I feel about 75-80% full for various reasons but the most significant being that I have a tendency to eat past the point of being full. In talking with other women, I am hearing this is an issue for many of us. Moms in particular often feel rushed at meals and forget to stop, take a deep breath, and slow down to eat. Hurriedness causes us to eat faster than our body can signal our brain that we are full. (See my GUIDES section for tips on how to relax)
The best way to get that signal is by slowing down when you are eating. Slow down to think about how full you are. In this way, I have learned to stop eating when I am just approaching comfortable. Learn to recognize that feeling when you've eaten three-quarters of what is on your plate! It feels like you could keep eating but you are satisfied.  That is when I stop eating.
I feel so much better about how I'm eating since I've made these changes. We all carry extra weight for different reasons. Some of us are emotional eaters, others just eat the wrong foods, etc. Because of this, something that works for one person may not work for another.
As for exercise… I changed from mostly cardio and a little yoga to mostly weight lifting, a little yoga, and some cardio. I shifted the scale in favor of weight lifting. I'm slowly learning to love exercise again since I stopped thinking of it as punishment because my body doesn't look the way I think it should.
So that's what I've been up to starting off 2017!  Make sure to check back here on  Wednesday when I'll be announcing the upcoming February Health Challenge.