Last Updated on June 29, 2022 by Rebecca Huff
One of my favorite quick and easy ways to offer guests a bite to eat without having to bake or stand over the stove is to assemble a Charcuterie Board. They can be a lifesaver during the holidays if you need to offer food several days in a row. Just pick up a good supply of items to have several boards.
What I love about serving one is that people can eat the items they enjoy and skip the things they don't like, no big deal.
A charcuterie board can easily become gluten free, low carb, sugar-free, or whatever you need it to be. If you want to follow the definition loosely, you could even make a vegan board with lots of vegetables, fruits, olives, seeds, nuts, nut cheeses, and crackers. Let your imagination run wild and personalize it.
My husband and I have ordered Charcuterie boards at fancy restaurants before, but nothing compares to making one with hand selected favorite foods. Another bonus to doing this is that you can make it according to your personal food preferences.
Anyone can put together a charcuterie board! Don't let the "experts" tell you that you are doing it wrong. Who says?! They can be as simple or as varied as your taste.
Charcuterie implied "cured or cooked meat" and was devised as a way to preserve meats, particularly pork, back before refrigeration. The various meats would be arranged and combined with other foods in diverse ways. Which leads me to my point, you can't do it wrong.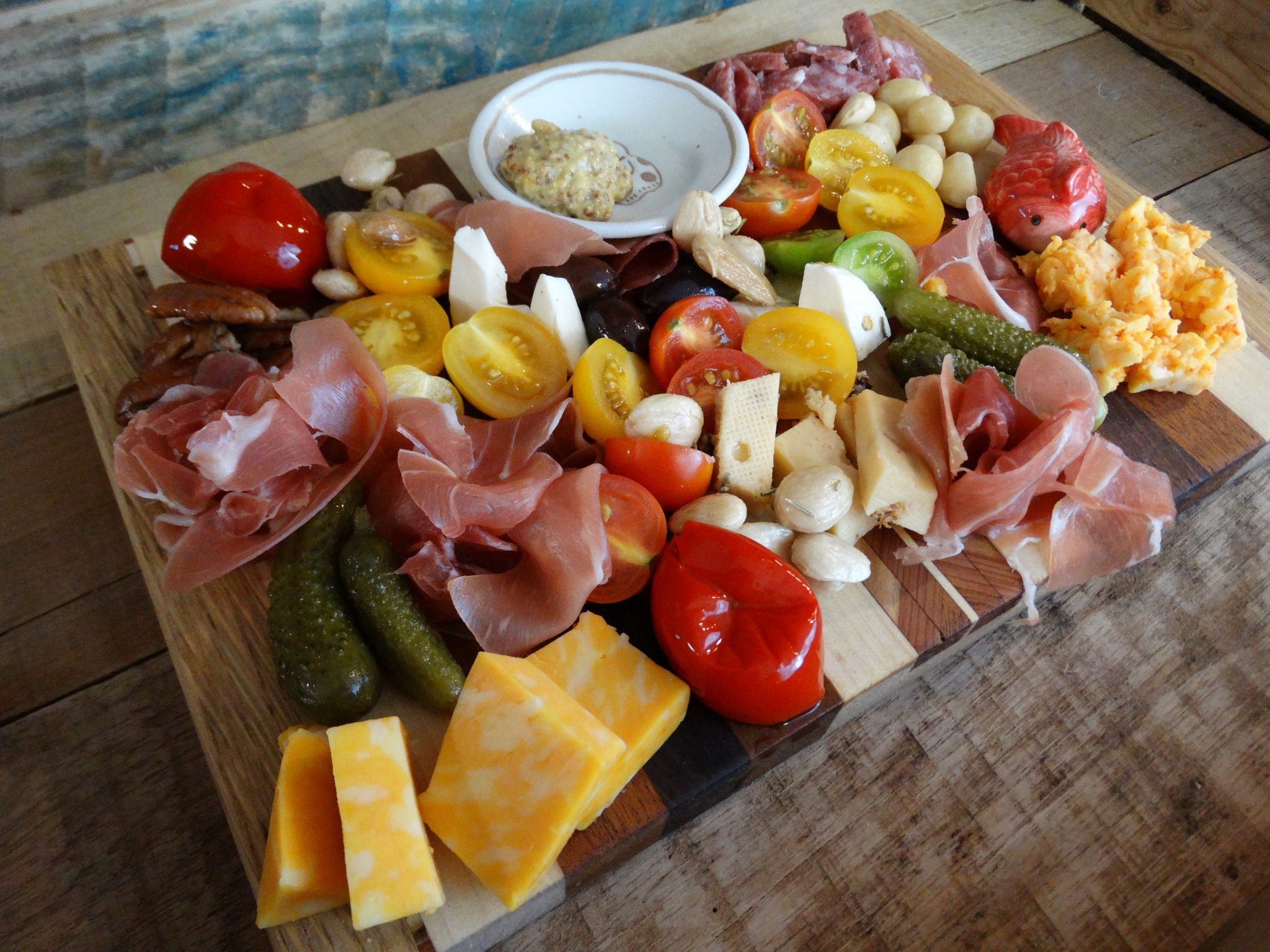 Here's how I put mine together but use your creativity and have fun with it:
Know how many people you are serving; are feeding a crowd or just a couple? I estimate about 3 ounces of meat per person for an appetizer; if it's the main course I will increase that to about 5 ounces but it doesn't need to be precise.
Decide on your budget.
Be creative! I usually make a vague list, meat, cheese, salty, sweet, condiment, etc. instead of specific items. Peruse the store for what looks good. Trader Joe's is a great place to get a variety of foods.
a list might have a variety of the following:
cured meats,
cheeses,
pickled or fermented items,
possibly some crackers
pieces of bread
fresh or dried fruits
Pate or Terrine (a type of meat paste)
preserves
condiments
I like to focus on the meats and cheeses, then sprinkle in some nuts, pickles, olives. When my children are joining in, or I have guests I always add crunchy bread or crackers and some fresh or dried fruits.
I try to balance out the flavors and textures. For example, I select a range of salty, sweet, sour, and spicy. If I find intensely smoked and flavorful meat, balance it out with some nice Brie. Pickles, grapes, or slices of fresh fig are great to eat between bites to cleanse your palate.
For the actual board, you can use anything you like, even a cutting board. Many retailers carry cheese boards or platters that will work. If you are looking for something truly unique, try Etsy.
If you are entertaining, make sure to cut veggies, cube meat, and make any dips or spreads in advance. Another idea would be to use pre-cut vegetables to save time.
When assembling the board, you can get everything lined up perfectly, or you can just mix it up. I usually just put mine in random order because if I tried to line things up, I'd get too focused on perfection.
Think of the pickled items, spreads, fruits, and such as accents. Try to make the board visually appealing. Edible flowers look beautiful tucked around the board as well.
Charcuterie is self-serve, however; you can have little toothpicks, skewers, mini forks, small plates, napkins and such. These items will make it easier for guests to eat and mingle. When we have a charcuterie board with just members of our family, we skip the plates and just gather around snacking and eating casual style.
SaveSaveYou can use books like these for inspiration:
SaveSave