Last Updated on November 10, 2022 by Rebecca Huff
Sweets are one of the most satisfying treats to munch on after a busy day, especially if you're a fan of desserts. But sugar is a high-calorie and low-nutrient ingredient that can take a toll on your body. To live healthily, learning how to beat sugar cravings is one of the best and most challenging practices.
Cutting down on sweets can do wonders for your body, though it doesn't happen overnight. Overcoming your sweet tooth means changing eating behaviors and figuring out what makes sugary foods so addicting.
Sugary foods are hyper-palatable foods that cause the release of stress and appetite hormones like Dopamine, Cortisol, Leptin, and Ghrelin which influence our cravings. We also often relate food with memories, people, and moments when we expect to have a candy bar or cookie.
Sugar cravings can change when we improve our lifestyle. Here, we're going to discuss the different causes that draw you closer to sugar and learn how to beat sugar cravings step-by-step!
Why do people crave sugar?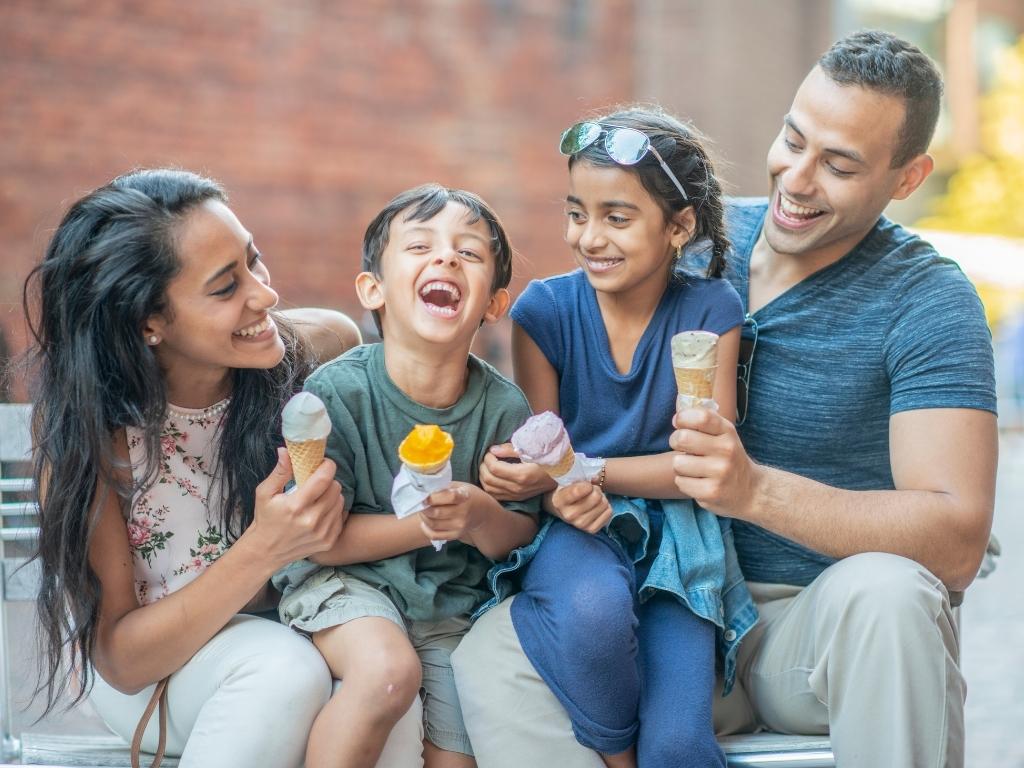 We've all gone through that situation of "just one bite" to satisfy our cravings. However, sugary treats are more complicated than that, and you don't just get "satisfied". Behind our cravings are a series of reactions in our brains and hormones that send signals across our bodies.
Sweets contain chemicals that affect our bodies and other causes like mental and social factors that make us crave more.
Brain's Reward System
Let's go to a tiny part of our brain called the Hypothalamus, known as the reward system. It controls hormones and chemicals related to stress, pleasure, pain, and hunger.
You grab a candy bar, making you feel happy. Your reward system releases hormones called Dopamine; the "feel good" chemical that delivers messages to our nerves to activate positive emotions in the body. Your reward system releases Dopamine to signal positive emotions as a response.
Smell, sight, and images also activate Dopamine. We see or smell certain foods and start to crave them. This experience makes us crave sugary foods as we want that "rewarding feeling" when we taste them. Frequently eating these types of food can build the need to stimulate our reward region, causing food addiction or emotional overeating, especially when hyper-palatable food.
Having that "high" feeling when taking a bite or sipping your sweet drinks is fueled by the dopamine rush from your reward system, similar to alcohol and drug addiction.
Social Influence
We bond over sweets at special events; later, we crave the same to connect us back to that particular moment. May it be a special Christmas dessert or a flavor of ice cream you eat with your friends, your mind and body are conditioned into eating something when remembering such moments.
Another social influence is food advertisements that motivate us to eat addictive snacks like sugary junk food. Even though we casually brush through ads, snack ads are made to feed our urges.
A 30-second video or a photo on social media can spark cravings. Companies commonly make ads for "crave-able" food like candy, potato chips, soda, fast food, and other hyper-palatable foods that influence our reward system.
Habits
Aligning this with your reward system, the need to constantly satisfy cravings for high-sugar foods becomes a habit over time. An example of this is watching t.v and expecting to have a tasty snack at hand. We develop a lifestyle that makes answering our cravings second nature because we equate situations to sweets, like watching t.v means eating donuts.
Serotonin
Our cravings are also affected by the mood regulator hormone called Serotonin. Studies have found that you crave carbs to make up for low Serotonin. Carbs are rich in high-sugars such as fructose and glucose, making it a sugary food to beware of when controlling your sugar intake.
Serotonin comes from its parent, Tryptophan–an amino acid that provides a calming feeling when in the gut-brain axis area. The lower the Tryptophan, the higher the cravings are. Combining this with the brain's reward system and habits, frequently eating sweets like chocolate to boost your Serotonin or feel better may lead to even drug-like addiction.
Sleep
Lack of sleep can cause hormonal imbalances that affect your appetite. Unhealthy sleeping schedules can lead to an imbalance in your ghrelin and leptin hormones, causing cravings for fatty, sweets, starchy, and salty foods.
How much sugar is too much?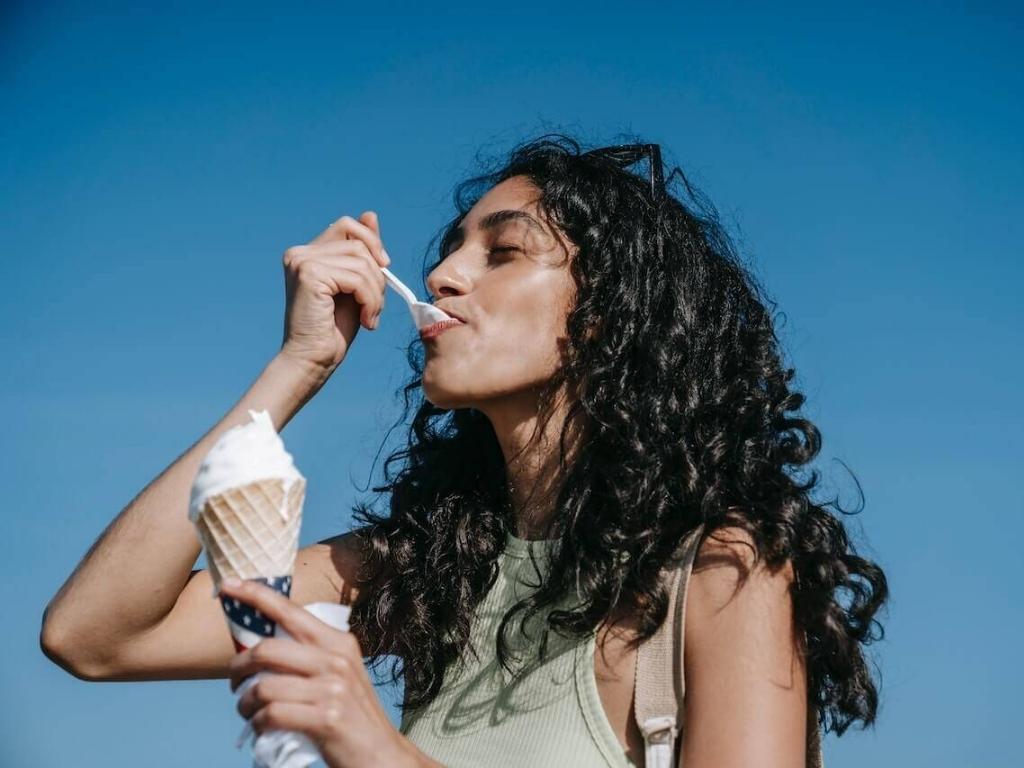 Luckily, you can eat sugary treats responsibly! The American Heart Association (AHA) recommends a specific amount of responsible sugar consumption:
Men can have up to 9 teaspoons of added sugar per day. (36 grams or 150 calories)
Women can have a limit of 6 teaspoons of added sugar per day. (25 grams or 100 calories)
You'll need to pay close attention to soft drinks; one 12-ounce can contain eight teaspoons (32 grams) of added sugar, so be careful!
Tips on how to beat sugar cravings
Solving nutritional deficiencies may also help beat sugar cravings. Living a healthy life can help regulate our behaviors and make us crave less sugar. Here are a few tips for beating sugar cravings:
1 Eat Right
Eating real food like high protein foods and complex carbohydrates packed with natural nutrients can help normalize your blood sugar level. It will help you feel fuller and lessen your food craving.
Complex carbs are in whole grains, vegetables, peas, and beans; these are rich in fiber, protein, minerals, and vitamins that can regulate our appetite and body.
On the other hand, ingredients high in glucose provide fewer nutrients; some examples are white flour and packaged foods. Complex carbs offer a full stomach from protein that can make you less hungry and prevent unhealthy weight gain.
2 Sleep Properly
Having a good night's rest lessens stress levels and prevents an impulsive sugar craving you may feel in the middle of the night. When we don't get the proper 7-9 hours of sleep, our body starts to find ways to compensate, like craving carbohydrates rich in sugar.
3 Exercise
Keeping ourselves busy, like exercising, can not only make you forget about your cravings for a moment, but it also helps your body release Endorphins: the happy hormone that helps combat cravings.
This study showed that brisk walking can reduce sugar cravings.
How long does it take to beat a sugar addiction?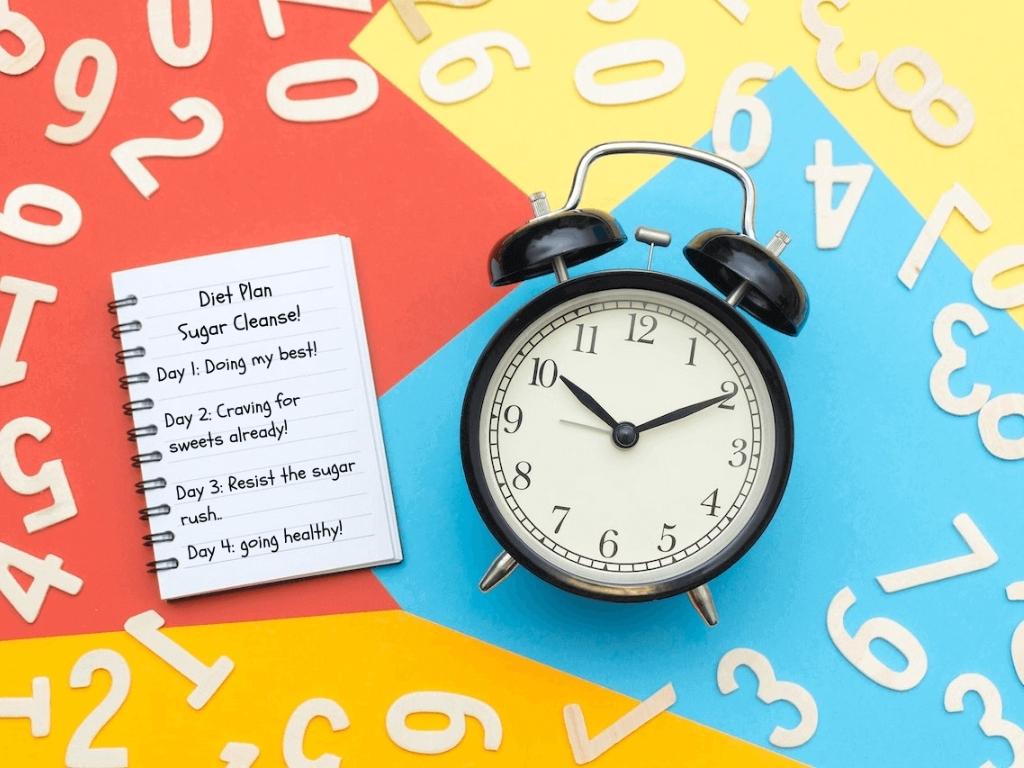 It does not take much time to beat sugar cravings, but it can take a lot of willpower. According to a study by Mayo Clinic, two weeks is enough to reset your sugar cravings and attune your taste buds to the natural sweetness of whole foods.
If this feels too short and you might easily fall back to craving sugar, you can extend it up to three to four weeks. That extra (1-2) two weeks can help you eliminate that sugar habit and form new habits to continue a healthy diet and curb sugar cravings.
That two-week break does not have to mean a total cleanse, though! Going cold turkey or abruptly cutting out sugar may help some people, but for others, it can lead to intense sugar cravings instead. The first 48 hours are often the toughest. Instead of going cold turkey, try minimizing your sugar intake to at most 5 grams per serving.
Healthy snacks to beat sugar cravings.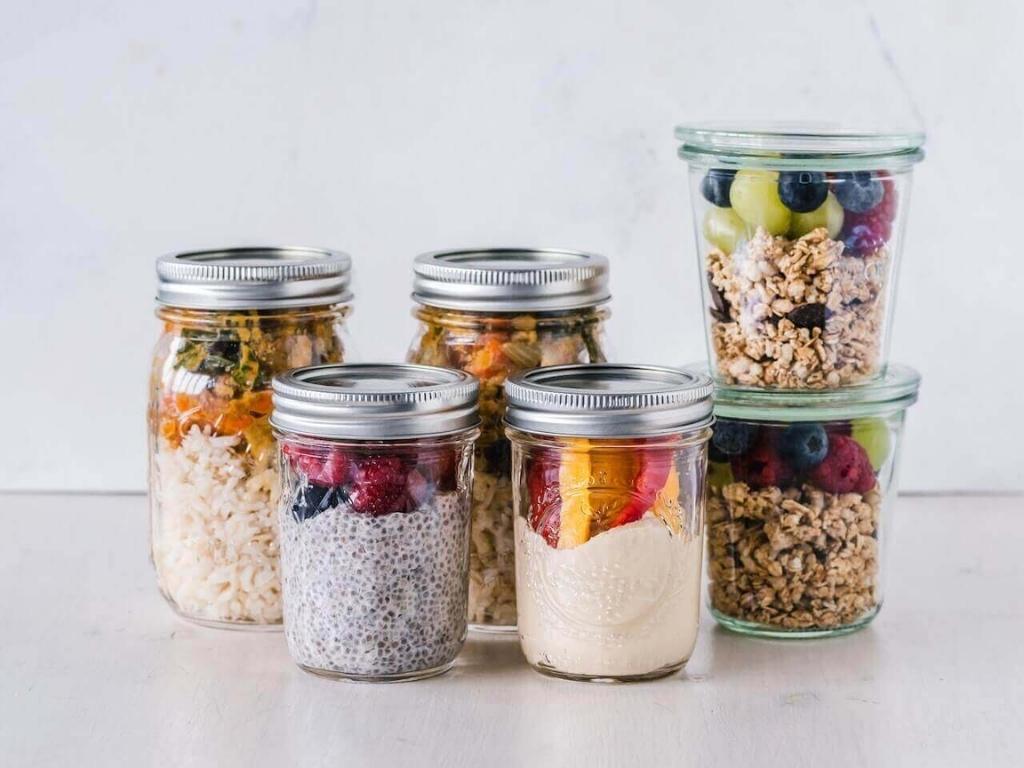 To stop sugar cravings, you need to swap them for healthier alternatives.
Water
Soda is the biggest culprit and contributor of sugar to millions of people. One 12-ounce soda is enough to exceed the daily needed consumption. The undisputed and best alternative to this will always be water. Water has no added calories and flushes out excess sugar.
However, water will not taste as good as soda, nor will it 'feel' as good. We may end up searching for that fizzle that makes soda addictive. Instead, you can opt for sparkling water or even flavored sparkling water. The carbonation will give you that fizzle without the added sugar.
Whole Foods
Whole foods, including whole grains, vegetables, and lean protein, are foods that are processed or refined as little as possible with little to no additives. These contain more fiber, which makes them more filling, so you don't have to eat more calories and sugar.
Fruits
Fruits often get a bad rep since they have natural sugars. The difference is while it has sugar, it also contains a lot of water, nutrients, fiber, and starch that also helps slow digestion. Instead of packing sugary treats or junk food, reach for a fruit. Berries are known for their low sugar and high fiber content. Hurray!
While there are more healthy food options to beat sugar cravings, most food products would still contain sugar. Most of the products in your grocery would have sugar so make it a habit to check the nutritional label. Beware of 'hidden sugars' or added sugars named differently, such as sucrose, fructose, glucose, maltose, lactose, or dextrose. Honey, agave, maple syrup, brown rice syrup, and juice concentrate are also used to add that sweet taste.
FAQs
What is your body lacking when you crave sugar?
It's common to think we need more Serotonin when we crave sugar, but your body may be screaming for something else; you may need more zinc, chromium, iron, calcium, and magnesium.
Magnesium deficiency can lead to increased stress, anxiety, depression, and difficulty sleeping, which conditions the body to crave sugary foods for that much-needed energy boost.
Each of these minerals takes part in assisting the body to absorb the food we eat and convert it to energy or muscle. Mineral deficiency in these can leave you easily fatigued and drowsy, making you search for quick energy sources, often in the form of sweet foods.
How to stop craving sweets at night?
After a long day, do you ever want a bowl of ice cream or processed foods? Nothing like a can of soda, some chips or sweet junk food, and a good movie to end a stressful day, right? While it's not wrong to crave or have these, especially to destress, it's also a biological response for the body to crave more sugar and even starchy foods at night.
We're often stimulated at night when we watch TV and commercials of sweet products pop up. The body does not need excessive sugar consumption at night as this can lead to obesity, heart disease, and diabetes, among other things, because the sugar is not fully digested.
To curb sugar cravings at night, you can do the following:
Skip the Soda
Soda and other sugary drinks are addictive. It makes your blood sugar spike fast, stimulating your brain to produce insulin quickly and giving you a sugar crash. The crash will only make you crave more sugar, including other sugary drinks.
Use this Quit Soda Guide for motivation.
Drink Water Instead
You are made up of 60% water, and it's best to keep it that way. Keeping yourself hydrated makes you full, so you don't crave more, and cleanses your body of dirt, including excess sugar.
Choose Low-Glycemic Food
Do you ever find yourself craving something sweet after eating a particular food? These may be High-glycemic food. The glycemic index is a value that describes how slowly or quickly certain foods can increase your blood sugar levels.
You can try low-glycemic food such as legumes, green vegetables, and nuts, which release glucose steadily into the bloodstream, so you don't suffer from the sugar rush – sugar crash cycle.
Protein for the Win
Protein has minimal impact on blood sugar levels and is proven to reduce ghrelin, also known as the hunger hormone. That is because protein takes longer to digest, making you feel full.
Fiber is a Winner
Similar to protein, fiber has the same effect. Partnering and high-protein and high-fiber foods for dinner allow you to feel more satisfied and full, effectively reducing any craving.
Eat Right
Cutting down carbs for dinner is a common recipe to lose weight, but this can go overboard sometimes and backfire with some intense sugar cravings. Sometimes, protein and fiber are not enough, and you still come to the refrigerator at 10:00 PM or 12 midnight looking for sugary snacks. This might signify that you're just not eating right or enough at dinner.
Eat with Loved Ones, Not the TV
Eat with your friends, your family, and the people around you. Eating around the TV, especially with commercials featuring sugary snacks, may leave you wanting to eat sugar. Furthermore, TV can distract you from your plate, and before you notice, you've already had three cups of rice and two servings of juice.
Keep Calm and Keep Busy
Lastly, a busy mind reroutes your brain to think of the task at hand. You can go for a brisk walk, clean the house, read, and later on, you may find that you're no longer craving sugar.
Do sugar detox diets work?
Sugar detox involves cutting out artificial sweeteners for a week up to a month, and this has been found to beat sugar cravings, improve oral health, and help lose weight. During a month's sugar detox, you can lose an average of 5 to 20 pounds and can even go beyond. Losing weight includes reducing fat intake as well as sugar intake.
Following the tips on how to beat sugar addiction, including choosing whole foods and low-glycemic food, introduces healthy fats into your diet, which leaves you more full.
Wrap up
In a nutshell, the key to knowing how to beat sugar cravings is eating the right food! The body acts up when it doesn't receive the nutrients it needs by looking for alternatives and sending signals that affect your emotions and behaviors.
Experiencing sugar cravings sometimes may be normal, but we often lose control and can develop unhealthy cravings. It will take time, but the results will be even more delicious! A balanced diet can change your sugar rush into healthier choices and reduce cravings overall.
Author Bio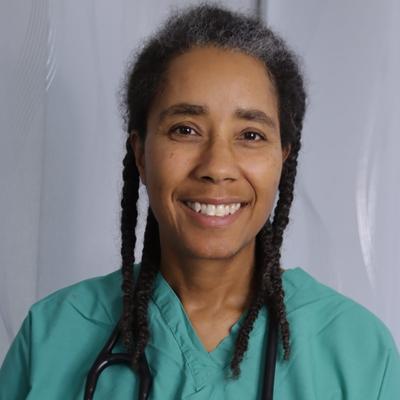 Dr. Alice Williams is a traditionally trained western medical doctor board certified in Emergency Medicine. She obtained her undergraduate degree in Chemistry from the University of Chicago. Dr. Alice went to medical school at the University of California, San Francisco. She completed her residency in Emergency Medicine at the University of California, San Francisco in Fresno.
She is a physician who cares about healthy living and strives to be as healthy as possible to thrive in life. Her goal is to share this knowledge to help others live healthy lives.