Last Updated on July 11, 2022 by Rebecca Huff
A popular appetizer in many restaurants, baked spinach artichoke dip is always a big hit when you serve it at home. You'll be prepared for any get-together once you have this recipe saved.
In fact, the ingredients aren't hard to keep on hand. Most likely if you cook much at all, you'll have sour cream or yogurt on hand. Keep vegetables like spinach in your freezer and canned artichoke hearts in the pantry and you're minutes away from entertaining on a moment's notice.
When I serve spinach artichoke dip, I like to offer carbohydrate-free dipping options as well as the traditional offerings. Any veggies will work, but you must try it with peppers, it's such a tasty combination.
Other ideas for this easy spinach dip include:
pita chips
thinly sliced toasted baguette
tortilla chips
gourmet crackers
bagel chips
As you will see in the video, we dig right into the baking dish. If you are serving it as a party dip, say for New Year's or a Super Bowl, you can transfer it to serving bowls or dishes.
Easiest Dip Recipe Ever!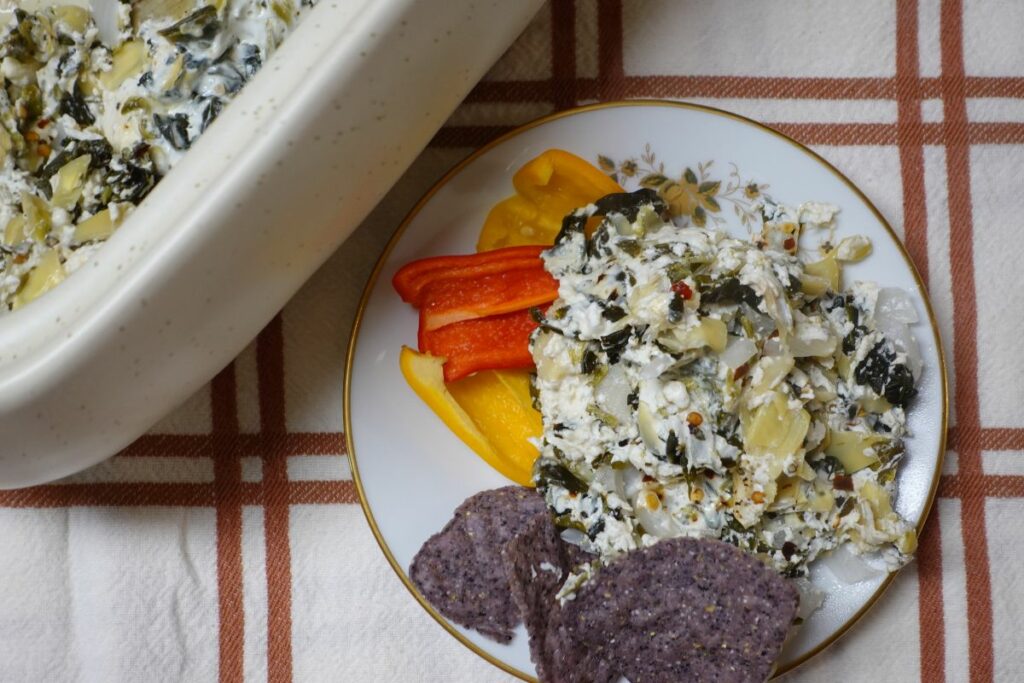 This recipe is so easy, it is perfect for beginners or children (with the supervision of an adult of course) to prepare. Kids love to cook and are more likely to eat veggies when they are the ones cooking. Learning to cook is a life skill and one of the best gifts a parent can give a child.
Whip up a quick appetizer with this baked spinach artichoke dip with feta using frozen spinach, canned artichokes, feta, sour cream or thick Greek yogurt, and some seasonings, then pop it in the oven. Baked in less than half an hour.
The waiting is the hardest part. My family loves baked spinach dip and they'll eat artichoke hearts if they're hidden in the dip! We use mini peppers for dipping as well as crackers or chips.
Preheat the oven to 350 degrees Fahrenheit. In a bowl, mix all of the ingredients.
Using a basting brush or paper towel and about a teaspoon or less of olive oil, very lightly wipe the baking dish to prevent the melty cheese from sticking to the edges. Into the prepared baking dish, add the mix. Bake 15-20 minutes or until the edges are golden brown.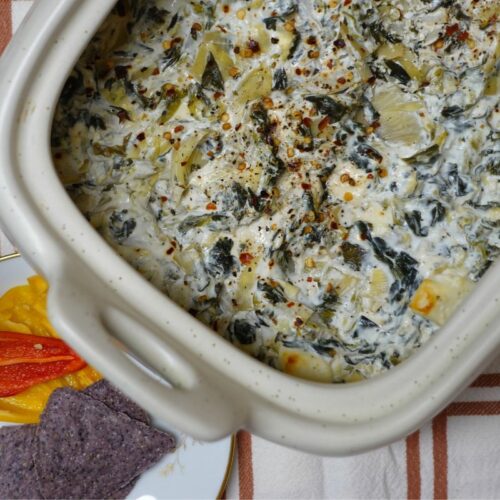 Baked Spinach Artichoke Dip

Gluten Free

Keto

Low Carb

Trim Healthy Mama
Whip up a quick appetizer with this baked spinach artichoke dip with feta using frozen spinach, canned artichokes, feta, sour cream or thick greek yogurt, and some seasonings, then pop it in the oven. Baked in less than half an hour. The waiting is the hardest part.
Ingredients
14

oz

artichoke hearts, canned

10

oz

spinach, frozen in bag

thawed and squeezed to remove water

2 ½

cups

greek yogurt

or sour cream

1

shallot

diced

8

oz

feta

or Parmesan cheese

2

garlic cloves

dash

red pepper flakes

black pepper

freshly cracked black pepper tastes best

salt to taste
Instructions
Preheat the oven to 350 degrees Fahrenheit.

In a bowl, mix all of the ingredients.

Lightly oil baking dish with less than a teaspoon of olive oil, using a pastry brush or paper towel

Spread mixed ingredients into prepared baking dish and bake for 20 minutes or until golden brown.
Video
Notes
*see post for substitute options and tips
Nutrition
Calories:
136
kcal
Carbohydrates:
7
g
Protein:
12
g
Fat:
7
g
Saturated Fat:
4
g
Polyunsaturated Fat:
1
g
Monounsaturated Fat:
1
g
Trans Fat:
1
g
Cholesterol:
28
mg
Sodium:
628
mg
Potassium:
232
mg
Fiber:
2
g
Sugar:
3
g
Vitamin A:
4278
IU
Vitamin C:
2
mg
Calcium:
257
mg
Iron:
1
mg
Dip Recipe Options and Substitutes
As mentioned earlier, this spinach artichoke dip is versatile and easy to whip up at a moment's notice. The prep time is less than 5 minutes! Baking accounts for most of the total time in preparing this dish.
When it comes to cheeses, you can use whatever yummy type you have in the fridge. Almost anything works well, as long as it's a melting cheese. Even a blend of cheese can result in a delicious dip. Here are a few suggestions that I have used:
shredded mozzarella cheese
parmesan cheese
fontina
shredded colby jack
Garlic powder may also stand-in for fresh garlic if you happen to be out. (How could you let that happen to your garlic stash!?) I keep garlic cloves next to my stove at all times; we love garlic! In fact, I often put several cloves garlic in ours to give it a powerful kick.
An onion can be used in place of a shallot if you don't have one on hand. Shallots tend to be a bit sweeter and less intense than onions, so if you have a sweet onion, that will work best. Either way, onion flavor is what you're looking for, so if you do substitute, choose a small onion.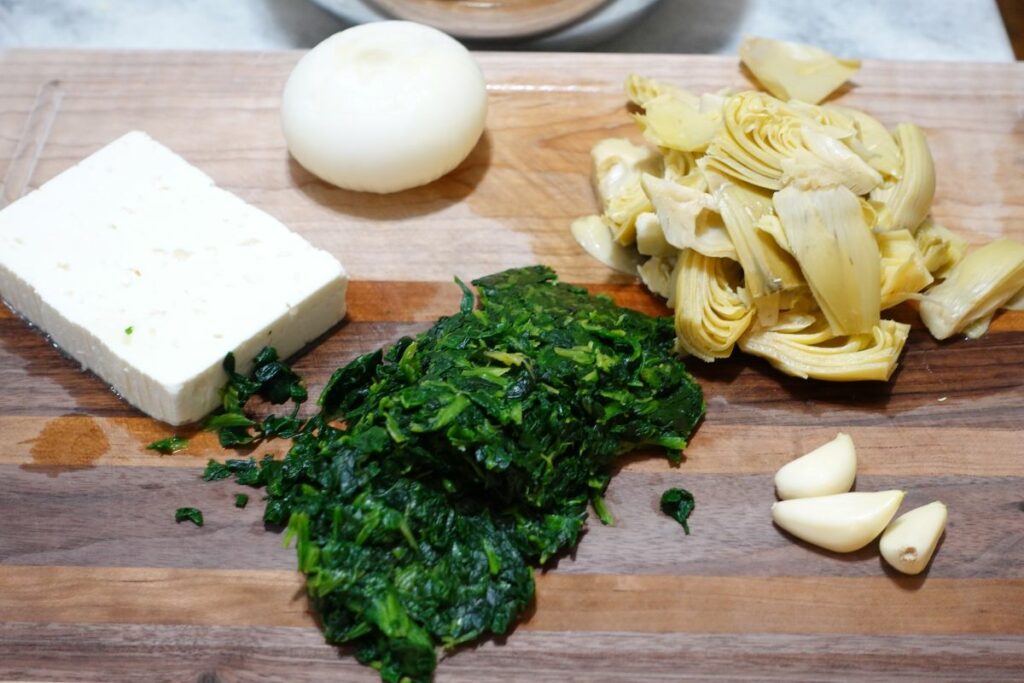 The recipe wouldn't be complete without a bit of black pepper. Using peppercorns that you grind just before adding exposes the sealed un-oxidized center releasing all of the rich flavor and a variety of benefits. If you've never tried freshly cracked black pepper and only use the powdered kind, do yourself a favor and grab a pepper mill.
Want a spicy kick? Top the dish with a few jalapenos before baking.
Tips
Chopped spinach can be found in the freezer section of most supermarkets. My preference is organic spinach.
Allow the frozen spinach to come to room temperature before you try to squeeze out the additional liquid. Fresh spinach can be used, however, you might want to lightly saute it and drain off any liquid before mixing it into the other ingredients. Although, it's not completely necessary. Fresh spinach is bigger than cooked spinach, but if you mix it in fresh, it will wilt during the baking process and release some of the water, which may result in a "wetter" finished dish.
You can make the best spinach artichoke dip in your slow cooker. One time I already had some other dishes in my oven and decided to get the dip ready ahead of time by adding it to my slow cooker. After it was finished cooking, I turned it on "keep warm" so it wouldn't get overcooked.
The dish is done when it's bubbly and starting to turn golden brown. You may want to broil the hot spinach artichoke dip for just a minute (don't walk away) if you want it to have a bit more golden brown on the top.
Store leftovers in the fridge for 3-5 days. Reheat in an air fryer or oven to bring back that yummy melty goodness.
Nutrition Information for Baked Spinach Artichoke Dip
As you can see from the baked spinach artichoke dip recipe card, using spinach in this recipe significantly jacks up the Vitamin A content. Serving the dish with bell peppers adds a hefty serving of Vitamin C.
To keep this dip on the lighter side, I've skipped the traditional cream cheese and mayonnaise combination and have used yogurt or sour cream with cheese. Don't worry, it's still as creamy and delicious as the heavier versions.
Consumption of fermented dairy products such as Greek Yogurt has long been considered to be beneficial to digestive and overall health.
Nutrition information in the spinach artichoke dip recipe box is calculated using Greek Yogurt. Using sour cream will change the total fat and saturated fat. Both yogurt and sour cream are delicious in this recipe. Because my family doesn't notice the difference I tend to use Greek Yogurt unless I am out of it and have sour cream on hand. In the video, I used sour cream.