My son Harm loves fajitas and tacos and any play on those type meals. After years of eating "traditional tacos" I have been able to incorporate lots of different variations. This recipe for Chile Lime Steak Fajitas is an easy blend that I throw together that can be made into several different "types" of meals. Hence "four ways" although I could technically think of several more ways to use it, like on a pizza…
With fajitas, the meat you choose is going to make or break the success of your dish. The best cut of meat for fajitas is rump, flank steak or skirt. Try a high quality meat like Snake River Farms. From ranch to table, here's what makes the difference:
Traditional Fajitas
Using either flour or corn tortillas, enjoy the mixture in traditional fajita style! If you follow a Ketogenic Diet or you are a Trim Healthy Mama, you can use low-carb wraps. Here's my Wonder Wrap Demo Video from over three years ago.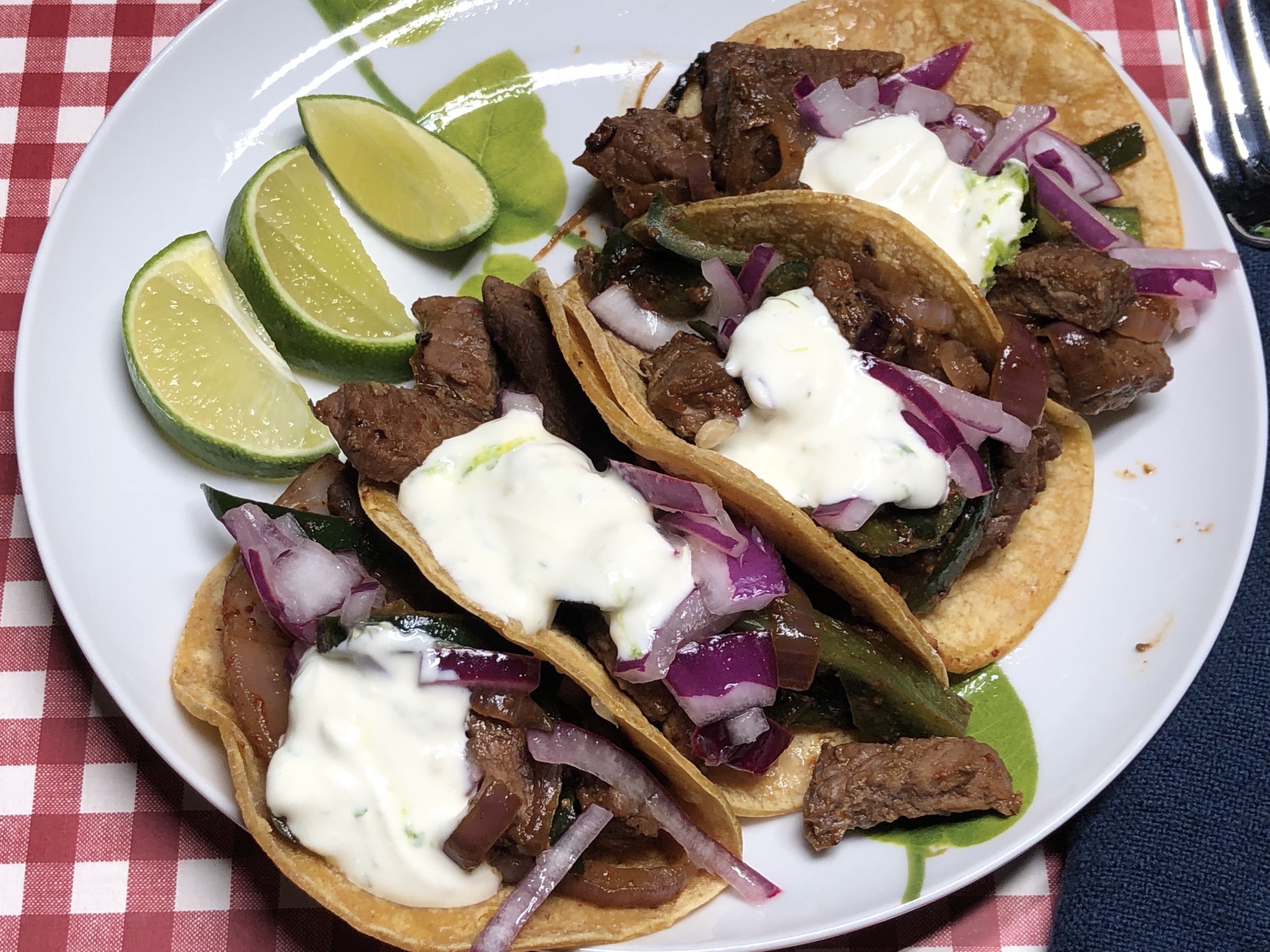 Fajita Bowl
Use the mixture to top your favorite rice or low carb rice substitute.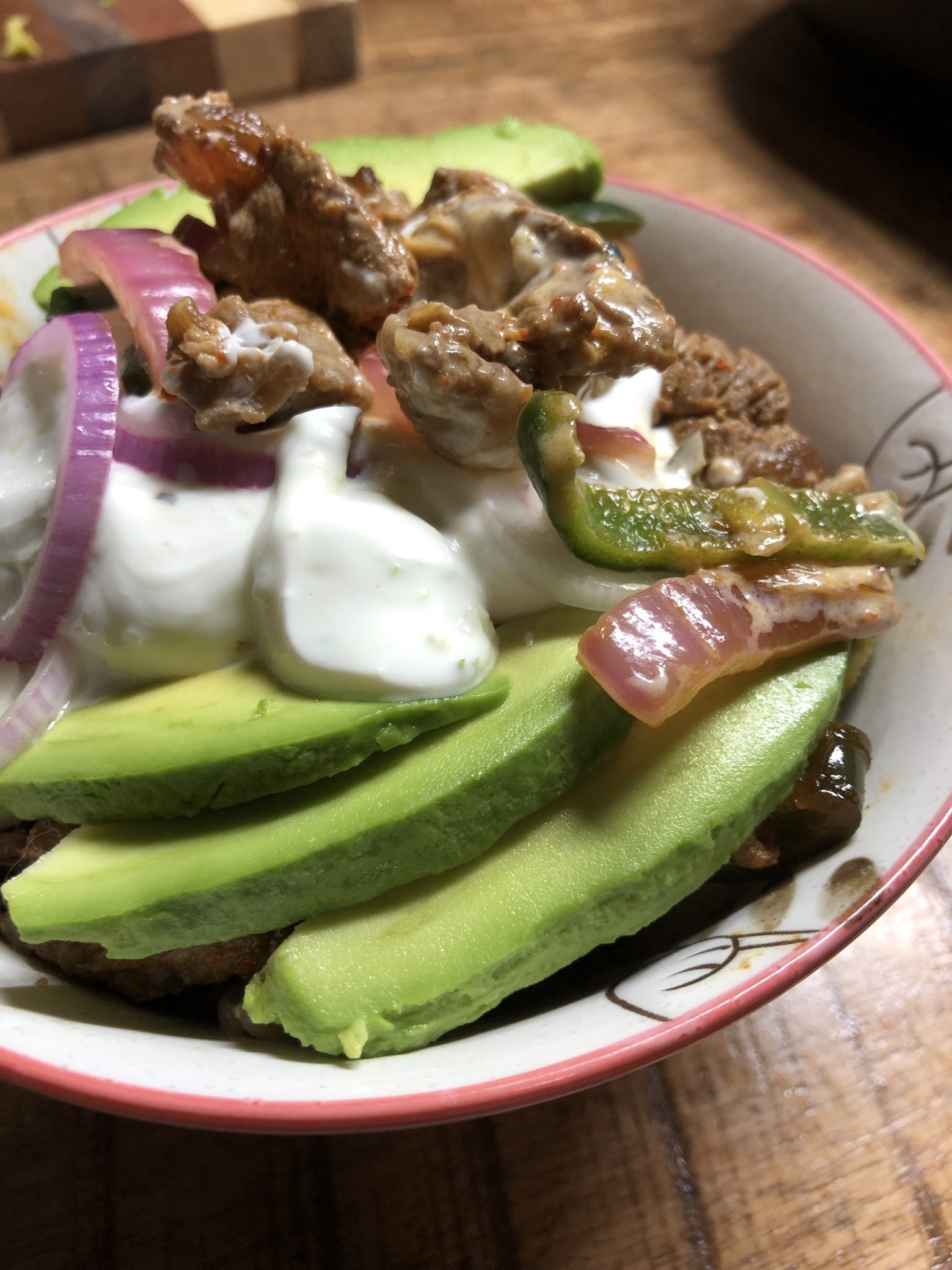 Chile Lime Fajita Salad
Top a huge plate of greens with the fajita mixture for a delicious fajita salad. Any salad greens work well but heartier types tend to hold up under the weight better than baby greens!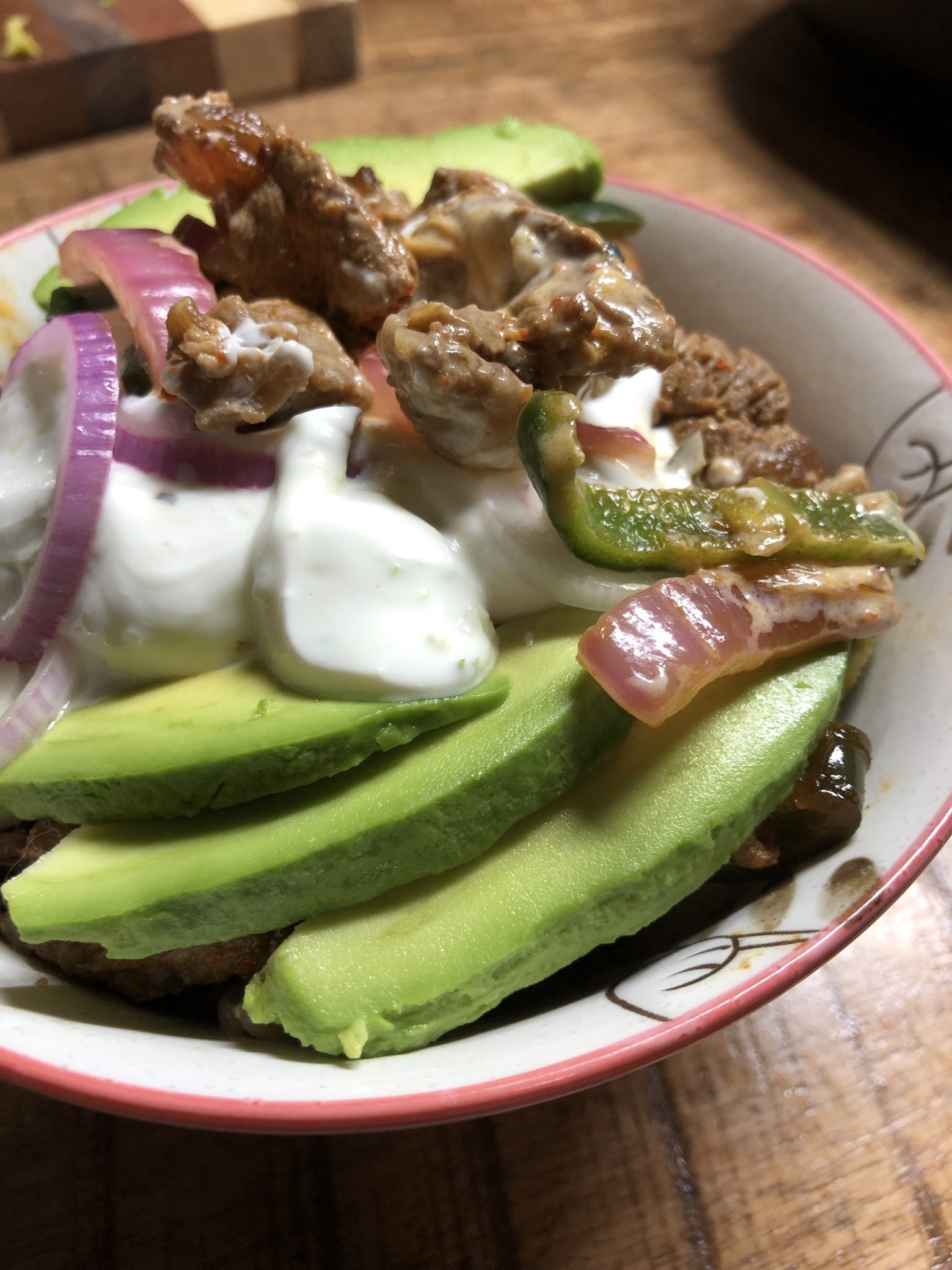 Fajita Nachos
Instead of tortilla chips, why not try Plantain chips or Bean chips. Chile Lime Beanitos work well with this recipe, then sprinkle on some shredded jalapeño cheddar cheese! My kids love it this way!
Chile Lime Fajitas
Ingredients
2

Poblano Peppers

1

large red onion

2

limes

2

cloves

garlic

1 1/2

pounds

Rump

Skirt or Flank Steak - sliced into bite-size strips

8

ounces

Sour Cream

Garlic Powder

optional

Chile Lime Spice Blend

I like Trader Joe's Chile Lime but you can make your own

Oil for cooking

1

teaspoon

Sweetener of choice

honey, organic sugar or sugar free alternative - I use Pyure for low-carb

Avocado

optional

Hot sauce

optional
Instructions
Wash all produce

Zest 1 Lime, then juice the lime; cut the second lime into wedges, save for serving

Mix sweetener with 1/2 juice from lime #1

Slice onion, put 1/4 onion in juice mixture, set aside - save the other 3/4 onion for frying

Combine sour cream, 1/2 juice from lime #1, zest from lime #1, salt, pepper, and pinch of garlic powder, set aside

Add Chile Lime Spice Blend and 2 cloves garlic, crushed, to fajita meat - set aside

Slice poblanos into thin strips

Heat oil in pan, saute 3/4 onion + sliced poblano, cook over medium-high heat for 3-4 minutes, remove to a bowl

Without wiping pan used for onion and poblano, add meat and cook 3-4 minutes

Add pepper and onion back, to pan, toss to mix and remove from heat

Top with "pickled onion" and sour cream mixture

Put together using one of the options in "notes" and top with avocado and hot sauce if desired
Notes
Use Chile Lime Fajitas Mixture four ways
Chile Lime Fajita Bowl by putting mixture on top of a bowl of your favorite rice or even riced cauliflower
Traditional or Low Carb Chile Lime Fajitas can be made by using low carb tortillas or making your own wraps (see my instructional video here). Flour or corn tortillas can be used for traditional style fajitas.
Chile Lime Fajita Salad - top a bed of greens with the mixture, add toppings such as avocado, black olives, or pico de gallo
Tasty Chile Lime Fajita Loaded Nachos - Add mixture to a plate of Tortilla Chips and sprinkle with sharp cheddar cheese, avocado, black olives, diced red bell pepper, pico de gallo or salsa
You might also like to try these recipes:
Easy BBQ Chicken Nachos with Root Vegetable Chips
Easy Taco Stuffed Bell Peppers