Last Updated on June 29, 2022 by Rebecca Huff
This is another easy nacho-style recipe that my family enjoys. I know it looks and sounds all fancy schmancy but it's super easy to throw together on a weeknight, or if you are a super-make-everything-from-scratch kinda cook I also have you covered. No matter how you go about it these BBQ Chicken Nachos are going to tickle your tastebuds.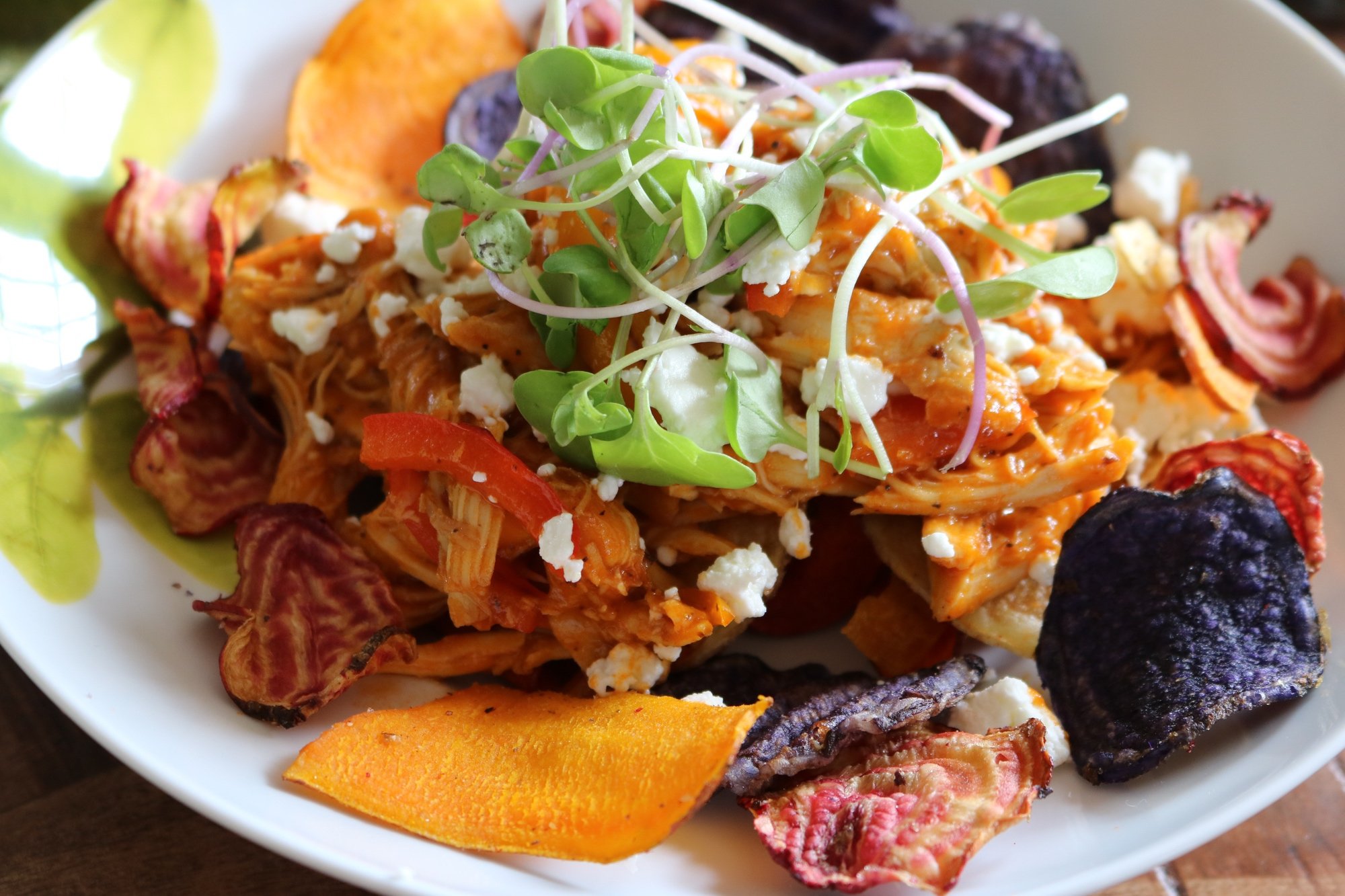 For those who prefer not to spend much time in the kitchen all you need to do is grab a rotisserie chicken, low or no sugar BBQ Sauce, goat cheese, micro-greens (sprouts), and some type of sweet potato or other type of root vegetable chips. We're going to take these simple ingredients and make a dish that's phenomenally delicious.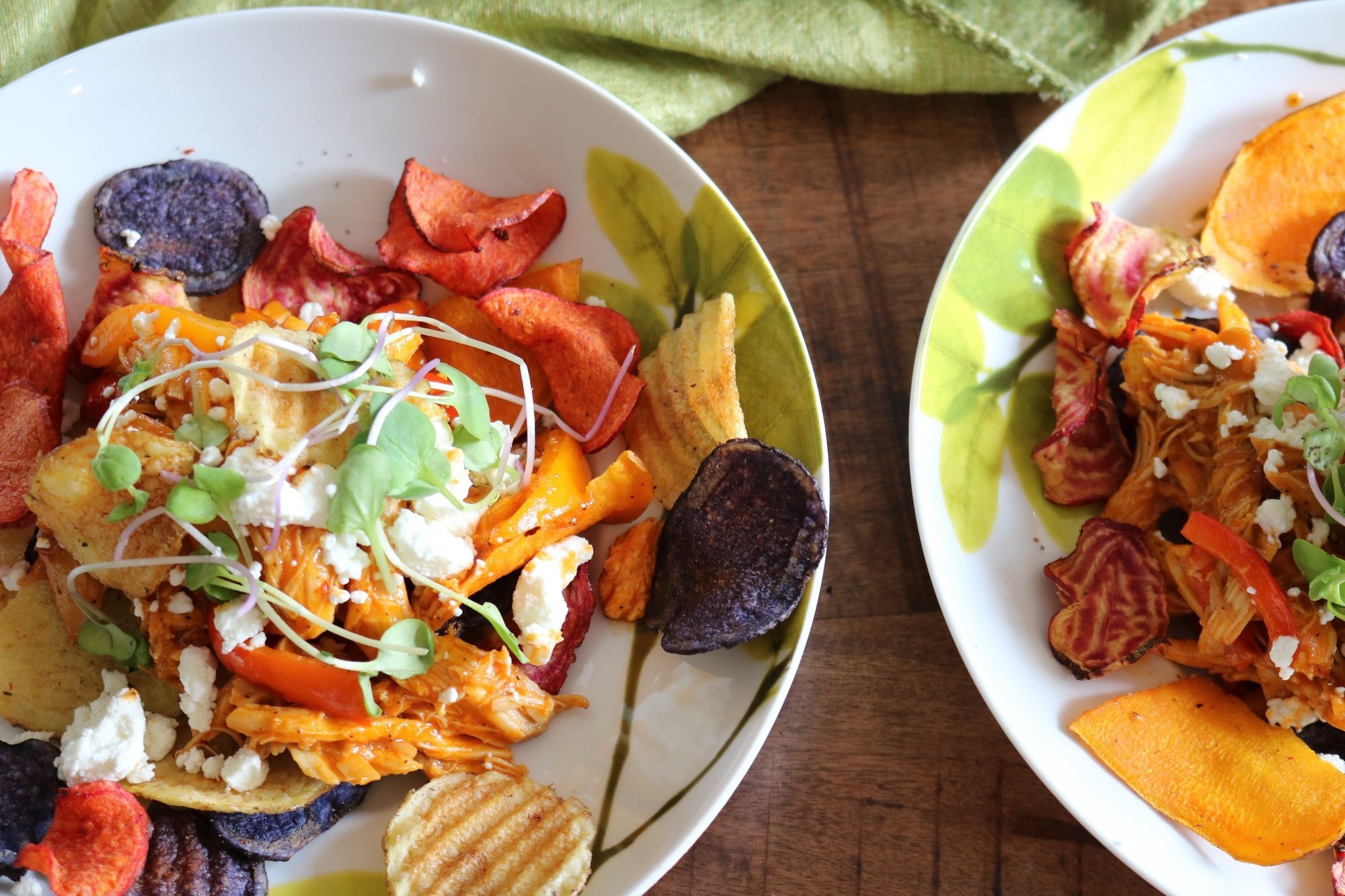 If you have oodles of time and like to make everything from scratch, I have all the detailed recipes to help you make this dish from start to finish. For totally homemade you'll need to make these two recipes before assembling your nachos:
I'm guessing like me, most of you will want to follow the faster method. To make it even faster, grab pre-sliced bell peppers from the produce section or even frozen sliced bell peppers, you can get the trio of sliced bell peppers at Trader Joe's. Costco shoppers can grab a bulk bag of bell peppers as part of the fridge staples for this and many other delish dishes.
Slice one and sauté it up in a pan with a little oil. Easy peasy. Then add your chicken and BBQ sauce and heat till warm. Bam. You're ready to assemble. What!? That was too easy…
Now it's time to assemble your nachos, but first let me point out that you can simply use any Sweet Potato Chips available at stores near you. I really like to use the Terra brand Exotic Potato and Heritage Blend are my favorites! Sometimes I use the sweet potato chips from Trader Joe's, those are great as well. If you are grabbing the ones from Trader Joe's you might grab a bottle of the Sriracha and Roasted Garlic BBQ Sauce because it is the bomb on chicken.
So, pile the chips up on a plate, top with the meat and pepper mixture, crumble goat cheese on top, and then add a generous pinch of micro-greens. If you love hot sauce, add a few dashes to the top and dig in!
Here's a vlog in which I make this recipe: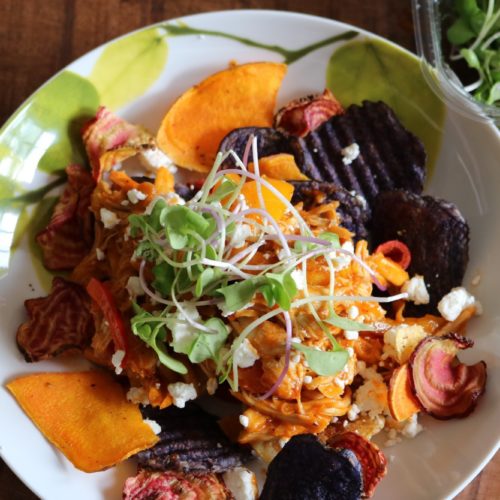 Easy BBQ Nachos with Root Vegetable Chips a Healthy Family Recipe

Paleo
These nachos are so delicious you'll forget you're a health nut!
Ingredients
1

bell pepper

any color, sliced

1

tsp

avocado oil

Chicken meat from one chicken

shredded (pulled apart)

18-20

ounce

bottle of BBQ Sauce

Root Vegetable Chips

8

oz

Goat Cheese

crumbled

Micro Greens

we like radish and broccoli best on this dish

Hot sauce

optional
Instructions
Heat pan with avocado oil over medium and add sliced bell pepper, cooking for one minute. 

Stir in chicken meat and BBQ Sauce and warm till heated through.

Assemble nachos: chips, meat mixture, goat cheese, micro greens.

Top with hot sauce if desired.
Notes
You can add more or less goat cheese depending on your dietary needs, I typically do about 1 to 1 1/2 ounces cheese per serving.  If you are new to micro greens start out with a garnish amount and then work your way up to a large handful on this dish.
Easy BBQ Nachos are very filling and satisfying and they also make a great make ahead meal. Just put the chips in a separate container so they don't get mushy. Let me know what you think if you try this super easy weeknight meal; I'd love to hear from you.