Last Updated on June 29, 2022 by Rebecca Huff
Want to incorporate more good carbohydrates into your breakfast plate? Try these Energizing Breakfast Tacos! Completely weight loss friendly!
Breakfast can often be a challenge for me as I tend to get in a rut. My kids say I rely too heavily on eggs. I'm still going to use eggs in this recipe but no one will recognize them as they show up in our delicious Wonder Wraps! I'm making Breakfast Tacos!
Before I share the recipe for my tacos, I want to let you know that if you don't want to make Wonder Wraps you can still enjoy this healthy breakfast by substituting whatever type of tortilla that you prefer, either a corn tortilla, flour tortilla or low carb tortilla.
Here's a video demonstrating how I make the high protein wraps I use in this recipe. The link to the original recipe is in the description below the video on Youtube.
Now that we've got our wrap convo out of the way, here's how I make these delicious breakfast tacos. For all the Trim Healthy Mamas this is an Energizing (E) meal.
If you like to have a quick breakfast, then I suggest having the baked potatoes and wonder wraps made ahead of time. It's not that hard. If I am making sweet potatoes for dinner during the week, I'll just bake 3 extra for this recipe.
I pretty much always have Wonder Wraps in my fridge. It's just easier to have them ready to grab and fill than to try to figure out what's to eat if I haven't planned well. I like knowing I'm getting my fiber (from the Psyllium) and they are fat-free!
So, first take your baked potato and season it up with your seasonings. I really like using my BBQ Dry Rub in this recipe but you can use Chipotle spice or even taco seasoning.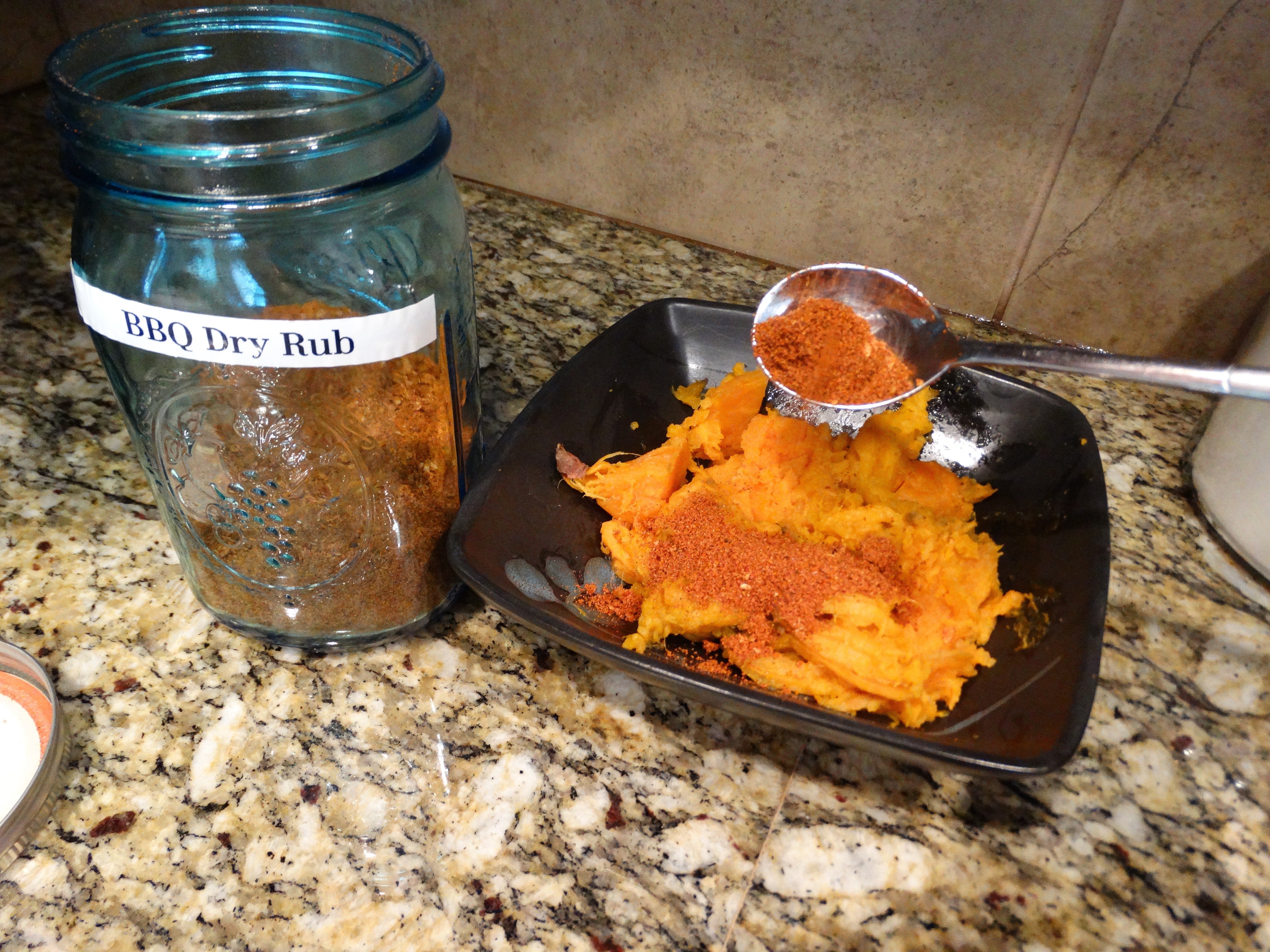 Next, take a nice warm wonder wrap (or low carb tortilla – or for my kids just a regular tortilla) and spread the potato mixture down the middle.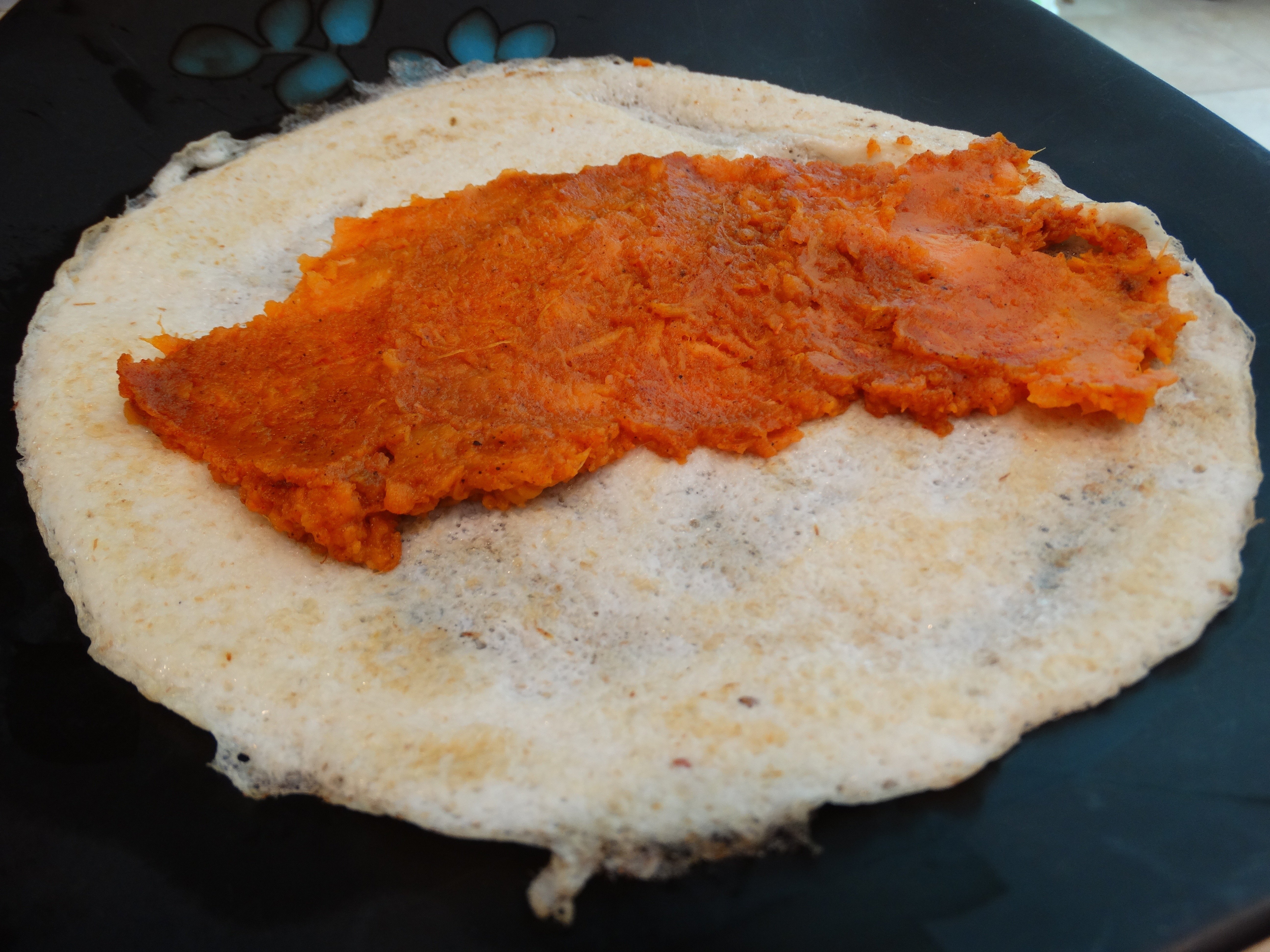 Then add your beans and greens, green onion,, and hot sauce…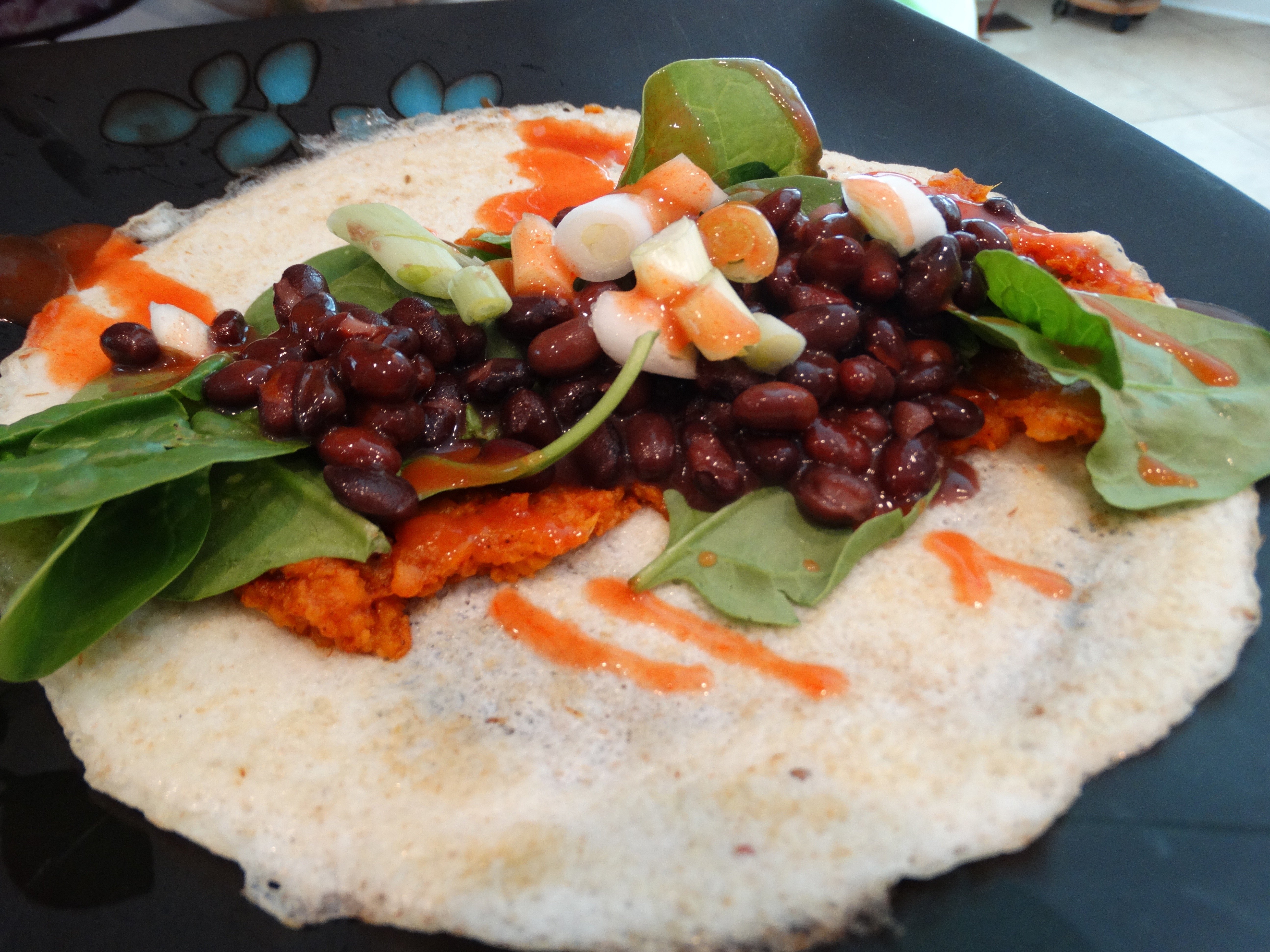 Now fold it up and devour!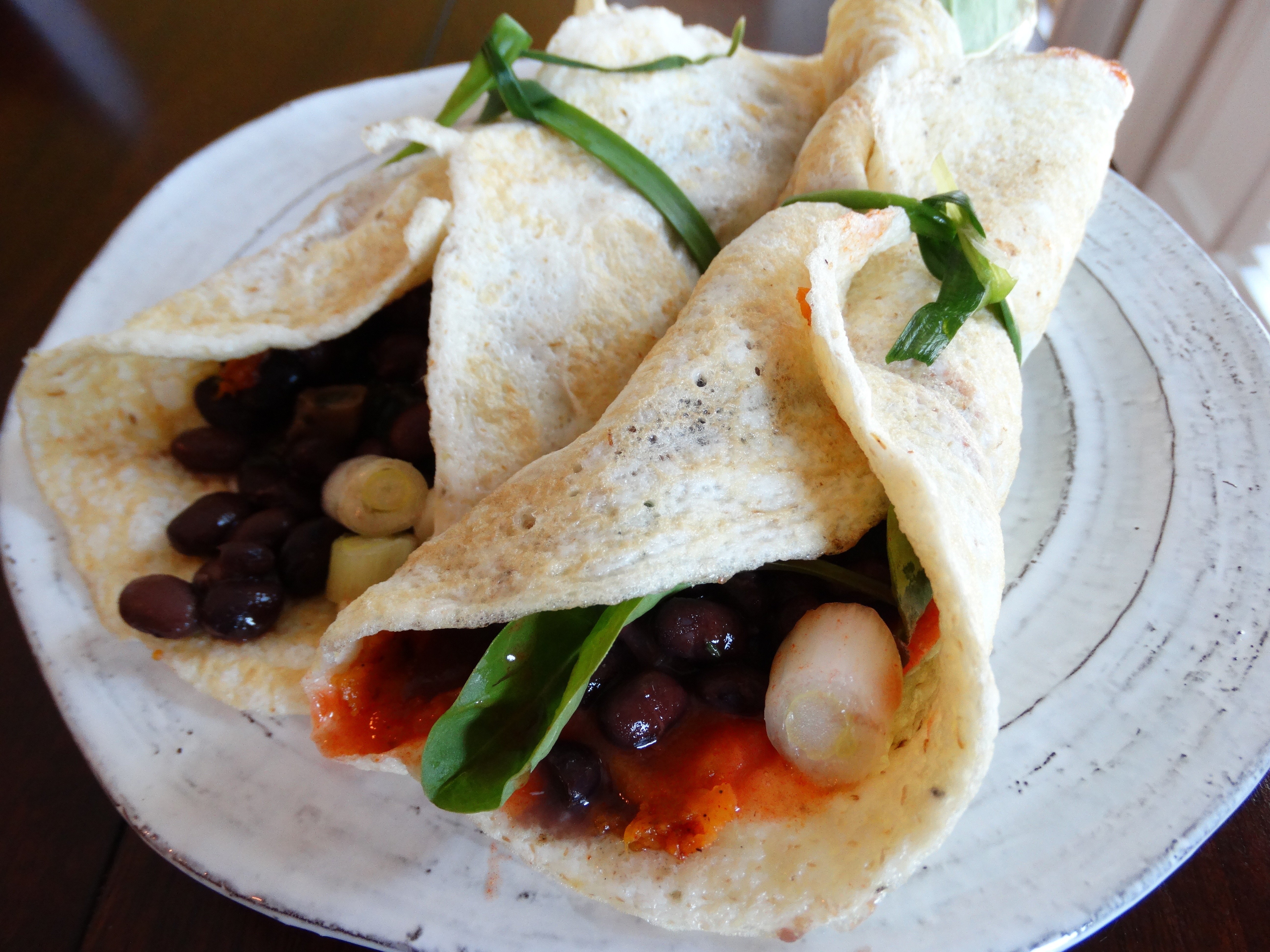 That was so easy!
Another great way to do these is to use black eyed peas in place of the black beans and collards in place of the kale or spinach. It is a great flavor combo.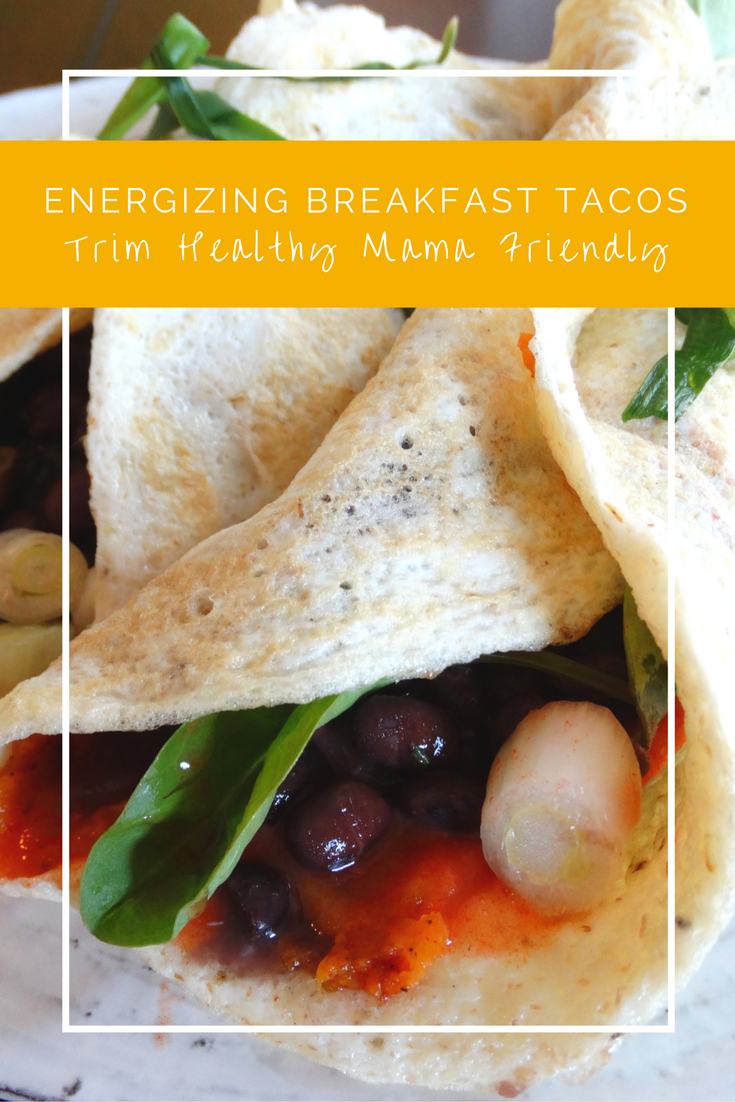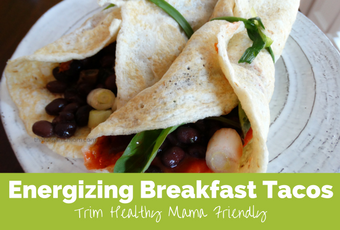 Quick and Easy Breakfast Tacos THM Friendly

Dairy Free

Gluten Free

Keto

Low Carb

Sugar Free

Trim Healthy Mama
Ingredients
6

Wonder Wraps

or substitute tortillas

3

Sweet Potatoes

baked

Salt and Pepper

Chipotle spice or taco seasoning

1 1/2

cups

black beans

1 1/2

cups

lightly steamed or raw spinach

or substitute collards, kale, etc.

1

bunch green onions

hot sauce

avocado

optional (leave off if making an E meal - I add avocado for my kids)
Instructions
Start with warmed wraps

Mash baked sweet potato with a fork

Add spices to taste

spread sweet potato on tortillas

Top with black beans and greens, and green onions

Dash of hot sauce

Fold and enjoy!