Last Updated on June 29, 2022 by Rebecca Huff
Lesson One
Konmari is the author: Marie Kondo is considered Japan's decluttering Queen of tidying. Her book The Life-Changing Magic of Tidying up has sold more than 3 million copies worldwide.  While I agree with Kondo on some points; such as the notion that people have accumulated far more things than they need. I disagree that my socks are unhappy when folded into "potato-like-lumps" that roll around in my drawer; I am convinced that my socks do not have feelings. Putting that aside, I search this book for the Pearls of Wisdom needed to tackle any clutter in my home "once and for all".
Here's the basics of the KonMari method
Start by discarding and tidying all at once, working as quickly as possible. She reiterates the idea that "tidying" should not be done every day; it should be a one time event that forever after stays done.
Tidy by category instead of location, in other words, don't just tidy the books in your bedroom, gather all the books in the entire house into one place.
Touch every item. Pick it up, hold it in your hand. Does it spark joy? Yes? Keep it. No? Discard. Keep only things that spark joy
Start with clothing first. She says this is because it is the item you most likely have the least emotional attachment to, then end with your mementos and other things you have a strong emotional attachment to.

Folding can be an art, think of it as clothing origami.
Stand clothing up straight on edge, upright (see photo of jeans below)

Kondo suggests not to even listen to music but to focus completely on the task at hand, I admit this is helpful and made the process more peaceful for me.
I'd like to put my own twist on the last tip. Kondo suggests giving thanks to the item for the good service the "object" has given you. She suggests saying to the items, "thank you for your service" but I have a different idea. My suggestion is that you thank God for blessing you with the item and ask God to use the item to bless the next owner. Psalm 150:6 "Let everything that has breath praise the 

Lord

!" emphasis mine
Now, as I shared in my video demonstrating my first Pearl of Wisdom I gleaned from Marie Kondo's book, my first takeaway is simply the act of emptying your purse or bag every evening when you come home. Her explanation is that your bag needs to take a break from carrying all of your heavy things all day, but for me, it is just a useful way to keep up with receipts I might have hastily stuffed in my purse throughout the day. It also helps me to find any bar wrappers my kiddos may have stuffed in my bag when a garbage receptacle was not handy.
I already had an empty cloth box in my closet and ironically, it was already right beside a box I use to store my extra wallets and small bags. It literally only takes me a minute or less to empty my bag and hang it up. The next day I just grab the bag I need and put in the smaller bags I need and go. I feel like my bag is much less cluttered this way.
Clothing
First, Kondo suggests taking everything and piling it on the floor. Everything. This was a little overwhelming for me as any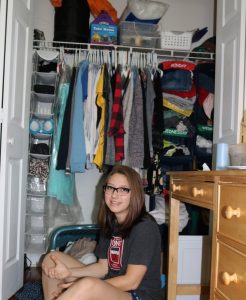 decluttering I've ever done in the past was to declutter a small section at a time. The old motto was "never pull out more than you can put back in an hour."  My all or nothing mentality liked the idea of getting it all out and getting it done and overwith but in reality I couldn't possibly get my entire house done in one go.
I won't go into all my excuses as to why I couldn't do this all at once but I do want to say, give yourself grace when decluttering if you work full time, homeschool full time, have a chronic illness, have a large family, or have a for real hoarding disorder. Yes, it really is a form of anxiety.
I have never been one to collect knick knacks or keep things for nostalgia, so I mostly have "overflow" in the area of educational items, books, and kitchen duplicates like two or three spatulas, etc.
At her request, my mom and I helped my 3rd daughter, who (just like the book says) had plenty of hand me down clothing from her two sisters. She had a full closet, not completely unorganized but she had plenty of items that didn't spark joy.  Partly because I have taught my kids to take ownership of their own stuff, and partly because as soon as they can reach the knobs I teach them to do their own laundry…I had never decluttered my daughters clothing. oops!
So, as you can see, she had a LOT of stuff. Including my USAF Basic Training original jacket AND my deceased sister's high school jacket (1987!). This brings us to another of Kondo's tips: don't let your parents see what you are throwing away because your parents have an emotional or financial attachment to some or all of the items.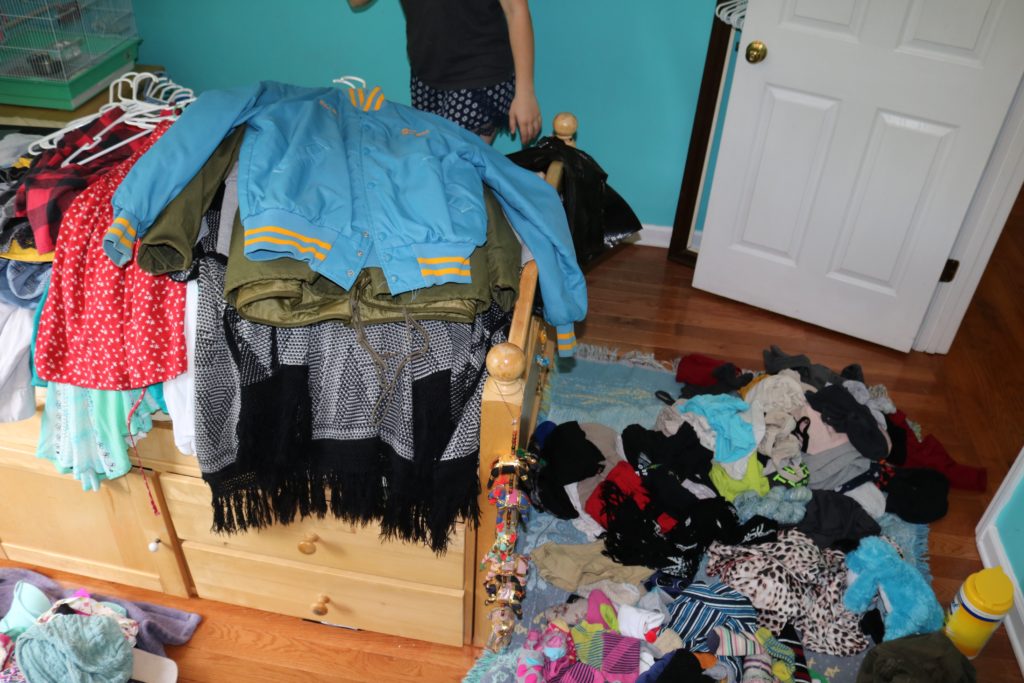 Proof that teenagers are capable of decluttering. The above photo is my teenagers "pile" after she had pulled everything out of her closet and drawers. Actually, it wasn't everything, there were a few items in a pile that wouldn't fit in the shot. It does feel a little bit overwhelming to have literally everything out of the drawers and closet, but just work quickly and methodically and the feeling will pass.
I completed my own closet first, on a day when my husband had my children off playing at the park. Personally, I don't even have that many clothes (comparatively speaking as an American…) and it still took me a several hours. Although, I have to say, the results are pretty magical.
One of my favorite Pearls of Wisdom from this book is folding clothes so that they will stand upright in your drawer. I had previously stored my jeans and khakis folded but stacked one on top of the other in the top of my closet. First of all, I had to tip toe to reach them, and second, if I pulled out a pair from the bottom or the middle, the entire stack fell apart. Having them standing up in a row I am able to see which pair I am getting and they stay neatly folded when I pull out a pair from the middle! Amazingly, I even had empty space in the middle of my drawer…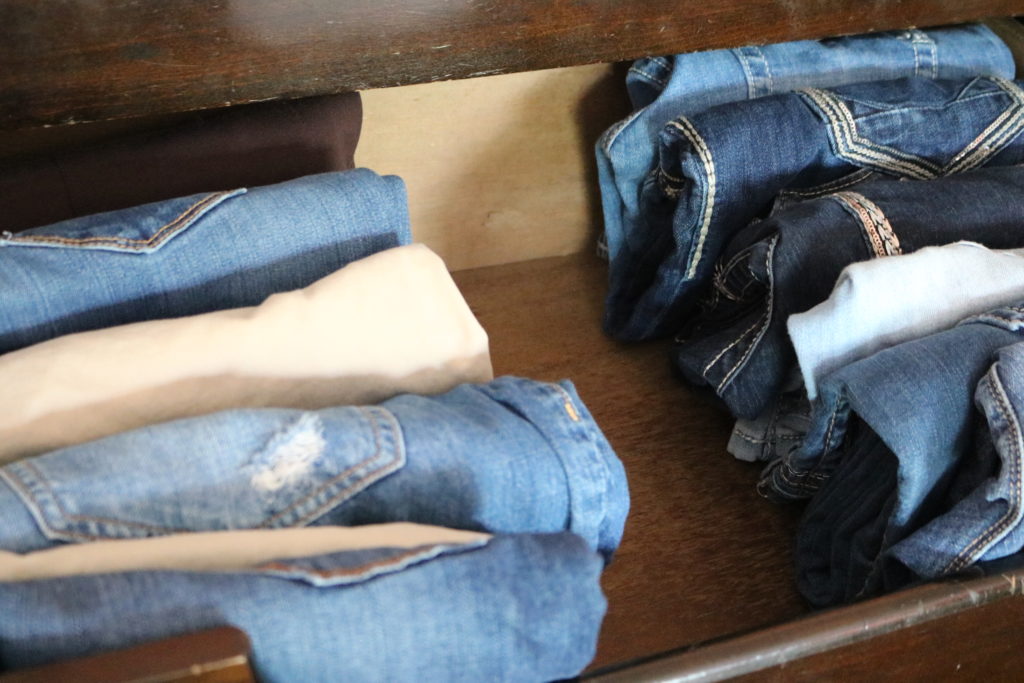 After the decluttering process my daughter and I had about four bags of gently used clothing to donate. Of course anything stained or worn got thrown away. My daughter used the black bag for her room as suggested in the book, but I didn't have a problem with her giving away any of her clothing. We donate our useable items to the local homeless shelter where I know they will be a blessing to someone else in the future. Knowing that we are no longer holding on to items that we don't use that could be put to use by someone else was a good good feeling!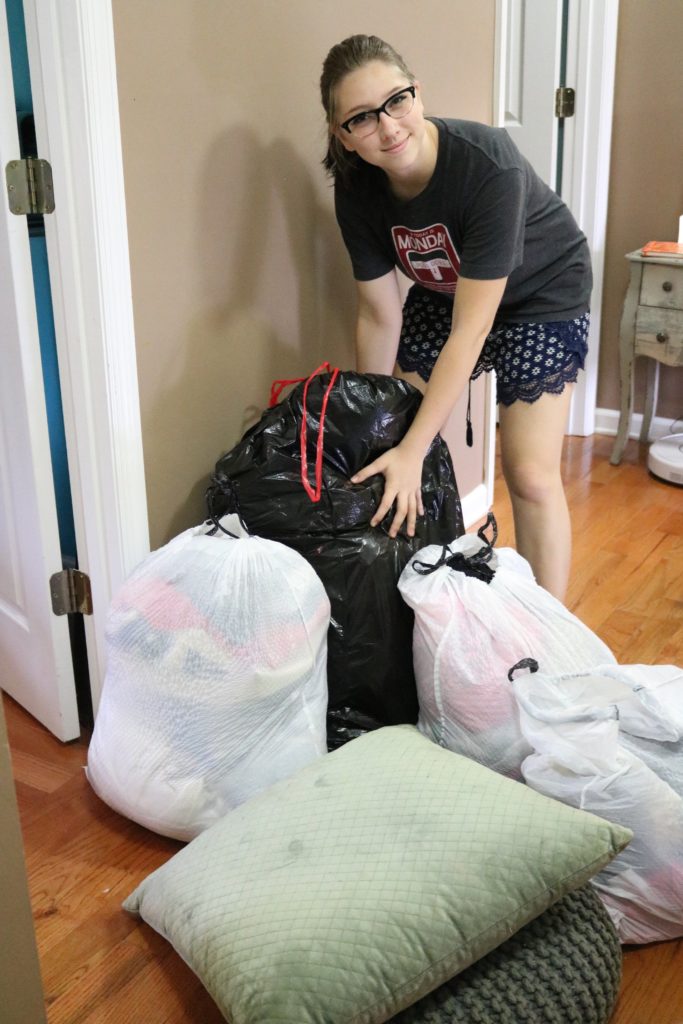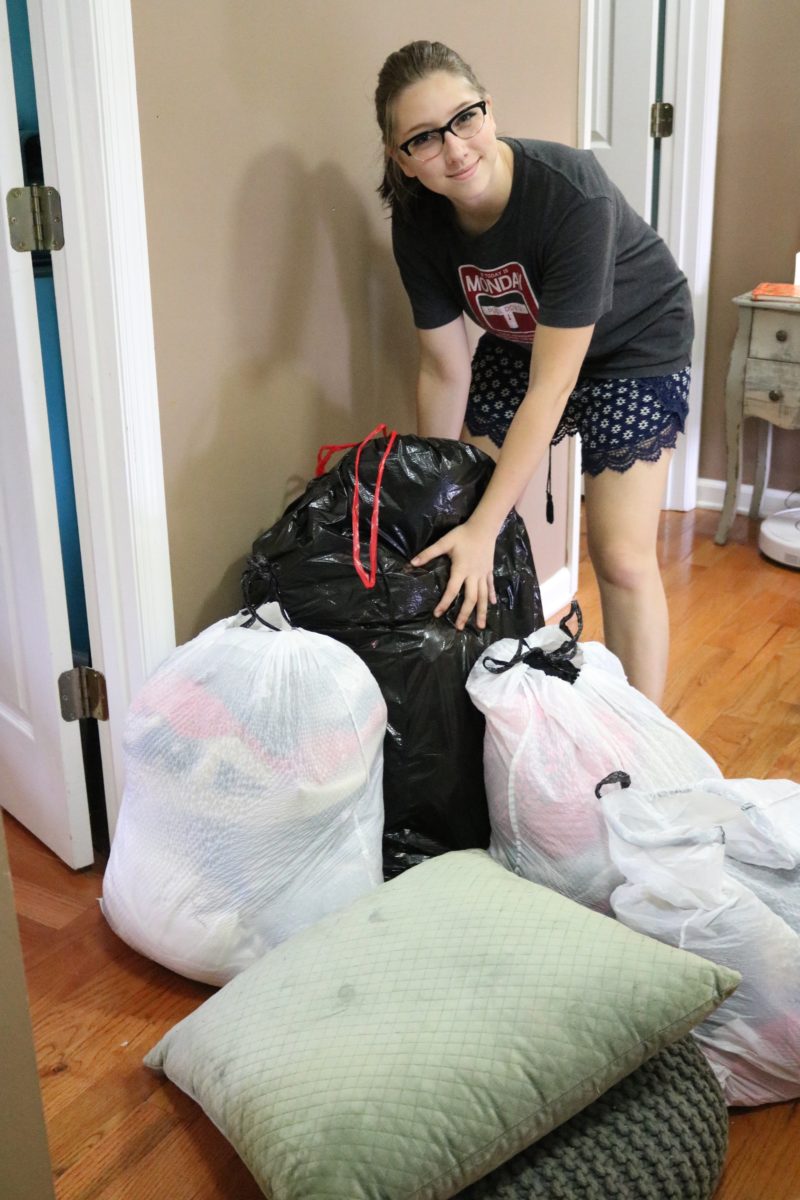 I am very proud of my daughter for wanting to make her space more peaceful and enjoyable to her. She spends a lot of time working on her art in her bedroom/studio and is a very talented artist! Below is her latest piece. You can follow her account on Instagram here.
Keeping only the clothing items that truly sparked joy for her made her closet look a lot more spacious.  Now she only has to choose from items she actually enjoys wearing instead of sorting through a bunch of "clutter" that just created chaos in her morning routine.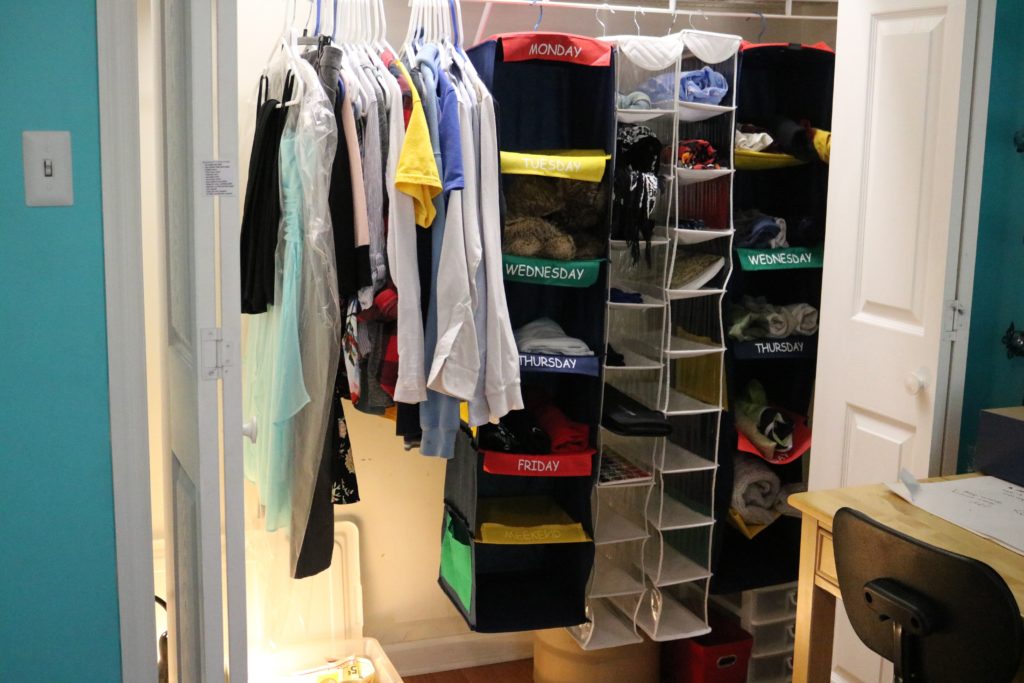 Now, on to the school room, yikes… I'll share the Pearls of Wisdom from that category in my next video and blogpost in this series.