You don't have to be part of a large family to benefit from a Costco membership. Not only do we get our auto fuel at a discount, but we enjoy earning two percent back on all of our grocery purchases throughout the year. Here are a few things I buy in bulk at Costco, with pictures. A basic membership at Costco is $55, Their Executive Membership is $110, but you get 2% back on all your purchases, up to a total of $750 back. Oh yeah!
A case of 18 count variety pack of Lara Bar for $15.79. I try to save these for when we are out and about, the kids are starving, and I refuse to stop at fast food, (we really haven't eaten fast food since 2004, child #5 & child #6 have never eaten at McDonalds, etc.)


I haven't found pure organic maple syrup cheaper anywhere yet. I use this for a sweetener in snacks for the kiddos, and of course for pancakes and waffles.
The powerhouse chia seed! Buy in bulk and put a tablespoon in your drink a couple of times per day! Your body will thank you!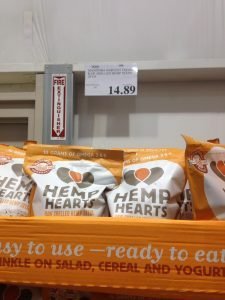 Hemp hearts are also a nutrition powerhouse. Use them on salads, in smoothies, or just eat a handful, it will curb your appetite and has a multitude of benefits.
In the winter, I get tomato sauce, tomato paste and diced tomatoes at Costco. Yes, I should buy them at the farmers market in the spring and summer and preserve them, but I don't… so I get them at Costco. I can make chili, spaghetti sauce, and many other things with these tomatoes!
These are a great little snack to add to the children's lunch box, or throw on top of their yogurt, cereals, in muffins and other baked goods as well. No bad stuff added!

This might seem a little expensive for Tuna, but Wild Planet is the only brand I'll buy. If I don't get sustainable tuna then I do without.
Wild alaskan pink salmon is great to eat when I don't feel like cooking! I also buy the frozen wild alaskan sockeye salmon, but I failed to take a photo… When you buy salmon, or other fish, try to look for wild caught. Smaller fish are better!
S
Wild Pacific Sardines by Wild Planet are sustainably caught and full of Omega 3 which is so good for you! I hide these in all kinds of foods and my children do not know the difference!
I love hearts of palm in salads. These take an ordinary salad to the next level! Plus, they are full of potassium! So good!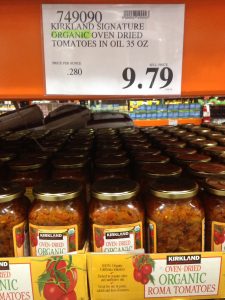 Technically, these should have been up there with the tomatoes, but they are in a different aisle. I love adding these to salads and omelets and baked items, like cornbread for the kiddos, soups, etc. I like that these are not packed in Canola oil and have no sulfur added.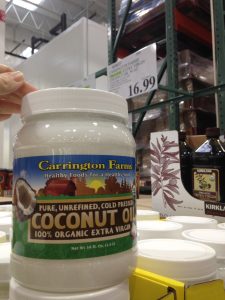 I use this Carrington Farms coconut oil in cooking, in my Bulletproof coffee, on my face, my hair, and a dozen other ways. I keep a jar in my beauty supplies and a separate jar in my kitchen!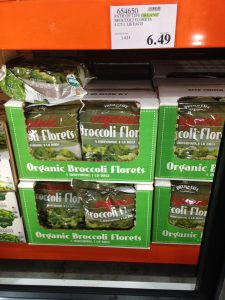 I like to keep a huge bag of broccoli in my freezer for making cream of broccoli style soups, stir fry, or just as a last minute addition to any meal. All of my children love broccoli, so it makes me feel good to add it to their meals.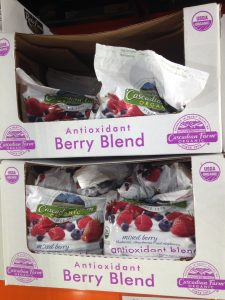 This particular organic blend of berries is my favorite. I use these in smoothies, in yogurt, in cheesecake and other desserts, or sometimes just eat them frozen. Berries are so good for you!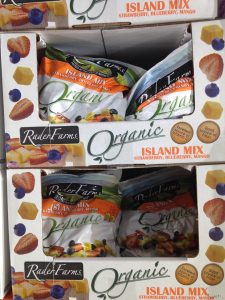 I like to have this island mix for tropical smoothies and adult frozen beverages 🙂
One of my favorite buys at Costco is the 2 dozen eggs. It's a fair price when I can't get them locally. We eat a ton of eggs. Scrambled, boiled, fried, poached, omelets, you name it. My husband and I would eat them every single day, but the kids like some variety.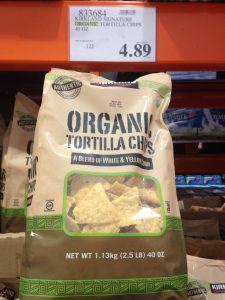 I do buy these tortilla chips for Taco Tuesday night, just for something a little different. I get tired of the same old taco. These go great with hummus or tacos, salsa, guacamole or I pack them in their lunch boxes one day a week. I find tortilla chips less tempting than potato chips (which I rarely buy) so I don't mind having a bag of these in the house because I can resist!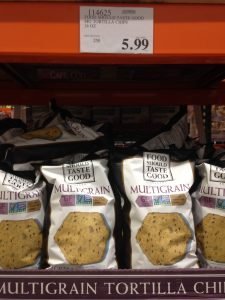 I will grab a bag of these if I'm having company, they are pretty decent tasting and full of seeds etc. that make them a superior choice to potato chips. My kids like them with hummus.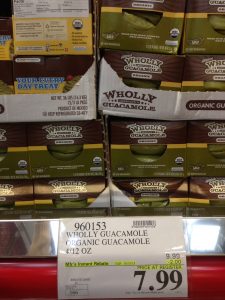 If guacamole is cheaper than avocados, I buy it, but only if it has no junky ingredients, and Costco seems to have hit it on the mark with this one.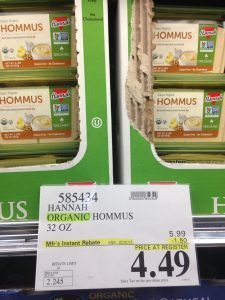 Speaking of hummus. I like to make my own, but when I have a busy week ahead, I will buy this organic hummus from Costco and I don't feel too guilty about it. I do prefer the taste of my home made though.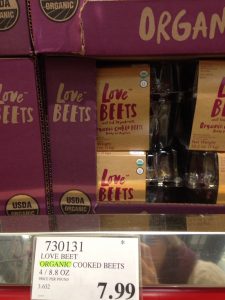 I totally love beets, but I really don't much like cooking and preparing them. For a splurge sometimes I will get these. Never in the summer though, when I can get them at the Farmer's Market I do, because they are local, and I feel it's better for the environment and better for the farmer, and of course, better for us too.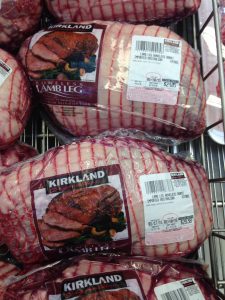 We really enjoy some leg of lamb when we have a special occasion or when I have a little extra money to spend. These go on sale in April, so I usually buy a few and freeze them.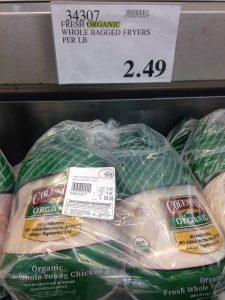 I'm going to admit this right now, I really don't like to handle meat products, but since I eat it, I do try to buy whole chicken because it seems like I can make it go so much further. You could ask the butcher to chop it up for you, but I usually just roast mine and then make broth from the bones.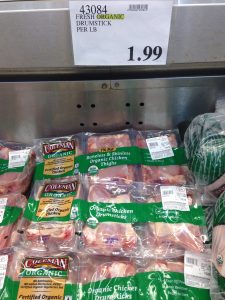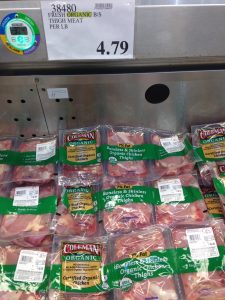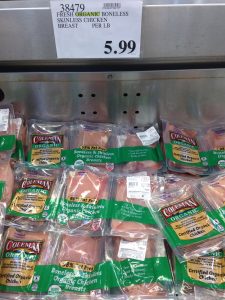 When we grill we like to use organic thighs or drumsticks. We're not afraid of the fat. My children once told me that my marinated chicken was heavenly, and that's what they've called it ever since. "Mom, can you make some heavenly chicken tonight?"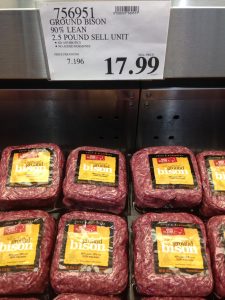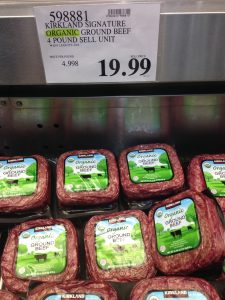 I buy my taco meat here, ground bison or organic ground beef. Sometimes it's on sale. I like to stock up when it is. This is one of those items you just have to watch the price. I get it at EarthFare, Trader Joes, etc. just depending on the price. Keep in mind that if you buy bulk meat, you can bring it home and separate and freeze it same day, or (my preferred method) you can cook it and freeze it to pull out on the day you need it. For example, bulk bison or organic beef can be thrown in your crock pot the day you shop. Just add it to your crock pot, throw in the spices, turn it on low, then stir it every couple hours. When it is cooked, let it cool and divide it into the serving sizes that work for you, label and freeze.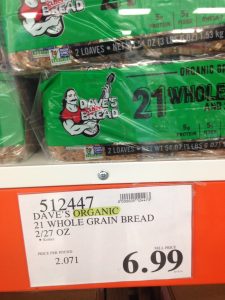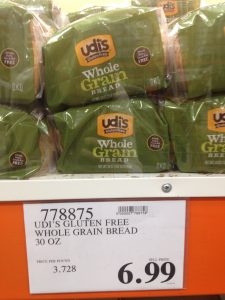 I personally think the bread at Costco is expensive, but if we are having company or I'm super busy, I will buy one of the three above choices. I only buy organic bread, I try to avoid canola oil and other crappy ingredients. I don't do gluten, so if I'm having a major bread craving, I buy this Udi's gluten free. It's rare though, because my kids love it and could eat the entire loaf after school.
I bought this Kerrigold butter for about a year at Trader Joe's before I realized I could get it so much cheaper at Costco. My husband and most of my children love butter and I allow them to eat it as much as they want. All of them are healthy and slender. I use this Irish butter for my bulletproof coffee in the mornings. Actually, I can't wait to wake up and have my coffee every morning!  When Perrier is on sale by the case, I buy as much as allowed per customer. Usually four cases, it comes out to about forty five cents per bottle. 
So these are the main items I buy at Costco!  What are your favorite things to buy at Costco? Where do you shop to save money on organic groceries?  Share in the comments below! Thanks!
SaveSave