New and tasty, these black-eyed pea fritters with corn salsa will help you get out of your regular bean rut!
When I was a child, we ate black-eyed peas on New Year's day, and that was pretty much the only time they appeared on my plate. As an adult, however, I found out that I enjoy eating them more often. My favorite tamale contains black-eyed peas, oh so yummy!
Do you use black-eyed peas regularly?
Recently, I started incorporating more legumes in my diet as they are rich in fiber. Black eye peas have become a more frequent star in my home-cooked dishes as well.
If you don't already, when you realize how amazingly healthy black-eyed peas are, you'll start incorporating them into your meals more often.
On a side note, black-eyed peas are in the bean and pea family, so while they are called "peas", they are a bean, and both peas and beans are legumes.
Benefits of black-eyed peas
Black-eyed peas are a good source of protein, fiber, and iron! Half a cup contains around 2.2 mg of iron, which helps to prevent anemia, and the fatigue that comes with it!
A half-cup of cooked Black-eyed peas contain about half of the daily recommended intake of Folate and around 239 mg of potassium. If you need to watch your blood pressure, you will be happy to know that the potassium in black-eyed peas will help out!
You may be surprised to find out, black-eyed peas contain around 25% of your daily recommended amount of Vitamin A, a vitamin normally found in sweet potatoes, carrots, red bell peppers, etc. Vitamin A in black-eyed peas will keep your skin healthy and also support healthy eyes.
Black-eyed peas are full of fiber and can help you to feel full faster, contributing to weight loss. Eating more fiber can also reduce your risk of metabolic syndrome and diabetes. Eating more fiber-rich black-eyed peas can help to lower blood cholesterol levels and, in turn, reduces your risk of heart disease.
Black-eyed peas contain soluble fiber, which can lower LDL cholesterol without disturbing the protective HDL cholesterol levels.
The fiber in black eye peas combats constipation and other digestive tract issues, including colon cancer.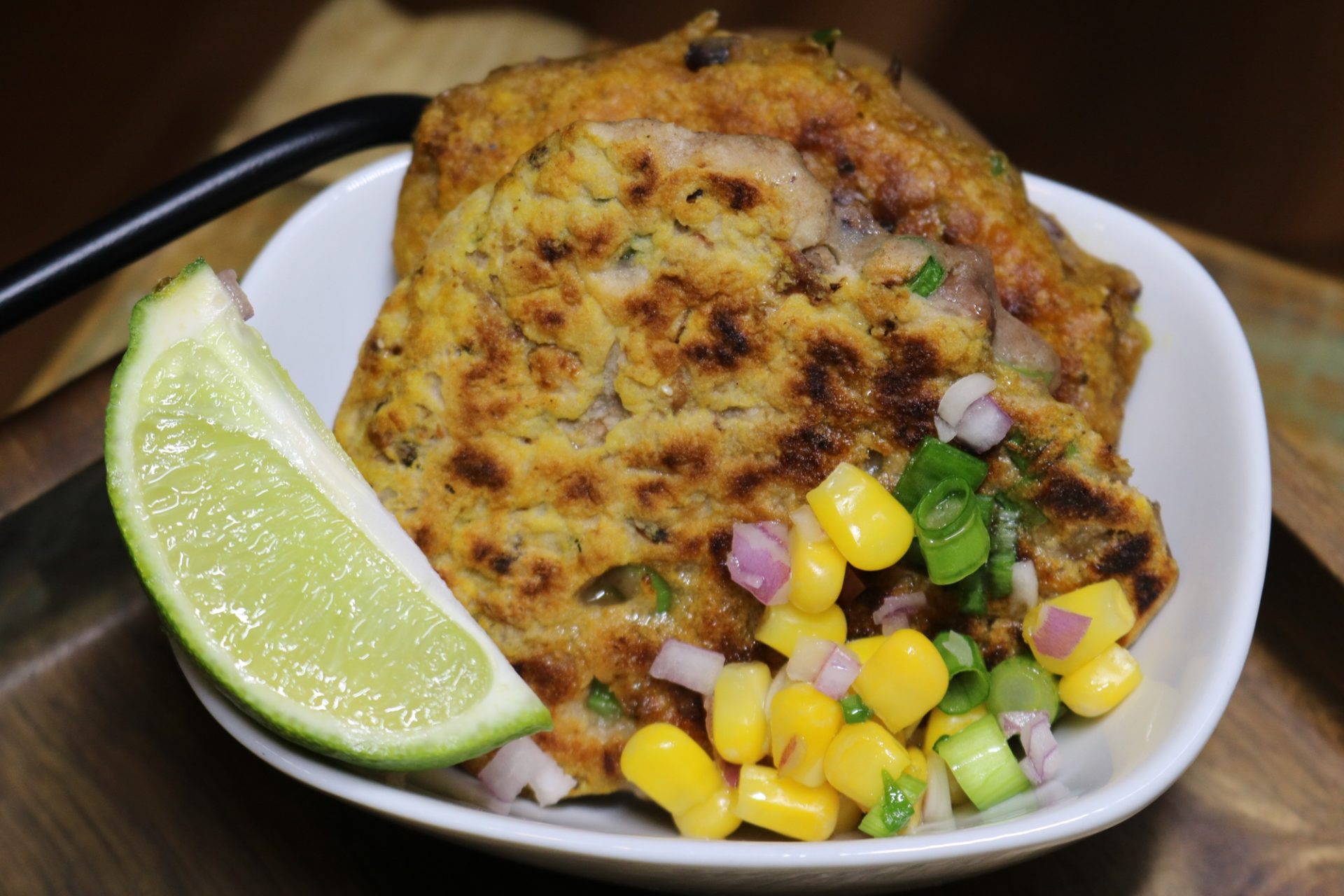 Side-effects of eating black-eyed peas
So, when you start eating more black eye peas, keep in mind that you may want to start with small amounts and work your way up. Suddenly increasing your fiber intake can cause some bloating, gas, or more frequent bowel movements.
The insoluble fiber in black eye peas absorbs water, causing stools to swell, which in turn can put pressure on the intestines to expel faster. A good thing for your health, but it can be uncomfortable if you're not used to eating much fiber.
One helpful idea is to be active after eating black eye peas. Taking a walk after you eat can help with any discomfort from increasing your fiber intake.
Ingredient swaps
If you follow a gluten-free lifestyle, feel free to use a flour blend that works with your diet. I have made these using a combination of coconut and pecan flour with good results. When subbing out other flours for wheat, add less than the full amount and add more until you reach a good consistency. The mixture should not be thick enough to roll into a ball but not so runny you can pour it either.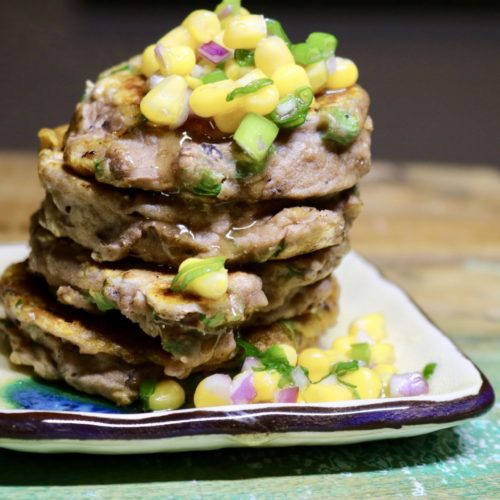 Black-eyed pea fritters with corn salsa

Sugar Free
Meatless Monday can come every day when you are eating something as satisfying as these black-eyed pea fritters with corn salsa!
Ingredients
3

cups

black eye peas

or 2 – 15.5 oz cans

1

bunch green onions

sliced thinly (save 2 tablespoons of sliced green onions for the corn salsa)

1

cup

flour

more or less for consistency

3/4 – 1

cup

flour

you can use gluten-free flour if you prefer, it works just fine

1

egg

lightly beaten

2

teaspoons

of oil for pan

Salt and pepper to taste

1

tsp

tandoori masala powder

optional (use whatever seasonings you prefer)

Corn Salsa

1.5-2

cups

corn kernels

fresh, uncooked is my favorite but frozen or canned works fine

juice and zest from one lime

2

tablespoons

honey

2

tablespoons

sliced green onions

saved from fritter ingredients

diced purple onion

optional

salt and pepper to taste
Instructions
In a separate bowl mix lime juice, honey, salt and pepper, stir well.

Add corn and green onions – stir and let sit while the fritters cook.

To cook black-eyed pea fritters

Mash black-eyed peas with a potato masher until semi-smooth, it will still have a few chunks of beans

Mix in flour, egg, green onions, and seasonings.

Add a small amount of oil to the pan to keep fritters from sticking.

Scoop 1/3 cup portions of mixture onto the pan, fry till lightly browned, then flip, frying the second side until brown.

Remove to plate, top with corn salsa.
Notes
These also make good meatless burgers. 
Black-Eyed Pea Fritter Notes:
Instead of using black-eyed peas in cans, I like to buy them dried and cook them in my instant pot. If I make a large bag of black-eyed peas, I can make a stew with some and have plenty left over for fritters. A small bag, 12-16 ounces is just right for this recipe.
Also, be adventurous with seasonings, Chinese Five Spice is a good blend to try as well as curry and cumin. Try different seasonings and toppings. These also taste great with a bit of Munster cheese melted on top or crumbled goat cheese.
Enjoy!