My Smoky Chicken Tostados with Black Eyed Peas and Chile-Lime Salsa is a departure from your ordinary taco beans. While we usually use pinto or black beans in tacos and burritos, the smoky taste of black-eyed peas is a welcome change.
We're combining that lucky bean, the black-eyed pea, with smoky chicken and slightly salty queso fresco for a tasty dish that will get you out of your dinner rut!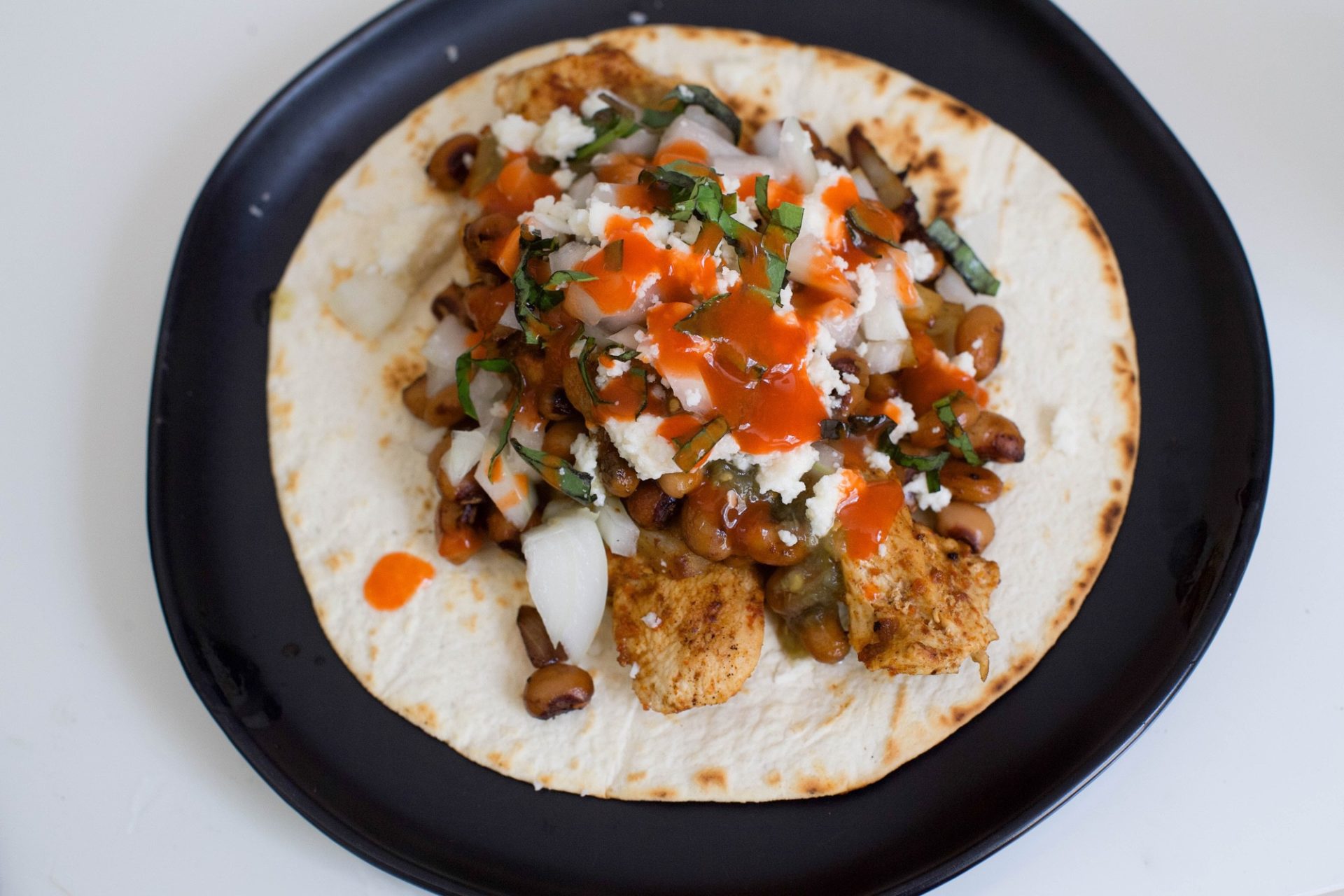 If you prefer, the Smoky Chicken Tostados can be eaten as tacos if you'd rather not toast the tortillas. However, I find the crunch of the crisped tortilla adds an interesting texture variation. Low-carb tortillas work just as nicely as traditional, so if you are following a Ketogenic or Trim Healthy Mama diet plan, you're good to go.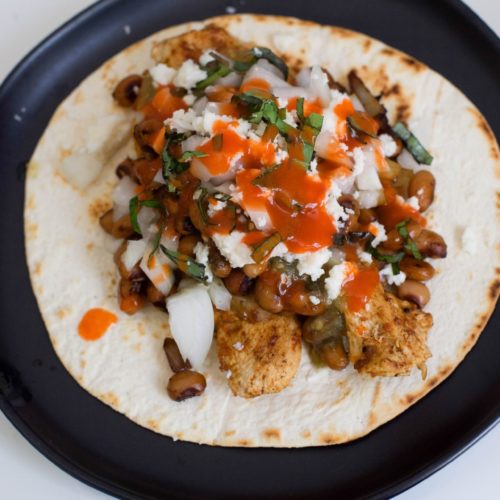 Smoky Chicken Tostados with Black Eyed Peas and Chile-Lime Salsa

Keto

Sugar Free

Trim Healthy Mama
Ingredients
4

Organic Boneless

Skinless, Chicken Breasts, cut into 1-inch strips

Cooked Black Eyed Peas

canned or cook from dry

1

large onion

chopped (divided use)

Low Carb Tortillas

for kids use regular corn or flour tortillas

Chile-Lime Salsa -

crushed, tomatillos, lime juice, dried chiles, garlic, salt

Smoky Spice Blend -

1/2 teaspoon each chili powder, cumin, smoked paprika, garlic, onion powder or use a blend like the Chile Lime Seasoning from Trader Joe's

8

ounces

Queso Fresco

crumbled

Basil or Cilantro

optional garnish

Hot sauce

optional
Instructions
Season chicken with the smoky spice blend or Chile Lime Seasoning.

In a large frying pan over medium-high heat, add 1 tablespoon cooking oil, then add chicken, brown chicken, then reduce heat to medium-low and cook through, 5-7 minutes. Remove and set aside, do not wipe pan.

Add half chopped onions to the pan used for cooking chicken.

Rinse the black-eyed peas, drain, add to the pan with the onion. Add salt and pepper to taste. Remove from heat and set aside.

In a clean pan over medium-high heat, toast tortillas till slightly crisp, stack on a plate.

To serve, start with a crisp tortilla, add chicken, black-eyed peas, basil, chile-lime salsa, the rest of the chopped onion, and queso fresco. Douse liberally with your favorite hot sauce!
Notes
You might find chile-lime salsa at the supermarket, otherwise, it's simple to make it yourself.
Use canned black-eyed peas or prepare them from dried beans in your instant pot. I follow a cyclic Ketogenic diet and have found that I can get away with a small amount of beans if I'm careful with my carbs the rest of the day. Since black-eyed peas are so healthy, I make an allowance to have them on occasion.
Queso fresco, literally "fresh cheese,"  is a Mexican variety, traditionally made from raw cow milk or a combination of cow and goat milk, which has a nice crumbly texture and slightly salty flavor.
It might seem odd to use basil in this dish, but I love basil and think it goes great with chicken. Sadly, I can't enjoy cilantro, no matter how hard I try to like it I just can't! My daughter Haley whipped up this recipe and took the photographs for me; she prefers to garnish with cilantro. You choose whatever green garnish you prefer, then top it all with your favorite hot sauce.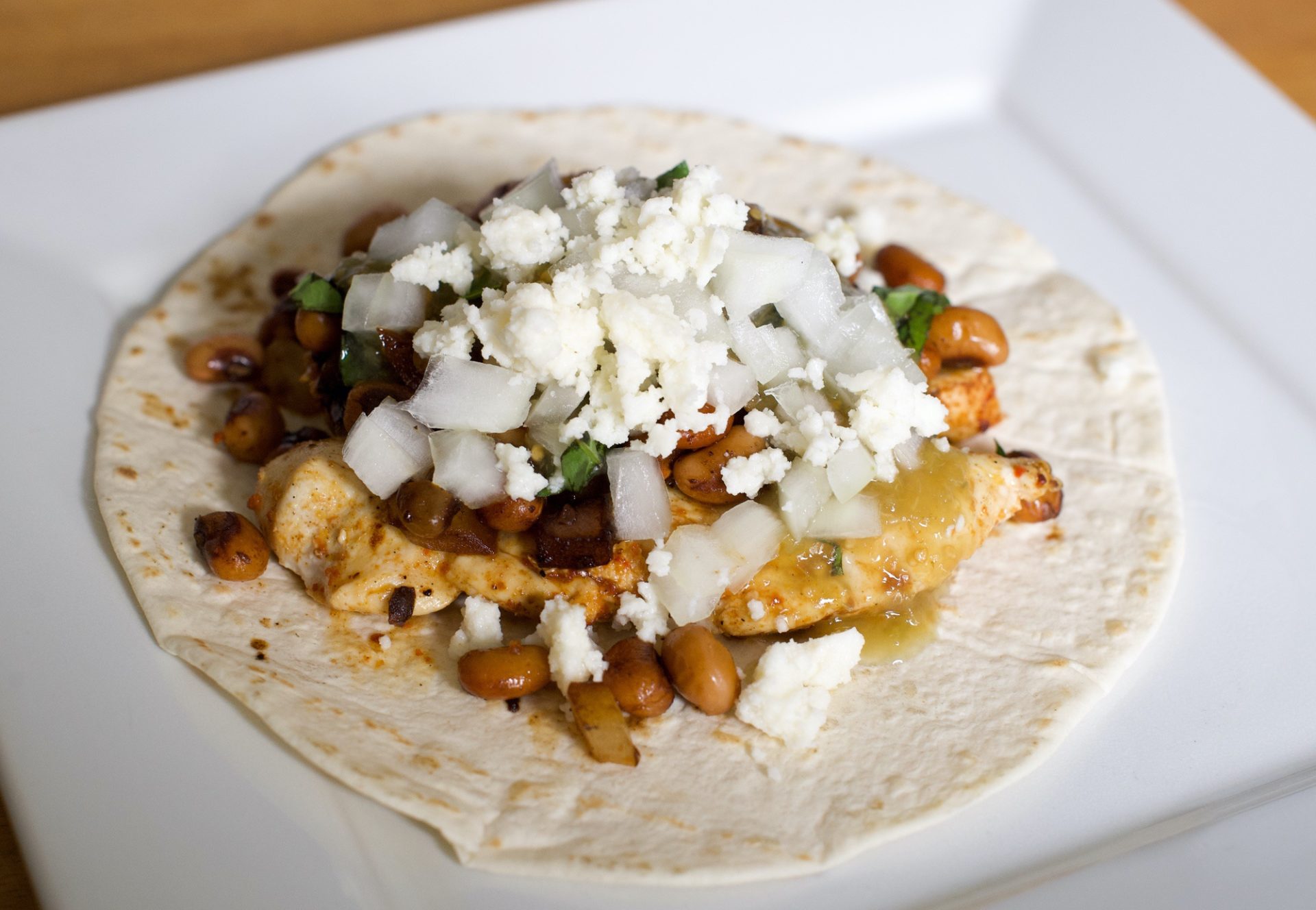 Photo Credit Haley Phillips