Fish is considered a healthy food, so add this recipe to your arsenal of tasty meals to prepare for your family. Yes, some cooking methods are healthier than others, but if you have a choice between satisfying your cravings for fried fish and chips at a pub or at home – this is the way to go! Besides, at the end of this post, I also share instructions on how to bake this fish if you prefer.
Jump to Recipe
Eating cod that's broiled or baked may reduce risk heart disease, so take that into consideration when deciding how to prepare this dish.
Maybe you or your kids aren't big fans of eating fish. If that's the case, you might still want to try this recipe! It's important to get on board with eating more of this omega 3 and Vitamin D rich food.
Is Cod Fishy?
Fresh cod is not a "fishy" fish, in other words, it is a neutral-flavored seafood. The meat is white and very lean. While we often hear it is a good idea to limit fish intake,
The vast majority of epidemiological studies have proven that the benefits of fish intake exceed the potential risks with the exception of a few selected species in sensitive populations. (source)
When I received a complimentary share from Sitka Salmon, I knew right away what I would do with the Wild-Caught Cod: make fish and chips! Sitka Salmon Shares is currently offering a special discount code – SITKA25 which will take $25 off any 2020 Premium Sitka Seafood Share through June 30, 2020.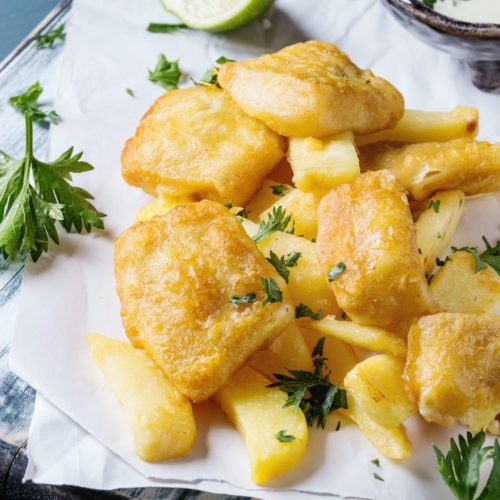 Delicious Fried Fish Made with Wild-Caught Cod

Dairy Free

Sugar Free
Ingredients
14-16

ounces

Cod fillets

cut into cubes

1

egg mixed with 2 tablespoons water

3/4

cup

all purpose flour

1

teaspoon

onion powder

1/2

teaspoon

garlic powder

Salt and Pepper to taste

Avocado oil for frying
Instructions
Mix flour and seasonings in a flat dish such as a pie plate.

Add and heat avocado oil (about 1/2 an inch deep) in cast iron skillet to between 350-375 degrees (you can use a meat thermometer.)

Dip cubed fish into egg mixture, then into flour mixture, carefully place in oil without crowding the pan. (I like to leave about an inch between pieces.)

Fry, turning only once until even browned, about 2-5 minutes depending on the thickness of your filets. (Use meat thermometer to check internal temperature to be 145 degrees Fahrenheit)

Drain on a mesh screen (or paper towels if you use them).
Notes
Enjoy with your favorite potatoes, coleslaw, on top of a salad, or in a French bread or baguette as a fish sandwich – makes a delicious filling for a Po'Boy!
Because what could be better than a tender, flaky piece of fried fish? Add a little malt vinegar or some freshly prepared tartar sauce and you're good to go.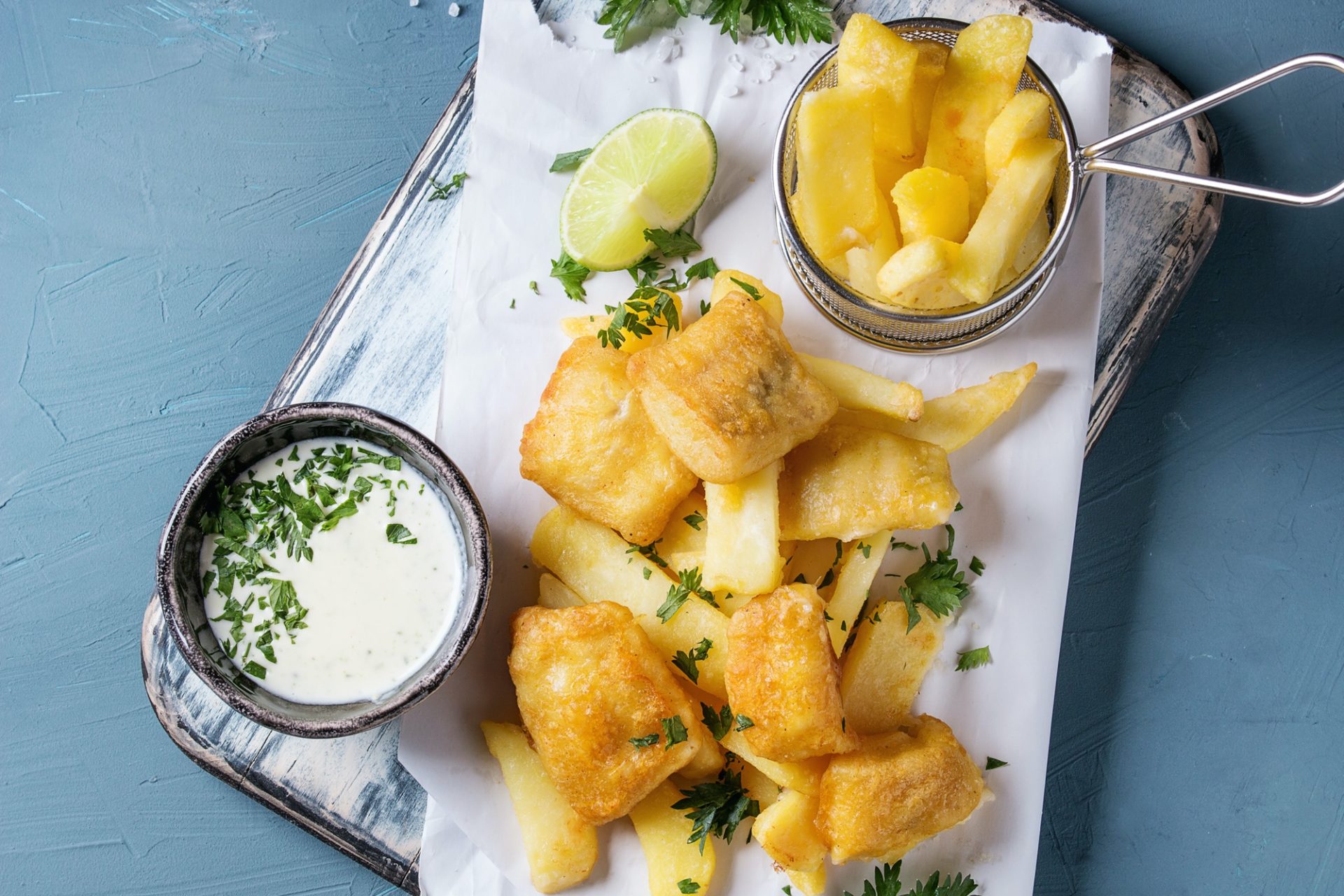 Other options for "fried fish"
Keep in mind that frying fish does add extra calories and fat, however; pan-frying is considered healthier than deep frying. If you happen to have an air-fryer, I recommend using it to get a similar taste! Or you could turn your current instant pot into an air fryer with this lid attachment.
Just remember to use a meat thermometer to reach an internal temperature of 145 degrees Fahrenheit. (You can download a temperature chart here.)
Okay, so if you're craving fish now, but you dread the mess that comes with frying, or if you prefer not to eat fried foods, ever, here's what to do.
To bake the fish:
Heat the oven to 500 degrees while you are preparing the fish.
Place the fish on a baking sheet and place in the oven on the middle rack.
Turn the oven down to 425 degrees and continue to bake 10-15 minutes until the fish is flaky (will depend on the thickness of your fish fillets)
Salt the fish after removing from the oven or pan and enjoy with your favorite potatoes, coleslaw, on top of a salad, or in a French bread or baguette as a fish sandwich – makes a delicious filling for a Po'Boy!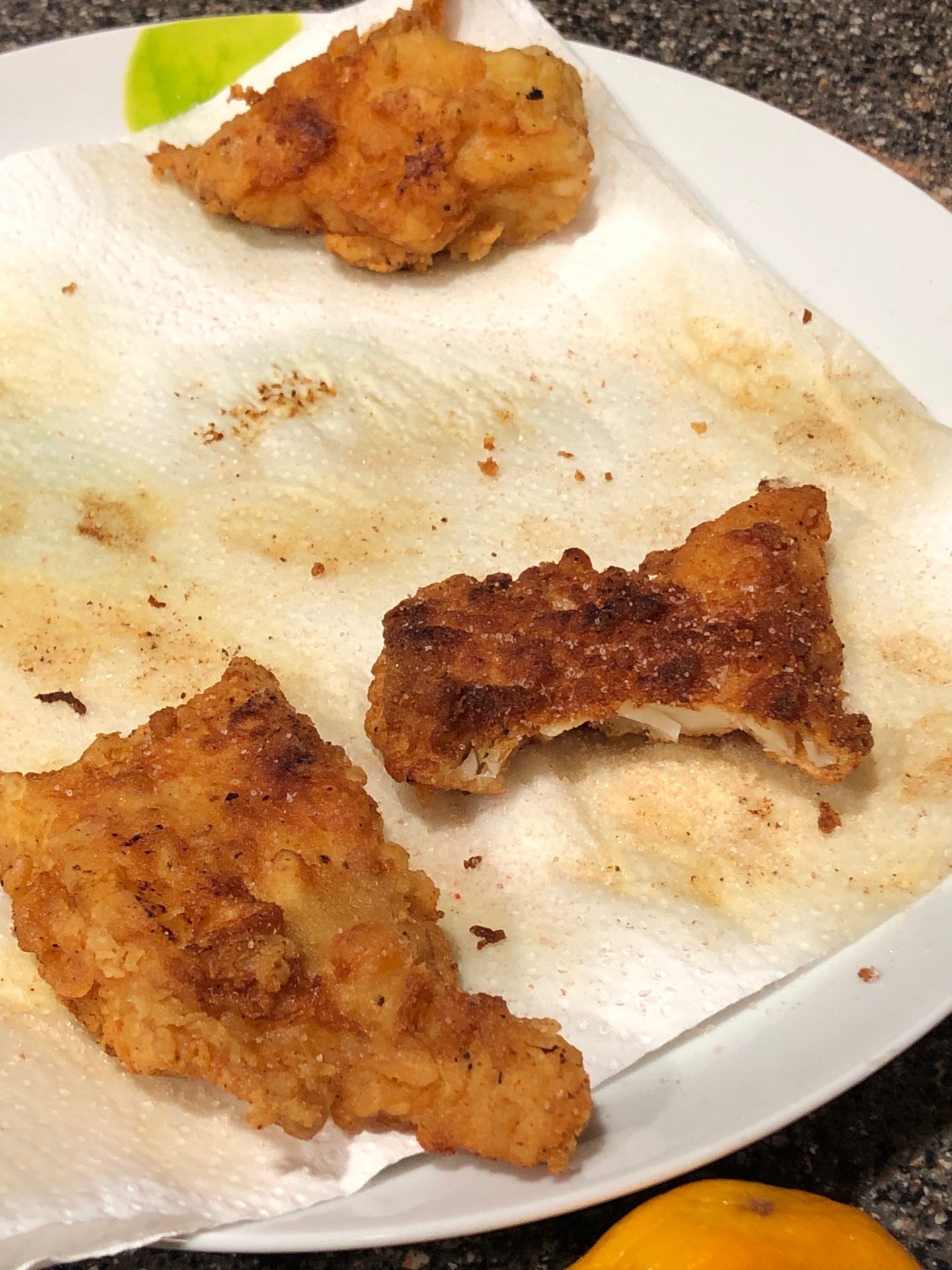 I can tell you what will happen if you turn your back on a plate of freshly fried fish; you'll find most of it missing!
For those who love Salmon, you'll want to try my Sugar and Spice Salmon recipe!
Are you ready to dive into Sitka's seasonal harvest seasonally home-delivered to your doorstep through our Community Supported Fishery?
Don't forget: Sitka Salmon Shares is now offering a special discount code – SITKA25 which will take $25 off any 2020 Premium Sitka Seafood Share through June 30, 2020.
Having a stash of delicious and healthy fish in your freezer is a great way to keep your kitchen stocked.
Sustainable Catch
One thing I'd like to also point out is that Sitka uses sustainable fishing methods.
At Sitka Salmon Shares, we understand that the world is facing declining wild fish populations—a consequence largely tied to habitat degradation, pollution, and overfishing. That's why our fish come from sustainable fisheries in Alaska and are caught using fishing methods that minimize negative ecological impacts. You'll never find a fish from us caught with high impact trawl or bottom trawl gear. Moreover, Alaska's sustainable fisheries management system is the envy of the world.

Management in Alaska relies on strict, science-based catch limits to ensure that populations are managed for their long-term health. Additionally, our fishermen and the Company are as concerned about climate change as you are. While seafood is among the most climate friendly proteins, we do our part to mitigate our own footprint by purchasing carbon offsets, which are put towards wind energy research and development efforts here in the Midwest. We also return 1 percent of our gross revenue annually to efforts to promote small-scale fisheries and fisheries conservation in Alaska, including donating to causes like the Alaska Wild Salmon Fund.
Save this post on Pinterest!