Last Updated on December 4, 2020 by Rebecca Huff
Kids love decorating sugar cookies, it's like edible art. Some of my best memories with my children revolve around making food and creating artwork. So it just makes sense to make sugar cookies for them to decorate.
For a long time, I stopped making desserts like these because of the high sugar content but lately, we make and decorate these around the holidays as gifts for neighbors, friends, coworkers, the mailman, and just about anyone. My therapist, Dr. J still talks about these cookies since I usually bring her some at Christmas. Food is a wonderful way to say thank you.
Of course, we always end up eating our share!
Jump to Recipe
In my attempt to improve on what I consider a "treat food" i.e. something that you don't eat very often, I have used organic cane sugar, organic powdered sugar, and organic flour. We also use pure butter because it makes the cookie taste best.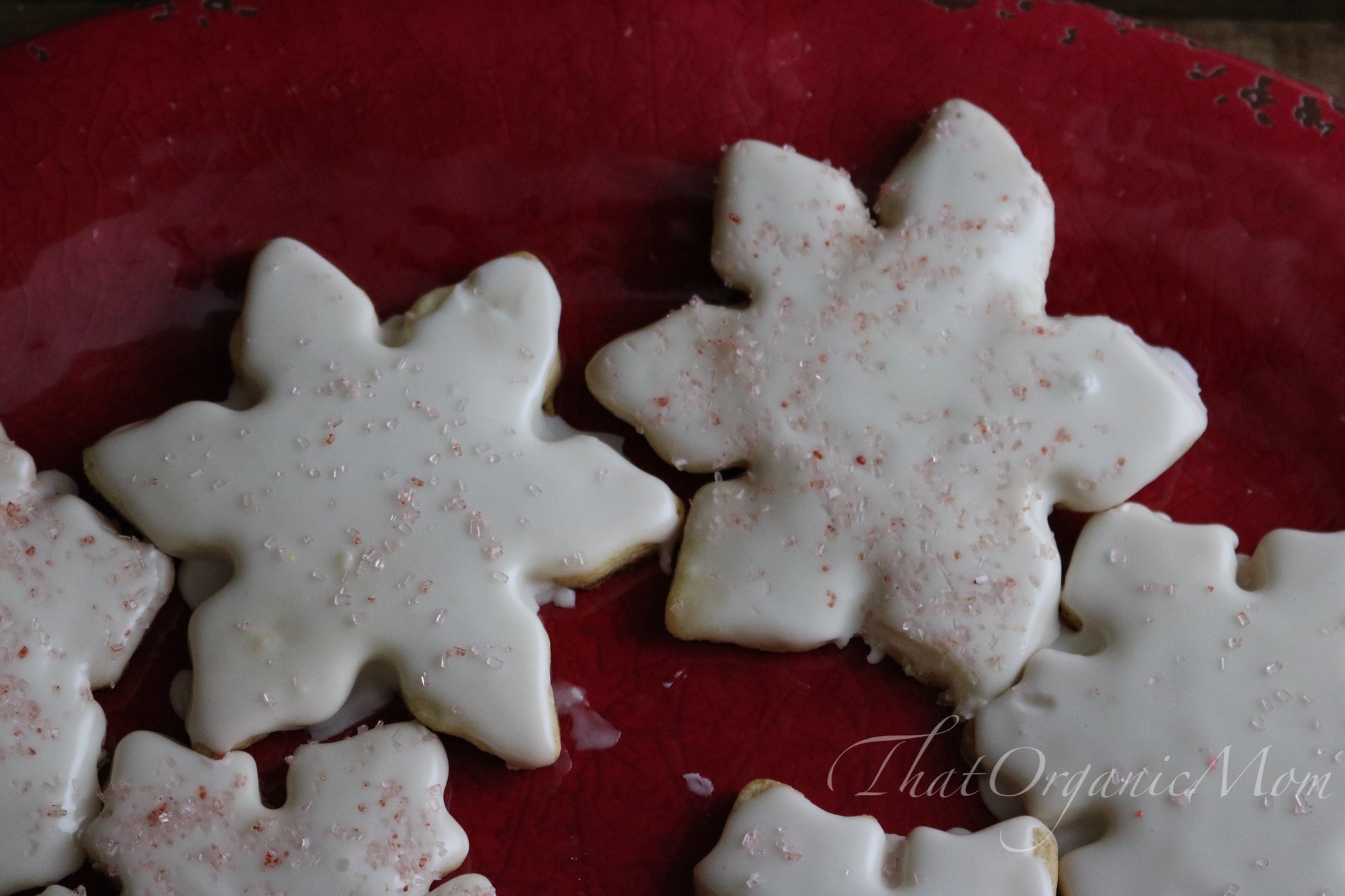 A couple of tips for making these cookies look the best.
Don't skip the chilling of the dough. That might not seem like a big deal, but popping the cutout cookies in the freezer for 15-20 minutes will help them have nice edges and reduce spreading. Also, as soon as the cookies come out of the oven take a flat utensil and just lightly and gently flatten the tops so the icing stays on better.
When it comes to frosting, I like to keep it simple to avoid food colorings. When you need to color your cookies because that is the fun part, after all, use natural food colorings. We use India Tree:
for sugar sprinkles we use:
and Rainbow Sprinkles:
you can mix lots of colors naturally using India Tree Vegetable Colorants.
If you follow a low-carb way of eating such as Ketogenics or THM you might prefer my low-carb cookie cutout recipe.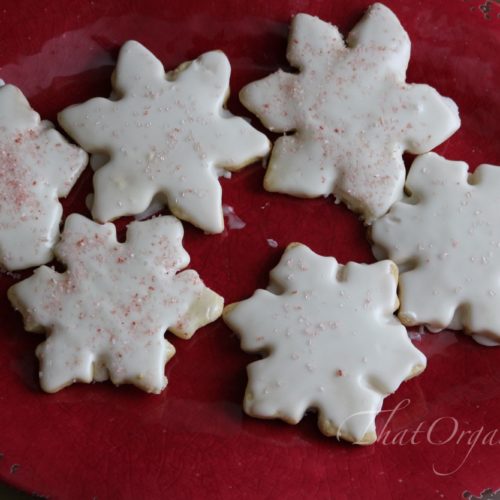 Traditional Sugar Cookies
Just like you used to make as a child. These cookies are unbelievably delicious and worth every minute you spend in the kitchen.
Ingredients
COOKIES
4

cups

all-purpose flour

sifted

1

teaspoon

baking powder

1/2

teaspoon

salt

2

sticks butter

2

cups

cane sugar

2

large eggs

1

teaspoon

vanilla extract
DECORATING ICING
3

cups

organic powdered sugar

2

egg whites

1/2

tsp

cream of tartar

1/2

tsp

vanilla or almond extract

really you can use whatever flavor you like - try maple sometimes!
Instructions
COOKIE INSTRUCTIONS
In a mixer, beat butter and sugar with mixer 2-3 minutes until fluffy.

Add in eggs and vanilla.

Sift remaining dry ingredients (flour, baking powder, salt) together in a bowl.

Reduce speed to lowest setting and gradually add in flour mixture from step 3.

Divide dough in half.

Shape each half into a flat disc.

Wrap and refrigerate for an hour, minimum, or up to overnight.

Bring dough out of the fridge and let it soften about 5-10 minutes just until it's soft enough to roll.

Place dough between two sheets of parchment paper and roll to 1/4 inch thick.

Place rolled dough in the fridge to chill while you roll the second half.

Chill the second half while you cut out the first half.

Chill the cutout cookie shapes while you cut out the second half of dough, then chill those shapes!

Put the first set of cookie cutouts onto a parchment lined baking sheet.

Bake cookies 15-18 minutes until edges start to turn golden brown.*Tip, flatten cookies slightly right when they come out of the oven to make a flatter surface for decorating. Using gentle pressure and solid

Cool completely on wire racks before decorating.
ICING INSTRUCTIONS
Place egg whites in bowl of electric mixer.

Beat for one minute.

Add vanilla extract, powdered sugar, and cream of tartar, mix until smooth.

Thin icing to desired consistency with milk or water or thicken with more sifted powdered sugar.
Notes
The cookie dough may seem a bit crumbly but keep working with it, it works. It almost looks like kinetic sand, but it will come together beautifully when you roll it out.
If you want to decorate cookies with lots of different colors, double the icing recipe so you'll have plenty. Keep a little extra powdered sugar in case you need to thicken the icing. 
I know the instructions are overkill, but my youngest children like to make these cookies on their own and having the step-by-step chilling and rolling details written out like this helps them bake perfect cookies every single time!