Podcast: Play in new window | Download
Subscribe: Apple Podcasts | Google Podcasts | RSS
Last Updated on June 29, 2022 by Rebecca Huff
Today's episode is one of two podcasts about the seasons of womanhood. In this episode, Shannon Covel, founder of Seasons of Sisters, shares insights and tips for talking to our daughters about their first period.
Your daughter's first period can either be a blessing or a curse, depending on how you, the mom (or dad), portrays it. Let's face it, most women don't look forward to a visit from Aunt Flo. Why is that? Because it's messy and painful and makes us moody. But the good news is, there are things to help with the common discomforts. Why not bless your daughter with a first time box that includes all the items she needs to feel confident, clean and comfortable and opens up the door of communication for you to explain what she can expect.
Listen to the episode in your browser by clicking the play button above, or you can listen on the go with iTunes, Stitcher, or Spotify. Although, we do a little show and tell during the interview, so if you want to see the unboxing, watch the video below. Subscribe on youtube or your favorite podcast player so you won't miss the next episode which is about the other seasons of womanhood from motherhood to menopause!
Show Notes for this podcast episode
2:36 – Introducing the box for the first time
5:00 – My dread of talking to my daughter about menstruation
8:00 – Period tracker printable
11:30 – Unboxing
20:00 – Herbs to help with PMS (stay tuned to Chats with Aunt Flo where Shannon will be writing more about herbs and how they work!)
23:00 – Teaching our daughters to be proud to be a woman (body image, etc.).
25:00 – Tips for mom to talk to daughter about her first period.
Welcome to Womanhood box is designed to celebrate a young girl's first period and is the box you'll see in this episode. The Seasons box is a subscription box for the girl/woman who is already menstruating on a regular basis.
Great gift for the daughter in middle school, whether she has begun having her menstrual cycle or it's on the horizon, this box will prepare her. The average age for onset of menstruation is two years after breast development or around age 12.
Talking to our daughters about their changing bodies may feel uncomfortable or even sad when we see that our little girl is growing up to become a woman. Yet it's important to bring up the discussion so she will be prepared. Sharing age-appropriate information with pre-teens, and even younger, will alleviate the possibility of her receiving misinformation from her peers.
You may want to keep it simple at first, explaining blood flow and other dynamics of the period talk or you could go into detail with the biology behind why her period starts.
The ovaries release the female hormones estrogen and progesterone. Build up of the uterine lining is caused by these hormones is part of the process of getting ready for reproduction. (You could explain ovulation as well.) If that doesn't happen, the lining of the uterus then begins to break down and she has her period. Then next month the process repeats, resulting in her monthly period, although the first year she may not be regular. 
Details about the onset of progesterone production in the body and pubic hair growth may feel over the top, but it's better to start too young than too late as each girl's body is different and we don't know when that day will come. We want her to be prepared.
You may want to have things handy for her possible needs explaining why she might need or want them. For example, she might use a heating pad if she has bloating or cramps. Ibuprofen can help with a back ache.
The Seasons of Sisters Period Box
The care put into each of the boxes Shannon creates will make your daughter feel loved and pampered. She has all the needs covered such as sanitary pads. Other options include tampons and herbal tea to help with mood swings along with varied hygiene products suited for the tween, teen or young adult.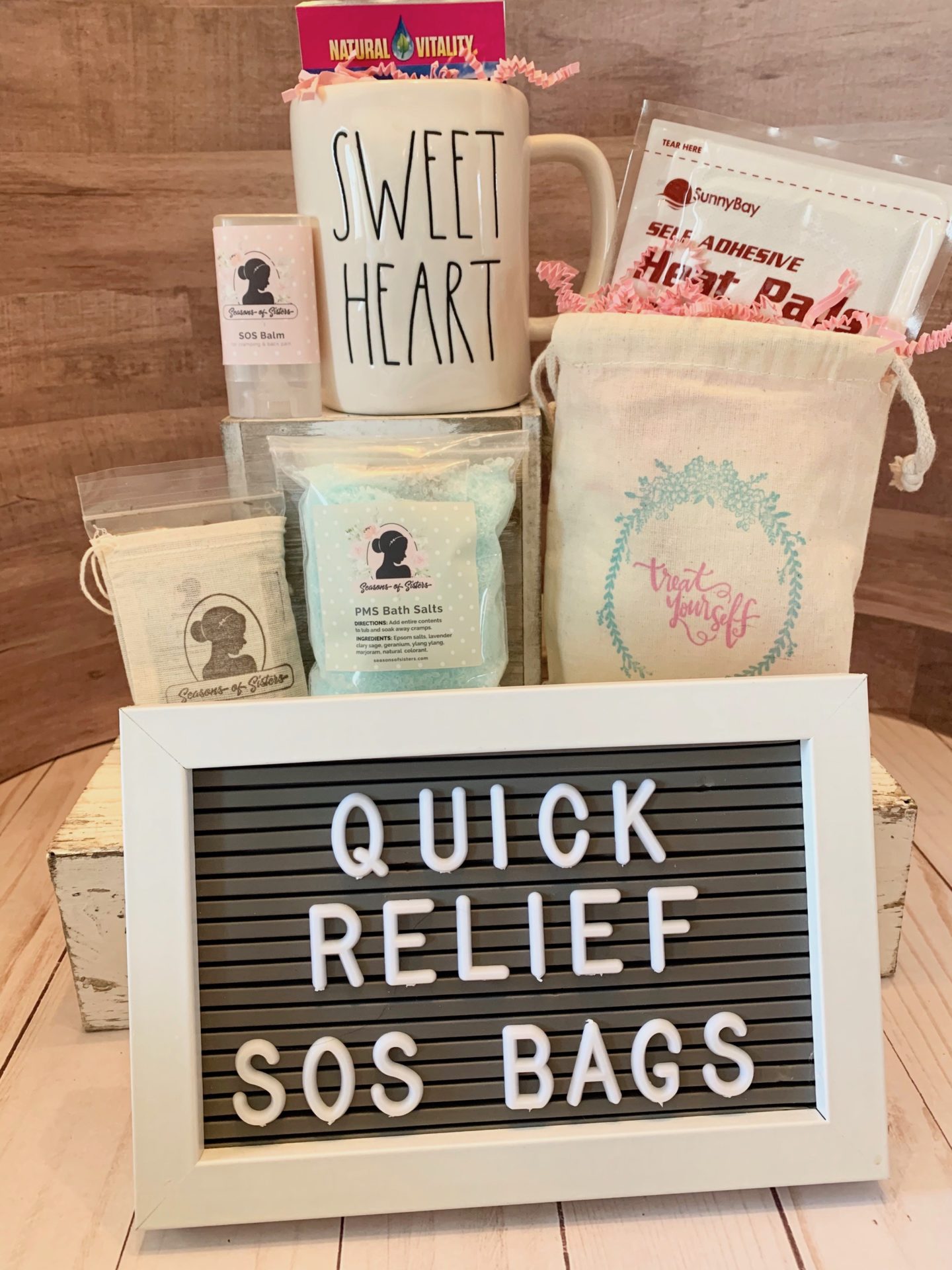 Read more about Raspberry Leaf Tea; The Women's Herb
In the next episode of A Healthy Bite, we will do an unboxing of the Welcome to Motherhood box which celebrates the new mom.
Feel confident in knowing all Seasons of Sisters products are made with organic, natural ingredients.
About the Founder
Shannon Covel is the mother of six children, four daughters, and now two granddaughters. She enjoys helping young women embrace womanhood. The idea of Seasons of Sisters was birthed from the experiences she has gained through having a rough time with PMS, carrying six children through pregnancies, birthing all of them naturally, nursing all of them, and then later having a rocky road through menopause.
Shannon has had the privilege of having many girls and women come through her home, and as she listened to them tell their stories and share complaints, she realized most of us have just suffered through certain parts of each season. Since then, she has been on a quest to find natural recipes and pampering products to help ease the discomfort of each season with the goal of making each season comfortable, even enjoyable!
On a personal note, I've known Shannon for around 13 years and I trust her to bring you quality products. This is not a sponsored post, nor am I an affiliate of her products. I simply saw a good thing and wanted to support her, and I hope you can see the love she has put into these boxes. Giving one to my youngest daughter helped "break the ice" so I could make sure she is prepared when that day comes.