Be a Veggie Ninja and you'll be on your way to stealth health!
We are going to build on yesterday's habit by coming up with some ideas that will add protein plus make you a veggie ninja. I have listed some ideas below for getting some veggies in your diet but pay special attention to the soup and chili recipes. Those are great for a nice breakfast soup!
If you want to take your health to the next level, you need to become a Veggie Ninja! Everyone knows about salads— but eating veggies is about so much more! There's green juices, green smoothies, veggie lasagna, veggie soup, fermented veggies, marinated veggies, pureed veggies… for a start…
Veggie Ninjas frequent the produce section to try new vegetables regularly but they can also be found at Farmer's Markets and meeting other veggie ninjas at CSA (community supported agriculture) events.
Try making some Avocado Chocolate Dessert, trust me, you can't taste the avocado.
Add veggies to chili, like my Summer Chipotle Chili which tastes great year round.
Make super easy chicken and spinach soup, no one will know you took a shortcut.
This Chicken Soup is packed full of veggies.
Add a salad to every meal. When I first started the transition to a healthier lifestyle, the first thing I did was to add this RX Salad before dinner at night. You can try it in a jar and take it to work! Add some grilled chicken or a can of tuna!
If you like smoothies for breakfast and you already have some favorites, try throwing in a handful of spinach and blending it well. I bet you won't even taste it! The more you do it, the more you can add and not notice a difference in flavor.
Don't just make waffles, make pumpkin waffles!
Scroll down to see how to sneak veggies into your kids foods! Don't worry, they'll never know.
Help spread the word, feel free to share this graphic on social media!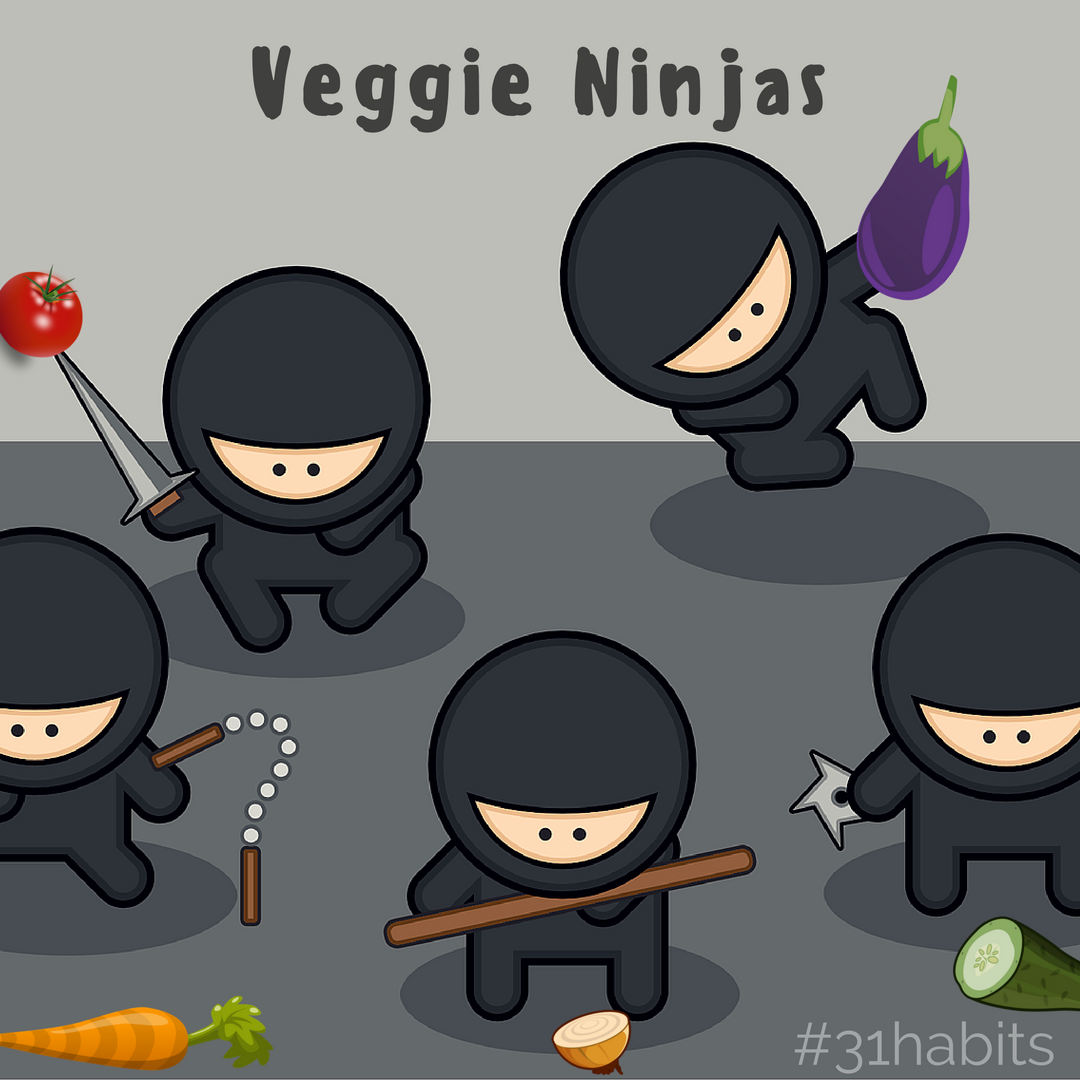 If you have a picky eater on your hands, don't worry. There are ways around this dilemma. I remember my first child being a picky eater. I made the mistake of giving her an ultimatum once.
"Either eat your soup or you won't go to the birthday party."
She didn't eat it.
I didn't mean it.
I lost some serious ground that day!
Later, as she became even more picky, when she spent the night with my parents, they'd let her have ice cream for breakfast! I asked why she was allowed to have ice cream for breakfast and my mom told me, "she wouldn't eat anything else, and this has milk!" *rolling eyes* Do all grandparents do these things? I have a feeling they do.
Let's just say we've come a long way baby! My younger children laugh hysterically when I tell them this story, because they can't remember a time when we didn't eat healthfully.  If you need to get started and you already have a picky eater, the method of least resistance is to be stealth. Be a veggie ninja.  My children love my sneaky-mac-n-cheese.
My favorite books for helping moms sneak in the veggies…
Jessica Seinfeld's Deceptively Delicious was the first cookbook I used to help me sneak in some pureed veggies. I still use several of the recipes, not because I have to sneak the vegetables in now that my children are older, but simply because they taste good! (click on the images to see inside the books)

The follow up book Double Delicious has more simple and tasty recipes to help sneak in more veggies. If I had to choose between book one and two I'd buy the first one, but both are excellent.

Not to harp on the same author, but I had to include one more of her books. This is THE BOOK to buy if you know absolutely nothing about cooking. If you have been living on pop-tarts and Totino's Pizzas and you want to get started cooking. Here ya' go. You're welcome.
I had this book on pre-order for a while! It was just released in September so I am super excited to check out this one. It is all about making purees!
These are just a few suggestions on how to get more veggies into your diet to spark your own creativity. Share your Veggie Ninja status with the rest of us by using the hashtag #31habits on all social media! The rest of this week, make it a point to add more veggies to your meals. In what way do you up your veggie quota? Share in the comments!