Last Updated on June 29, 2022 by Rebecca Huff
Pronounced "so-LAY"
What is Himalayan Salt Sole
Himalayan Salt Sole is a drink that is made from natural salt found near the Himalayan Mountain region and clean filtered water. Those who consume the drink report many positive benefits, which we'll get into in this post. If you're a beginner, keep reading, this post will help you get started trying Himalayan Salt Sole for yourself!
Most labeled Himalayan Salt is really from Pakistan.
Himalayan salt comes from the natural salt deposits found in the Himalaya Mountains that sprawl through Asia from Afghanistan through Pakistan to India on into Nepal, and Tibet all the way to Burma (Myanmar). The mountains have been mined for salt since 320 B.C. we see it in supermarkets and specialty stores in a variety of ways such as fine, coarse, in grinders, mixed with other spices, as blocks and slabs, and more.

~ Salt Blocks for Beginners
Get your Himalayan pink salt from a sustainable company. Bonus if the source also uses recyclable and reusable packaging. SoWell is my go-to source for Himalayan Salt products.
Harvested from ancient, pollution-free sea beds, it is rich in minerals and considered by many to be the purest salt on earth.

SoWell
Himalayan Salt Stones
Himalayan salt stones or rocks are necessary for making salt sole. Salt Sole is not just salt water. Himalayan Sole (Solay) is a concentrated salt water solution that releases 84 different minerals locked in beautiful pristine fair trade Pink Himalayan salt crystals.
Table salt will not work for making this drink. Regular table salt is Sodium chloride, NaCl which has been stripped of minerals and bleached. Trace minerals are found in Himalayan Salt which is what makes it so beneficial.
Refined salt goes through a myriad of chemical processes which involve stripping of all nutrients, except for one; iodine, which has been put back in (to prevent goiter). I have read that the iodine that has been put back in is not even adequate, thus giving us all of the endocrine disorders. Then it goes through a bleaching process (chlorine) which gives it it's white color. While it is being bleached, it is also exposed to aluminum and ferrocyanide. Raising Sages Integrative Pediatrics
Sea salt is harvested from oceans and the darker it is the more impurities it may contain. Celtic salt is another type of salt some people choose for sole water. I prefer using Himalayan Salt rocks, though you could also use "Real Salt" as an alternative as well.
What I use
My experience with SoWell's salt rocks has been positive. I have used Himalayan salt rocks, salt grinder refill size pebbles, and pure Himalayan salt meant for a shaker. If my salt blocks ever break or I decide to replace them, I'll likely break them up for use as well.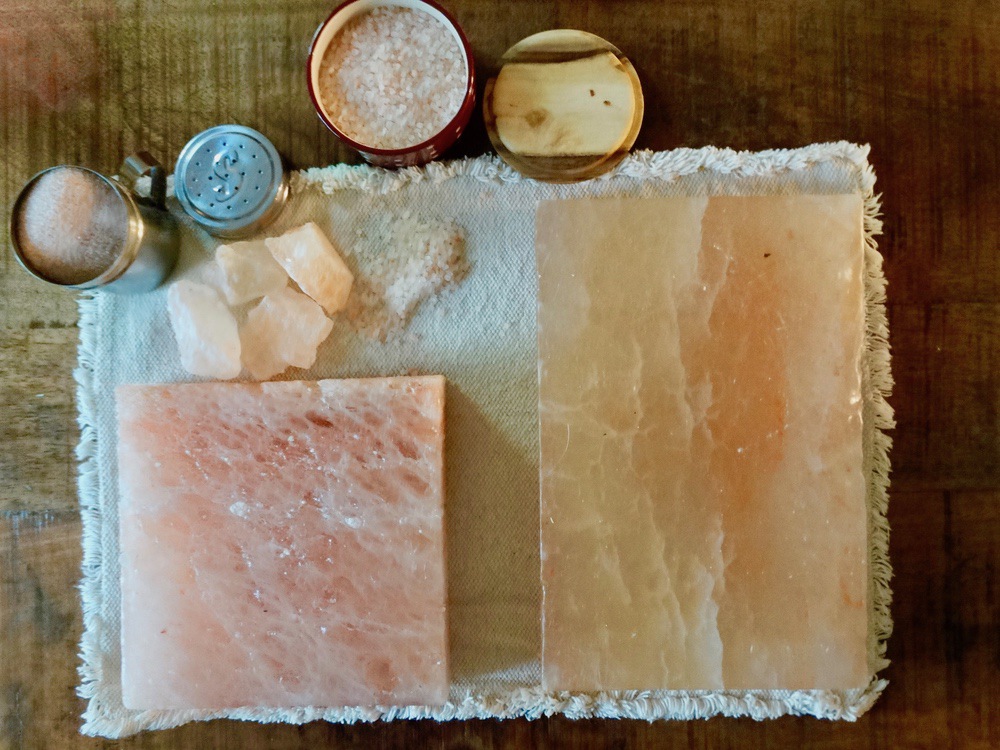 The use of sole is an inexpensive and safe way to naturally detoxify the body, while imparting essential minerals to your body. Our Sole products help replenish your body with pure ionic and colloidal salts which are beneficial for all ages, even for pets. Our human bodies represent the oceans from which all life was born. Restore your natural balance with our homeopathic remedy, and feel the benefits of a younger, more vibrant body with our fair trade Himalayan salt Sole.

SoWell
One note before we leave the type of salts. Many natural salts are being found to have microplastics from ocean pollution. It is unfortunate and we have got to stop using so much single-use plastic. This is a topic to keep an eye on and I'll share more about this in the future.
What are the Health Benefits of Himalayan Salt Sole
Not much scientific research has been conducted on the health benefits of drinking sole water. However, those who have experienced the benefits of sole will tell you that it has increases energy levels, eliminates muscle cramps, aids in weight loss and much more. (I've included a list below.)
The use of sole is an inexpensive and safe way to naturally detoxify the body, while imparting essential minerals to your body. Our Sole products help replenish your body with pure ionic and colloidal salts which are beneficial for all ages, even for pets. Our human bodies represent the oceans from which all life was born. Restore your natural balance with our homeopathic remedy, and feel the benefits of a younger, more vibrant body with our fair trade Himalayan salt Sole. ~ SoWell
As far as weight loss goes, I can't say that it has resulted in a drop on my scale. Although if you search the internet you'll find many testimonials from people who say they did nothing but use salt sole which resulted in weight loss. Research has not yet been conducted to substantiate these claims.
Salt is a good antihistamine. Many people with allergies claim that visiting a salt cave results in an improvement in their condition. Studies have not verified these results.
User Reported Benefits of Himalayan Salt Sole
On a personal note, I see an acupuncturist who has a salt room for his asthma and allergy patients. Himalayan Salt stones are reported to balance out the positive charge in our bodies by binding excessive positive ions in the air with the negative ions in salt. It appears to be of great benefit to allergy and asthma patients. There are multiple salt rooms where I live and I'm in the process of visiting them for an upcoming review.
According to people who use salt sole there are plenty of benefits, as I mentioned, research hasn't been conducted to back up any of those claims. Those who use it and even many health practitioners recommend salt sole. It's best to check with your health care provider (hopefully you're seeing a holistic nutritionist, naturopath, or functional medicine doctor.)
Taking just 1 teaspoon of sole per day has been said to:
Replenish depleted minerals that we often don't get in our food
Pull out stored toxins, such as metals like mercury
Rejuvenate your tired cells to boost your immune system and energy levels
Be filled with electrolytes to keep your cells hydrated and stimulates circulation
Improve sleep due to the calming effect on the nervous system
Include the 84 minerals considered essential nutrients for life and energy
Helps improve the body's acid-alkaline imbalances
Normalize blood pressure
Encourage detoxification and cleanses the intestines
Stimulate a more efficiently functioning metabolism
Balance blood sugar levels (due to the chromium, magnesium, manganese, and vanadium the salt contains)
Improves digestion and nourishes the body on a cellular level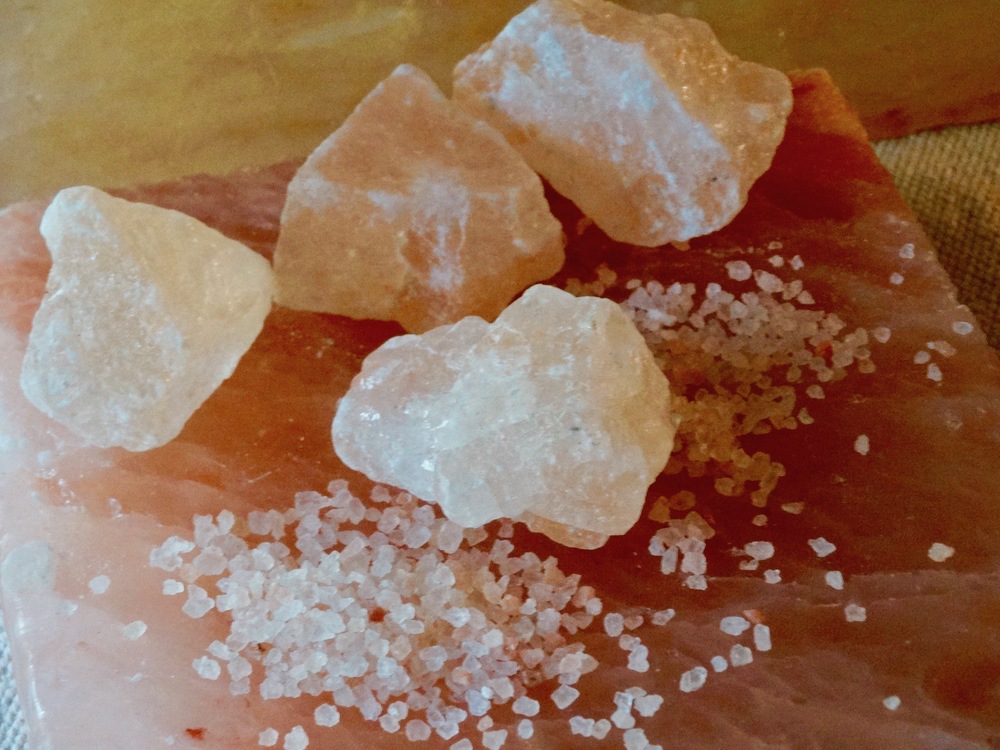 How to make salt sole
Using a clean glass jar and either spring water or filtered water, add some Himalayan crystal salt.
Use a plastic lid; do not use a metal lid for sealing the salt sole jar. I use these exact lids for mine. Instead of metal, use wooden spoons like these. Metal will react with the salt.
Each morning, upon waking and on an empty stomach, take one teaspoon of the salt sole brine mixed in a glass of good quality artesian or spring water. If you don't have that use, filtered water. We use an under-the-sink reverse osmosis water filtration system, that also has minerals replenished as the last step in the process.
Repeat daily.
It's not necessary to shake or stir the water daily the salt dissolves on its own. Always use a wooden or hard plastic spoon to take your sole, not metal. The inorganic matter will settle to the bottom, so don't worry if you see sediment at the bottom of the jar.
How to maintain
The sole will never go bad and you just need to add more water along with Himalayan salt crystal stones as the salt dissolves more over time. There should always be visible salt in your glass sole jar. Leave the jar on your kitchen counter with the lid tightly sealed. You don't have to refrigerate the salt sole, as it will not spoil.
You can take the salt sole at night before you go to bed if you wish. Just make sure you always take it on an empty stomach. (Good incentive to stop eating a few hours before bedtime!) Many people report better sleep as a result of taking it at night, while others have more energy.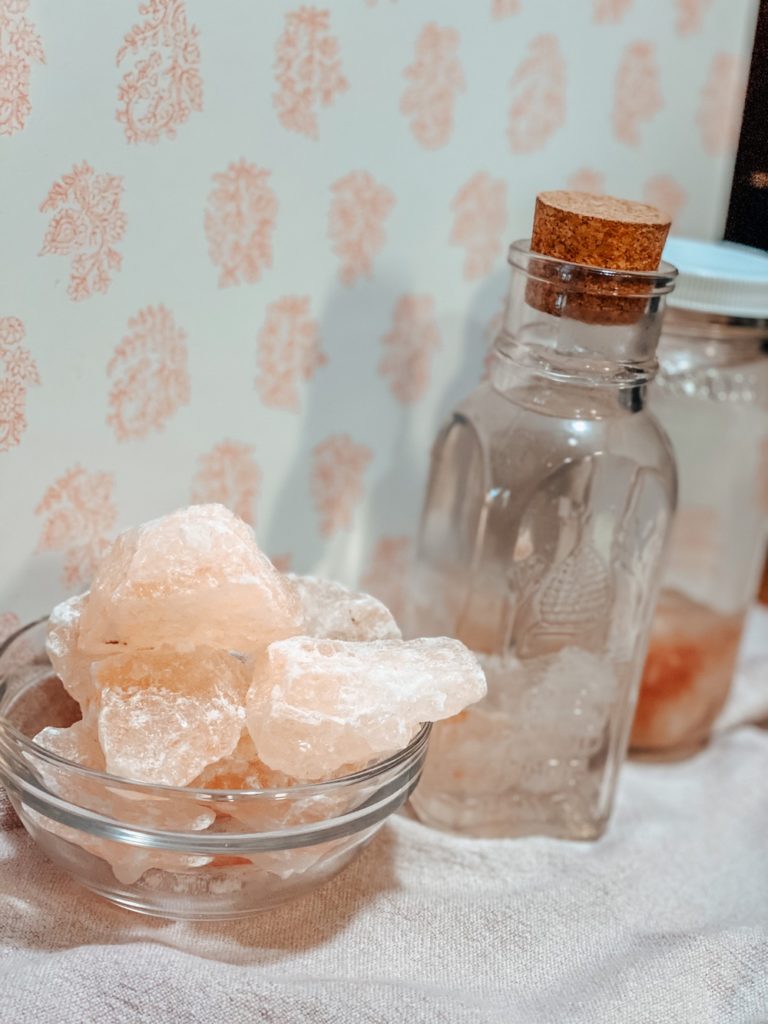 How much Salt Sole should I drink each day?
There are a couple of ways to do this. Use a small glass of water and add the salt sole, then down it on an empty stomach to get it over with if you dislike the taste. The other method would be to add it to a large glass of water and sip on it all day long. (I prefer the first method.)
The amount of water you dilute the salt sole with is up to you, most people use around 4-6 ounces, but you only need one teaspoon of sole for your daily intake.
Throughout the day, make sure you consume adequate amounts of plain water as well. It's important to hydrate well and maintain a proper fluid balance at all times, not just when using salt sole. After all, water is the essence of life.
On a side note, drinking water at room temperature is better for digestion.
Risks associated with drinking salt water
For anyone watching salt intake or those who have been diagnosed with high blood pressure, drinking salt water may not be for you. Anyone with a medical condition would be advised to check with a medical professional before using salt sole. Pregnant women should consult with their obstetrician before using salt sole.
Salt water to detox
Detoxification happens when toxins exit the body on a cellular level. The ions in salt water inter the cells along with the trace minerals and pull out the toxins from all over the body.
Many claim that using salt sole is one way to detox the body on a daily basis.
Other uses for Salt Sole (Solay)
Gargling – To relieve a sore throat (My parents swore by this when I was a child. This was and still is my mother's go-to remedy for a sore throat)
Mouth wash – Said to cut down on bacteria (doesn't leave that medicine breath smell like the green stuff!)
Cooking – Throw a little splash in with your veggies to give them flavor.
Bathing – Again, pulls out toxins.
Cleaning your face – Some use it as a toner.
Neti pot solution – My family has been using salt sole for two decades as a nasal rinse. Especially important when you live in a place with excessive pollen!
Hair and scalp treatment – Using salt sole as a scalp rinse for dandruff may help with excess oil. Salt water in a spray bottle makes a good texturizer and gives your hair that beachy look.
Will using a Himalayan Salt Block with food work the same way?
Using a salt block (salt tile) with food imparts a deliciously salty flavor to food. The benefits of Himalayan Salt can be obtained through using one. However, salt sole is used on an empty stomach.
What about Himalayan Salt Lamps
I love Himalayan Salt Lamps and use them in every room of my home.
Himalayan Salt Lamps are beautiful and a healthy alternative to nightlights or harsh lamps at night. These cannot take the place of drinking salt sole, but they do emit a warm glow and are believed to cleanse, deodorize and purify the air around them. Salt lamps vary in shape, size, and color and are a lovely addition to home decor.
I keep a salt lamp inside my home sauna as they are said to improve mood and overall health. Heating the salt inside the infrared sauna activates the calming and detoxifying effects of halotherapy which purifies the air in a way similar to salt room therapy mentioned above.
Salt lamps and salt candle holders are among my favorite things!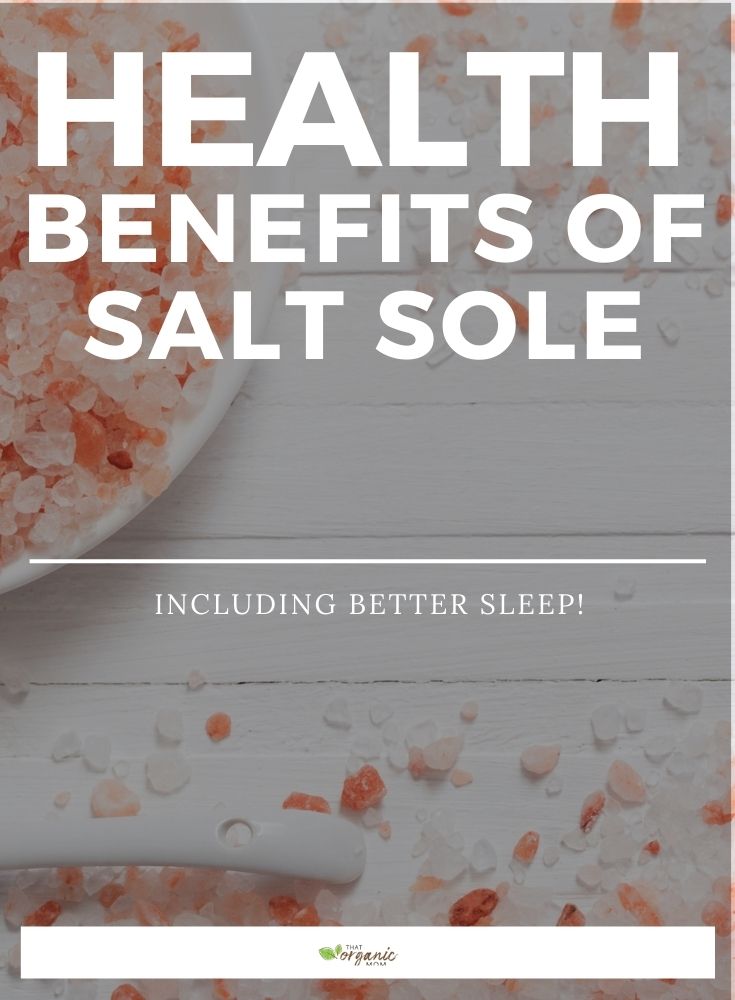 Sources
Why Your Table Salt is Killing Your Health – Raising Sages …. https://raisingsagespediatrics.com/why-your-table-salt-is-killing-you/
Salis Halotherapy | Salt Therapy Room Jackson, Tennessee. https://salishalotherapy.com/