Last Updated on June 29, 2022 by Rebecca Huff
Let's face it, one flavor that is always in season is chocolate! Salted chocolate? Even better. This is so easy to make, you'll want to try multiple chocolate bark combinations.
Chocolate with sea salt or salted almonds are a popular combination. So, I decided to see what would happen if I melted Lily's chocolate chips and poured the melted chocolate onto my salt block. The result was delicious, easy salted chocolate! Before I could even put it away in a container, it magically disappeared 😉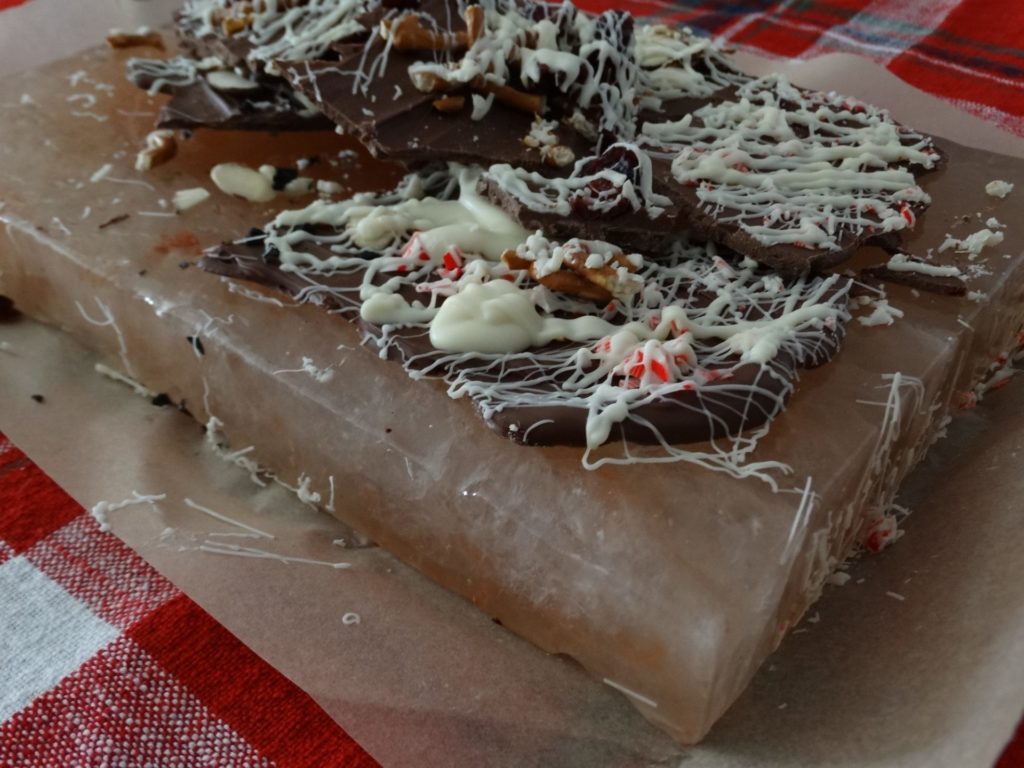 How to Make Chocolate Bark on Your Salt Block
It's almost too simple to even mention a recipe, but it does help to know exactly how to do it since with melting chocolate there's always a margin for error. My preferred method is to use a double boiler. Always melt the chocolate slowly. Repeat after me: slow and low.
Use clean, dry utensils, and keep stirring. Do not introduce water to your chocolate.
For the salt block, I like to put mine in the freezer the night before. This allows the salt block to get very cold so the chocolate will harden and dry faster. I did try putting melted chocolate on a room temperature salt block and it works fine, but it does take a bit longer to dry. Chilling your salt block for at least an hour or two will make it easier for the chocolate to release.
Choose your chocolate
To make chocolate bark, whether you use a salt block or not, we start with high-quality chocolate. You can use the type of chocolate you like best. Here are a few suggestions:
Milk chocolate
dark chocolate
white chocolate
semi-sweet chocolate chips
stevia-sweetened chocolate like Lily's (white, dark, milk)
Chocolate Bark Toppings and Mix-Ins
Chocolate bark can contain any type of nuts, fruits, or other crunchy foods that you like. Here's a list of some suggestions to try.
almonds
candy canes
coconut flakes
dried fruit (raisins, cranberries, goji berries, apricots, etc.)
mini marshmallows
pecans
pistachios
pretzels (gluten-free pretzels work too!)
more chopped chocolate in a different flavor
In addition, you can also drizzle or mix in other flavors, like peanut butter, sunflower seed butter, cashew butter, or tahini. Use your imagination. In these photos, I drizzled some white chocolate on top of the bittersweet chocolate. It's a good combo! Just melt the white chocolate in a separate container or a microwave-safe bowl so you'll have it ready to drizzle.
Tips for how to make chocolate bark on a salt block
You've got to work pretty quick once you get started, so have all of your mix-ins ready. Use an offset spatula to get all the melted chocolate out of the bowl and onto your salt block. Smooth the chocolate onto the salt block, working quickly. Then add those toppings! Try to throw your toppings on top of the melted chocolate before it hardens. If you wait too long, they won't stick.
If you don't have one, grab a salt block here, and in the meantime, you can make yours on a baking sheet lined with parchment paper. This works theoretically, but you may want to sprinkle on some Maldon Sea Salt flakes or some black salt crystals. I love flaky salt on top of my chocolate!
My youngest daughter loves white chocolate peppermint bark, so for that one, use white chocolate with crushed candy canes. Simple and so pretty!
For easier cleanup, place your salt block on a rimmed cookie sheet to catch the drips and crumbles! It's easier to clean the pan than your counter and floor!
I used a 9-ounce bag of Lily's chocolate chips with pecans for a simple sugar-free, Keto-friendly dessert. Marcona almonds are another favorite.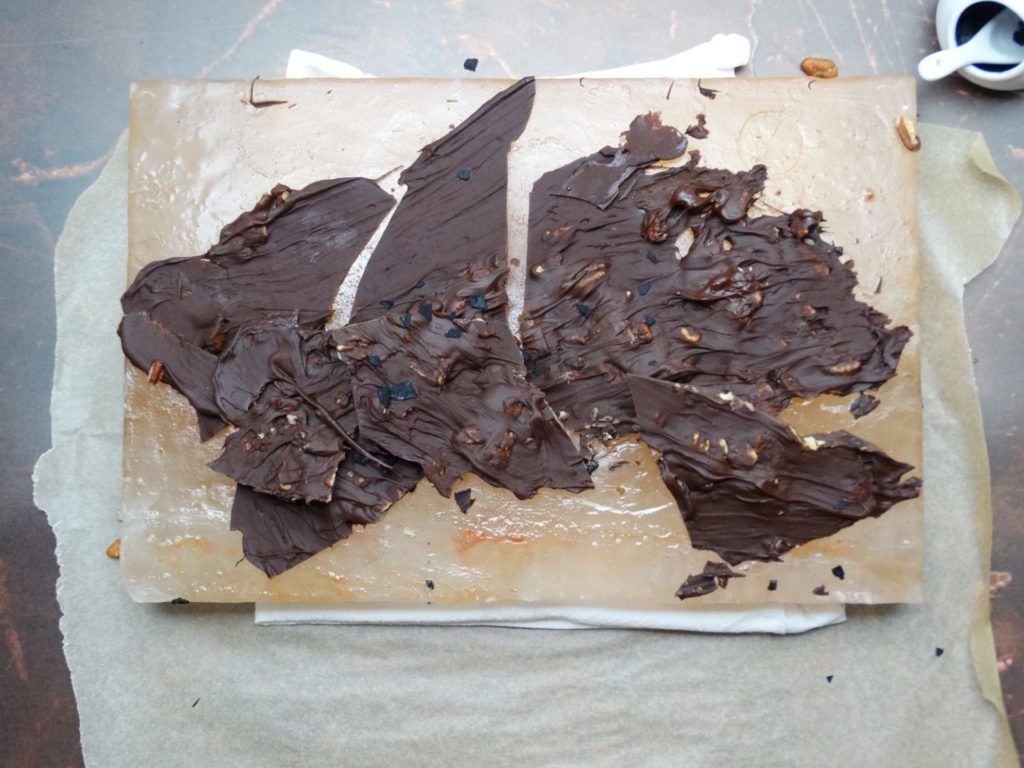 Keep leftovers in an airtight container in the fridge or in a cool place.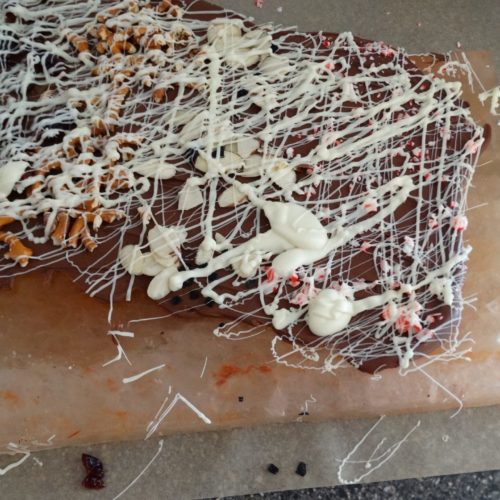 Salt Block Chocolate Bark
Salty chocolatey bark with all the tastiest add-ins!
Ingredients
1

bag chocolate chips

any variety

candy canes

optional

nuts

optional

pretzels

optional
Instructions
Chill salt block in freezer for an hour to 24 hours.

Melt chocolate in a double broiler.

Pour melted chocolate on top of salt block, spreading with an offset spatula.

Quickly add your toppings and mix-ins before the chocolate hardens and sets.

Optionally, drizzle with another variety of chocolate, let harden, cut into pieces and enjoy!
Disclaimer: Cooking on salt blocks can pose a risk of breaking or damage to your oven, salt block, or bodily injury. If you wish to cook on one, please understand that you accept all responsibility. ThatOrganicMom nor our salt block supplier do not accept liability; the user accepts all responsibility. Remember: Heat your block low and slow.