Last Updated on June 29, 2022 by Rebecca Huff
In my experience, most women can't wait to come home from work and take off their bra! With coronavirus, one of the "perks" I've heard most often is being able to wear more comfortable attire while working from home.
Whether or not a woman chooses to sleep in a bra is certainly a matter of personal preference. Women may also have different priorities that lead to lifestyle choices and those will vary from one to another.
One reason a woman may choose to wear a bra to bed is to prevent sagging beasts. But is that effective?
Breast sagging is caused by age and gravity, both of which are completely out of our control, ladies!
Experts say that wearing a bra to bed will not prevent breast sagging. Back sleepers may choose to wear a bra at night to keep breasts from gravitating to the sides.
Those of us who are stomach sleepers won't have to worry about that as much, although if you sleep on your side, with or without a bra, you may end up with a wrinkled décolletage. (Basically, if you sleep on your side you'll get a crease between your boobs.)
Does wearing a bra to bed change breast shape or size?
Whether you wear a bra to bed or not will not encourage breast growth. Basically, nothing outside of surgery, pregnancy, breastfeeding, or weight loss (or gain) will change your cup size.
Breast shape is another fixed factor, although it can be slightly altered with exercise and diet. Pushups and other chest exercises can strengthen the muscle under the breast tissue however the breast tissue itself has no muscle.
Does wearing a bra to bed have any health benefits or negative side effects?
Is it better to sleep with or without a bra?
Some women may prefer to sleep in a comfortable bra such as a camisole-style, sleep bra or other lingerie. While many prefer to sleep in nothing at all.
One of the reasons many women may choose not to sleep in a bra is that they've read or heard that doing so may have negative health implications.
Before writing this article, I read strong opinions on both sides of the argument concerning bras and lymph restriction. So many recent articles, blogs, and data emphatically declare there is no scientific evidence proving that sleeping in a bra causes damage. According to many, there is also no scientific evidence that wearing a bra with an underwire causes cancer. One article called the theory an old-wives tale!
But does "no scientific evidence" mean that wearing a bra to bed doesn't have negative side effects? We're not sure. While most of the people who believe the theory is true are concerned with the well-being of others, many assume they are fear-mongering.
You will have to decide for yourself based on the evidence you trust and your willingness to wait and see.
The bra restricts lymph flow theory
What is lymph flow? In the most basic terms, it helps to remove toxic waste from your body.
What can cut down on lymph flow? Infection, viruses, and parasites, can block lymph flow.
So what improves the flow of lymph fluid? Movement such as exercise and massage can help.
All of this means that the lymph flow can be sped up or slowed down. Lymphedema of the breast is caused by damage to the lymphatic system, so we know that something can cause harm.
Tight clothing worn where your lymph glands are located could restrict lymphatic flow. If you've ever worn shoes that are too narrow, you know blood flow can be restricted!
A bra that leaves indentations on your body could be too tight. It's important to be properly fitted for a bra to avoid this. Wearing a tight bra would seem to impede the flow of lymph. This theory doesn't only pertain to bras, but also underwear and other clothing in general.
I believe it's possible that tight, restrictive clothing could have a negative impact on your lymphatic system. (Not to mention, I don't want to wear a bra to bed!)
The Job of Your Lymphatic System
The tonsils, adenoids, spleen, and thymus are part of the lymphatic system along with your lymph nodes which are located throughout your body. Your body contains hundreds of lymph nodes which are oval-shaped organs. They are interconnected by lymph vessels which are also part of your lymphatic system.
These lymph nodes are like filters that eliminate toxins and removes waste from the body.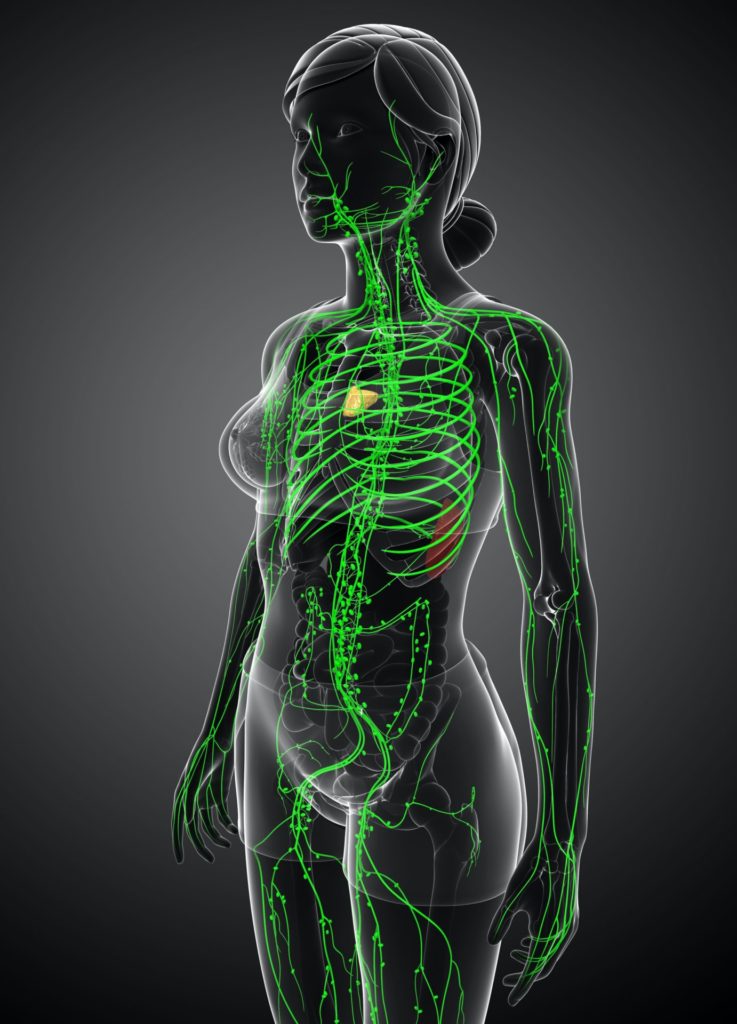 The reason this is important to note is that the lymphatic system moves lymph fluid which contains infection-fighting white blood cells to other parts of your body! The lymph fluid contains white blood cells which have the important job of fighting infection. (Remember, an infection can slow the flow of lymph fluid.)
Along with your spleen, this system creates defenders against any foreign invaders that could cause you to get sick and keep infections from spreading. People who have lost their spleen in an accident or due to disease, are at greater risk of infection.
Restricting flow
Let me paint a picture for you. Let's say you put a metal rod on top of a running water hose then pressed down on the metal rod. Would the flow of water be restricted? Maybe some of the water would still get through the hose, but the flow could be reduced. Depending on how much pressure is placed on the hose the flow of water could be completely restricted or just partially impaired.
around 90% of fibrocystic patients improve when they quit wearing bras ~ what is fibrocystic breast disease
Now imagine your lymph vessels are this water hose. You put a tight-fitting bra with c-shaped wires on over the lymph vessels. Do you think the flow of lymph fluid is at 100 percent?
This is why it's important to be properly fitted for your bra. If your clothing leaves marks on your body it is possible that they are too tight or they are simply the wrong size.
Bras that don't fit properly, sports bras, push-up bras, and hard underwire bras might lead to restricted lymph flow. In the book, Dressed to Kill, the authors explore the link between bras and breast cancer.
Our study was conducted on approximately 4700 U.S. women, about half of whom had breast cancer. When the results were analyzed, they revealed that women who wear bras over 12 hours daily have a dramatically increased risk of developing breast cancer compared to bra-free women. ~ Arizona Advanced Medicine
Perhaps this is one of the reasons why many women choose not to sleep in a bra. Some women may choose to allow full circulation at night without the risk of reducing lymph flow. Even though, at this time, underwire bras are not scientifically proven to cause harm.
Download the 30 Days of Tips for Better Sleep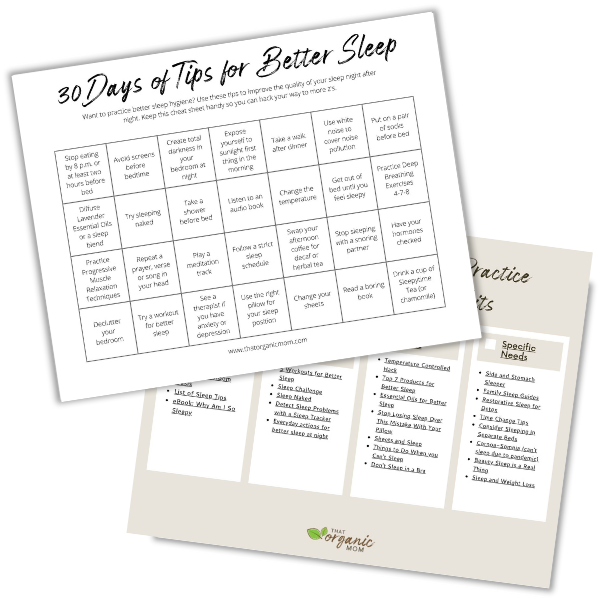 Other issues with sleeping in a bra
Some women experience skin irritation from being in a bra 24/7. Elastic, nylon, polyester and other materials are not highly breathable and may trap heat and sweat against the skin. This can lead to skin irritation.
Women who have larger breasts may find it harder to find a comfortable bra than their smaller breasted counterparts. Because of this, they may choose not to wear a bra at night. Others may choose to wear a bralette to bed to have a bit of support.
Women may choose to wear underwire bras during the day to get some extra support but wear a sleep bra or nothing at night.
Why should you take your bra off at night?
Sleeping naked is one way to improve your sleep hygiene. One in three adults sleeps in the nude according to a U.S. study. Experts also say sleeping naked improves sleep quality and overall health.
Being hot and feeling restricted are two more reasons it's better to sleep without your bra. However, if you feel more comfortable with your bra on, go for it. Look for a well-fitted bra that doesn't restrict circulation.
What happens if you don't wear a bra?
Not wearing a bra at night will not cause damage to your breast tissue, nor will it accelerate sagging. It's as simple as that.
How long should you wear a bra in a day?
There are few health benefits to wearing a bra. One being that for women with very large, heavy breasts, a properly fitted bra can take some strain off the back. In some countries women never wear bras. The first official bra was invented in 1914, so women got along somehow without them.
According to Teen Vogue, many teens and young adults prefer tanks with a shelf bra, and tightly knit tanks with a bit of compression, as do women of all ages.
Breastfeeding moms might find it helpful to sleep with a bra on at night to prevent leaking, again it is a matter of personal preference. Which in my opinion is the answer to this question.
As my therapist says, "stop shoulding yourself and others!" The word "should" and therefore the question "should I wear a bed to bed" is a form of criticism. It is judgement. I get it, the people writing to ask if they should wear a bra to bed or not are really asking what's best for their body.
The answer: only you can decide.
My personal preference…
While I have respect for scientists and doctors, I also know that as with all humans, there is a margin for error. I have been on the receiving end of doctor error (as well as nurse error) multiple times. One mistake a pharmacist made nearly killed my oldest daughter. Scientists and engineers make mistakes; just look at Chernobyl. Research can be biased, otherwise, there would not be baseline models for avoiding researcher bias.
The question for many women is "which side of this margin for error do I want to fall on?" My question is why would I want to wear a bra at night when I don't want to wear one during the day?
Harpers Bazar asked, "But will we ever wear bras again?" That about sums it up for most of the women I know. Setting aside the argument, I simply don't enjoy wearing a bra at night, but if you do, go for it!
Do you wear a bra to bed every night? Why or why not?