Last Updated on April 30, 2022 by Rebecca Huff
My family doesn't know it, but they've been eating mushroom powered meals.
I've been trying to sneak mushroom extract into lots of dishes for all the many benefits they possess. No one is complaining. As for me, I can definitely feel a little more pep in my step lately! Medicinal mushrooms are all the rage in the Nutrition world this year, so don't get left behind. Start sprinkling a bit of mushroom extract in your meals.
Fuel your day with mushroom powered meals!
Let me show you a few ways I've been adding this powerful superfood to our meals. Let's start with Treats because everyone loves a good treat!
Nut Butter Bites
These are so simple to make. You don't really even need to measure, just taste as you go. We like ours less sweet, but you can adjust the recipe to fit your own sweet tooth.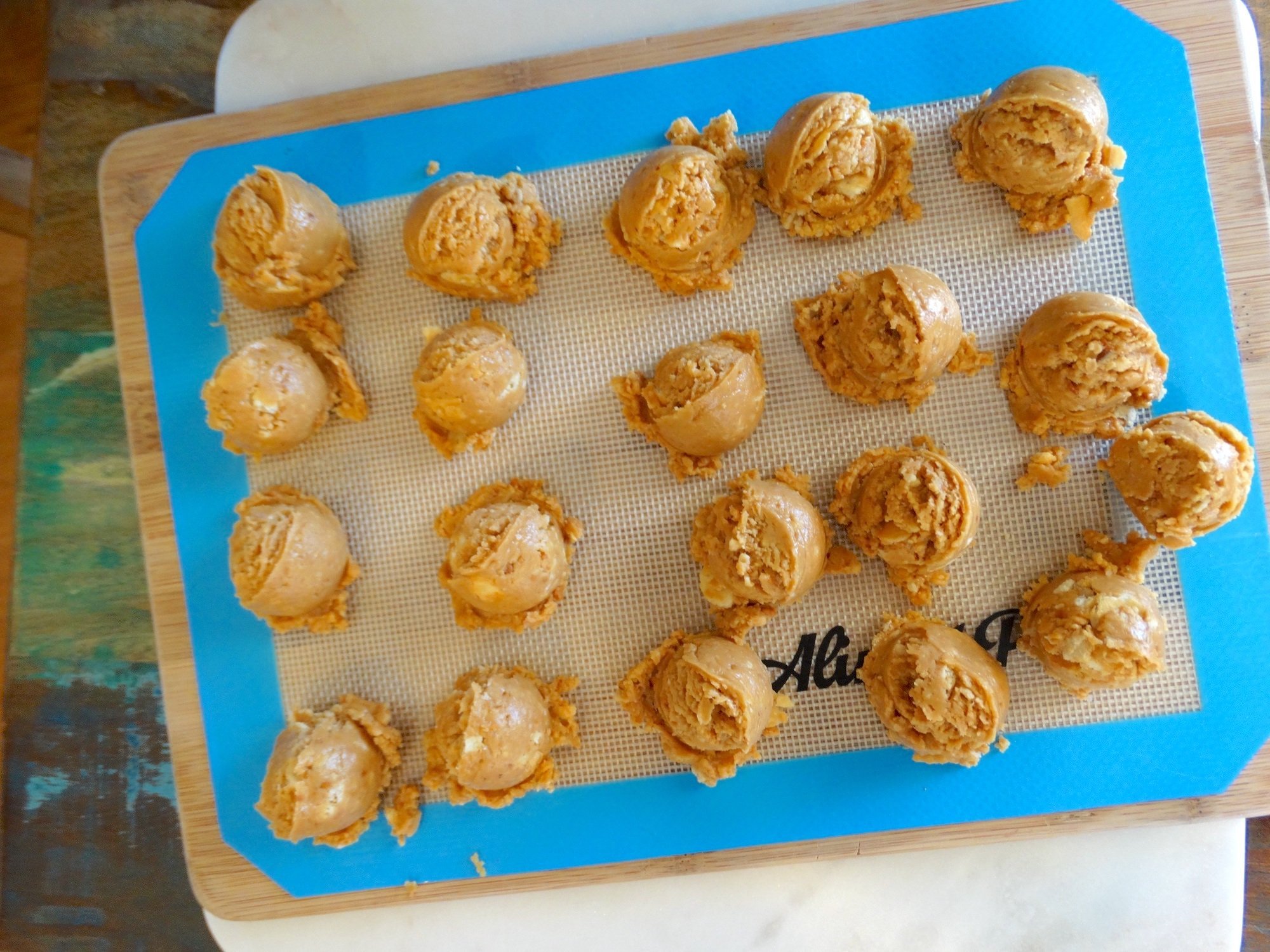 We used a bit of Ruby Chocolate bar from Whole Foods, melted, to decorate the tops. Trader Joe's has Ruby Cacao Wafers that can be used as well. So pretty! Next time I plan to make white and pink, using the white chocolate recipe here.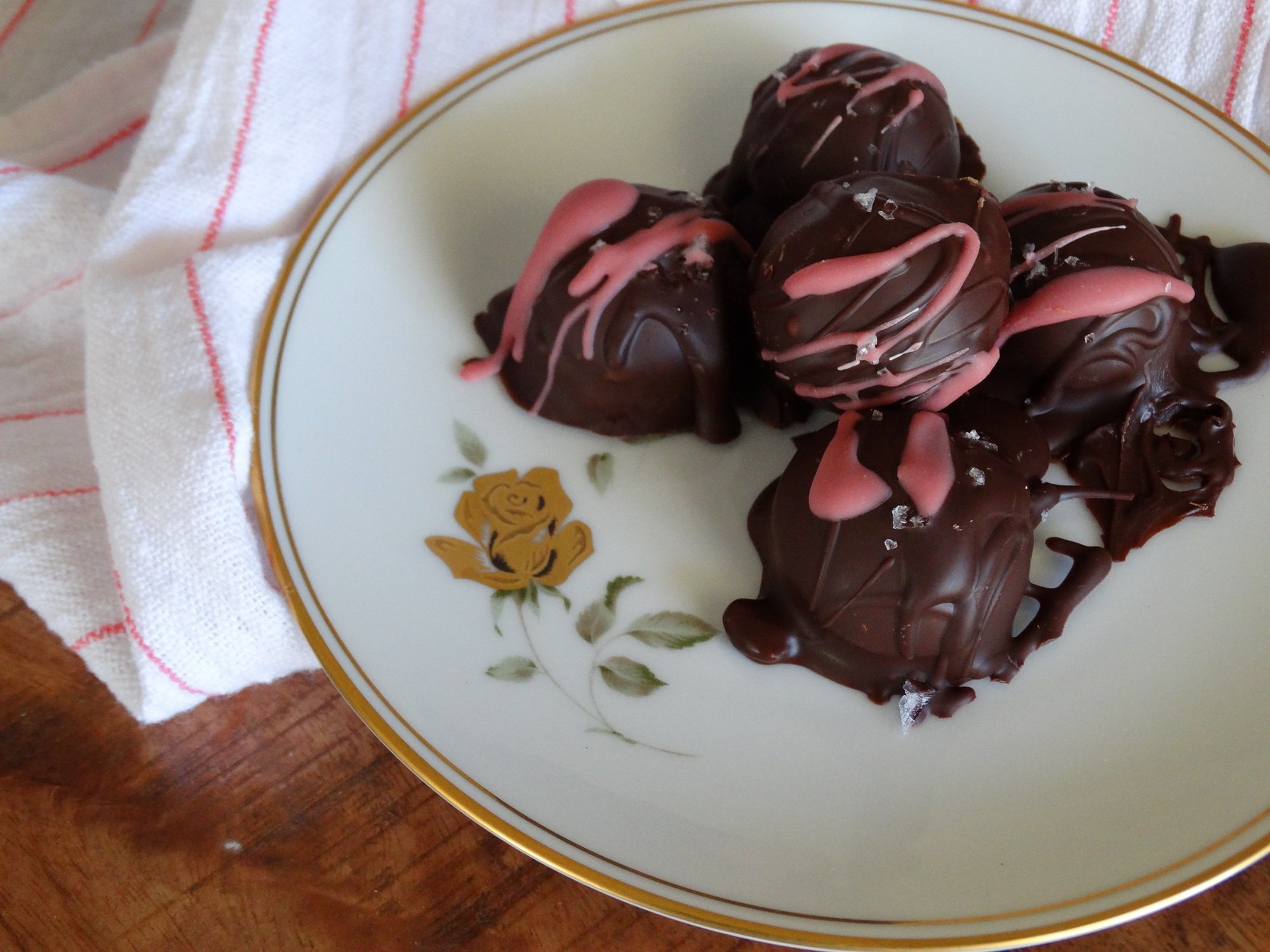 Powered Up Nut Butter Bites
So amazingly delicious you won't even realize you're eating health food with these delicious nut butter bites!
Ingredients
1

cup

Nut butter

whichever you prefer

1/4

cup

of Sweetener of choice

we use Swerve or Coconut Sugar *SEE NOTES

Sea Salt to taste

Chocolate to Coat

Mushroom Powder

I used Thrive 6

Ruby Red Chocolate Bar

optional
Instructions
Mix nut butter with sweetener and mushroom powder

Shape into bite size pieces or use a candy mold, then chill in fridge for about 30 minutes, or 10 minutes in freezer

Melt Chocolate gently in a double boiler

Drop cold nut butter bites into melted chocolate one at a time, quickly coating and removing to a sheet of wax paper or a silicone baking mat

If desired sprinkle with Maldon Sea Salt Flakes

Chill and enjoy
Notes
I don't like these to be super sweet, but my kids do. You can add more or less sweetener to suit your own taste. Start with a little and add more until you get it how you like it.
I also love Maldon Sea Salt Flakes and put them on everything!
Macarons
Shawna has been teaching herself to make Macarons and man has she ever nailed it. One day I interfered a bit because I love to try to upgrade everything by adding healthy ingredients and making swaps. First I tried putting the mushroom powder in the actual cookies but that didn't work out.
Next I tried putting a scoop of mushroom powder in the filling. That was a winner. My favorite flavor was maple plus Chaga. It was quite delicious. I had a bit of the filling leftover so I also used it to top some cupcakes later.
The recipes we have been using are from Pie Crust and Pixie Dust and Sally's Baking Addiction. I also chose to swap out regular powdered sugar for Swerve. Raspberry flavor is our favorite so far, we use non-alcoholic raspberry extract. The white sprinkles come from Whole Foods.
These macarons were made by my ten-year-old daughter. She let me put my mushroom powder in the filling for some of them 😉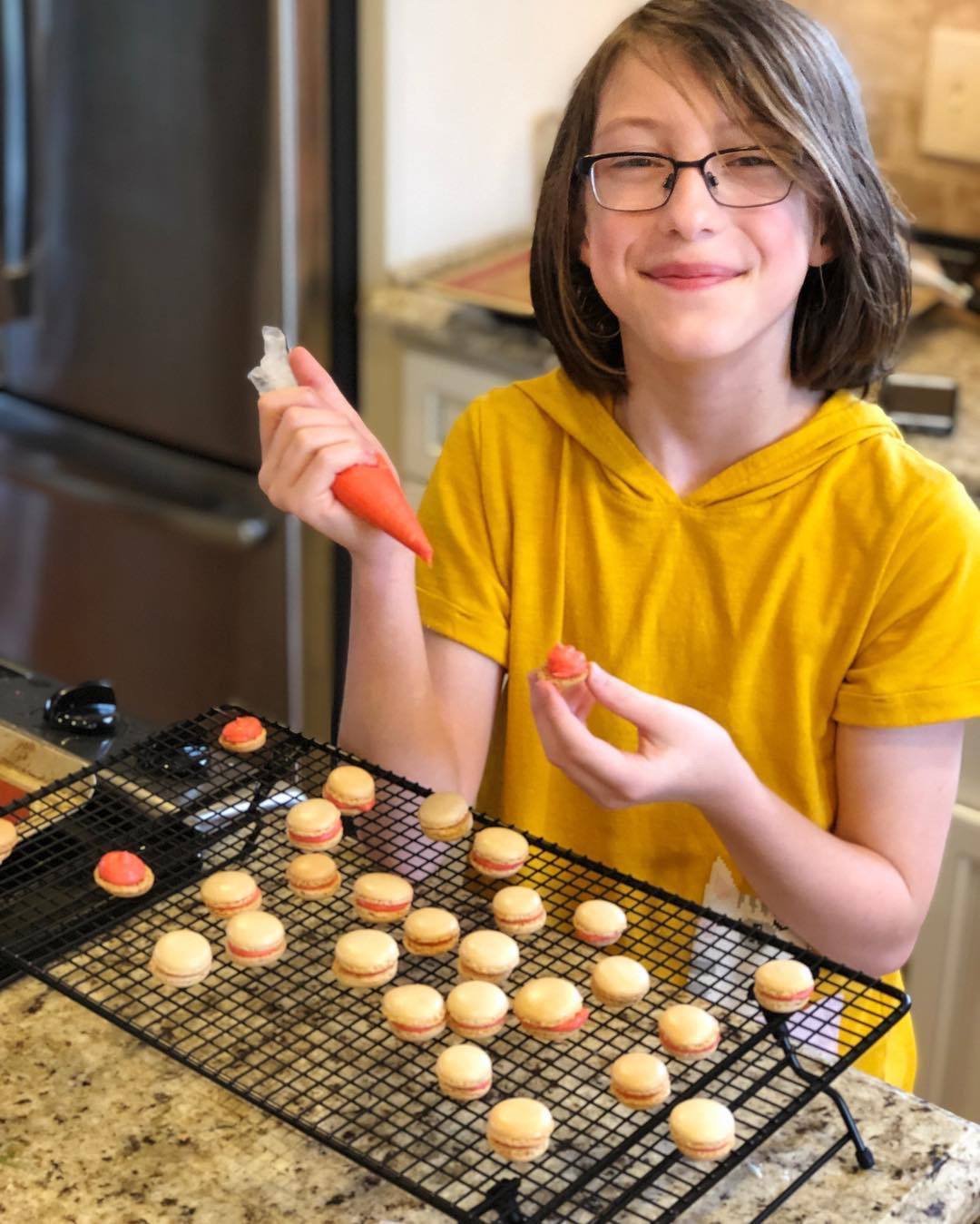 Dinner with Mushroom Powder
Feel amazing with mushroom POWER. "Like having your own personal team of superheros, ready to knock down anything that gets in your way!" Add a scoop of Thrive 6 powder to your din-din! Thrive 6 has Chaga, Cordyceps, Reishi, Maitake, Turkey Tail and Lions Mane all in one blend. Here are just a few things Thrive 6 can help:
Strengthen your immune system
Clear the fog, supercharge your focus and mental capacity.
Shield you from disease and defend against illness.
Finally get your body back in balance
Ramen Zoodles with Bunapi Mushrooms and Thrive 6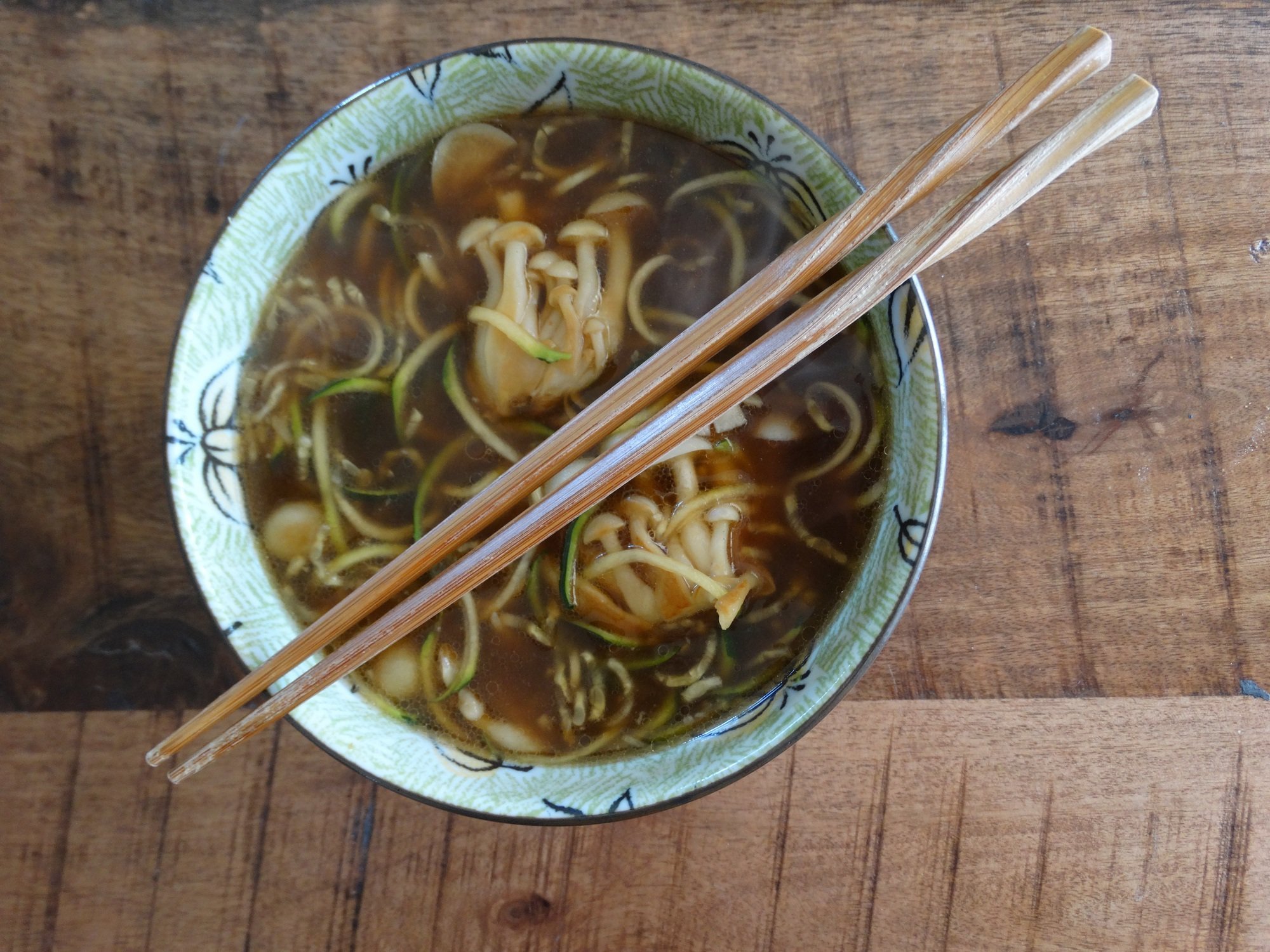 Nothing to it, take some organic bone broth, warm it well, add seasonings. Spiralize a zucchini and sauté it with the Bunapi mushrooms. Next add the miso and mushroom powder, stir well. Make sure not to boil as that will kill the goodies in the miso. Last, drop in the zoodles and sautéed mushrooms. Season with Coconut Aminos if you like. Enjoy! Oh, and if you like a bit of meat in your ramen, I recommend pork belly in this dish.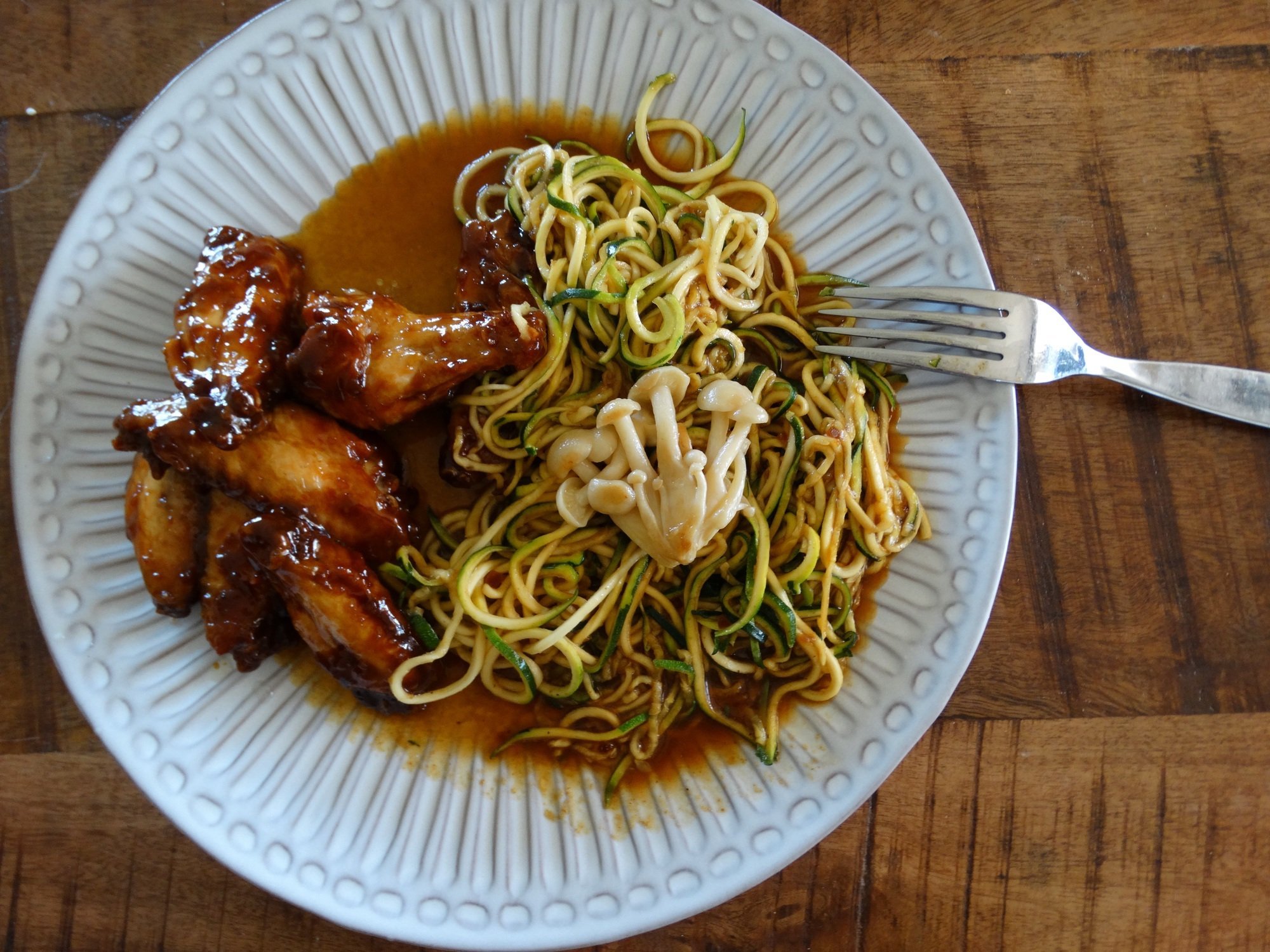 The noodles with mushroom extract pair well with my Superbowl Wings too!
Sorta Poutine with Shield Mushroom Powder
Shield Mushroom Extract is 100% Pure Turkey Tail mushroom supplement that can shield you from illness and disease, boost your immune system and help you to resist fatigue. An excellent supplement for those of us with chronic illness, like myself.
Mushroom extract dissolves nicely in gravy, and my family loves gravy! They also love meat and potatoes, so why not just throw them all together, I thought. Poutine! You may be wondering, "what is Poutine?"
Poutine is a dish made with fries, cheese curds, and hot gravy poured on top. There can be many different variations on this concept with some poutine being made with cheese sauce instead of gravy, sour cream instead of cheese and cut up veggies on top. Poutine can also be made with loads of other toppings such as mushrooms, onions, bacon, pulled pork, chili and more. (What is Poutine)
So this recipe is pretty much Poutine, but it is so easy I called it Sorta Poutine! Either way, it's the perfect mushroom powered meal.
Sorta Poutine makes for a delicious lunch the following day! My man-baby and my husband both like to take their lunches every day, so I always make extra.
On a side note
Yes, I know all about and am completely on board with zero waste and avoiding plastic. However, when the glass repeatedly doesn't come home, you downgrade. We do what we can!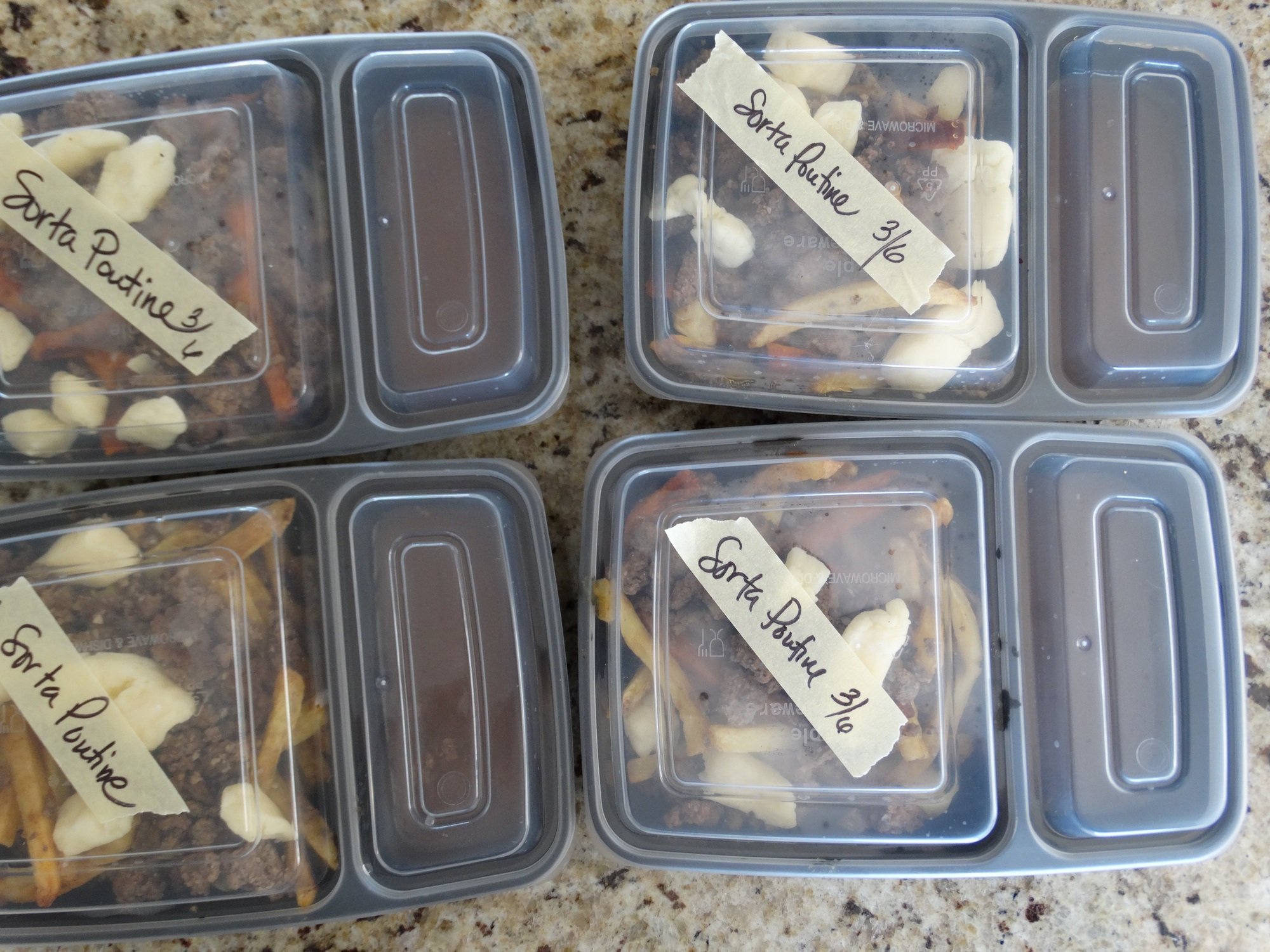 This Sorta Poutine can be made with "ready made ingredients" as a shortcut. Choose Sweet Potato Fries or regular fries.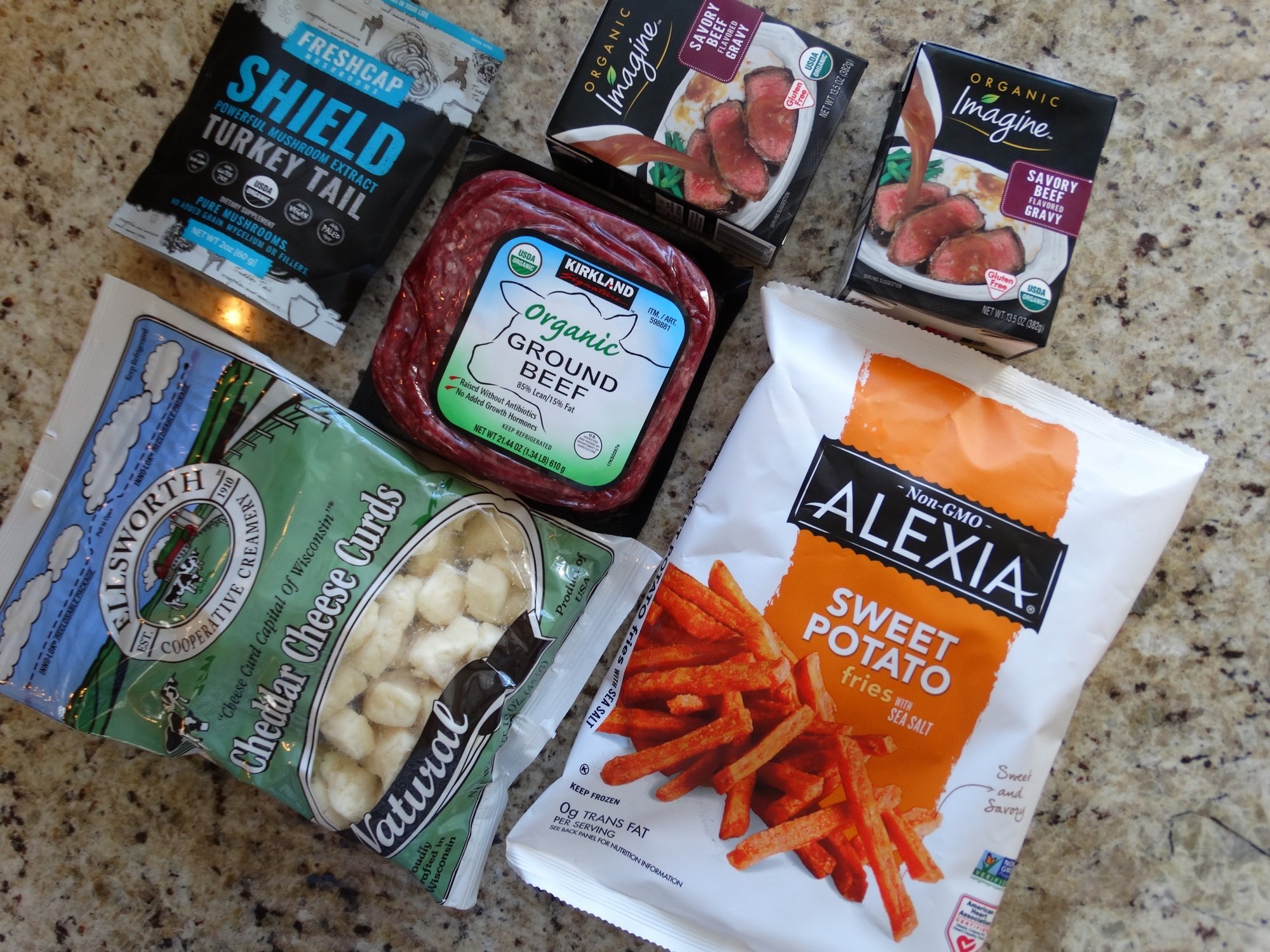 Traditional style fries are closer to authentic Poutine. When I have time, I prefer to cut my own potatoes into wedges and bake them. So yummy! For days when I'm in a rush, frozen fries saves a bit of time.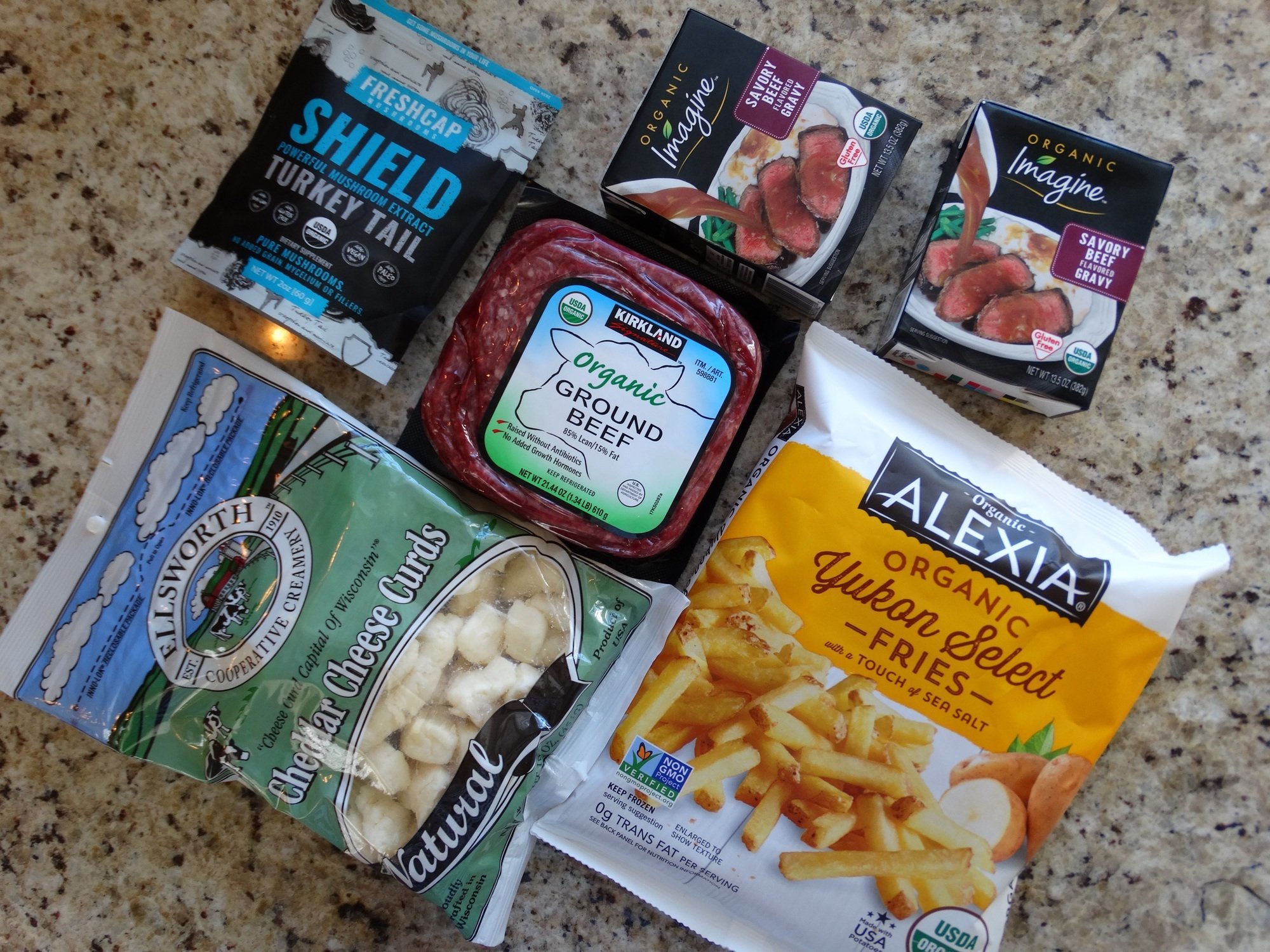 If you prefer to make everything from scratch try experimenting with various types of potato. We love purple sweet potatoes!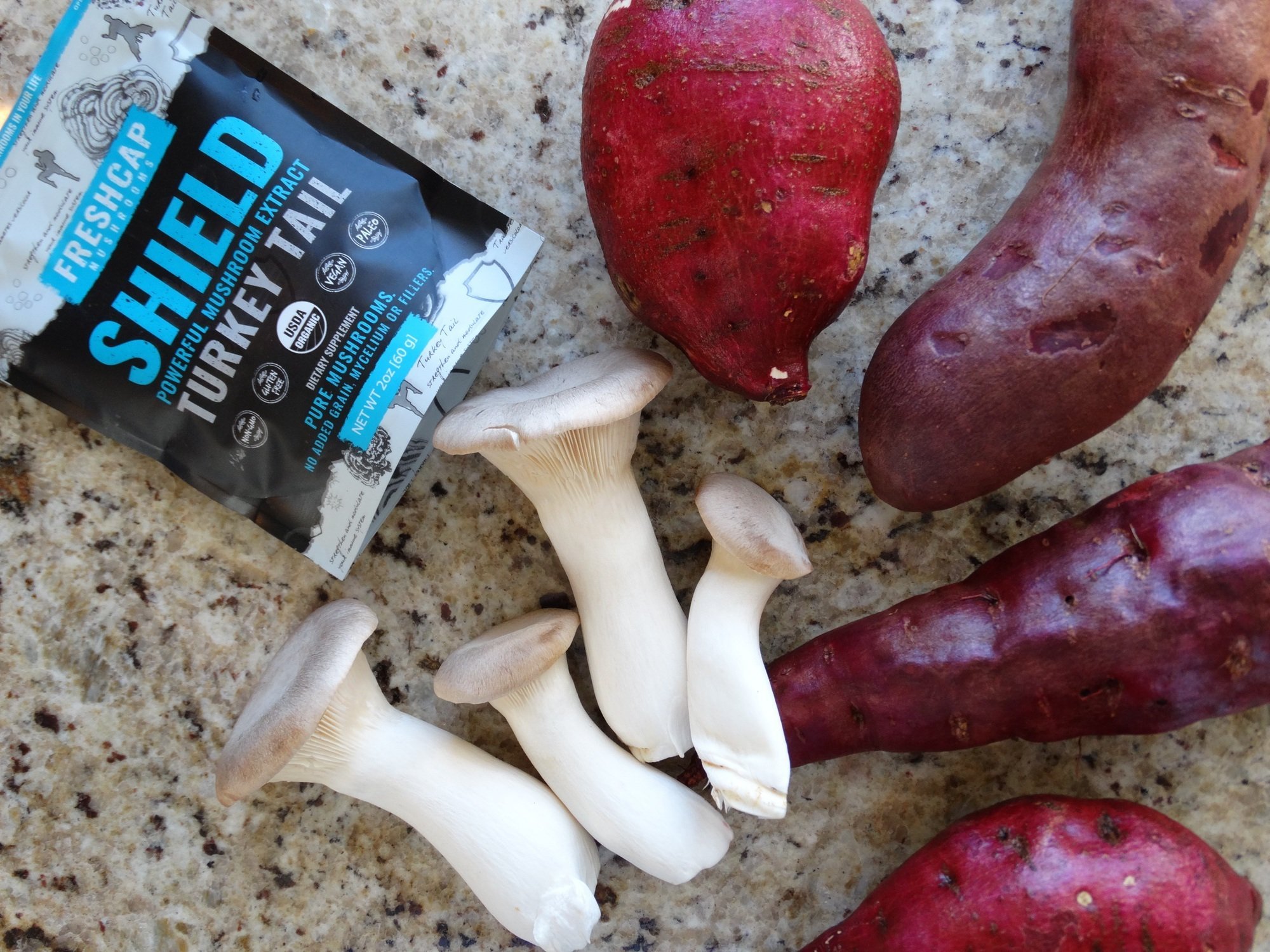 Here's how I make homemade "gravy" without using flour: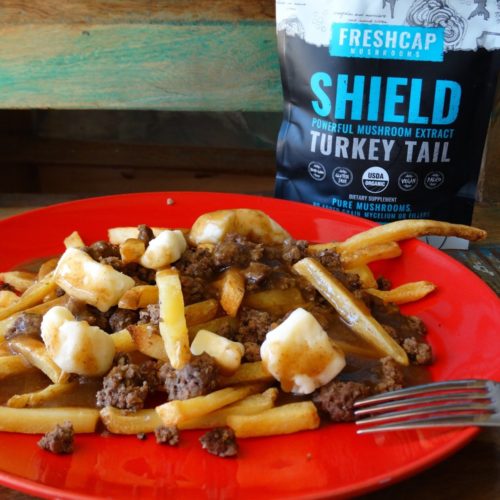 Gravy for Poutine

Gluten Free

Keto

Low Carb

Trim Healthy Mama
Mushroom gravy for your poutine dreams, yes please! Incredible that this is a superfood because it tastes like your favorite diner.
Ingredients
4

cups

bone broth

2

tablespoons

butter

1

pound

mushrooms

any variety

1

onion

sliced

Salt and Pepper to taste

2

teaspoons

mushroom extract powder
Instructions
Add stock to a pot and bring to a boil.

Reduce heat, then add onions and mushrooms (not powder).

Cover and cook until onions and mushrooms are tender.

Blend with immersion blender.

Season with S&P, add mushroom powder last.

Blend again with immersion blender.
Here's another little mushroom tip. When making a dish that calls for ground beef, grind up a cup or so of mushrooms and add to the meat mixture while cooking.
The 2015-2020 Dietary Guidelines for Americans encourages healthy dietary patterns that are low in saturated fat and sodium. Mushrooms are fat-free and low in sodium. Mushrooms' inherent umami counterbalances saltiness and allows for less salt to be used in recipes.

In addition, mushrooms are hearty and filling. Preliminary research suggests increasing intake of low-energy-dense foods (meaning few calories given the volume of food), specifically mushrooms, in place of high-energy-dense foods, like lean ground beef, can be helpful with weight management as they promote daily energy by limiting fat intake and leaving you full and satiated after a meal.(Mushroom Nutrition)
Start being Mushroom Powered
What are you waiting for? Start to fuel your days with Mushroom Powered Meals! Here are a few more suggestions:
Omelet, scrambled eggs
Soups, sauces, gravy
Casserole dishes, stew
Salad Dressing