Last Updated on July 22, 2022 by Rebecca Huff
According to several sources, mushrooms are trending in the nutrition world. For the last few years, I've been exploring the world of medicinal mushrooms for health-related purposes. Recently, I found out that mushrooms are more amazing than I ever thought possible.
First of all, mushrooms are the only source of Vitamin D you'll find in the supermarket produce section. Just a small serving of mushrooms will give you the full dietary allowance of Vitamin D per day. (That's about four-button mushrooms or one flat mushroom.) Mushrooms exposed to sunlight or UV light will soar in Vitamin D and maintain it for longer than a year! If this isn't reason enough to add mushrooms to your diet, keep reading!
Mighty medicinal mushrooms come in a variety of shapes, colors, and sizes and can be found all over the world. Over 14,000 different species of mushrooms have been identified. An incredible number of mushrooms can be found growing in North America and are used in various tinctures, mushroom extracts, and mushroom powder which are then used for their medicinal properties.
Some commonly reported benefits of medicinal mushrooms include
Improved Focus, better brainpower, and exceptional mental clarity – due to the memory-enhancing benefits of mushrooms such as Lion's Mane.
Increased energy levels – Cordyceps boosts energy by increasing the maximum rate of oxygen delivered to your cells. The impact of this increased energy may result in more movement and exercise.
Reduced stress load – Functional mushrooms are adaptogens and strengthen our ability to resist stress. Using adaptogens is like balance exercise for the body, they train our body to be prepared for stress reactions that come at us daily.
Improved immune function – Supplementing with medicinal mushrooms gives the immune system a jump start. Mushrooms contain beta-glucans that supercharge the immune system. Keeping the immune system bolstered can help prevent common illnesses like colds and flu.
More restful sleep – Along with practicing Good Sleep Hygiene, the addition of Reishi and Chaga mushrooms can help to reduce stress and anxiety as well as improving sleep quality.
My personal experience
My first medicinal mushroom supplement was Lion's Mane mixed with coffee powder which my husband and I drank for a few months. At the end of last year, my doctor recommended that I start taking a supplement in the form of a capsule that contained a blend of mushrooms.
For the last month, I have been adding Chaga powder to my coffee and tea to really target some of the problems I'd been dealing with, specifically Epstein Barr Virus. In spite of recently added stressors in my life, I am feeling my energy levels improve gradually. My Snapchat friends got regular updates 🙂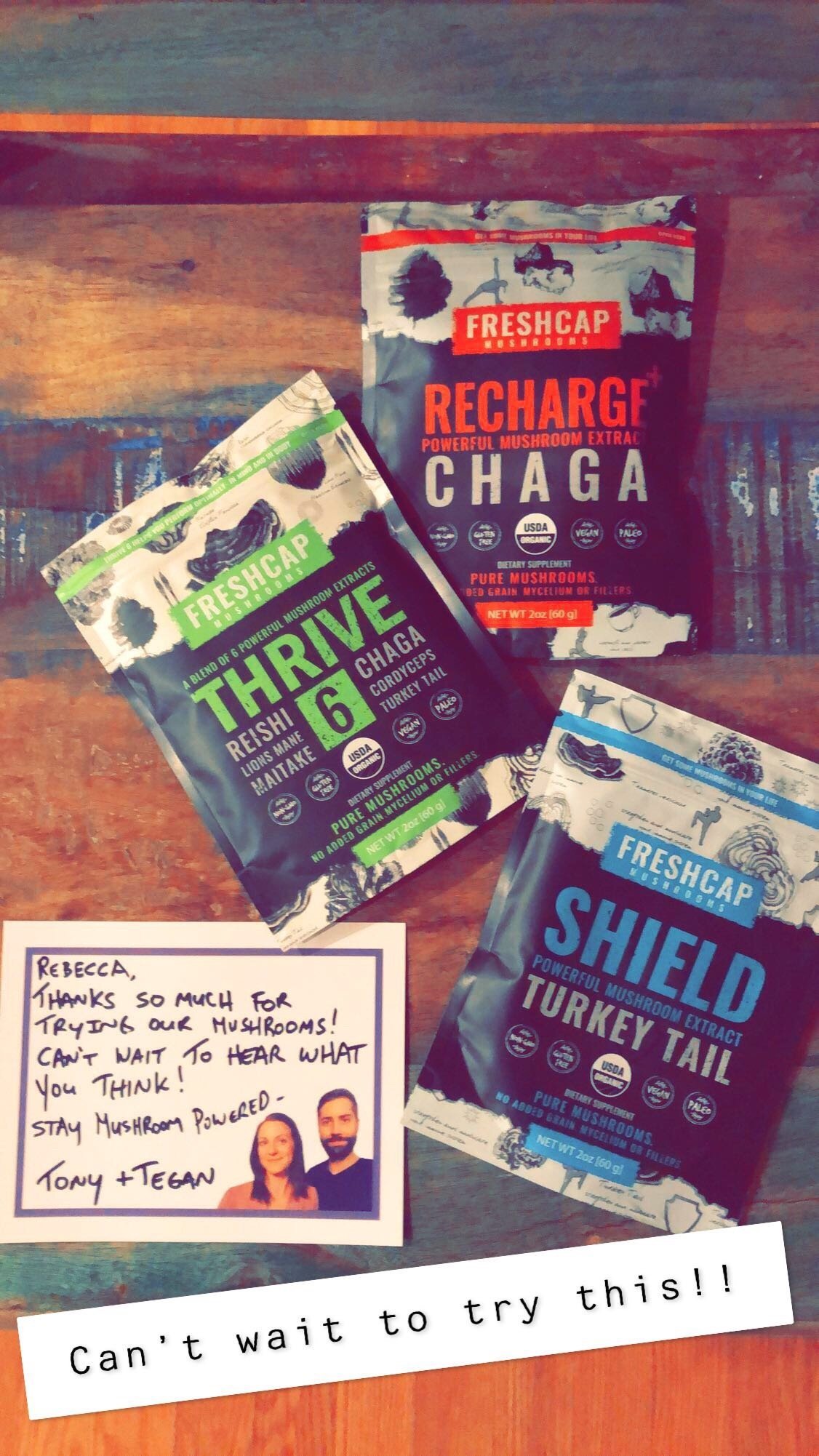 Some commonly studied types of mushrooms and their benefits include:
Chaga Mushrooms
Chaga – Mushrooms are extremely high in antioxidants and have been crowned as "the kind of medicinal mushrooms." Chaga has been said to slow down the effects of aging and detoxify our livers. Traditionally Chaga extract has been used to treat cancer as lab studies have shown it effective against human cancer cells. During chemotherapy, Chaga can help to improve immunity.
The anti-inflammatory properties in Chaga help to alleviate many degenerative diseases. In addition, Chaga contains compounds that break down LDL cholesterol and can lead to better blood pressure levels. Chaga has the ability to protect mitochondria from damage caused by free radicals.
When our immune system is overreacting Chaga is able to calm it down. This is why it is so beneficial in treating autoimmune disorders. It is said to be very beneficial for people who have reactivated Epstein Barr virus or EBV
Cordyceps Mushrooms
Cordyceps mushrooms have been used by athletes to increase endurance and stamina by helping to increase the uptake of oxygen in our blood while fighting respiratory infections.
Reishi Mushrooms
Reishi can help ease insomnia and help us make the most of our waking hours. "Known by some cultures as the "mushroom of immortality" Reishi has been used for thousands of years to increase vitality, bolster the immune system, support cardiovascular health, and promote longevity."
Turkey Tail Mushroom
This mushroom may be found in the woods on fallen trees mostly but sometimes on live trees.
Turkey Tail – Turkey tail has the potential to increase the white blood cell count in the body and preventing the further growth of cancer cells. mushrooms have shown promise in reducing the side effects of cancer treatments and may even be able to stave off the common cold and flu.
Maitake Mushroom
The health benefits of maitake mushrooms are improved when combined with shiitake. These two powerhouse mushrooms have been found to strongly stimulate immune defense reactions.
Shiitake Mushroom
You may see shiitake mushrooms in your local supermarket in the produce section. They are light brown in color and have a shape like an umbrella, they appear to have white gills on the underside. Shiitake is one of the more popular edible mushrooms.
Benefits of Shiitake mushroom include:
improved metabolism
aids in bone-building
reduces food allergies or sensitivities
improves digestion
fights cancer cells
Health Benefits of Medicinal Mushrooms
Medicinal mushrooms have been proposed as a novel therapy that may improve cancer treatment and patients' survival. Mushrooms are reported to have antimicrobial, anti-inflammatory, cardiovascular-protective, anti-diabetic, hepatoprotective, and anticancer properties. It is well-established that mushrooms are adept at immune modulation… Extensive research over the last 40 years has demonstrated that mushrooms have potent antineoplastic properties that slow growth of tumors, regulate tumor genes, decrease tumoral angioneogenesis, and increase malignant-cell phagocytosis. Additionally, evidence suggests that medicinal mushrooms may safely boost chemotherapeutic efficacy and simultaneously protect against bone marrow suppression. (source)
This article in Discover magazine suggests at least six ways mushrooms can save the world including cleaning up oil spills, nuclear meltdowns, and the Pioppino mushrooms which induced tumor regression, reversing cancer in lab mice. The species also controlled blood sugar in diabetic mice. In addition, Mycologist Paul Stamets lists 6 ways the mycelium fungus can help save the world: cleaning polluted soil, making insecticides, treating smallpox and even flu viruses.
Are mushrooms for me?
By now I'm sure you are wondering how to get started using mushrooms for health! Are you wanting more energy, enhanced memory and focus or immune support? Find out which mushroom best meets your needs: Meet the Mushroom.
Recently, I have added Freshcap Mushroom's Ultimate Mushroom Complex which is made from a blend of six incredible strains of mushrooms and can help to naturally strengthen the immune system, supercharge your focus, and promote an increase in energy. These ultra-potent extract powders can be conveniently added to drinks like coffee/ tea or to your favorite foods—the taste is mild and earthy so it blends in seamlessly without taking away from the flavor of your meal.
To help my children enjoy the benefits of Ultimate Mushroom Complex I added it to some nut butter balls I made as a dessert. It's super easy to throw together! I mixed 1 cup of nut butter, 2 tablespoons of honey, and 2 tablespoons of Ultimate Mushroom Complex, combined well and formed into balls. I coated some with chocolate, others I left plain. Then, I popped those in the fridge and watched them disappear over the next few days.
I've also added it to my salad dressings, stirred a little into my soup bowl, and continued adding it to my drinks.
Although women who are pregnant, breastfeeding, or those with low blood pressure should wait to start taking mushrooms, everyone else should be able to start taking mushrooms in moderation and build up.
I mentioned medicinal mushrooms on the Podcast episode below. Listen or watch the video.

Bottom line: Get more of these superfoods in your life, spend more time in nature, wait well, unplug, de-stress, and chill out; you only have one life to live on this Earth!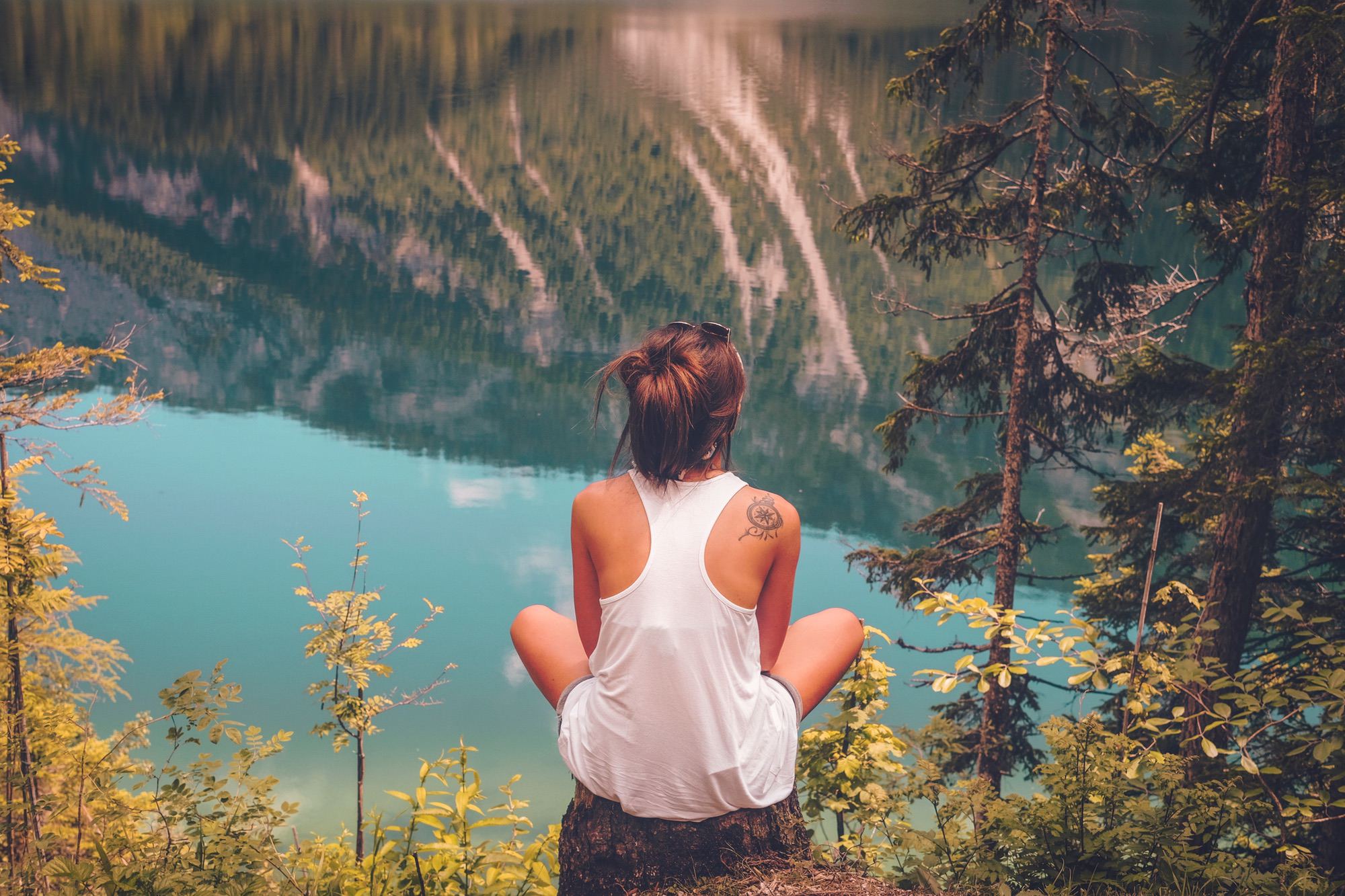 https://www.ncbi.nlm.nih.gov/pubmed/19367670
https://www.ncbi.nlm.nih.gov/pubmed/18434051