Last Updated on September 2, 2022 by Rebecca Huff
Menu planning has always been one of my favorite things to do. I love looking at new cookbooks, choosing new recipes to try and tasting food combinations I never thought of before. Having a menu plan when you go to the grocery store actually helps you to spend less and be more strategic about what you spend your hard earned money on.
I've heard that the average family eats the same dozen or so meals over and over but I don't really feel like that is true for me. My dad and my husband could both eat the same meal with the same foods for days on end and never complain. Not me, I really like variety!
Sometimes I get busy or just plain tired and I want an exciting menu plan, I just don't want to take the time to find the recipes and make up a grocery list. For those times in my life, I have emeals.com to do the work for me. All I have to do is go shopping, cook, and enjoy my delicious meal!
We love to explore other cultures by reading and listening to books, watching documentaries and dramas, preparing recipes and learning new languages. I often find meals on my menu plan that come from other cultures. This recipe was so fun and delicious that I shared it on my Snapchat story to make everyone else drool!
Part of the reason it was so much fun to eat this meal is because when we watch Kdramas where food is shown we always start drooling! We saw this meal being prepared and eaten on the drama Beautiful Gong Shim. You can learn a lot about another culture by exploring etiquette and meal rules.
My subscription is set to Paleo. I have found that it best fits the way I prefer to feed my family in that it avoids sugar, dairy, and grains. If I want my children to have a grain for a side dish or if I want to add cheese to their tacos I can easily just add it in.  As you can see in the Snapchat video above I added rice as a side dish for my children. Taking ingredients out of a recipe is harder than adding a side dish.
I have looked at the Clean Eating plan, Low Carb, Slowcooker and 30-minute meal plans which all look so delicious. There really are so many good recipes in each and every one of the menu plans, but the Paleo just works best for my personal preferences. For people following the Trim Healthy Mama weight loss plan, it's probably the best bet and easiest to tweak. It would be great if emeals had a THM menu but the authors do not allow other sites to sell menus based on their plan since they have menus own their paid membership site.
Getting in a rut with breakfast is something that I am good at! My kids will tell you I tend to make either eggs or oatmeal. Maybe I just don't want to have to think that hard in the morning. I have tried to mix things up by having soup for breakfast, we drank green smoothies for almost two years; now I can barely stand a smoothie!
With the emeals plans, there is an option to add on a breakfast and lunch menu. I have used these off and on to add some variety to my boring breakfasts. I may subscribe for a few months, then take a few months off. I just reuse my favorite recipes from the menu plans. When I need something new, I start the subscription again. This way we can enjoy healthy meals like Chicken and Plantain Waffles with Bacon or Paleo Nachos. Yum.
Sometimes I print the menu plan, highlight the recipes I plan to use, then write which meal I want to prepare on which day in my planner and I'm done! On shopping day I simply grab my list and go. I love how the list is divided per meal, so if I choose not to use one recipe I can just eliminate those items easily. *there's even a solution for when I leave my grocery list at home… keep reading!
The beauty of the Paleo plan is that I can add a side salad and for my children, I add some form of grain like bread, rice or even some potatoes.
Here are a few photos of my emeals:
Below is my plate of bacon wrapped chicken and asparagus. It was so delicious.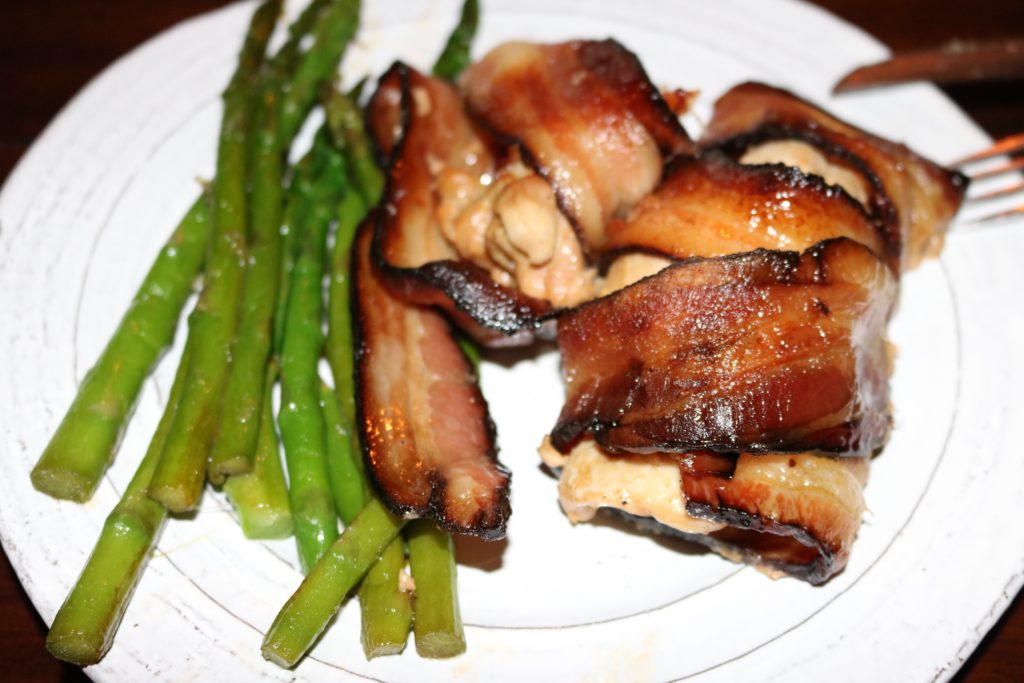 This is one emeal that I have repeated and has become a family favorite. You can see my children each had a bowl of rice along with theirs. I kept mine Paleo and S friendly (for THMers) by skipping the rice.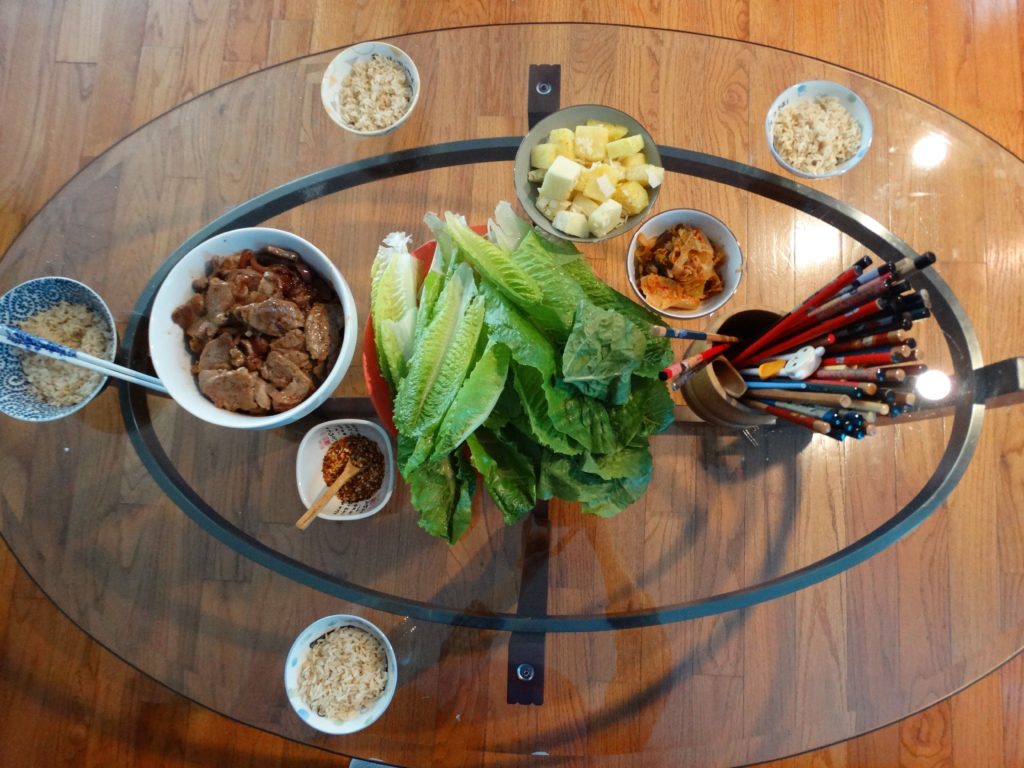 Here's one of my favorites! This is Paleo Chicken Tacos (I substituted turkey) for the healthiest Taco Tuesday!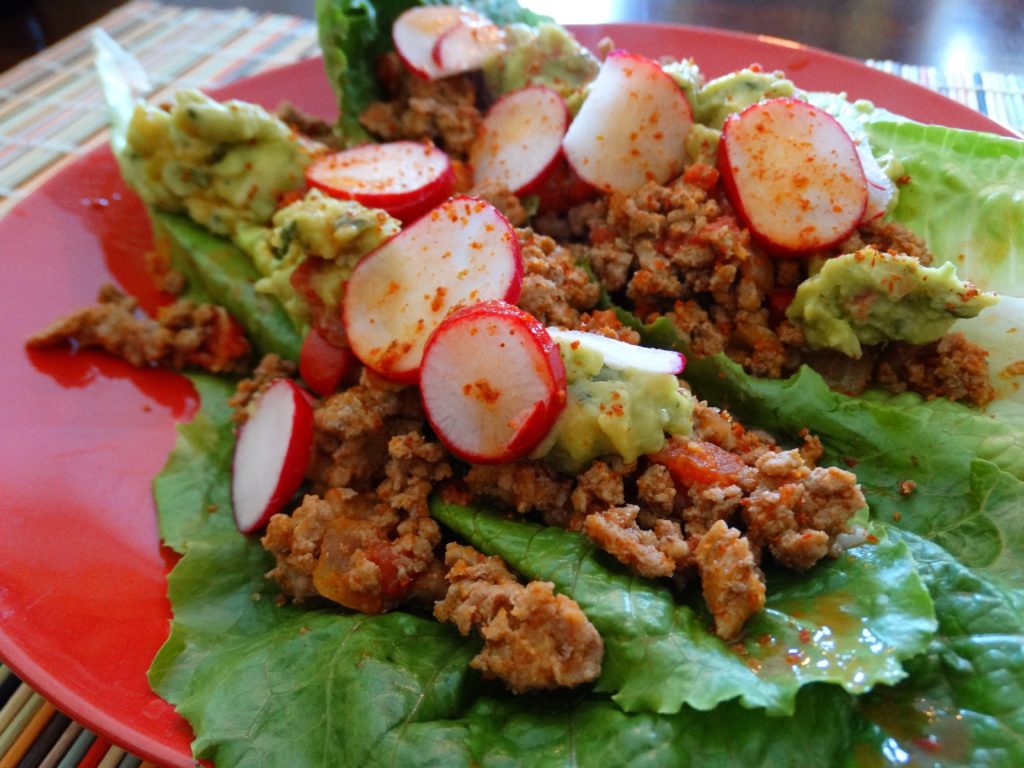 Another thing I love about emeals is that you can swap recipes out if you don't particularly like one on your menu plan. This happens to me sometimes mostly because I prefer one type of meat over another. Sometimes I just swap the meat in the recipe and it still tastes great.
I also find the app to be extremely useful. Just open up the app and check out the menu for the current and past weeks. Having the app has saved me when I left my printed list at home. Eventually, I just stopped printing the menu and list.
This is so simple, just select the recipes you want to use.
Then add the ingredients to your shopping list!
If you think you'd like a break from thinking up menu plans and compiling grocery lists you can get two weeks of free menu plans by clicking my referral link right here!