Last Updated on June 29, 2022 by Rebecca Huff
When my oldest son was in kindergarten, I began searching for ways to improve his behavior and help him do better on tests. In addition to changes in his diet, I also began to filter the fluoride out of our drinking water. Several of our relatives thought I had lost my mind. One challenged me with, "if Dentists recommend it why on earth would you think it could be bad?" Well, let's see… we do all remember that doctors used to recommend smoking cigarettes, right?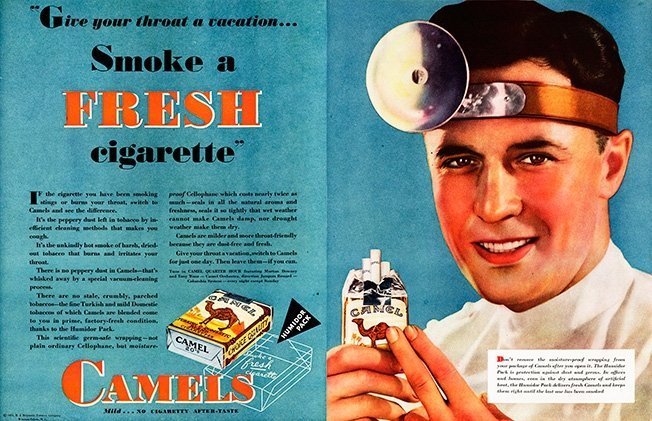 Don't be foolish, take your doctor's advice: Smoke a fresh cigarette. (quote and photo source from Adweek.com)
You see the general public was worried about a cough and sore throat that cigarettes seemed to cause. Public concern was a problem as far as sales go. So…
Executives at tobacco companies knew they had to take action to suppress the public's fears about tobacco products. "Tobacco companies asked themselves: How can we go about reassuring the public that particularly cigarettes, but also cigars and pipes, are not harmful?" Jackler told HemOnc Today. The answer was to use medical research and physicians to show the public that cigarettes were not harmful. Although the doctors in these advertisements were always actors and not real physicians, the image of the physician permeated cigarette ads for the next two and a half decades.

HemOnc Today
Maybe this seems familiar? The debate has been ongoing concerning Fluoride in our public water supply for decades.
From the FAQ section of Fluorideinfo.org
Why is fluoride listed as a contaminant in a City Water Report? Water naturally picks up minerals and other solids as it flows underground or as surface runoff. Fluoride is also added to many community water supplies. Water is thoroughly tested for many of these minerals and solids under the term "contaminants". Contaminants do not necessarily indicate a health risk. It is just a bureaucratic term used by local, state and federal agencies involved in water purity and safety. (source)
The ironic part of this statement is that the Fluoride in our water supply isn't picked up naturally as it flows underground; it is added. It's deceptive even to put that sentence there. Fluoride is ADDED to our water supply. It is a medication. A medication that is being force prescribed and the dose is not being controlled.
There is an ongoing debate about fluoride that "naturally" occurs in water versus the fluoride that is being added to our water supply.
Fluoride, as such, is never added to the water. Only silicofluorides (a hazardous waste containing many toxic pollutants) are used to artificially fluoridate water, and studies have proven that they do not effectively prevent tooth decay, they only delay it… Silicofluorides never occur naturally in nature, and they are 85 times more toxic than natural occurring calcium fluoride. Therefore, the effect on the entire body will be different.

"The claim that fluoridation is one of 'nature's experiments' is not valid because the salts put into the water supply, sodium fluoride or silicofluorides, are industrial products never found in natural water or in organisms. They are, furthermore, notoriously toxic, sufficiently so to be used as rat poison or insecticide. Calcium fluoride, on the other hand, which is the form commonly found in natural waters, is not toxic enough for such uses." — Dr. C. G. Dobbs, (Ph.D., A.R.C.S.) Bangor, Wales, England.(source)
Fluoride is not an essential nutrient, as we have been told. Fluoride is not required by the body, not even for cavity control and tooth decay does not go up when fluoridation is halted.
Children are being overdosed on fluoride and cases of fluorosis are on the rise. Dental fluorosis or "mottled enamel" is a highly common disorder, characterized by hypomineralization of tooth enamel caused by ingestion of excessive fluoride during enamel formation. … In moderate to severe fluorosis, teeth are physically damaged.
It is recommended that mothers using formula avoid fluoridated water, however not all parents get the message. Many parents unknowingly use fluoridated tap water to make baby formula. "This means that a bottle-fed baby consuming fluoridated water (0.6 – 1.2 ppm) can get up to 300 times more fluoride than a breastfed baby." (source)
Unfortunately, fluorosis isn't the only downside to being over-medicated with fluoride. Here are some other risks from Mercola.com
The Alarming Health Effects of Fluoride

The dangers that fluoride pose on your health are so severe that they far outweigh any potential benefits to your teeth. There is growing research that reveals fluoride's damaging effects to your health.

Fluoride toxicity has been linked to many health problems, such as:

Dental fluorosis, a condition where tooth enamel becomes discolored and mottled
Increased lead absorption
Collagen synthesis disruption
Poor thyroid function and thyroid disease
Arthritis, bone fractures, and bone cancer (osteosarcoma)
Dementia
Hyperactivity or lethargy
Inhibition of enzyme and antibody formation
Immune system disruption
Increased risk of cancer
Muscle disorders
Why is this happening? Since the FDA classifies Fluoride as a "drug" not a nutrient, why are two-thirds of Americans being medicated without consent? Prescriptions are meant for individuals, not for entire populations and it is even against the law for a doctor to write one prescription for multiple people.
In addition, It is illegal to dump fluoride into our lakes and rivers, but it is perfectly fine to put in our drinking water and toothpaste. (source) More and more, people are beginning to petition to get fluoride out of drinking water.
The EPA has been served with a petition that includes more than 2,500 pages of scientific documentation detailing the risks of water fluoridation to human health.

In particular, the petition notes, "the amount of fluoride now regularly consumed by millions of Americans in fluoridated areas exceeds the doses repeatedly linked to IQ loss and other neurotoxic effects." sourced from Mercola which has since been removed.
We started with Berkey Water Filters. The fluoride filters should be replaced every 1,000 gallons. Eventually, we got an under the sink system to filter our water and gave our Berkey system to our daughter living in Florida.
What if you have been drinking water with fluoride and want to detox?
Regular detoxing and cleansing can help rid your body of many unwanted toxins from our environment. Some simple yet effective ways to detox are listed below:
Stop drinking water with fluoride – use a filtration system
Exercise – sweating is a natural detox
Use Tamarind – make your own tamarind tea. I buy tamarind from our local Asian Market but if you don't have one nearby, you can buy it from Amazon here.
Regularly Consume Seaweed such as arame, bladderwrack, dulse, hijiki, kelp, Irish moss, nori (the seaweed used in sushi), and wakame. I buy this at Whole Foods, Earth Fare, and sometimes the Asian Market, I only purchase certified organic seaweed because they have to be tested and certified free of heavy metals and contaminants. (although I have reduced the amount of sushi and seaweed I eat since Fukushima)
Eat plenty of liver cleansing foods such as Cilantro, Garlic, Grapefruit, Green tea, Leafy green vegetables, Beets, Carrots, Apples, Avocados, Olive oil
Chlorella can be taken in liquid or tablet form
Please pin this post to help spread awareness about the risks of water fluoridation.
Discover how fluoride in your drinking water can impair your health and damage the environment through our infographic "Water Fluoridation: 6 Facts You Need to Know."