Podcast: Play in new window | Download
Subscribe: Apple Podcasts | Google Podcasts | RSS
Last Updated on June 29, 2022 by Rebecca Huff
Listen to the podcast in the player above, you can also subscribe on Spotify.
Recently one of my besties called me flaming mad after an encounter at the gym she'd been going to for half a year or more. After I heard the story, I was inspired to help other women avoid a similar scenario.
What happened was, my friend had recently overcome some obstacles around weight loss and avoiding the gym due to feeling self-conscious, then was basically body-shamed by her trainer.
So crazy when you think about the fact that fitness centers are there to help people get in shape, but many people who need them don't go because people might stare or judge them.
Red Flags that Signal You May Need to Fire Your Trainer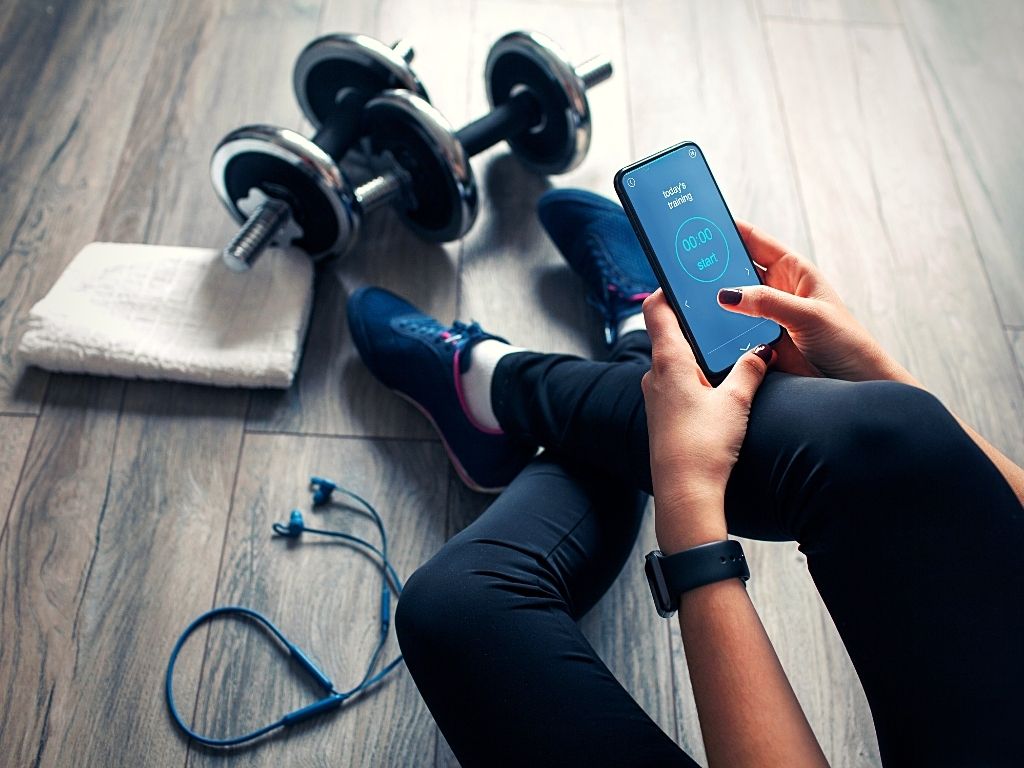 Maybe it's hard to discern between excuses and legitimate limitations. Although he seemed to discount what she told him and make the assumption that she was not willing to work hard enough to get the same results that he gets when he diets and exercises.
What Makes a Good Personal Trainer
First, there is no excuse for body shaming. Second, don't waste your time on a bad trainer. This week, we turned to Jessica Mazzucco, an NYC area certified fitness trainer and founder of the fitness platform www.theglutereceruit.com to help us with the top 10 signs you've found a good trainer (and how to avoid the bad ones!)
On today's podcast, Jessica shares insight on identifying traits that make or break the relationship with your trainer. Two signs I'd like to suggest as my own personal top priorities are good communication skills, motivating and training clients does not equate to body shaming.
A good trainer should never use body shaming as a means to make you work harder. He/she should never say something like, "give me 30 crunches to burn that flab off your gut," or "keep giving me those squats to burn the fat from your butt." Jessica says that a trainer should motivate by focusing on the positive, with statements such as, "you're so much stronger since we first began, your cardio has really improved, you're becoming more flexible." You must be empowered by your trainer, not belittled or ashamed.

Jessica Mazzucco
Let's dive into this interview. You can listen to the audio version right here on this page, on Spotify, Apple Podcasts, Amazon music and others. If you prefer to watch, the video version is on YouTube.
After you listen to this podcast, I'd love to hear what you think, take a minute to rate A Healthy Bite and leave feedback. Don't know how? Instructions are here.
10 Signs of A Good Personal Trainer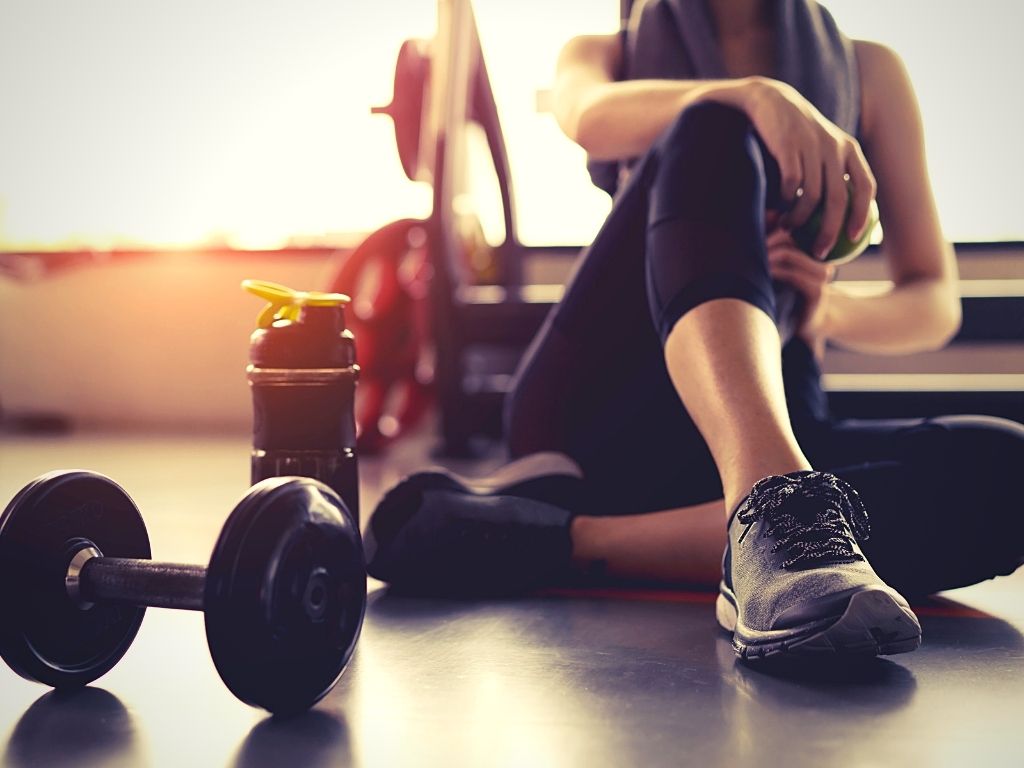 A successful personal trainer will give you an assessment on the first session to set your starting point and come up with a training plan. Jessica explains that a great personal trainer will assess a client's overall wellness, strength, and endurance levels. The fitness business is built on making progress. You have to measure where you start to know where you're going! If your trainer has studied sports medicine, they'll have some experience in Kinesiology which is the scientific study of human body movement addressing physiological, biomechanical, and psychological dynamic principles and mechanisms of movement.
They don't waste your time/give you what you pay for; in other words, they won't send you off to do warm-up exercises on your own. Potential clients are hiring their trainer because often, they don't know how to do stretches or warm-up. This is why they hired a trainer in the first place! Training courses, like Jessica's "plump your rump", contain foam rolling warm-ups and stretches. A good trainer should show you what movements to do, which muscles to focus on, explain the when and why of dynamic stretches over static stretching, and the benefits of partner stretching. If a client goes and warms up on a stationary bike but has a core-dominant training program, the time has been wasted," says Jessica.
They give you a plan to work on when you're not together – homework to complete outside of training sessions. A big red flag, according to Jessica is when your trainer doesn't assign you work outside of your sessions.
They give you their undivided attention when you're together instead of staring at their phone or chatting with other nearby trainers. "If your personal trainer is taking (non-emergency) texts and phone calls or checking social media in the middle of your session, they suck," says Jessica. Fitness professionals need to be focused full-time on their clients.
They get down to business instead of chatting with you more than they train. Your trainer should be maximizing the time with you, not gossiping or telling his/her tales of woe. It's fine to chit-chat with a trainer before the "clock starts" or after the workout has ended. The actual training time should be confined to instruction, supervision, coaching, your form and the workout you are doing. Stick to business!
They make the most of your time together and don't just coach you, they instruct you. A good trainer will make sure that multiple body parts are being used and include cardio, bodyweight resistance, free weights, bands, medicine balls, machines, etc." Finding a certified personal trainer who doesn't just follow fitness trends, but practices exercise science and holds several personal trainer certifications will instruct you on exercise physiology, not just stand beside you while you train.
They believe you when you have an existing physical limitation and don't use the motto "no pain, no gain!"
There is nothing wrong with doing crunches until you "feel the burn." Pain is your body's alarm to alert you that something is wrong: that you should, in fact, stop doing what you're doing and figure out the problem. Someone with a history of back, knee, or shoulder injuries might not need to participate in CrossFit. It's a matter of assessing and choosing the best exercises to make gains without setting you back due to injury or being overly sore.
Body Shaming to Motivate A Personal Fitness Trainer should never use body shaming as a means to motivate you into working harder on the gym floor. A great health coach will motivate by focusing on the positive, with statements such as, "you're so much stronger since we first began, your cardio has really improved, you're becoming more flexible." You must be empowered by your trainer, not belittled or ashamed.
They coach you well on the sessions you book and don't expect you to overspend on more sessions than you need. Three to five sessions per week is a good healthy lifestyle habit. Again, a skilled personal trainer is a good communicator and will not push you to book more sessions than necessary.
The best personal trainers practice what they preach! You want a trainer who practices what he/she preaches. This does not mean they need to look like an Adonis, but they should be able to run without huffing and puffing too much.
We're discussing fitness and body shaming in the Healthologist Community, join us!
Meet Jessica Mazzucco, Successful Personal Trainer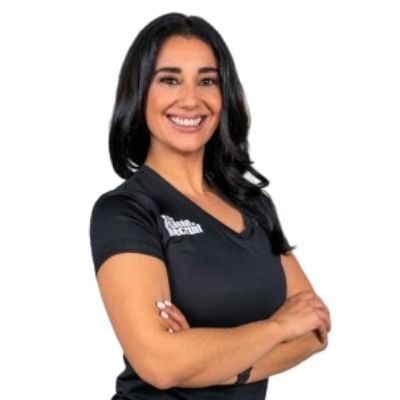 Jessica Mazzucco is an NYC area certified fitness trainer and founder of The Glute Recruit® A native New Yorker, she graduated from SUNY Plattsburgh with a Bachelor's Degree in Psychology and a Master's Degree in Social Work from Adelphi University. The latter enables her to use skills of therapeutic communication and client-centeredness to help her clients transition through change.
Jessica has over 7 years of experience in the fitness industry and a multitude of diverse fitness certifications including Jessica Mazzucco is an NYC area certified fitness trainer and founder of The Glute Recruit® A native New Yorker, she graduated from SUNY Plattsburgh with a Bachelor's Degree in Psychology and a Master's Degree in Social Work from Adelphi University.
Areas of Focus
Her specialties include butt sculpt/lift through exercise, resistance, strength and weight training for women, nutrition, muscle building, flexibility, mobility, posture enhancement, and pre and post-natal workout regimens. Jess has trained celebrities such as former MSNBC Legal Analyst Mimi Rocah and country singer Jessica Lynn.
Her personal journey
Jess has helped women worldwide achieve their fitness and lifestyle goals. She embarked on her own journey toward a healthier lifestyle in 2010 when she realized how unhealthy she was physically due to poor dietary choices and lack of exercise. Her weight gain had led her to develop low self-confidence and poor relationships with food. Healthy dietary changes and slow implementation of exercise helped Jess to become physically healthier and restore her self-esteem. This success gave her the platform to pursue a career in fitness and personal training. Her mission is to educate women on how to take control of their lives and become the healthiest versions of themselves without setting unrealistic goals of an "ideal" body type.
Transcripts with Timestamps

10 Signs of a Good Trainer with Jessica Mazzucco

[00:00:00] Announcer: Welcome to a healthy bite. You're one nibble closer to a more satisfying way of life. A healthier you and bite-sized bits of healthy motivation. Now let's dig in on the dish with Rebecca Hough.

[00:00:16] Rebecca: Hey it's Rebecca here on a healthy bite today we have a special guest, Jessica Mazzucco. She has seven-plus years of experience in the fitness industry and a bunch of certifications, she is the founder of the glute recruit, and she's going to help us today to figure out how to find the best personal trainer.

[00:00:42] And I have a really interesting story to tell you, but I want Jessica to introduce herself before we get going. Can you tell us a little bit about yourself?

[00:00:51] Jessica: Sure. My name is Jessica. I am a native New Yorker. I've been a personal trainer for over seven years now. And my specialty is working with women in terms of getting them into their best shape, their healthiest mindset, and just overall just achieving a healthier lifestyle.

[00:01:10] And it's been a passion of mine for a very long time. I actually went to school to be a social worker, graduated with my MSW, entered my own fitness journey at the time. And I just fell in love with exercise and the way I was able to transform my body and how I was able to get healthier. So right now I'm kind of combining the two of social work with a therapeutic approach and fitness to have a nice little practice here in New York.

[00:01:36] Rebecca: Very nice. Well, when I got the email , from your team, I was like, oh, Hey, I'm so excited to talk to her because right around the time that I received an email from you, something happened to one of my best friends. So she had been working on shedding some weight for a while. She'd been going to the gym on her own.

[00:01:58] She'd been tracking her macros and doing a really great job. I think she probably lost around 50 pounds on her own. It was amazing. She was just so motivated and doing such a great job. And she's like, well, if made all this progress, you know, I'm like hitting my fitness goals and she was really excited.

[00:02:16] And so she decided to hire a personal trainer. Okay. So she just went to her gym, was like, I need to, you know, get a personal trainer. And so they just put her with someone and they worked out a couple of times. Well, she made sure to tell him upfront, you know, she has seven children and she had diastasis recti. So she wasn't supposed to, her doctor actually told her not to be doing crunches or anything that can cause further separation of those muscles. So there were certain things that she couldn't really do. Even though she had told him this, he was pushing her to do crunches and pushing her to do exercises that she really wasn't comfortable with.

[00:02:57] So she kept going, but she felt a little off about it. And then one day , before she went to the gym, she had given up, sodas and sugary beverages and she decided to try. a, sparkling water and she'd never really drank a lot of sparkling water. She didn't realize, but it made her have some bloating.

[00:03:17] And so she was like, oh my goodness, my stomach looks so bad. And she went to the gym anyways and he basically body shamed her and told her like, looked at her and was like, you're not gonna make any progress. If you don't do what I tell you and be tracking and all of this, a body shamed her real bad. And then , she went through all this workout.

[00:03:40] She went home and she was just so upset, frustrated, embarrassed, and body shamed. So she stayed home for two weeks. And then she finally was like, okay, I have to go back to the gym. And she went to the gym. I'm like, I told her, I'm like, you can not let this bad trainer steal your drive. Right. [00:04:00] Like, you've got you.

[00:04:01] Can't let him make you throw away your progress. You were doing fine before him get back to the gym fire that trainer and hire a new one. So she went into the gym and she spoke with a manager, the manager put her with someone else. But I guess when the trainer heard that he had, you know, she had been reassigned.

[00:04:18] He actually texted her and said, I'm confused what you think you aren't getting. You've been given all the tools and there's absolutely no replacement for consistent hard work and following a diet as closely as possible. I haven't even seen you in two weeks as if it was her fault.

[00:04:35] Right. So I know that you're probably dying to tell me all of the things. So before we get started, I want you to pick this up. What spurred me on I'm like, I've got to talk to Jessica and I've got to get her to really educate us. We want to know what are the signs of a good personal trainer. So I know you've got to have something to say about this, this experience.

[00:05:04] Jessica: I don't even know where to begin truthfully. , cause I've been there. , I was on the other side at one point where I was a client and I had a personal trainer and I wasn't feeling well that day. And he basically was like, I don't care. You're gonna do it and suck it up. And it really. It really took a toll on my relationship with my trainer and how I perceived fitness.

[00:05:31] And it actually kind of like turned me off from fitness for a while, until I found, luckily I kind of came and found Jesus and said, you know what, not all trainers can be bad. Let me try to find another one. And I did. And I just, I feel for her because I'm sure she's not the only one that is going through this.

[00:05:49] It's just so frustrating that that trainer did that to her, especially with a diagnosis of diastasis recti, right? Like that can cause more harm than good. If not being trained by a professional, let alone that a lot of these certifications don't have , prenatal postnatal knowledge, which is why oftentimes trainers should refer out to a pelvic floor therapist.

[00:06:12] But we'll talk about that later.

[00:06:13] Rebecca: Awesome. Yeah. So you've experienced something similar to this then. Wow. I mean, so first of all, I know that one of the, one of the signs you say of a good trainer is that they will give you an assessment on the first session. Can you give us, like, tell us good versus bad what happens and what should happen?

[00:06:34] Jessica: Sure. So usually during the first session, when I'm working specifically with my clients, I'll give them a movement assessment because everybody. – body moves differently. Although we have the same body parts, we all have different movement patterns throughout the day, depending on what we do, whether we sit a lot or we're up and standing, everyone's, body's going to move differently.

[00:06:52] So it's really important to make sure that you assess the client's movement patterns. The client is he's used to moving a certain way for so long. So if they're in poor posture, they're going to think their posture is fine. And that's the importance of doing a movement assessment to make sure that.

[00:07:06] We're training the correct muscle groups that we're kind of , giving more attention to the ones that need to be strengthened so on and so forth. So an assessment will also allow for the trainer to see if the client is flexible, if they're mobile and also to where their strengths lie.

[00:07:22]Rebecca: Okay, very good advice.

[00:07:25] So your second point was about stretching and warming up. I've seen this it's happened to me as well, so, you know, no one wants to waste their time, paying a trainer who's not actually training you. So what's the pros versus cons on this situation. A lot of times they're like, okay, you get warmed up while I di-di-di do whatever, what what's, what should really be happening.

[00:07:49] Jessica: Yeah. So again, it depends on the client's goals and what their body's doing. So for some people I, you know, they'll go on the treadmill or the elliptical just to kind of warm-up. Sometimes the trainer will do that just to, although the trainer should have their fitness session set up in terms of what equipment they're going to need.

[00:08:08] The client may need that cardio warmup depending on their goals. So they have a cardio based program that would be appropriate. But if the client's goal is something involving the core, whether it's strengthening or working on specific body part, doing cardio warmup in the beginning, wouldn't be best.

[00:08:26] So what I like to do with my clients is actually do a couple of repetitions with them so they can see what my form looks like. And also that I can then step back and kind of see what they're doing. So your trainer should have you do different ranges of motion as well. So taking your arms, bringing them around, doing body, weight, squats, again, just doing a good body weight warmup before you hit the workout.

[00:08:48] But yeah, I don't advise that trainers put their clients on any kind of cardio equipment, because it does take away from the personal interaction with the client.

[00:08:57] Rebecca: Right. So like having someone do their stretches and warmups while they're just kind of standing there or doing cardio while they're just standing there, it's kind of a, almost a waste of money.

[00:09:07] Right. They could also instruct you to do that before the session begins. Right.

[00:09:13] Jessica: Yeah, absolutely. I mean, sometimes I'll tell a client, Hey, you know, warm up before you come in. And they know exactly what to do. It really depends on the communication of the trainer. If the trainer is diligent and telling their client, Hey, you need to do hip circles, use the foam roller prior to your workout, stretch this muscle a little bit longer for 30 seconds.

[00:09:31] Then that's going to be beneficial to the client in terms of their pocket and time in their session.

[00:09:36] Rebecca: Makes sense. Cool , speaking of like making the most of the time. Is what does a good trainer do as far as when you're working out with them? Is there something that they should be assigning you to do outside of your time with them?

[00:09:52] Or is it just like, they think that every workout is with them or what's, what's the best scenario?

[00:09:59] Jessica: Good question.

[00:10:00] So I often give my clients homework to do, because most of the time, the reason why they hired me is because they need accountability and they need to discipline and they won't work out the other days that I'm not with them, it is what it is.

[00:10:12] So I will give them workouts to do. I do have a fitness app that I assign all of my clients to when I prescribe their exercises with videos so they can do those things. And I can actually see , if they're completing their homework. So homework is so important, not only that, but also giving the clients homework too, do the days you're not with them.

[00:10:31] It's only going to benefit the trainer. It's going to help the trainer progress the client further towards their goals.

[00:10:37] Rebecca: Okay. Right. So is this app that you're talking about is that part of the glute recruit?

[00:10:43] Jessica: Yes, it is. It is.

[00:10:45] Rebecca: Oh, you want to tell us a little bit about that while we're at this moment? Sure.

[00:10:49] Jessica: So the glute recruit fitness app is an app, a training app that I utilize with my clients. And I also have a signature program. It's called plump your rump. And it's my eight week total body workout program with a focus on enhancing and shaping the glutes. Hence the glute recruit, so I'll prescribe that workout program through there.

[00:11:13] But for the most part, it's a tool that I use with my clients to help them stay on track. They can track their nutrition, they can track their macros, they can track their sleep as long as they have some kind of , electronic health device.

[00:11:24]Rebecca: Awesome. That's exciting.

[00:11:26]Okay. Another thing that I've seen happen and I noticed it was in your list is that, , personal trainers who do not give you their undivided attention, we obviously want to look for a trainer who's paying attention to us while we're paying them, correct?.

[00:11:42] Jessica: Yes, absolutely.

[00:11:44] Absolutely.

[00:11:45]Rebecca: What should be kind of the interaction? I mean, clearly if your trainer is looking at their phone or doing something else, then that's probably not a good sign.

[00:11:55]Jessica: It's not a good sign at all. Unless if you are engaging with a client over a conversation pertaining to what the client is interested in, I do it all the time with my clients. They'll say, you know, Hey girl, what happened on Bravo this week? The girl, let me show you this outfit. I pull it up right there. You know what I mean? Sometimes we got to catch up. But, um, other than that, unless if it's some kind of benefit for the client in terms of engaging conversation, Or you're using your phone as a stopwatch, but the client can see that the timer is on it to get a watch.

[00:12:25] There's really no reason why the trainer should be on the phone. Right. It's distracting. And not only to, if a trainer is on their phone, all you need is one second for the client to get injured. Just one second.

[00:12:37] Rebecca: Yeah. Your trainer definitely needs to keep their eyes on what you're doing and make sure you're practicing proper form and all of that.

[00:12:44] Jessica: Absolutely.

[00:12:45] Rebecca: Good deal. So you mentioned this , and I get it because I've worked with a trainer who I became kind of friends with. Actually, I think we were even friends before she was my trainer , and I know you can get chatty, but sometimes it's like, okay, a good trainer is really going to get down to business. Right,

[00:13:03] Jessica: ] right. Yes, absolutely. It's so easy to get lost in chat with your trainer because. You're developing a good relationship with them and exercise produces endorphins and all of these feelings. And sometimes exercise can trigger, you know, different emotions that maybe you've put to the side. And can really starts to come up out….

[00:13:21] And it's happened to me where I've worked out with my trainer and I was going through something. I just felt the need to share with my trainer and it takes away from your session. So if you really feel like you have a lot of stuff going on, maybe hire a therapist, your trainer is not your therapist.

[00:13:40] Rebecca: Talk to your hairstylist. Yeah. They typically listen to all of that stuff. So, yeah.

[00:13:47]Jessica: [00:13:47] They can't hear you because they have the blow dryer,

[00:13:50] Rebecca: so they don't mind if you're sitting there complaining. Uh, yeah. So I definitely, if I'm paying a trainer, I want to stick to business. So that's, that's really important.

[00:14:01] What about the saying. And I know I've heard trainers say this but what about no pain? No gain.

[00:14:10] Jessica: That one's been around for a long time. Yeah, it's something that's floated around the fitness industry for years. And it's really deters people from engaging in the healthy exercise regimen.

[00:14:22] I think people forget that exercise is healthy movement for the body. There's so many things that happen outside when you exercise, but we don't focus on what goes on the inside. Exercise helps continue the longevity of our bodies for the lifespan. Right. It keeps our organs nice and strong. It keeps our heart pumping blood.

[00:14:40] So thinking about that, instead of saying, you know, no pain, no gain you're you need to be sore in order to get a good workout. It's going to keep you motivated. It's going to keep the client much longer engaged in the workout and incorporating exercise into their, into their lifestyle. I don't believe in no pain, no gain.

[00:14:59] And also too, when you're sore, it's counterproductive to what you're doing. It's going to throw you back even further. So instead of you being able to work out four to five times a week, you're really going to only be able to work out two to three times a week because you're sore totally counterproductive.

[00:15:16] Rebecca: ] And in some circumstances, for example, my friend, when she was doing crunches pain is definitely not going to equal gain.

[00:15:22]Jessica: Absolutely.

[00:15:23] Rebecca: Right when you have physical limitations, I think no pain, no gain is not really a great motto.

[00:15:31] Jessica: No, and, and some, and for the most part pain is a signal that your body is sending.

[00:15:35] And it's saying, whoa, we pushed it too fast. Or we should not be doing this. We need to slow down until we reached that point.

[00:15:43] Rebecca: And speaking of that, what about body shaming? And I know a lot of people would be like, oh, come on, you gotta burn that flab off or whatever. So what, what should your trainer be saying to motivate you?

[00:15:54] And what should they not be saying?

[00:15:55]Jessica: So it's so hard to change a client's mindset when they're so focused on the way that they look and what society deems as being fit and in shape in order to be fit and in shape, you have to have a six pack.

[00:16:09] You have to be super skinny. You have to show your muscles and. Now we have a new wave of natural beauty and embracing our bodies and taking away from the physicality of our body. So your trainers should really be focusing on your progressions in terms of strength. When you constantly chase aesthetics, you're not going to get to where you want to be.

[00:16:28] But if you chase health, you're going to be in it for the long run. So I love to compliment my clients on how strong they are. If they made progression from one session to the next, maybe they can hold their plank for five seconds longer. Even that five seconds is big progression. Again, you want to highlight the strengths of the client and not focus on the body so much.

[00:16:48] Rebecca: Wow. I mean, that just seems like common sense, but it's something I feel like maybe a lot of trainers aren't doing is, you know, focusing on the strength progression, or the gaining endurance and stamina, as opposed to, you know, looks like you had a little too much to eat or you didn't track your macros.

[00:17:07] I mean, that's just so degrading and. I just don't think it has any place in, you know, just something to say to someone is it's just really ugly.

[00:17:17]Jessica: And again, it also, it greatly affects the relationship that the client has with food because food plays a big part of being healthy and exercise, right. And exercise.

[00:17:27] It could totally deter someone from engaging in something that's going to help keep them healthier and longer and alive longer. So I really wish we could just take away. That body shaming.

[00:17:39] Rebecca: Yeah. I mean, I do think that as a society, we're making a little bit of progress. Like people are at least talking about it.

[00:17:46] I still feel like we have a waste.

[00:17:48] Jessica: Did you see Dove's new commercial? It's it's like this new filter commercial. So basically they're addressing younger women and telling them that you don't need to have a filter on Instagram. To be beautiful, just be natural, be true to who you are. And we see celebrities like Lizzo, who exercises.

[00:18:05] She posts herself, herself, exercising. She's posting her foods, but she has a beautiful woman and she embraces her curves and she embraces her body. And that's something that we can all learn from is that we need self-confidence.

[00:18:21] Rebecca: Yeah. And just making it okay to be who you are. I mean, I don't know if it's, you know, as you get older, I think that's something that women do start to settle into is like, okay, this is me, but it would be really nice to have that mentality.

[00:18:36] In our younger years. I remember being five pounds overweight in my twenties and thinking I can't wear a bikini. And I mean, I was like 125 . It's ridiculous that I ever had that mindset. I'm 50 years old. I'm not going to be 125. So that's just how it is. But yeah, it would be nice and hopefully we can continue to work and make progress with people like you out, encouraging us and, you know, helping us with these kind of mindset issues.

[00:19:02] It really is refreshing..

[00:19:04] Jessica: Absolutely. I look forward to continuing the movement.

[00:19:08]Rebecca: Yes. I'm. I'm glad that you're out there in our corner. So, , Let's see, I think we're around sign number nine, about booking sessions. What's the average amount of sessions that people would need to have a trainer?

[00:19:22] I know everyone has like, kind of different needs, but if you maybe book just one session a week, it should your trainer be okay with that or should there be more, how does it work?

[00:19:32] Jessica: So it depends the client's goals and their budget. To be completely honest every trainer has a different price point in terms of their field of expertise.

[00:19:40] You have some trainers that just went for a certification, and then you have some trainers that have a four year or even a master's degree in exercise science. So you really have to look at the credentials of your trainer, uh, when it comes to the price point. , in regards to sessions, the more you train, the more results you're going to see.

[00:19:59] So training once a week is probably not optimal in terms of, of how close you want to get to your results, how fast , but. I suggest at least once, if you can do a personal trainer once a week or even once a month to sit down and talk to somebody about what, what your goals are, what your strengths weaknesses are.

[00:20:18] If they're certified in nutrition, that's a better bang for your buck because they can help you in that department as well. So again, if you could do two, two times a week, that would be great. And then the trainer of course, should give you homework to do the other days that you're not with them, but at least once a month to meet with the trainer.

[00:20:35] Talk about what you're doing and how you can acclimate your schedule into incorporating this new regimen into your lifestyle.

[00:20:44] Rebecca: If you are on a tight budget and you explain to your trainer, you know, I would like to have one session with you and then I'll work out a couple of times on my own during the week.

[00:20:53] That should be okay.

[00:20:54] Jessica: If someone said that to me, I would say, I will do whatever I can in my power to help you achieve your goals. For me, it's about helping the client to live a healthier lifestyle. It's not about the money.

[00:21:05] Rebecca: That's awesome. Well, it would be really nice if all trainers had such a wonderful and outlook and mindset.

[00:21:11] So , as far as trainers go, when you are with your trainer, this is something that I feel like can kind of go either way. Cause we don't really want to judge people on their looks and someone can. Not look a certain way and still be healthy, but we do want our personal trainers to practice what they preach.

[00:21:34] Right. So they should at least look somewhat fit. Am I right?

[00:21:40] Jessica: Yes. I think staying away from, you know, the words like chiseled and I guess it depends what your definition of fit is. Definition of fit for me is. Being able to run in case if there's an emergency, if something, if something happens over here and I need to pick up my dog, even though I'm having one and run I'm in shape, I feel like I am fit for life.

[00:22:03] Right. So if you're a trainer is huffing and puffing, while they're doing their warmup exercises with you, then that's a sign that you may need a new trainer.

[00:22:11] And it's so funny because I actually was out to lunch today with a girlfriend of mine and I hear a client go, Hey, Jess. And I turned around and my client's there. So she's kind of looking on my plate. They God I had, a big old kale salad with something. carrots. So I feel, thank you, Jesus. I said, look, I'm practicing what I'm preaching.

[00:22:27] She said, I'm going to get the same thing. So listen, we're all humans at the end of the day, but you want to make sure that your trainers in, in good shape, because again, we are the walking billboards for our, our businesses and you know, most people want to train with the people that they want to look like.

[00:22:43] You see someone, oh, I want that body or, wow. I want to look like that person. Or I want to be able to hold my plank for this long. And that's usually how clients go to their trainers. They are inspired by them, but it's important to make sure that you kind of do your own assessment on your trainer too.

[00:22:58] It's definitely, really just as important because it's a working relationship.

[00:23:03] Rebecca: So in the circumstance where someone finds that, you know , their personal trainer that they've hired,, they're not exactly hitting the mark on a lot of these. How do they go about. I hate to say firing their trainer. Cause it seems so harsh, but sometimes you got to fire a bad trainer, especially if they're body shaming you.

[00:23:22] So what, how do we do that without it being a confrontation without feeling awkward and uncomfortable? Because in the example that I gave at the beginning of our podcast, where my friend , went in and she approached the manager, the trainer actually kind of confronted her via text, of course, but still it made it very awkward and she had her next time going to the gym was very uncomfortable because she felt like, oh, I'm going to have to run in him.

[00:23:50] I don't think he ever understood necessarily that he had body shamed her. So how do we move forward? Like if someone needs to fire their trainer, how what's a. What kind of tips do you have?

[00:24:06] Jessica: Good way to do it without feeling retaliated? Right?

[00:24:10] Rebecca: Yeah. I mean, I'm sure she wanted to say, look, that's not cool.

[00:24:13] You don't need to do that to people. And I personally feel like someone like that really does need to be educated. You can't talk to people like that. You can't make someone who has a physical limitation do exercises that could hurt them. So sometimes we do need to let go of a trainer and find a new one.

[00:24:32] Jessica: Yeah, absolutely. Look at the end of the day it's business. So, you know, I know, I understand that people form a personal relationship, but you're paying for a service you're paying for X, Y, and Z. And you have expectations that your client should have laid out to you in the beginning, that client is not meeting those expectations, have an open and honest conversation with your trainer, sit down with them and explain to them how they made you feel.

[00:24:54] And see if they're understanding to that degree. If they're not, then you can just always say, you know what? I just don't think this is the best, the best fit for us. You know, I feel like my goals are not being attained to X, Y, and Z, and just end the relationship I've been there. I've been there. It takes a lot of courage to stand up to your trainer, but they're human at the end of the day, too.

[00:25:15] And if they are a good trainer, they will be understanding.

[00:25:20] Rebecca: Good advice. So if someone wanted to work with you, Jessica, I know you said you do virtual workouts and you have the glute recruit. Can you tell us if someone's listening? They're like, I love her mindset. I want to work with her. What do they do?

[00:25:34] Jessica: Sure. So you can find me on Instagram. My handle is @thegluterecruit, or you can find me online on my website, www.thegluterecruit.com and you can submit an inquiry form right on my website.

[00:25:49] Rebecca: Nice. Awesome. Well, thank you so much for being here. I've learned so much, and I know that listening to these 10 signs of a good or bad trainer is going to help so many [00:26:00] women.

[00:26:00] So I really appreciate you taking the time to be with us today.

[00:26:02] Jessica: Thank you so much for having me today, Rebecca.

[00:26:06]Announcer: Thanks for listening, please rate and review so other people can learn about this podcast. Find out more about sleep hygiene, eating healthy, tasty recipes, zero waste lifestyle, and lots more on thatorganicmom.com. Help us spread the word. Be blessed and stay healthy.