Nourish your skin with natural ingredients
Save yourself a lot of time and money by creating a spa environment at home!
Set up your spa environment with:
Before you get started, throw some hot towels in the dryer, if you have someone to bring them to you while they are still hot you won't regret it! However, if you don't want to be disturbed, just take the hot towel out of the dryer and roll it up tightly then wrap in a second towel. Mine usually stays warm until I get out of the tub this way.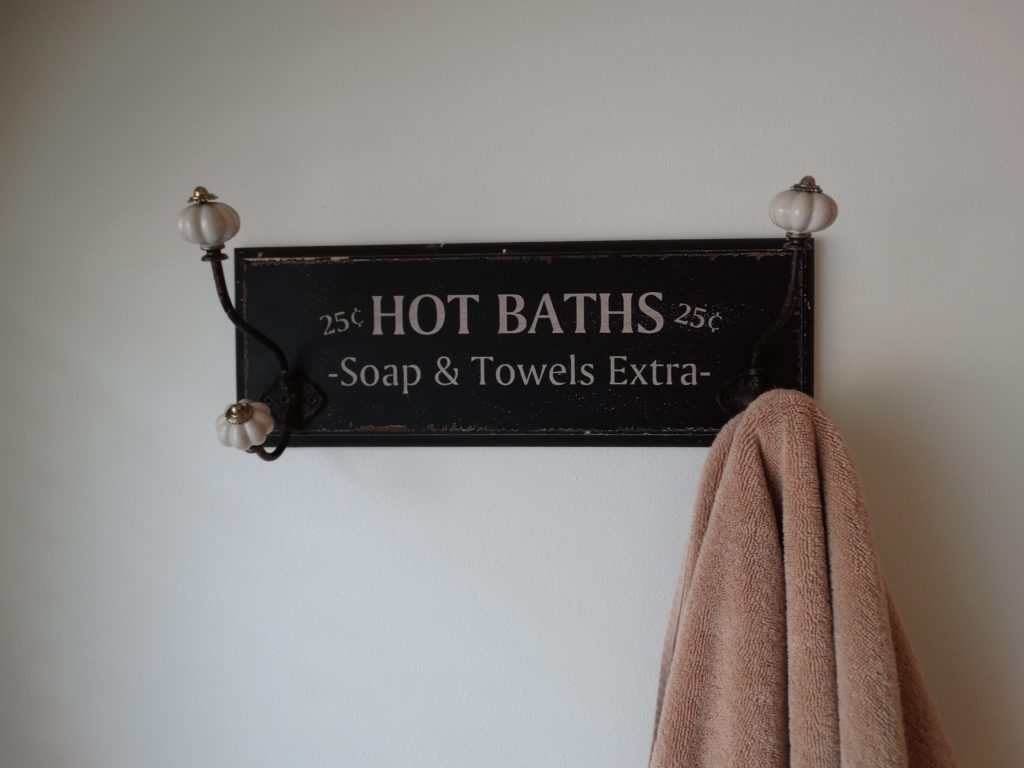 I also like to keep the clutter out of my bathroom so that I can relax my mind without thinking of all the cleaning up I could be doing, or the papers I could be grading, etc.  So keep your bathroom cleared so you can clear your mind!
Consider using simple natural plant or animal-based oils to maintain the natural moisture balance in your skin. This is because natural oils are very similar to the oils in human skin and are non-irritating, won't clog your pores, and are so nourishing. They can complete the job of keeping your skincare regime simple while the cost is a drop in the bucket compared to the price of commercial toxic chemical brands.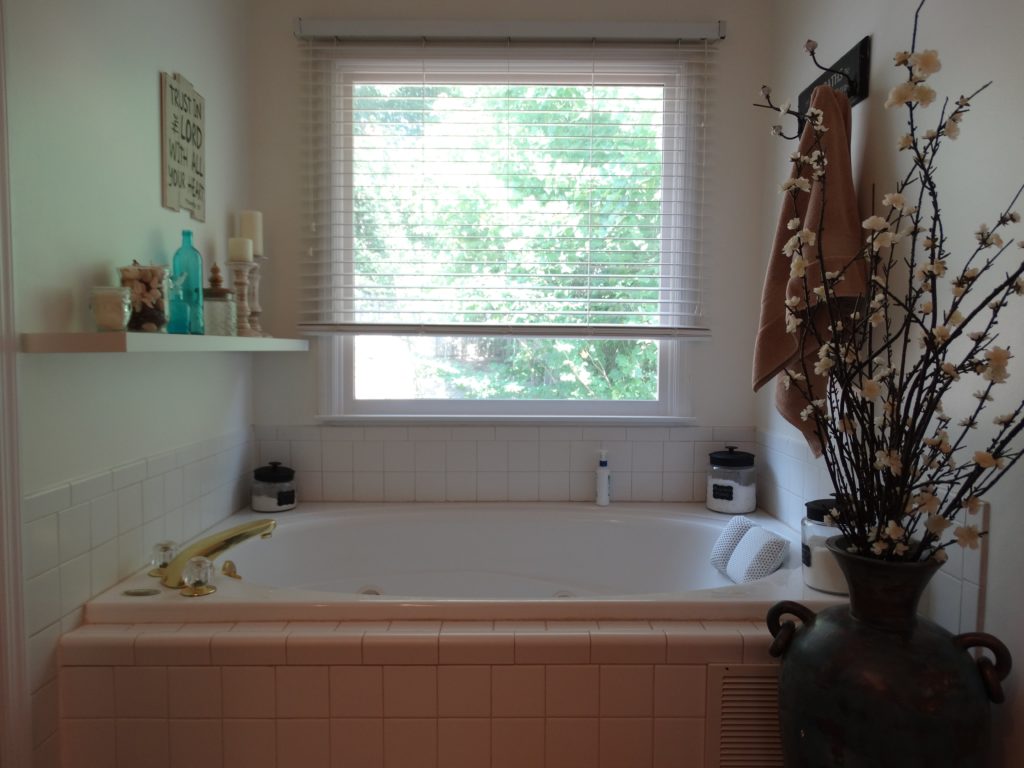 When you use skincare products with ingredients you cannot pronounce you are basically putting a band-aid on whatever skin condition you have. It is a temporary fix. While organic products tend to be much more straightforward. Plant-based ingredients are higher in vitamins and trace elements of fatty acids that nourish and protect your beautiful skin!
Let's start planning your at-home spa day!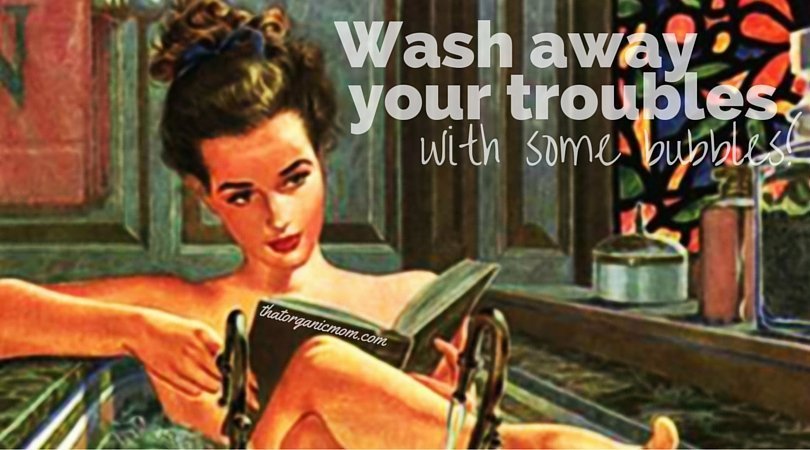 Bathe using pure products
Epsom salts
magnesium bath flakes
bentonite clay
French Green Clay absorbs oils, toxic substances, and impurities from the skin, also great for helping to clear blemishes.
ginger powder (I love to mix it with baking soda and Epsom salts and pour in my bath)
baking soda
citric acid (we use it to make bath bombs)
rose petals: red and pink (looks really beautiful in bath bombs, potpourri mixes, infused in oils and in bath detox blends)
sunflower petals (perfect for soaps, candles, bath blends, and potpourri)
rose powder
calendula flowers (soothing on the skin, makes a great balm)
rosewater
powdered milk – I know this sounds crazy but a powdered milk bath alone will make your skin feel so smooth and honestly, nothing beats a milk bath if you get too much sun!
honey – Now I know you don't want to waste your nice local honey in a bath, so just buy some inexpensive honey from Costco or Sams, even Trader Joe's has a fairly inexpensive canister of honey. Adding honey to your bath will moisturize, soften, and soothe dry skin like nothing you have ever tried before.  Because honey contains natural antioxidant properties, it will help detox your body while you soak.
Moisturizers, oils and butters
for any skin type:
almond oil
avocado oil
cocoa butter
emu oil
jojoba oil
magnesium oil (can significantly improve magnesium levels)
shea butter
mango butter
For aging skin, especially:
avocado oil
evening primrose oil
For younger skin, especially:
apricot kernel oil (also excellent for babies, and makes a great massage oil)
coconut oil
hemp seed oil
wheat germ oil
olive oil
Exfoliants
use once a week
sugar
brown sugar
salt
ground oatmeal
ground coffee beans
Essential oils
These can be added to Epsom salts, straight into the bathwater, mixed with carrier oils, lotions, added to bath bombs and bath blends, can be diffused and lots more! Always use caution when using essential oils. I recommend getting a reference book to see which oils can be used directly on the skin and which ones must be diluted.
Normal skin:
Lavender
Roman chamomile
Jasmine
neroli
ylang ylang
frankincense (I put it on age spots to help fade them)
sandalwood
patchouli
Oily Skin
Lavender
orange
lemon
neroli
cypress
ylang ylang
bergamot
Sensitive Skin
geranium
German chamomile
lavender
Dry skin (or aging skin)
geranium
lavender
German chamomile
Roman chamomile
clary sage
myrrh
Excellent for Hair Care
Rosemary Herbal oil
Peppermint Essential Oil
Rosemary Oil
Oat Straw (available at Bulk Herb Store and Mountain Rose Herbs (see below)
Jojoba oil (helps with damaged ends)
Coconut oil (helps with dry scalp)
Apple Cider Vinegar, as a rinse (this helps to balance the pH levels of your scalp)
Olive oil for hot oil treatment and to soften your hair (has even been used to treat lice!)
AVOID in all beauty products and cosmetics:
Cocamidopropyl betaine
color
Perfumes and fragrances
Sodium lauryl sulfate
artificial colors like Blue and lake
To see for yourself how toxic or safe your bubble bath, lotions, and cosmetics are just go to EWG's Skin Deep Database.
A side note on obtaining spa products:
Many excellent ingredients can also be purchased through the Bulk Herb Store or Mountain Rose Herbs. I have used both companies and obtained high-quality ingredients. My best friend is a rep for Young Living essential oils; I use a blend called Thieves for sanitizing my spa tub, bath pillow, and manicure tools. I use a few DoTerra brand essential oils such as Deep Blue for soaking tired muscles and Citrus Bliss for a pick me up.   You can find these blends here.
I am not limited to any particular brand of essential oils. I use a wide variety of brands.  Some of my favorites are blends from Aura Cacia are Chill Pill and Pillow Potion which I talked about in my series about getting enough sleep. I use Now brand lavender essential oil in my laundry room (this is an outdated tour of my laundry room, I've updated everything since then! I need to do a new video!)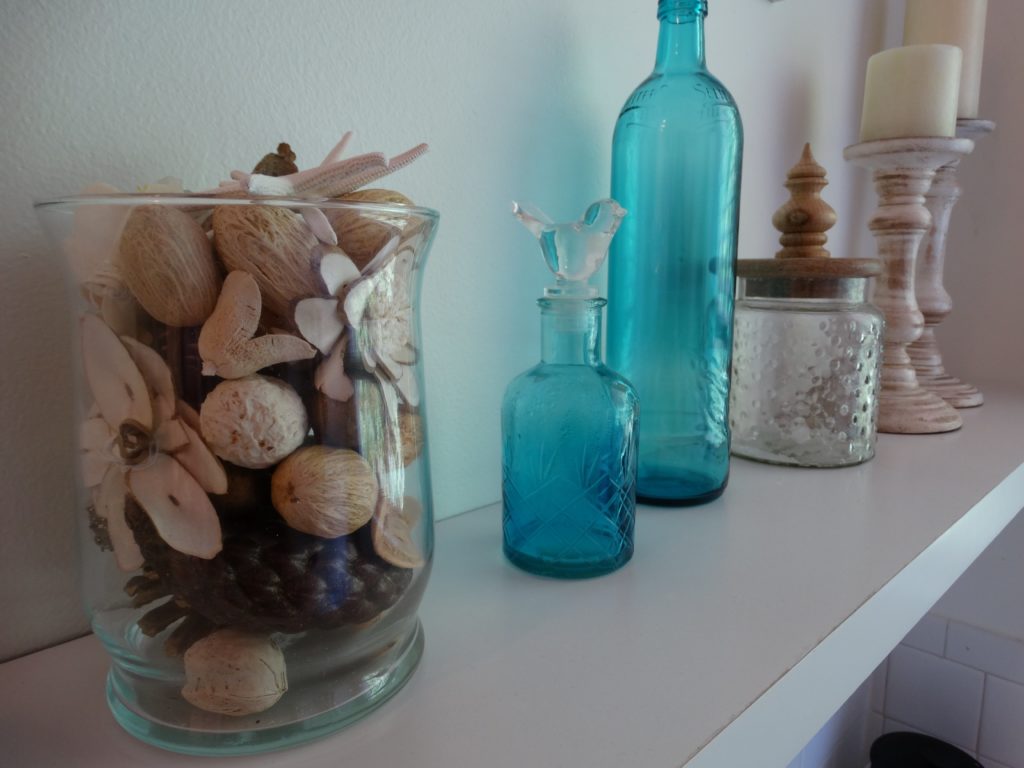 Spa Recipes
Soft Hand Scrub
4 parts salt
1 part oil (I prefer avocado oil)
Mix together and keep in a jar near the bathroom sink. Wash hands thoroughly then use the scrub, rinse and pat dry.
(click the link above to see how to make it!)
Easy Body Scrub:
Combine 1 cup brown sugar, 1 cup oatmeal, and 1 cup avocado or olive oil together. Apply to dry skin and rinse off in the shower. Always be careful when using oils in the shower as the tub or shower can become slippery!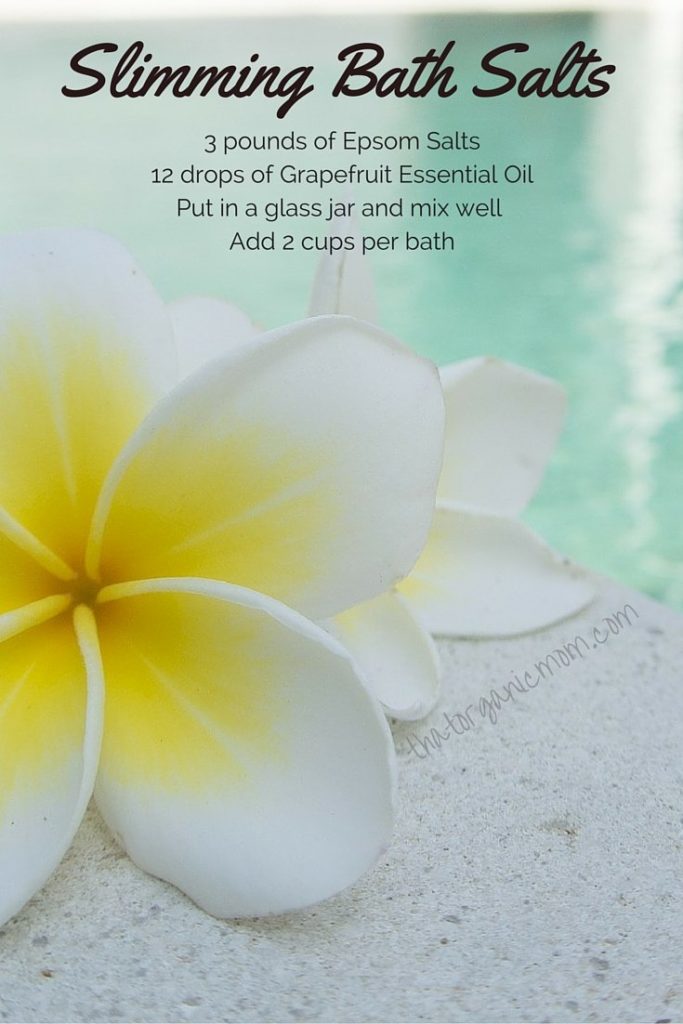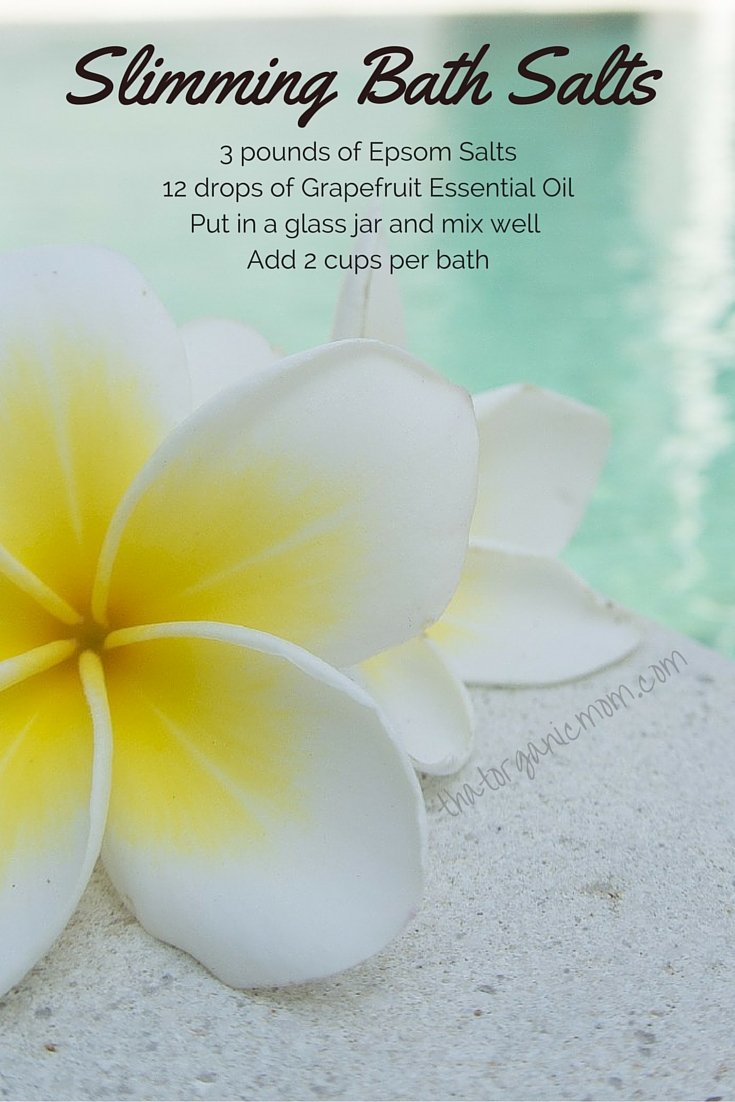 I have found that Hobby Lobby rotates their sales frequently enough that I have been able to get enough glass canisters to keep all my favorite spa mixtures in. I especially like to keep my Slimming Bath Salts near my tub as soaking in it is not only slimming but it is refreshing mentally as well. It reduces depression, prevents water retention, and curbs cravings because it helps fight candida (known to cause cravings). I often add a few drops to my diffuser as well for a pick me up.
Warming Bath Soak Blend
2 cups bentonite clay powder
1/2 cup baking soda
3 tablespoons ginger powder
Mix well, keep in a glass jar and use 1/2 cup per bath soak. Using ginger can cause a warming reaction which may cause you to sweat afterward, so be sure to drink plenty of water. This is an excellent detoxification soak.
Ginger Muscle Relief Bath Soak
1 cup Epsom salts
1 cup Sea salt
1 cup Baking soda
6 teaspoons ground ginger
Mix the ingredients and store in a jar. When you are ready to take a bath, add one cup of the blend to your bath plus a cup of Apple Cider Vinegar.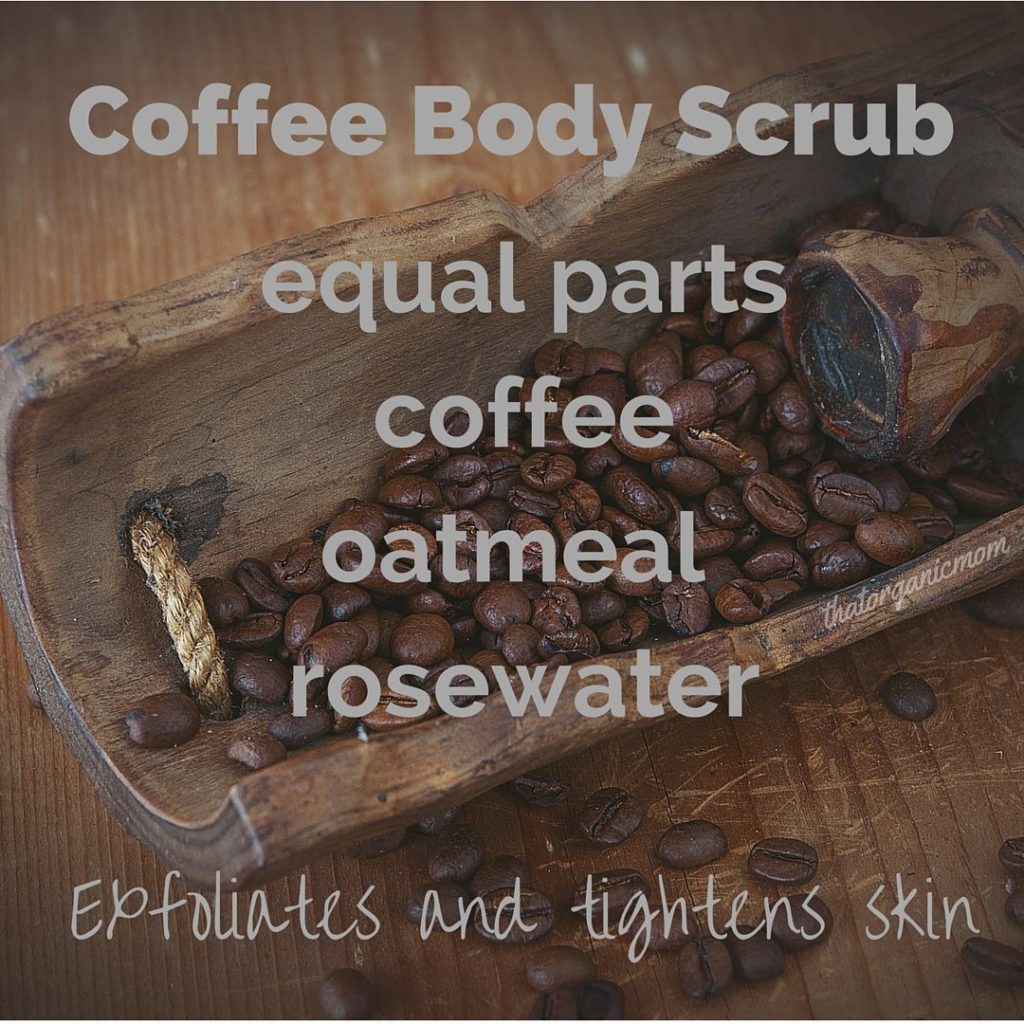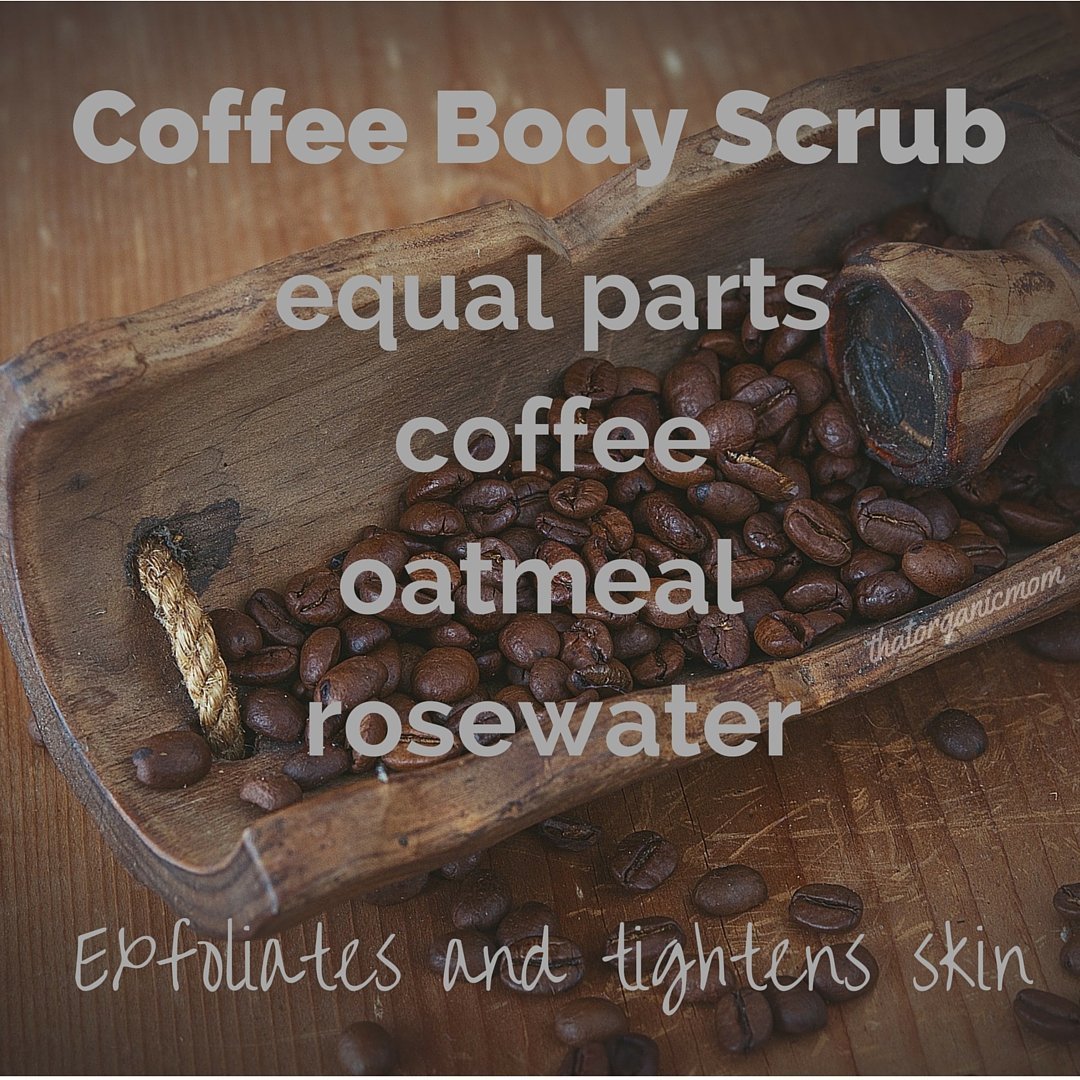 Here's a Coffee Scrub recipe that includes coconut oil and sugar.
Cleopatra's Milk Bath Soak
2 cups powdered milk

2 teaspoons dried calendula flowers

2 drops rosemary oil

Add to bathwater and soak away! You can also add 1/2 to 1 cup of honey for an amazing Milk-n-Honey bath!
Skin Correcting Paste
Mix 1 part Bentonite Clay to 2 parts water to form a paste. Apply to bug bites and bee stings, eczema and psoriasis, yeast rashes, and more.
My daughter Macey makes the most wonderful Lemon Sugar Scrub and you can make your own too, the recipe is here!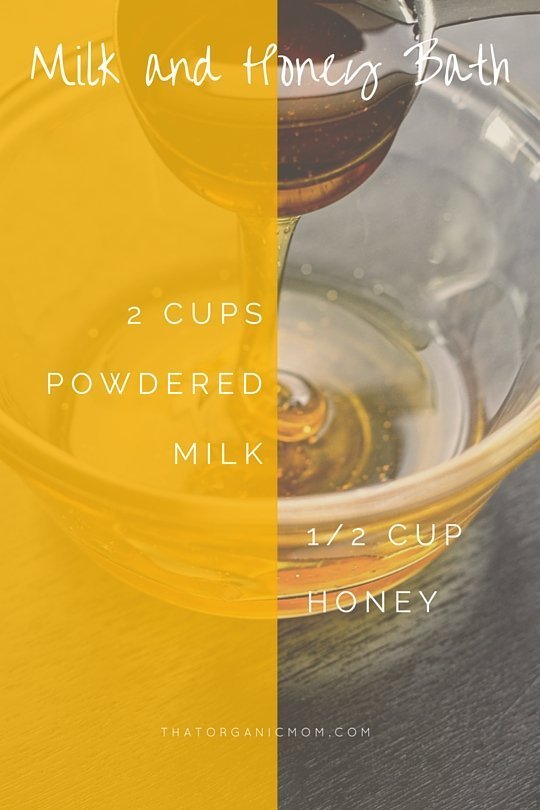 I am in the process of making some bath bombs right now, so I will share my recipe plus tips on how to make your own in the near future.
Even though I enjoy an occasional trip to the spa, I prefer to make most of my spa days at home. By pampering myself at home, I can save all that spa money for trips to the beach! My ultimate relaxation idea.
Don't forget to pin this post!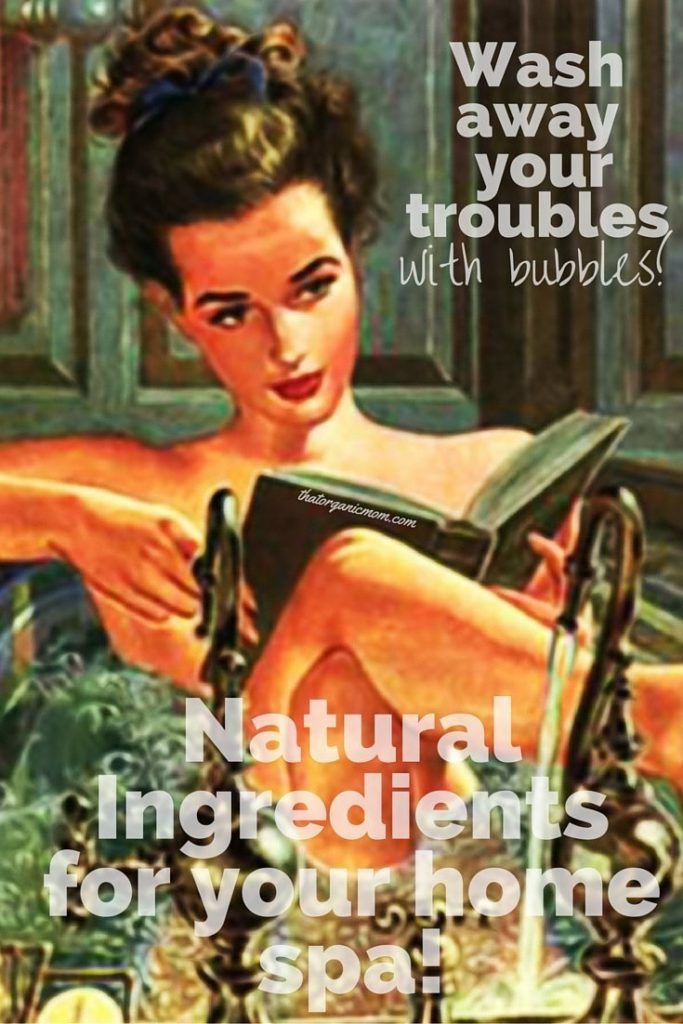 I enjoy Amazon Prime Music while I am relaxing in my personal spa!  There are so many playlists available on Prime that I listen to new content all the time.