Last Updated on August 17, 2022 by Rebecca Huff
Before we get into how to make ketchup, you might be wondering why anyone would bother to make homemade. With so many brands of ketchup available today, why not buy some Heinz?
Well, that is a valid question, and I'll share why I decided to make my ketchup rather than buy store-bought.
When I started making homemade condiments, I had fewer options. There were not as many health food stores or alternative brands on the market. Where I lived, every ketchup on the shelf contained high fructose corn syrup. This was an ingredient I wanted to avoid.
Ketchup Ingredients
Most ketchup contains High Fructose Corn Syrup as the sweetener. Corn syrup from Genetically Modified Corn is an ingredient in most ketchup.
In the U.S., 88% of the corn crop used for corn syrup is genetically modified. High Fructose Corn Syrup is added to almost all processed foods.
Natural Flavorings are in many mainstream ketchup brands. The term can mean anything and is not regulated. This ingredient may or may not be "natural" in the way most people think.
Natural Flavors might be monosodium glutamate or another chemical mixture.
There is little substantive difference in the chemical compositions of natural and artificial flavorings. They are both made in a laboratory by a trained professional, a "flavorist," who blends appropriate chemicals together in the right proportions. The flavorist uses "natural" chemicals to make natural flavorings and "synthetic" chemicals to make artificial flavorings. The flavorist creating an artificial flavoring must use the same chemicals in his formulation as would be used to make a natural flavoring, however. Otherwise, the flavoring will not have the desired flavor. The distinction in flavorings–natural versus artificial–comes from the source of these identical chemicals and may be likened to saying that an apple sold in a gas station is artificial and one sold from a fruit stand is natural.

Scientific American
Preservatives added to ketchup allow it to have a longer shelf life. But, you may not want to consume preservatives. I don't.
You can opt for a healthier vinegar when making homemade. Bottled ketchup contains distilled white vinegar. It does not have the same health-promoting benefits as apple cider vinegar.
Tomatoes and tomato products are rich in folate, vitamin C, and potassium. (source) That is why I not only make homemade ketchup for my family but encourage them to eat it as well.
Reading Food Ingredient Labels
Ketchup should only contain a few simple ingredients.
Consider making condiments and spice blends. You can use homemade instead of relying on the kind available in most grocery stores.
You can mimic store-bought by reading the labels. Check to see the "real food" ingredients and then experiment in the kitchen. For the ingredients listed that you can not pronounce, leave them out.
Believe it or not, cooking makes a great hobby. Cooking is fun, and even if you don't have much experience, you can grab some cookbooks and start learning.
Besides, it's a fun way to socialize with friends and family, or even a way to meet new people. Join an in-person or online cookbook club and see.
How to Sweeten Ketchup
Sweeten your ketchup with honey, maple syrup, brown sugar, molasses, or coconut sugar. Or, you can make ketchup without sweeteners. If you do, you'll get used to eating ketchup that doesn't taste so sweet.
Start sweetening your ketchup, then reduce the sweeteners you add over time.
You can use a sugar alternative if you are avoiding carbohydrates or sugar. Good choices include erythritol, allulose, or stevia.
More on sugar alternatives: Which Sweeteners are Part of a Healthy Lifestyle.
Seasonings in Ketchup Recipes
My homemade ketchup recipe contains the seasonings we like and also has some garlic. If you don't like garlic, feel free to leave it out. Recently, I've seen garlic-free bottled ketchup in the health food store.
Allspice is a single spice made from dried berries of the allspice tree. The berries look like peppercorns but taste like cinnamon, cloves, nutmeg, and pepper. Ground allspice is inexpensive and a spice you should keep in your pantry if you do much cooking.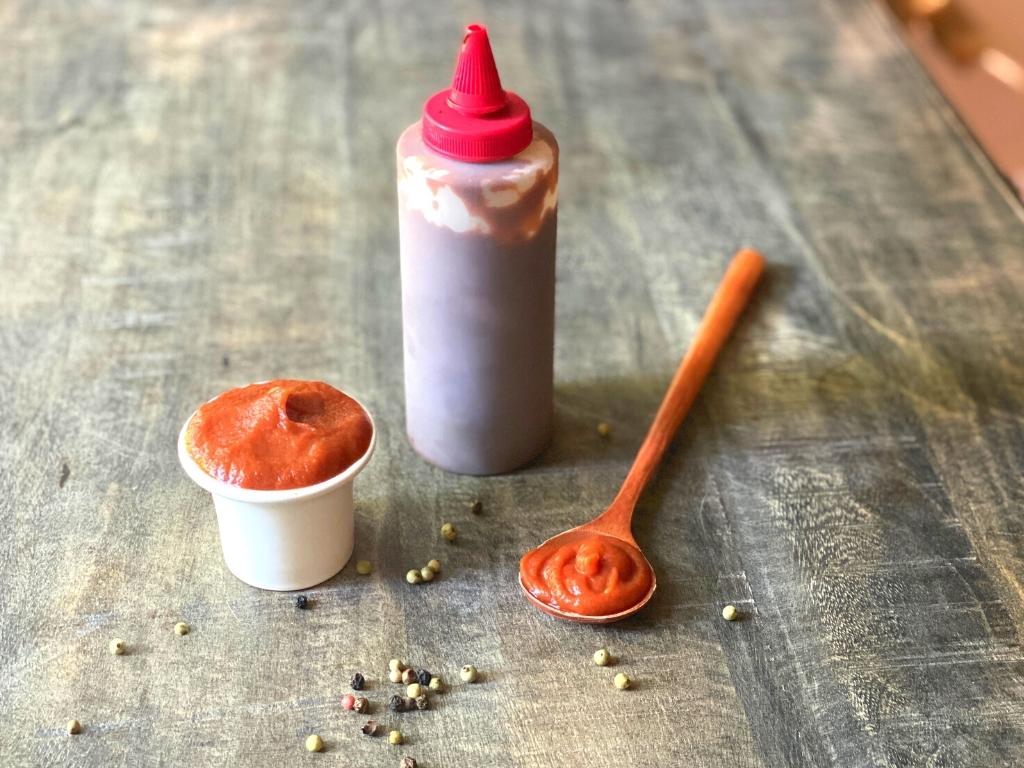 Homemade ketchup
It's easy to make homemade ketchup. You can keep the ingredients on hand and stir up a batch at a moment's notice. We buy tomato paste in bulk at Costco as I've found it's an excellent item to keep on hand in my pantry.
Once you've made homemade ketchup, it is easy to make other tomato-based condiments and sauces.
You can use ketchup as a base for BBQ sauce. Or dip fries in it, slather it on a burger or meatloaf, or for anything that suits your taste.
Nothing beats knowing your ketchup is free of preservatives and chemicals.
You can also learn to make your spice combinations and even salad dressings.
Other Tips for Making Tomato Ketchup at Home
If you're using tomato sauce, as I do, check the ingredient label to make sure it only contains tomatoes.
Each person has a different salt preference. My family enjoys things a bit saltier than I tend to see in recipes. Alter the amount of salt you use by adding it and tasting it as you go. Ketchup doesn't need several teaspoons of salt; you can use your shaker and taste as you stir.
You can also make ketchup from fresh plum tomatoes.
Using Fresh Tomatoes
If you have lots of ripe garden fresh tomatoes, use them instead.
You can reduce acidity by removing the tomato seeds when using fresh tomatoes. Dip the tomato in boiling water, then transferring to an ice bath to remove the skin. You can remove the seeds and skin utilizing a cone strainer like this.
Cook the tomatoes down until you have a nice tomato sauce, which you can then use in place of the tomato sauce in cans.
How to Use Your Homemade Ketchup
There are plenty of things to do with ketchup; you're probably already using it for french fries. Even sweet potato fries taste delicious with homemade ketchup.
Jamie Oliver's cookbook Comfort Foods contains a recipe for Insanity Burgers.
It's the special sauce that makes burgers insanely delicious, hence the name. It's a huge favorite in our house. The sauce uses ketchup, mayo, and Worcestershire sauce combined with shredded iceberg lettuce. It sounds strange, yet it is delicious.
I also like making homemade barbecue sauce with ketchup as the base. You can find my BBQ Recipe here.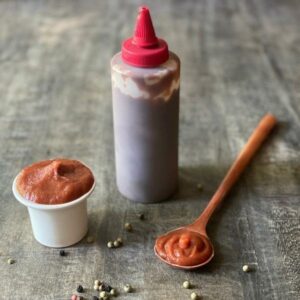 Perfect Ketchup

Dairy Free

Gluten Free

Keto

Low Carb

Sugar Free

Trim Healthy Mama

Vegan

Vegetarian
Making ketchup from scratch allows you greater control over ingredients, quality, and packaging. This recipe is delicious, add more or less sugar to suit your taste.
Ingredients
2

cans tomato sauce

single ingredient on label (I like Costco brand Kirkland's)

1

tsp

olive oil

3

tbsp

apple cider vinegar

1

small onion

chopped

Sweetener to taste

*see notes

1/2

teaspoon

cinnamon

1

teaspoon

allspice

1

teaspoon

cloves

pinch

cayenne pepper

salt and pepper to taste
Instructions
Saute the diced onion in a teaspoon of olive oil over medium-low heat until tender.

Mix all other ingredients into the sauce pan along with the cooked onions.

Reduce heat and simmer

Reducing mixture by about half

Blend with immersion blender to the desired consistency.

Store in an airtight container such as a cute jar in the fridge or save in portions in freezer tillun needed
Video
Notes
You can use honey, maple syrup, brown sugar, coconut sugar, erythritol, allulose, stevia, or any other sweetener you prefer. Taste and add little by little until you reach your preferred sweetness.
My Easy Homemade Ketchup Recipe
Ingredient Card
Two cans of tomato sauce single ingredient on the label (I like Costco brand Kirkland's)
One small onion chopped (you can substitute onion powder if you prefer)
Three tablespoons apple cider vinegar
teaspoon olive oil
Sweetener
1/2 teaspoon cinnamon
1 teaspoon allspice
1 teaspoon ground cloves
One clove garlic, minced or 1 tsp garlic powder
pinch cayenne pepper
salt and black pepper to taste
How to make Homemade Ketchup
Lightly saute onion in a teaspoon of olive oil over medium heat until lightly cooked.
Mix all ingredients in the saucepan
Bring to a boil over medium heat; you don't want to scorch the sauce.
Reduce heat and simmer
Reduce by about half
Puree and blend with immersion blender til thick,
Store in a cute jar or airtight container in the fridge or save in portions in the freezer till needed
Source
Beecher, G R. "Nutrient content of tomatoes and tomato products." Proceedings of the Society for Experimental Biology and Medicine. Society for Experimental Biology and Medicine (New York, N.Y.) vol. 218,2 (1998): 98-100. doi:10.3181/00379727-218-44282a