Nutrient-dense and delicious bars
I'm not kidding when I say this is the healthiest bar ever. As you can see they do contain many super-foods. We used to have these in the fridge all the time. Now that most of my kids are grown-ups, I don't make them as often.
Not too long after my oldest daughter married, she asked me for the recipe for that "healthiest bar we used to eat". I am happy that she is now making them for her family.  For us, this recipe isn't just the healthiest best bar ever but it is good memories! Riding bikes to the Y, seeing who could stay underwater the longest, reading Calvin and Hobbes, drinking Jamaican Me Crazy coffee, and eating the healthiest bar ever.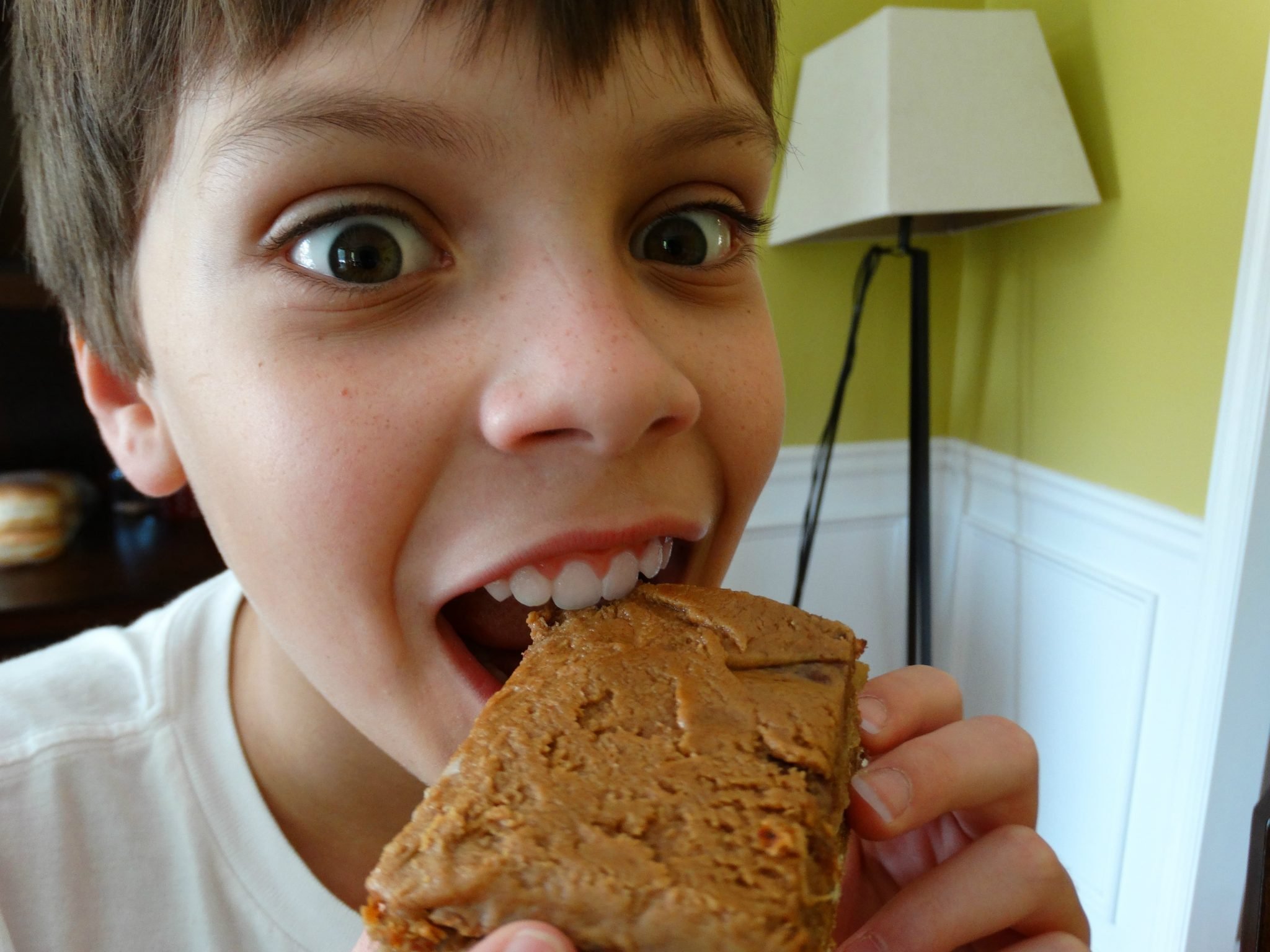 For my dieting readers: these bars are incredibly healthy but they do contain the natural sweetener honey. That means they do not fit into weight loss eating plans Paleo, Low carb, Trim Healthy Mama, Keto, etc. These bars are perfect for runners needing to refuel or kids who need a healthy snack. My husband also eats them frequently.
Here are a few tips that will save you time.
If you have a food processor, you'll want to shred your carrots and broccoli stalks first.
Yes, broccoli stalks; I know broccoli stalks seem like a strange ingredient, but now you don't have to waste a bit of your broccoli! Just cut the tops off and steam those for your dinner. Take the stalks and use a peeling tool to get off the outer part just like you would peel a carrot.
In the past, I have diced my apples and shredded them both ways work but I prefer big chunks of apple in mine. This is a very dense bar so if you'd like it a little less hearty cut back to 2 cups of oats.
This makes a huge batch so plan to wrap some up for the freezer. They also taste better about a day after they are baked. Wrapping them individually and sticking them in the fridge makes them last longer and are the perfect grab and go snacks for everyone in the family!
Healthiest Best Bar Ever

Dairy Free

Gluten Free

Sugar Free

Vegan

Vegetarian
Broccoli stalks in a bar? Trust me! There's a method to my madness and you are going to love these bars. We have been eating these since 2004 and still love them.
Ingredients
1

cup

chopped or shredded broccoli stalks

from one head of broccoli, I usually slightly peel them too, but don't include the crowns

2

bananas

1

cup

chopped carrots

I usually shred on my food processor

2

medium unpeeled apples

cored and diced

1/3

cup

filtered water

1

tsp

salt

1

cup

ground golden flax seeds

1

large sweet potato

1

cup

honey

2

TBSP

cinnamon

I know it seems like a lot but trust me.

1-1 1/2

cup

sunflower seed butter

or whichever you prefer

3

cups

old fashioned oats

2

cups

sprouted spelt flour

or whatever flour you prefer

1/2

cup

walnuts

optional

1/2

cup

unsweetened grated coconut

optional
Instructions
Blend together and mix well the bananas, water, cinnamon, 1 tsp salt, 3/4 cup of the honey and all but 2 TBSP of the golden flax, ground

Blend in the cooked sweet potato

Add the broccoli and carrots and mix about another minute

Add the oats and spelt flour mixing well

Add apples and mix well again

Pat and form into a 13×9 pan (good job for kids)

Bake 50 min to an hour at 350 degrees

For the "icing" mix the nut butter, 1/4 cup honey leftover, and reserved 2 TBSP ground flaxseeds

Spread on top of cooled bar mixture. (it actually works best if they are still a little warm as it "melts" the nut butter making it easier to spread)

Sprinkle with coconut and walnuts (Optional)
Notes
I cut these into about 2 inch squares or smaller depending on how thick they are. I often wrap them individually in so that they stay moist and they are typically better the day after you made them. They work well in the freezer as well, just pull them out and pop them in your lunchbox.