Last Updated on June 29, 2022 by Rebecca Huff
What nostalgia does minestrone soup have for you? Each time I eat a bowl of soup, I think of my Grandma. I loved any soup she made as most contained tomatoes she had canned from her garden.
As a teenager, I would stop by her house to fill my belly after school and take a nap on her couch before I went to work at my part-time job. The love that went into her food is why I enjoy home cooking so much more than eating out.
The best minestrone is the one you make at home on a cold winter's day!
Minestrone Soup with Purple Sweet Potatoes a twist on tradition
You won't find purple sweet potatoes in the minestrone at Olive Garden, but I think you're going to love this swap! When I see this particular variety of purple sweet potatoes, I buy a bunch! I love the taste and vibrant color of these beautiful morning glory tubers.
Purple sweet potatoes are exceptionally high in antioxidants, particularly anthocyanin, which is the same antioxidant that you'll find in blueberries, purple cabbage, etc. The level in purple sweet potatoes is around 150 times higher than in blueberries.
Sweet potatoes of all varieties are high in vitamin A, vitamin C, and manganese. They are also a good source of copper, dietary fiber, vitamin B6, potassium, and iron.

DowntoEarth.org
Purple sweet potatoes are not always easy to find, so if you don't have any, just used regular sweet potatoes.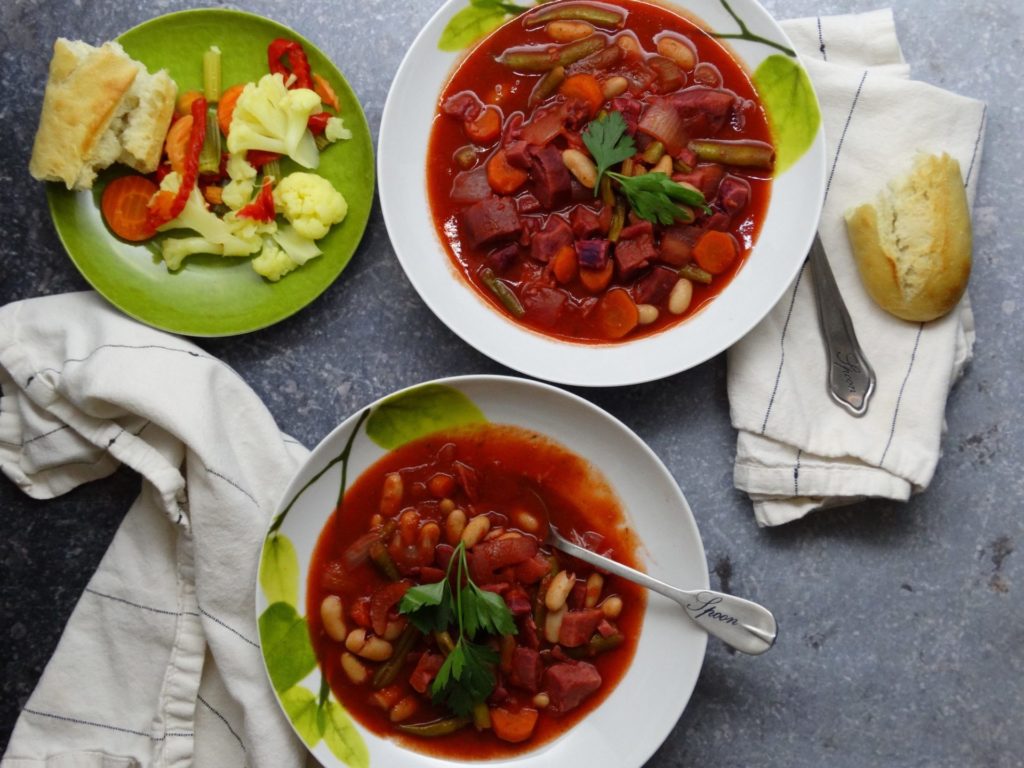 Other optional ingredients
The Romans invented minestrone as a way to use up leftover veggies. Classic minestrone is a heartier version of vegetable soup and usually has the addition of beans and pasta.
For which veggies to add to your soup, use your imagination and what you have in the fridge. Zucchini is a popular vegetable found in minestrone. Fresh spinach, chunks of carrots, celery, potatoes, etc., are all perfect.
Frequently, cooks use Red kidney beans in minestrone soup recipes. My kids are not a big fan of kidney beans, so I've opted for the softer Cannellini bean. These white beans are delicious and full of fiber. Again, though, use whatever beans you have on hand!
Macaroni or other types of pasta is the traditional pasta used. If you like, you can even use gluten-free pasta, such as those made with quinoa or black beans. My kids are big pasta fans, so I used ditalini in the kid version because I think it works better than elbow macaroni. You can even cook the pasta on the side so that you can have it as an option if you're following a low-carb diet.
If you are watching your carbohydrate intake, you can also leave out the beans, although that makes this much more like veggie soup! When I have baby spinach on hand, I will sometimes add a handful or two right at the end, stirring until the heat wilts the greens.
Mine is a vegetarian minestrone, but Italian sausage is an excellent, flavorful addition if you wanted. Another way to add a boost in flavor is by adding a parmesan rind to the soup and then retrieving it before serving.
The bottom line is that cooking is versatile and more fun when you know you can play with the ingredients. Many of my new recipes have swaps and optional ingredients because I think it's easier to make food when you alter a recipe to suit your taste and what you have in the pantry! Don't you?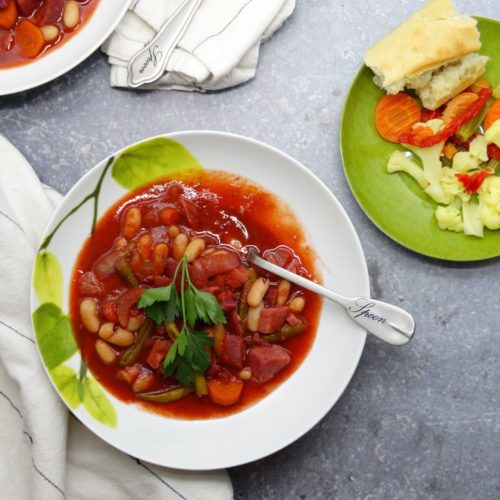 Minestrone Soup Recipe with Purple Sweet Potatoes

Sugar Free

Trim Healthy Mama
Chunks of delicate purple sweet potato grace a bowl of traditional minestrone soup.
Ingredients
1

tbsp

extra virgin olive oil

3

cloves garlic, minced

1

large yellow onion, diced

3

stalks of celery, sliced

1

tsp

Himalayan sea salt

1

Bay leaf

2

tsp

Italian seasoning 

1

15 oz

cans tomato sauce

1

15 oz

can diced tomatoes

4

cups

chicken broth (or vegetable broth if you want vegetarian minestrone)

2

large purple sweet potatoes, peeled and diced

3

organic carrots, sliced thin

6

oz

green beans, broken into 1-inch pieces

(you can used canned, but put in last)

1

15 oz

can Cannellini beans

optional

black pepper

to taste

basil

for garnish

4

oz

ditalini pasta

optional
Instructions
Heat oil in a dutch oven over medium-high heat. Saute garlic, onion, celery, seasonings, salt, and pepper until just tender, about 5 minutes. 

Stir in the tomatoes, sauce, broth, sweet potatoes, carrots, fresh green beans and garlic. 

Bring to a boil; reduce heat to low and simmer, occasionally stirring.

Cook until vegetables are tender, between 20-30 minutes.

Add the Cannellini beans during the last 5 minutes of cooking, so they don't get mushy.

Remove Bay leaf before serving & add pepper to taste.

Garnish with a sprig of fresh basil just before serving.
Notes
If you use pasta, cook it in boiling water with salt, then add it to the soup just before serving, otherwise, you'll end up with purple pasta.
Nutrition
Calories:
150
kcal
Carbohydrates:
29
g
Protein:
4
g
Fat:
2
g
Saturated Fat:
1
g
Sodium:
784
mg
Potassium:
504
mg
Fiber:
4
g
Sugar:
5
g
Vitamin A:
12060
IU
Vitamin C:
15
mg
Calcium:
62
mg
Iron:
1
mg