Organic Chinese Chicken with Zoodles and Sunflower Miso Dressing
Get ready to add a new favorite to your meal rotation! My Organic Chinese Chicken with Zoodles and Sunflower Miso Dressing ticks all the boxes.
If you're in a hurry, you can enjoy this dish with chicken cooked in a skillet. Just add the chicken to your skillet after you remove the cashews. Don't worry about wiping out or cleaning the skillet between toasting the cashews and cooking the chicken. This will just give your dish a little extra flavor.
However, if you have a little extra time, consider skewering the chicken for preparing on the grill. My daughter and I enjoy grilling meat on our little Yakitori Grill that we picked up at World Market. You can use any grill to give the meat a delicious smoky grilled flavor.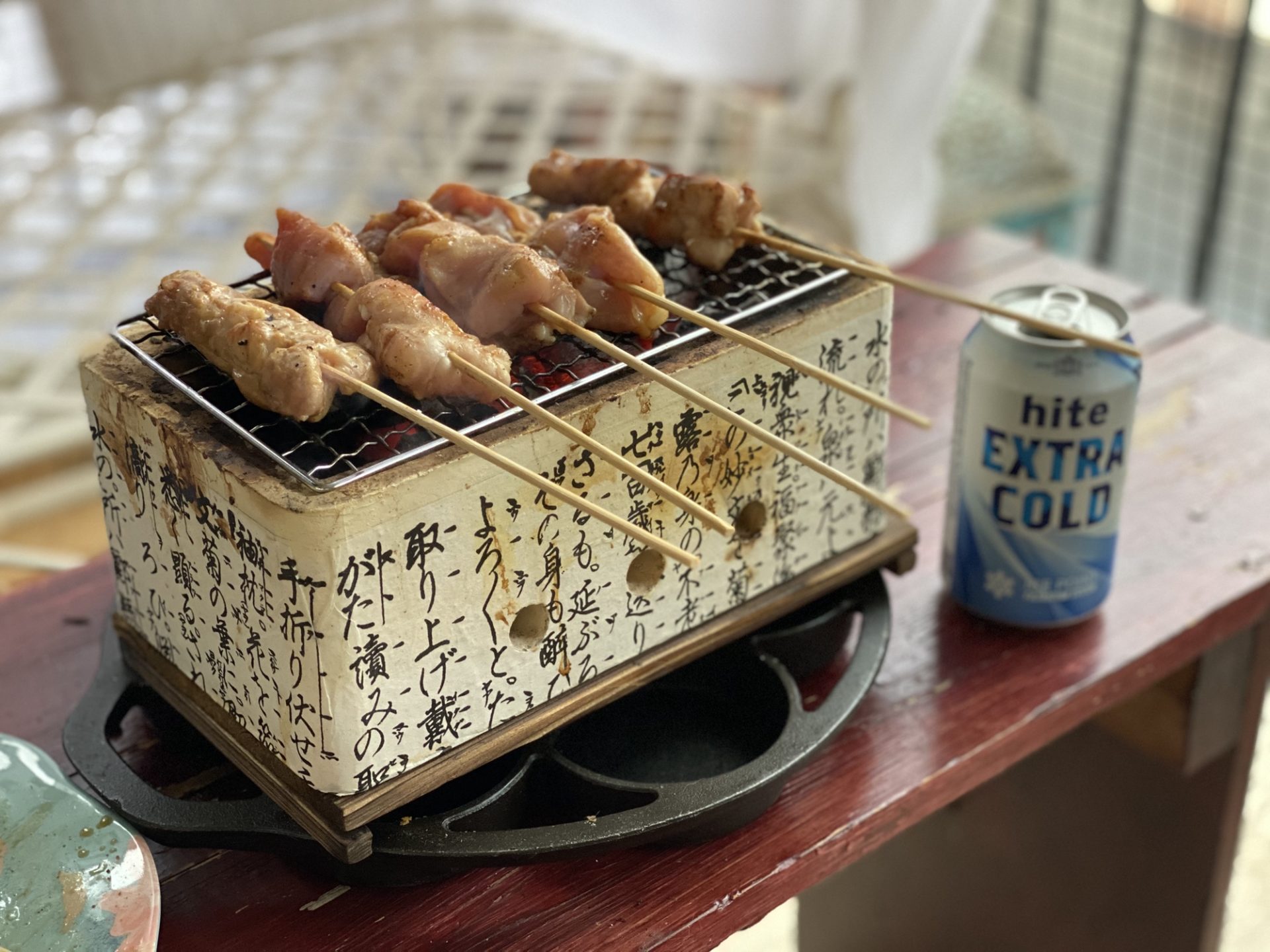 This is a bit of an Asian Fusion recipe here as Yakitori grilling is Japanese, but we're using Chinse five-spice powder. To add a bit more fusion, we are pairing this with my favorite beer – Hite Extra Cold.
To be honest, I rarely ever drink. On the occasion that I do have alcohol, it's either Whisky or a Hite Extra Cold beer. This beer hails from South Korea, so you may have to look around for it a bit.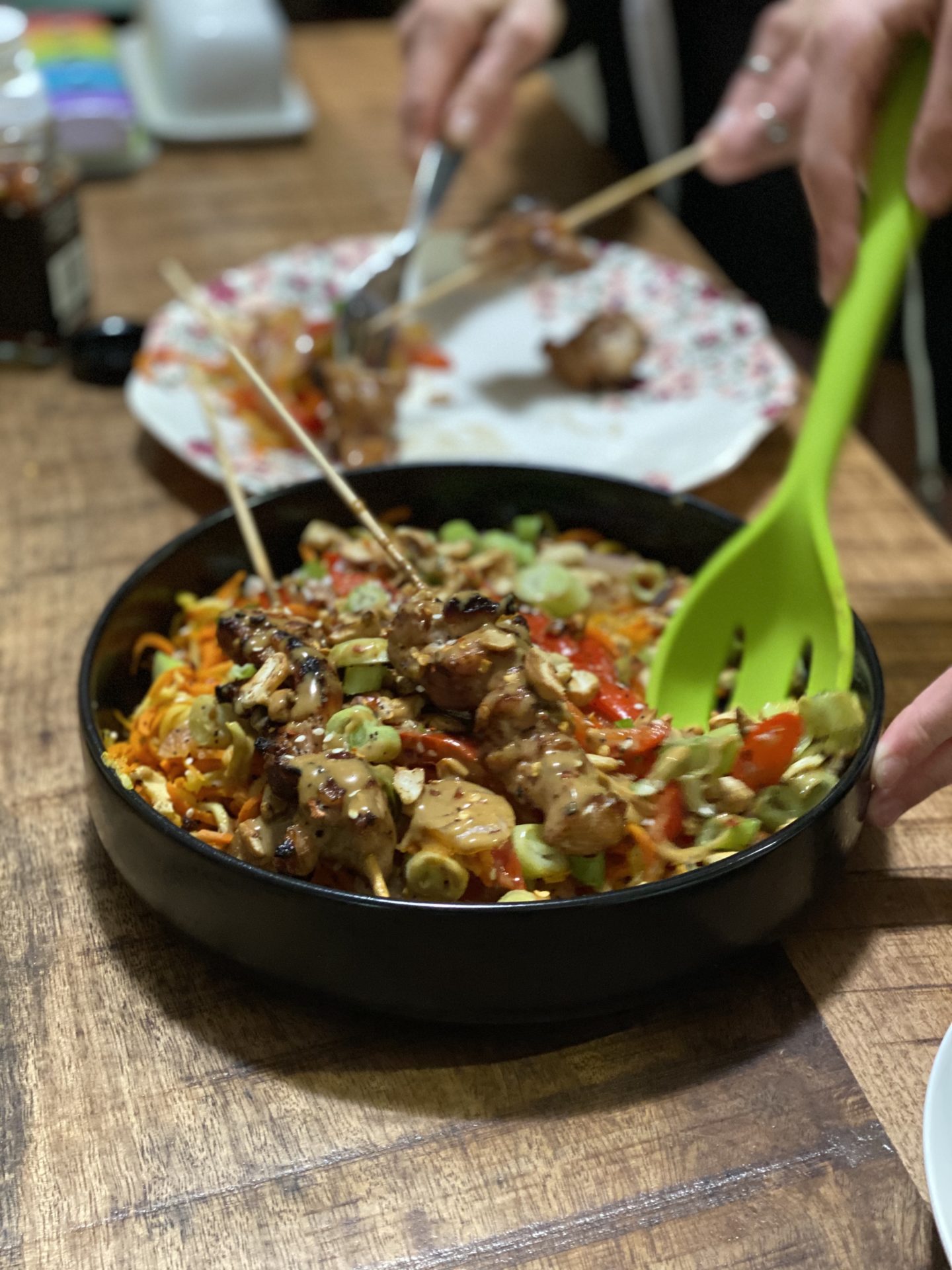 The sauce for this recipe has sunflower seed butter as a base. In my opinion, this sauce is reminiscent of Thai Flavor. You may have tasted peanut sauce in a Thai Restaurant; this has a similar flavor. Instead of peanut butter, we are using sunflower seed butter. Those of you with peanut allergies will appreciate that sunflower seed butter is a suitable replacement.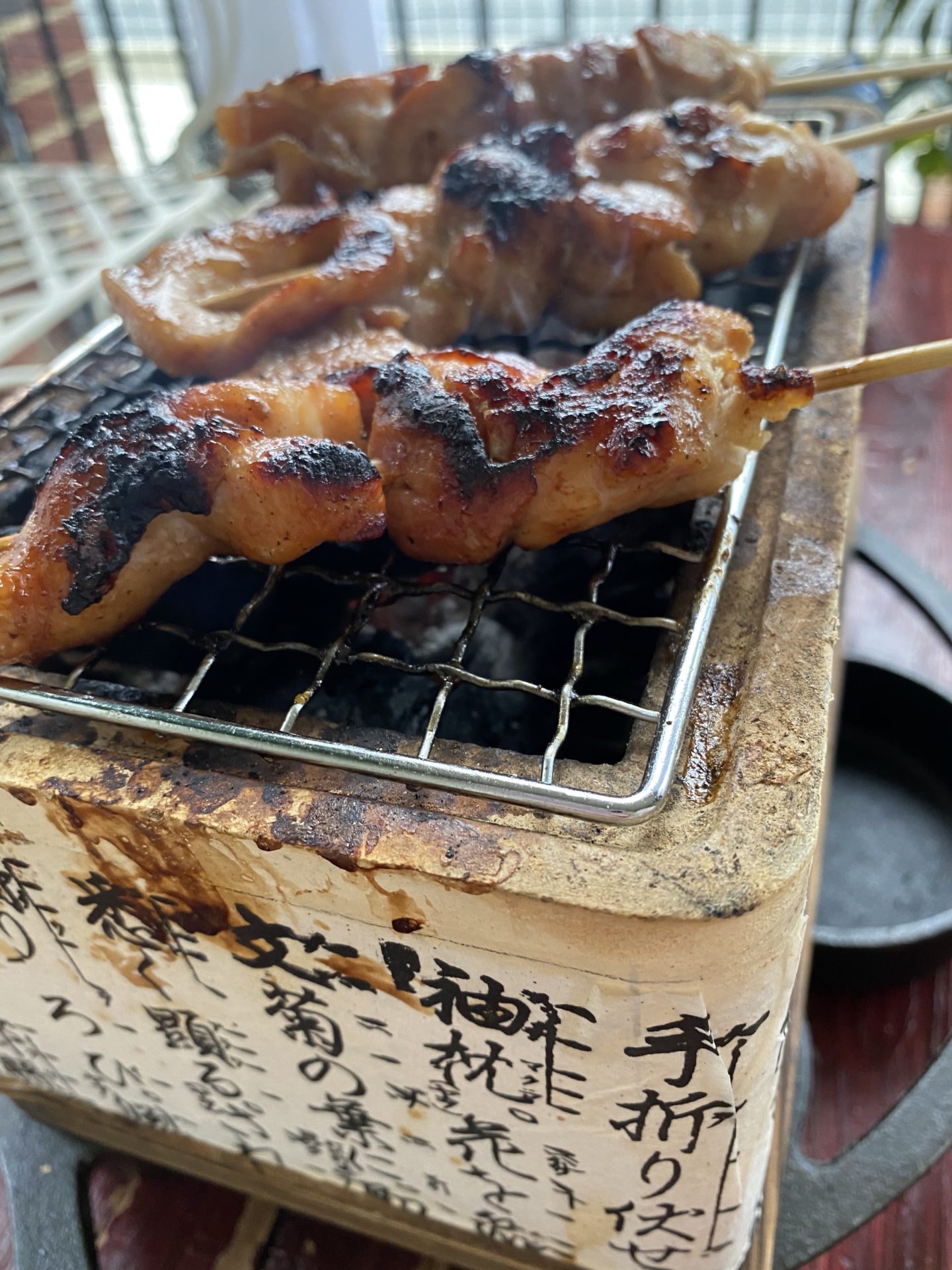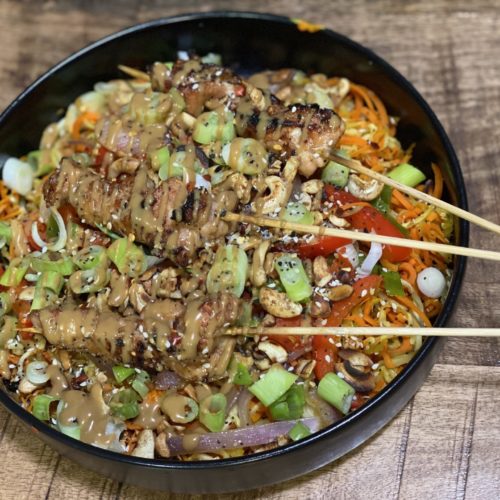 Organic Asian Fusion Chicken with Zoodles and Sunflower Miso Dressing

Keto

Low Carb

Paleo

Sugar Free

Trim Healthy Mama
Ingredients
1

Zucchini

peeled and spiralized or shredded

1

pound

Organic Chicken Breast or Thighs

sliced into 1/2 inch strips

1

Red bell pepper, organic

sliced into strips

1

red onion

sliced thin

1

bunch

Green onions

sliced on bias1

¼

cup

Raw cashews

unsalted

1

tsp

Chinese 5 Spice Powder

2

Carrots

peeled and spiralized or shredded

Salt and Pepper to taste
For Chicken Stir-Fry Sauce
2

tbsp

coconut aminos

1

tsp

toasted sesame oil

1

bulb

garlic

minced

1

tsp

fresh ginger

minced
For Sauce
¼

cup

Coconut aminos

1

tbsp

Toasted Sesame Oil

2 ½

tbsp

Sunflower Seed Butter

2

tbsp

Rice Vinegar (unseasoned)

1

tbsp

White Miso, organic

1

tsp

Sesame Seeds

Salt and Pepper to taste
Instructions
Heat skillet to medium, add ½ teaspoon oil, cashews, and Chinese 5 Spice powder, cook till lightly browned and crisp, set aside.

Over medium heat, cook chicken strips in a pan coated with cooking oil (avocado is my favorite!) until browned and cooked through, approximately 5-7 minutes. About half-way through cooking, add the stir-fry sauce and cook one more minute. Remove from pan and set aside in a large bowl.

Add red bell pepper, and purple onion to the pan and saute till crisp tender.

Add the zucchini and carrot noodles to the pan along with the bell pepper and onions - no need to cook for long, we're just warming the vegetable noodles. 

Crush cashews with a meat mallet or rolling pin - sprinkle these on top as a garnish, along with the sliced green onions.

To serve, pile the veggie noodles on a plate, then top with the chicken and vegetable mixture. Drizzle on the sauce. Add Garnish of green onions, cashews, pepper flakes.

Serve the remaining dressing on the side.
Notes
Alternatively, skewer your chicken and grill till the internal temperature reaches 165 degrees F.

(If grilling, soak chicken on skewers in marinade for 30 minutes before grilling.)
A note about miso. Look for organic miso. Fermented soybeans are full of healthy bacteria that create excellent gut flora. Unfermented soy, however, is not a health food, in fact, it is an antinutrient. Phytates which can block the absorption of minerals are also found in unfermented soy. Lastly, soybeans are a roundup ready genetically modified crop, while organic soy is not.
Other foods that include fermented soy are natto and tempeh. Longevity experts have found that people in Japan and China eat around an ounce of fermented soy daily and tend to live longer.  Stick to organic, fermented soy in the form of miso, tempeh, and natto.
A bed of vegetable noodles will absorb the juices from the chicken and any of the sauce that you drizzle on top! I like to garnish with extra sliced green onions, a shake of red pepper flakes and some sesame seeds. If you don't have a spiralizer, you can shred your veggies. Just remember you won't need to cook them quite as long if they are shredded.
You might also like: