Easy 3 ingredient recipe for the most heavenly chicken you'll ever taste!
My family loves this easy yet tasty chicken recipe, and I think your family will, too!
I have made this recipe dozens of times. I started out using 1/2 cup of melted butter in the marinade. Sometimes I still do that if I am going to cook it on the grill or if I am using chicken breasts, this keeps it from drying out. If I am baking it or I'm using leg meat I usually just leave out the butter.
This recipe works well for summer grill outs and when I make it I NEVER have leftovers. I try to make as large a batch as I can so that I will have leftovers because it tastes just as amazing the next day. If you do have leftovers and want to add it to some other recipes it imparts a magnificent flavor!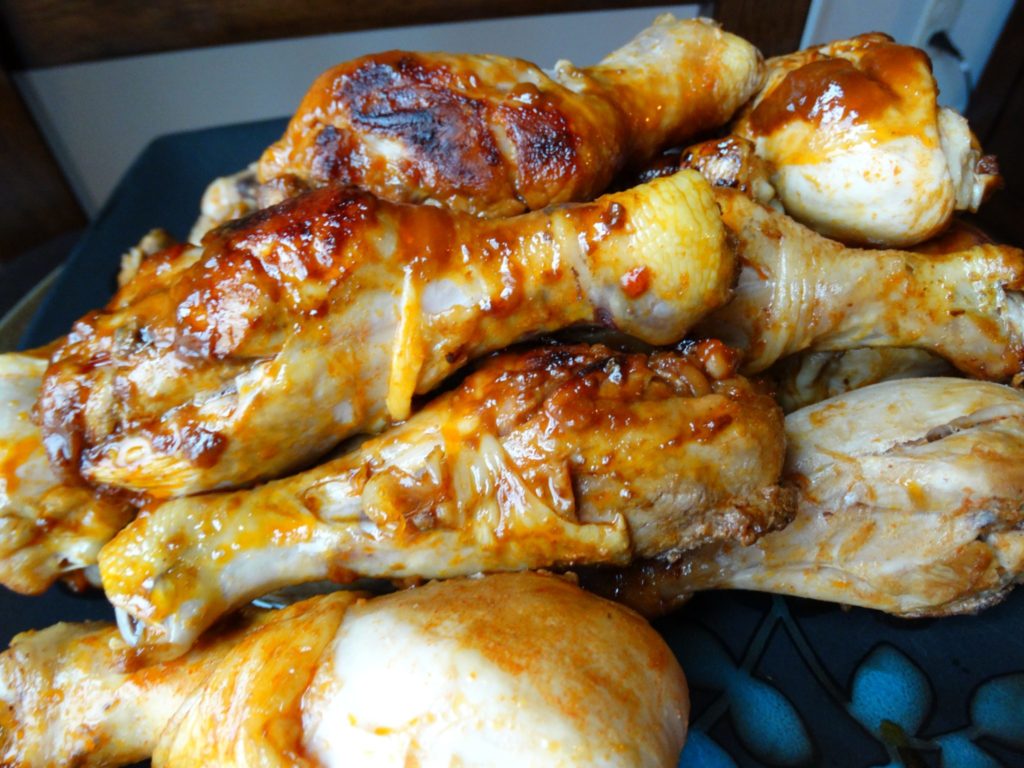 I use Frank's Red Hot and I buy it in bulk. I used to get it at Costco, but they stopped carrying it and made me so sad. Now I have to get it on my Amazon Prime Pantry.
If you are following the Trim Healthy Mama plan, this recipe is an S! I have had several people ask me about using Soy sauce on the THM plan; please reference p. 36 in the Plan book for a list of S-Friendly condiments and p. 52 for a list of E-Friendly condiments, both state: "Bragg Liquid Aminos/Coconut Aminos/Tamari/Soy Sauce" in the list of approved condiments. Also, keep in mind that this is a marinade, which is discarded when you remove the chicken for grilling/baking. Soy sauce can be healthy when it is fermented, so choose wisely. There are several brands I chose from:
Eden Foods Organic Shoyu Sauce, which can be found on iHerb
Eden Organic Tamari, I can find this locally at many health food shops and Asian Markets
Ohsawa ORGANIC GLUTEN-FREE TAMARI (this is my all-time favorite brand) I get this brand from Thrive Market on occasion I find it locally.

Coconut Secret Coconut Aminos I can buy locally or from Amazon
Bragg's Liquid Amino's which can be purchase at Kroger and is also available from Amazon and Thrive Market (although I don't often use Bragg's Liquid Amino's because of the naturally occurring monosodium glutamate in it and my son and I both have a sensitivity to MSG, plus I don't really think it tastes as good as traditionally fermented soy sauce)
Trader Joe's Reduced Sodium Soy Sauce is traditionally fermented by a company in Japan producing a high-quality soy sauce using only natural ingredients. See what else I buy at Trader Joe's here.
If you use chicken breast and no butter (as the recipe above calls for: just the hot sauce and soy sauce) you can use it in an E setting. In the photos I have paired it with a lovely purple cauliflower I found at Trader Joe's. To see what else I buy at Trader Joe's go to my YouTube video here.
Please share this recipe on your social media! Don't forget to subscribe to receive updates so you won't miss out on future recipes! What would you pair this recipe with? Please leave your comments below!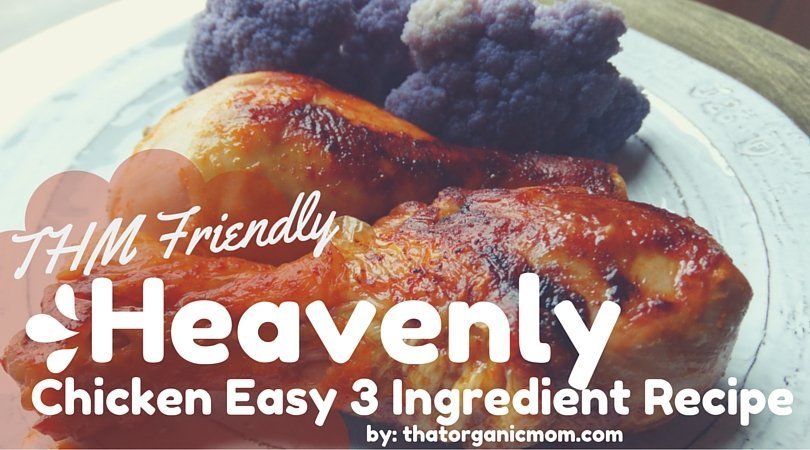 Heavenly Chicken

Dairy Free

Gluten Free

Keto

Low Carb

Sugar Free

Trim Healthy Mama
This recipe is so easy to make and gives the chicken such a heavenly flavor. I came up with this recipe several summers ago and my children have asked for "that heavenly chicken" ever since.
Ingredients
1

cup

Soy sauce

1

cup

s, Red Hot Sauce – Original

5

lb

s, Organic Whole Legs
Instructions
Combine Soy Sauce and Frank's Red Hot Sauce in a marinating bag or bowl.

Add chicken.

Allow to marinade 2-12 hours (I always throw mine together in the morning and then cook it in the afternoon)

Grill for best flavor or if baking, preheat the oven to 375°F.

Bake the chicken legs in a 375°F oven 45 to 50 minutes, or until an internal thermometer reaches 165°F.
Nutrition
Calories:
361
kcal
Carbohydrates:
2
g
Protein:
35
g
Fat:
23
g